Airlines have been stepping up their game in recent years by putting in an effort to provide business class flyers with a larger and higher quality wine menu.
There are countless tips to avoid jet lag and the usual travel blues, but the only one that really matter is: enjoy your trip! The best way to enjoy your flight is to sip on a glass of fine wine from 35,000 feet up.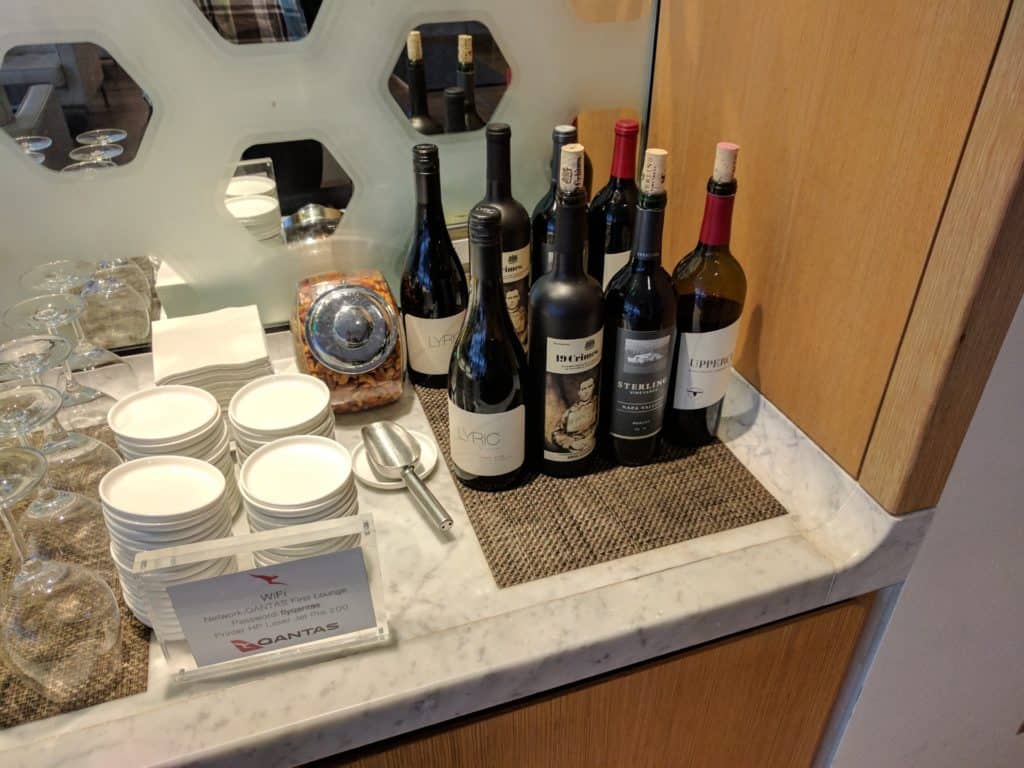 Basics of Fine Wine
For some, choosing wines can be an intimidating task. My advice: don't overthink it. The joys of trying new wines, especially from an airline menu that can be quite international, is that you will find wines that you like and dislike. See a wine that looks unfamiliar? Try it!
Old World wines are strictly regulated, and you usually know the quality you are getting. On the flip-side, New World wineries have the freedom to create some very unique wines.
Price is not tied to quality.
Be adventurous and try different varietals, regions, and vintages.
How to Choose Wine During a Flight
While the most important thing about drinking wine is to choose a glass that you will enjoy, there are a few things to take into consideration during a flight.
A common concern is whether or not flying will have any impact on the taste of your wine. Yes, it might. The altitude may impact the aromas of your wines, which can therefore impact the flavor. To avoid having a tasteless glass of wine, aim for an aromatic and complex wine that will keep your senses satisfied.
Will you be eating during your flight? Find a wine that pairs well with your meal (pairings tips below).
Choose a full-bodied or aromatic style of white wine. They have a full mouthfeel and won't diminish in a high altitude. Medium-bodied and full-bodied red wines are all quite aromatic and flavorful and will be a safe bet if you are worried about flavor changes at a high altitude.
If you have any questions about the varietal or region, ask your flight attendant. They will be trained on the wine menu.
When in doubt, ask your flight attendant what they suggest.
Styles of Wine
Consider choosing from a select style of wine in order to pair with your in-flight meal or enjoy by itself.
Light-bodied white wine
Known for being tart, crisp, and have high acidity. Most of these wines are not meant to be aged and are their prime within one year of bottling.
Main Flavor
Main flavors include citrus, melon, apple, grapefruit, and peach.
Popular Varietals
Common light-bodied white wines include Sauvignon Blanc, Gruner Veltliner, and Pinot Gris.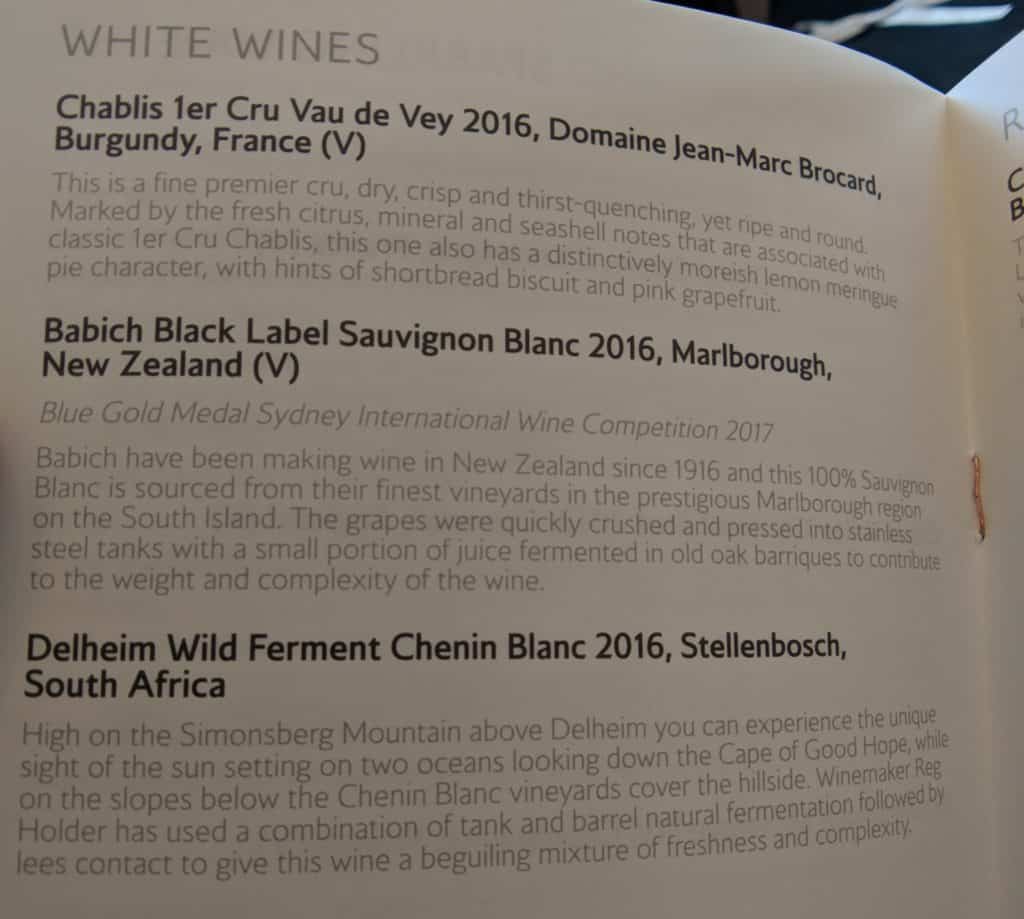 Check our British Airways business and first class flight reviews to find more about their offering.
Pairings
Light white wines are great with nutty cheeses, mollusk, shellfish, and fresh herbs.
Full-bodied white wine
These wines are rich, bold, and sometimes aged in oak.
Main Flavor
Flavors of pineapple, apple, starfruit, honeysuckle, and stone fruit are common. If aged in oak or on the lees, flavors of butter, cream, and vanilla are apparent.
Popular Varietals
Popular full-bodied white varietals include Chardonnay, Semillon, Pecorino, and Viognier.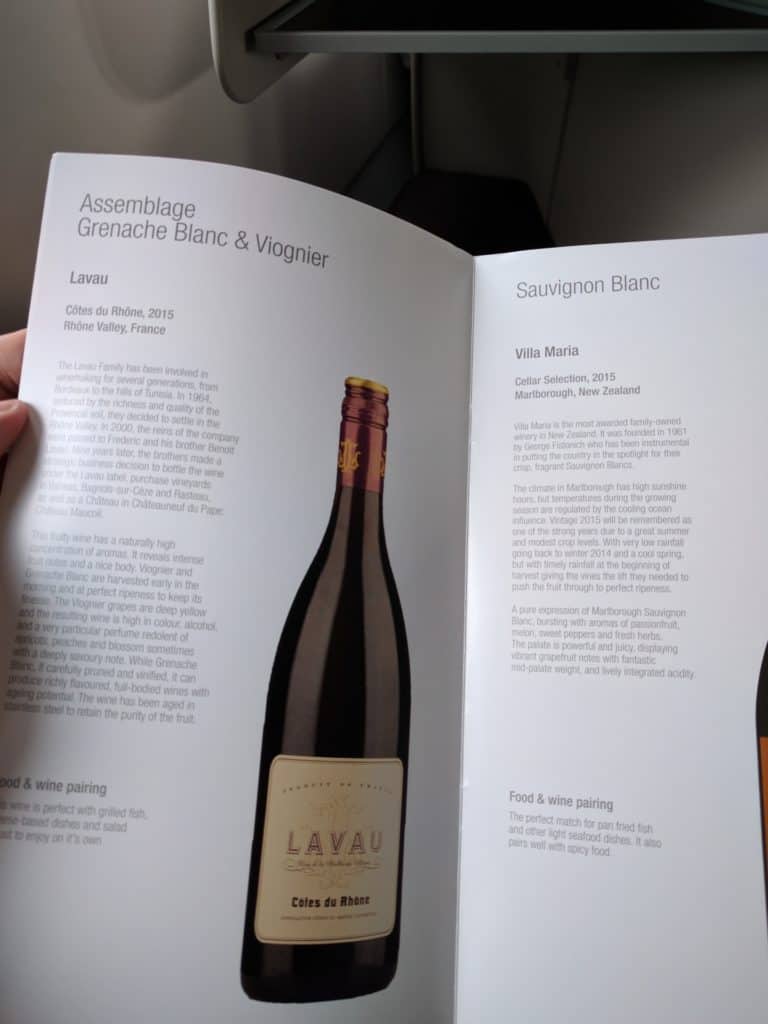 Check our Qatar Airways business class flight reviews to find more about their business class offering.
Pairings
Full-bodied white wines pair with the largest variety of food out of all white wine styles. Pungent and salty cheeses, finfish, white meat, and roasted vegetables are good pairings choices.
Aromatic white wine
The third category of white wine ages well and range from dry to sweet. They are very aromatic and age better than other white wines.
Main Flavor
Honeysuckle, apple, pear, flowers, peach, beeswax are dominant flavors.
Popular Varietals
Riesling, Gewurztraminer, Muscat Blanc, and Chenin Blanc are the main aromatic white varietals.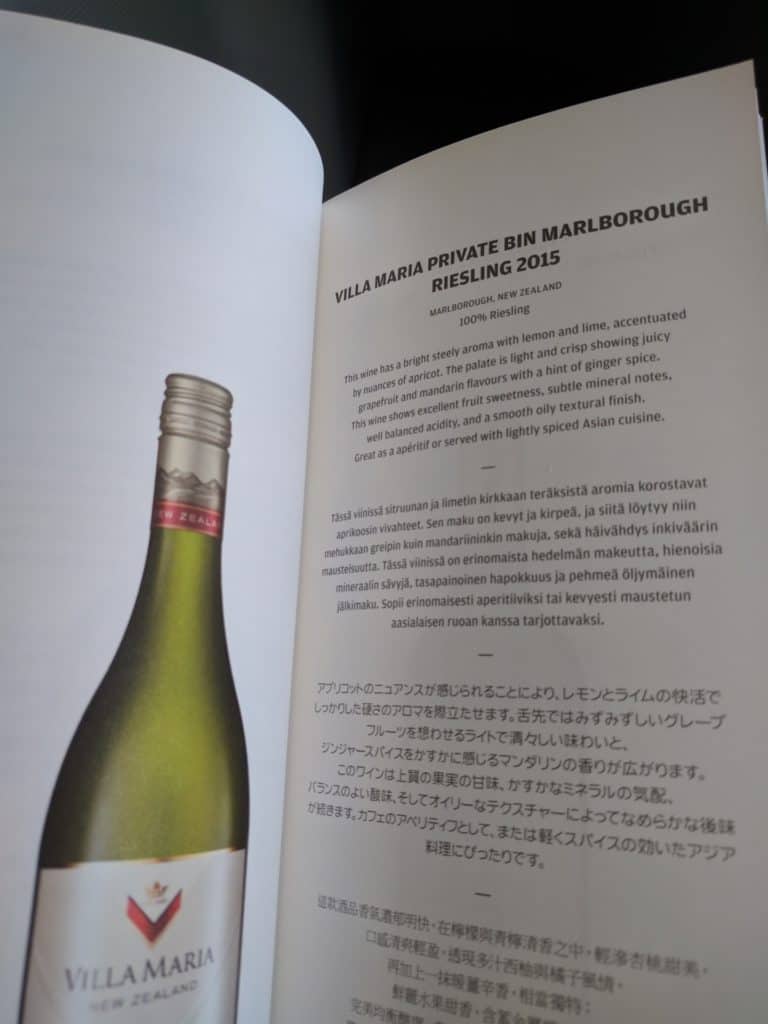 Check our Finnair business class flight reviews to find more about their business class offering.
Pairings
Pairs well with all cheeses, finfish, beans, and spicy dishes.
Rosé wine
Essentially rose is red wine made in the style of white wine. The juice is not fermented alongside the skins and seeds like red wine is. Instead, the juice sits with the skins for only a few hours, allowing only the slightest bit of color and tannin into the wine.
Main Flavor
Melon, strawberry, and citrus are flavors you can find in most Roses.
Popular Varietals
Any red grape variety can be made into a rose. Popular varietals include Pinot Noir, Merlot, and Sangiovese.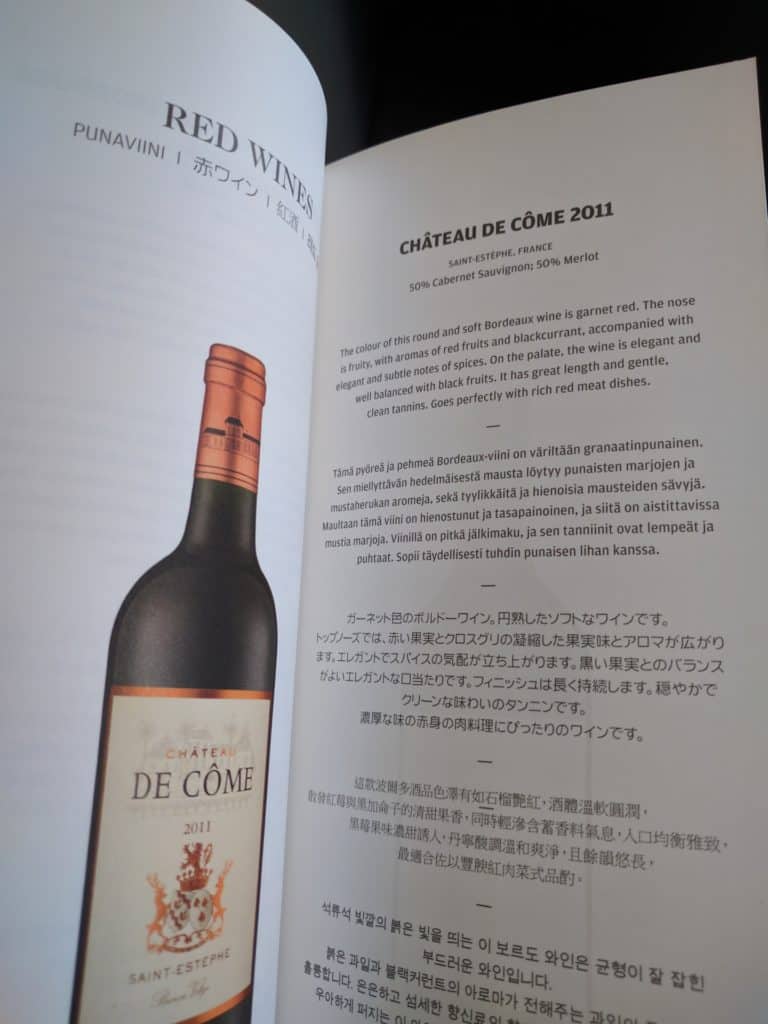 Pairings
Known for the ability to pair nicely with a large variety of dishes, roses pair well with cheeses, cured meats, white meat, and pasta dishes.
Light-bodied red wine
Pinot Noir and Gamay are the two most well-known light-bodied red wines. They are very thin skins, so the color and tannins are lighter than that of other red grapes. They tend to have higher acidity and lots of flavors of cranberry.
Main Flavor
Cranberry, blackberry, mushrooms, and cherries are common flavors in light reds.
Popular Varietals
Pinot Noir and Gamay are the two most popular light red varietals.
Pairings
Light reds go well with cured meats, game birds, and a variety of cheeses.
Medium-bodied red wine
This style makes up the majority of red wines. They age well and are often used for blending purposes.
Main Flavor
Blackberry, cherry, plum, cured meat, and cranberry are common flavors throughout medium-body red wines.
Popular Varietals
Popular varietals in this category include Merlot, Carmenere, Montepulciano, and Cabernet Franc.
Pairings
Nutty cheese, cured meat, and beef are popular pairings.
Full-bodied red wine
Known for their bold tannins, dark colors, and ability to age well. Full-bodied red wines come from grapes that have a thick skin, have fermented for a good time on the skins and seeds, and spent an ample amount of time in an oak barrel.
Main Flavor
Flavors include tobacco, cherry, dark berries, cedar, black pepper, and currant.
Popular Varietals
Malbec, Cabernet Sauvignon, Syrah, Nero d'Avola, and many other varieties are in the full-bodied red category.
Pairings
Game meats, steaks, stews, and rich dishes are a great partner for bold reds.
Dessert wine
Dessert wines range from off-dry to very sweet. Many of these wines can be aged for decades. Some of these wines are fortified and have a high alcohol content.
Main Flavors
Caramel, hazelnut, stone fruits, tobacco, and brown sugar are common flavors in dessert wines.
Popular Varietals
Within this style are Port, Marsala, and Sherry made from indigenous grapes.
Pairings
Often an aperitif or a dessert in itself, these wines pair well with desserts and sweet dishes.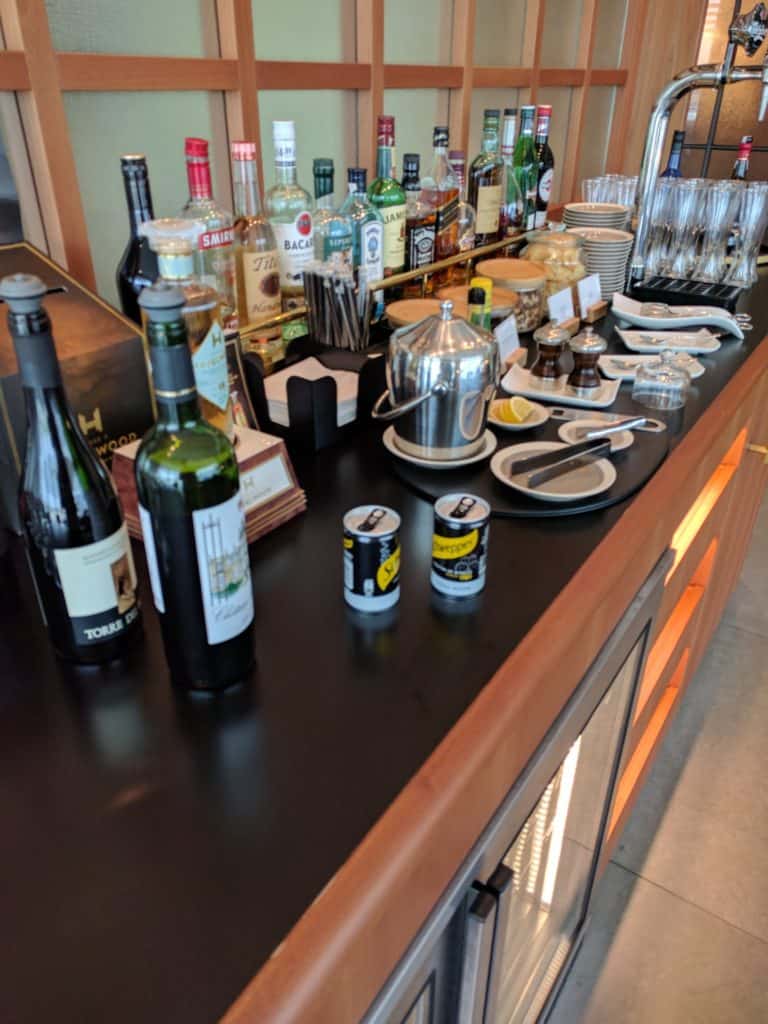 Conclusion
If you are new to drinking wine and wondering where to start, the key to enjoying wine is to ease yourself into it. It is hard to start right off with a Merlot and not be intimidated.
Try an aromatic white wine to begin. While they are mostly made to be dry, they are very fruit forward and have a huge aromatic bouquet. It is also recommended that those wanting to start training their palate and learn more about why start here. It is easy to pick out flavors and aromas from aromatic whites.
When you do begin to jump into bold red wines, pair them with food. It will help your palate get used to the flavors.
Always try new wines. Many new wine drinkers make the mistake of finding a wine they love and sticking to it. We all have our trusty go-to wines but don't limit yourself to just a couple different bottles you like. The world of wine is endless, and there is always more to explore.
Learn the basics of wine. You don't have to become a master sommelier to enjoy what your drinking, but you will enjoy and appreciate wine more when you learn about it.
Most importantly, enjoy what you are drinking.
With airlines working hard to create luxury wine menus for their flyers, it's the perfect time to put your palate to practice with great international brands that you may not be able to find in your local wine shop. If you need another reason to go adventuring across the world or if you are on yet another business trip, it's a great time to start sipping at 35,000 feet.