Sometimes flying in business class is not a viable option. In this post, we are reviewing one low cost, but a relatively comfortable long-haul option.
On my recent flight from Los Angeles, United States (LAX) to Stockholm Arlanda, Sweden (ARN), I had a chance to check out Norwegian Premium Cabin. Norwegian is one of those budget airlines that make you pay extra for everything.
Norwegian Premium is their "business class." Premium ticket includes two checked bags, Fast Track (where available), lounge access (at selected airports) and food and drinks during the flight. In my opinion, the Norwegian Premium Cabin is something between premium economy and business class, being closer to the premium economy.
Check-in
Check-in at Los Angeles International Airport, Tom Bradley International Terminal (LAX)opened right on time three hours before the scheduled departure time. Since I was the first one waiting on the premium check-in line, the check-in went fast and smoothly for me. As a premium cabin passenger, I was able to check in two bags (up to 20kg each). I was not informed about the premium security line option at the check-in, but after asking about that, they told me I could use it.
Lounge
Norwegian Premium ticket comes with lounge access, so I was able to wait for my flight at Oneworld Lounge. It is a large lounge with lots of chairs and tables. At the time there were only a few people here and there, and the atmosphere was quiet. The food selection was quite nice; a few warm dishes, a soup, a salad bar, and some small desserts. From the bar, I enjoyed a glass of sparkling wine (unfortunately there was no champagne available).
Boarding
Boarding began a little bit late, but luckily (or so I thought) Premium Cabin passengers were boarded first. The rest of the process was not very smooth due to the bus transfer from the terminal to the plane (and since Premium Cabin had boarded first, they were last to enter the plane). After the bus ride, we had to stand and wait in the jetway for about 15 minutes before we were allowed to get on the plane.
Cabin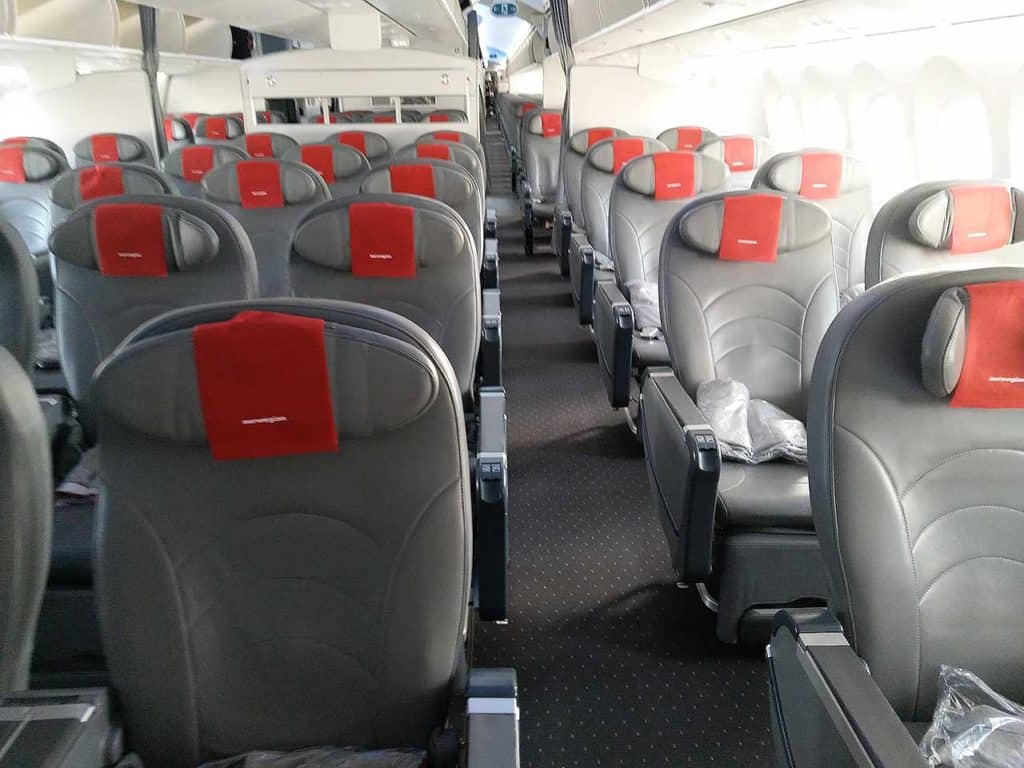 In Norwegian 787-8 Dreamliner, the premium cabin seats are in a 2-3-2 configuration. My seat was a window seat 3A. There is plenty of legroom (up to 140 centimeters / 55 inches), and the seat is comfortable enough. The seat reclines nicely, and the footrest allows you to lift up your legs.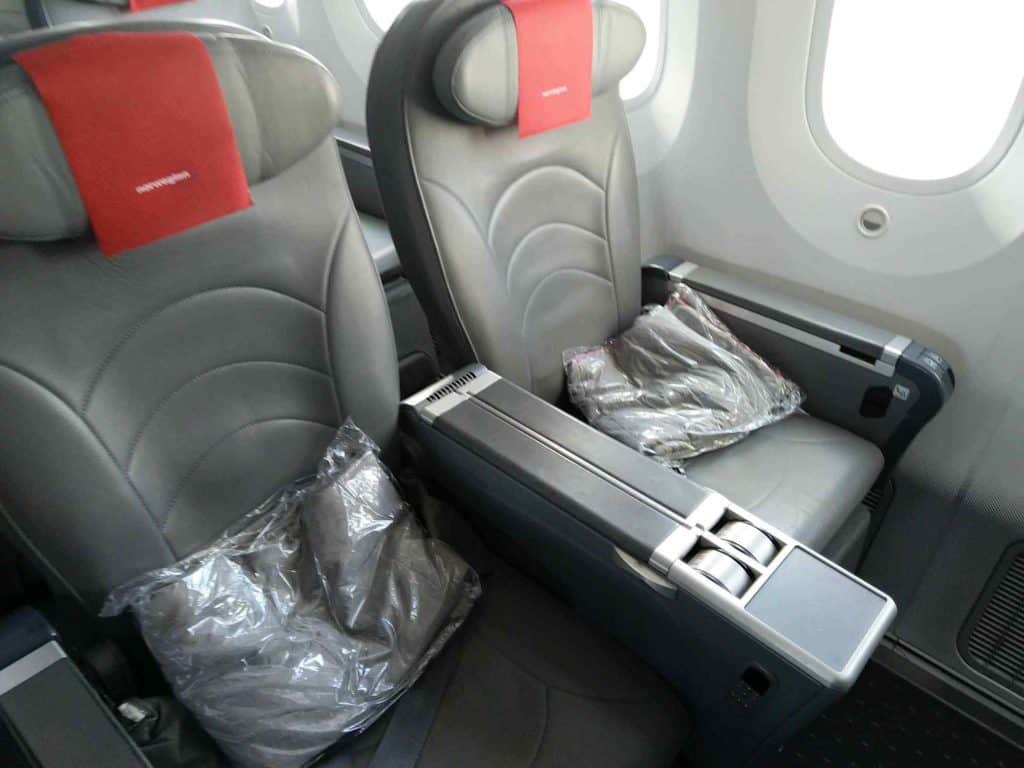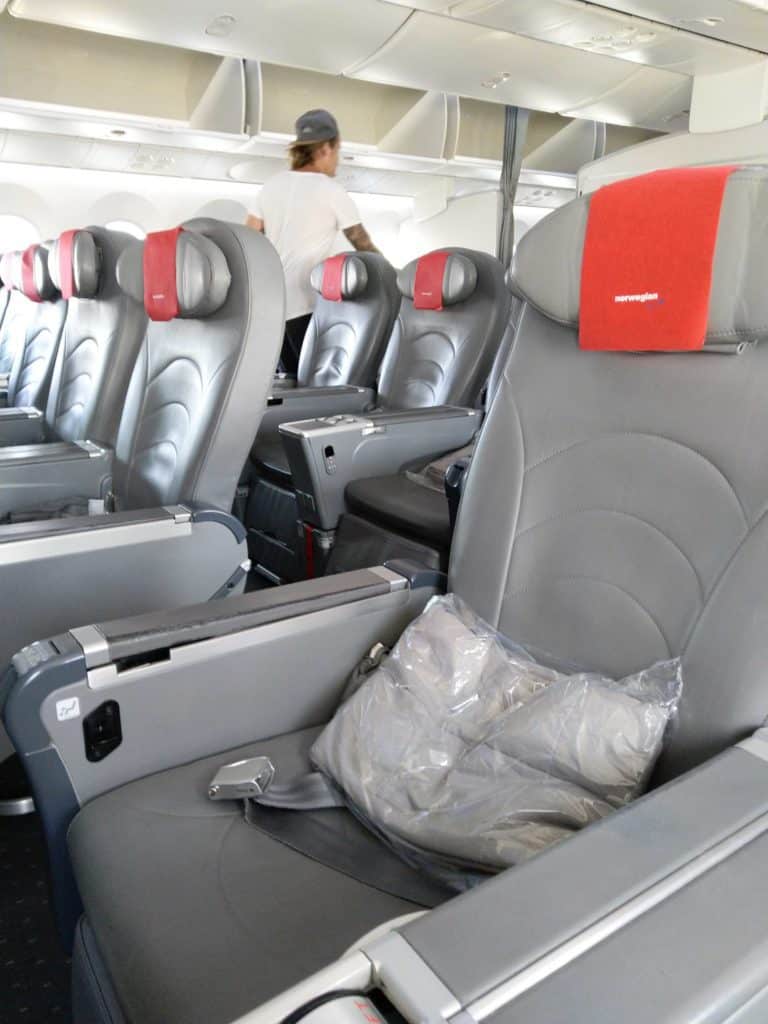 Everybody in Premium Cabin got a nice, soft blanket but no pillow. Headsets were offered too, but their audio quality was (not surprisingly) very poor.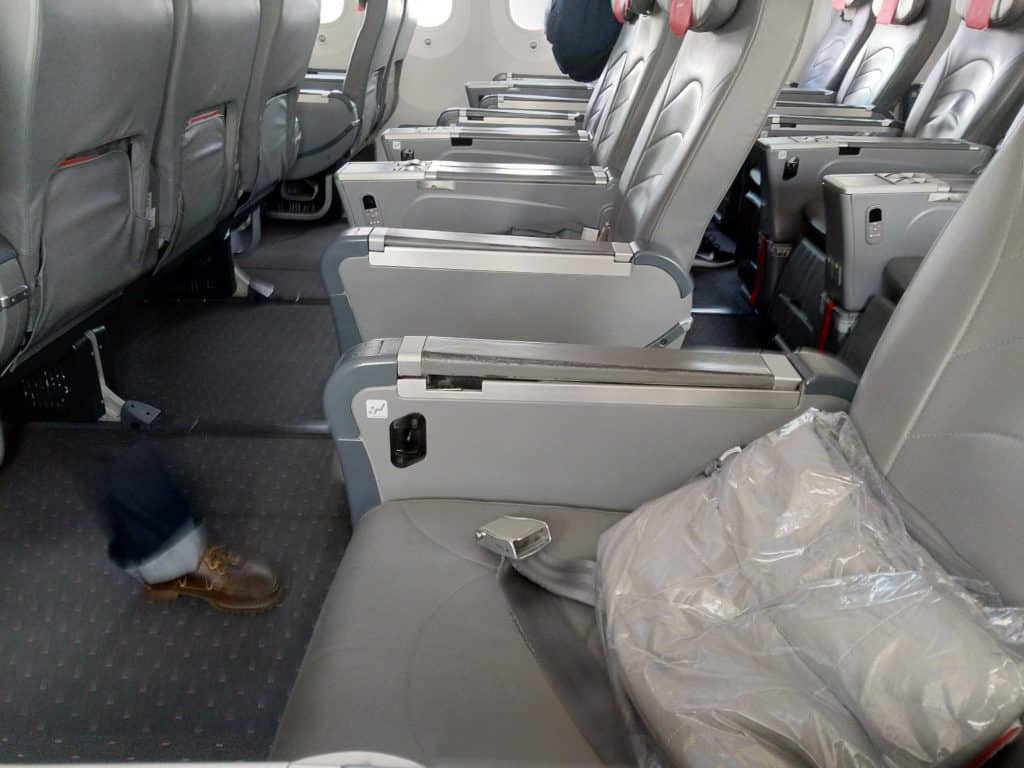 The In-Flight Entertainment screen is stored inside the armrest. The screen itself is well-sized and has a good picture quality (interestingly enough, better than on British Airways 747 First Class – read our full review here).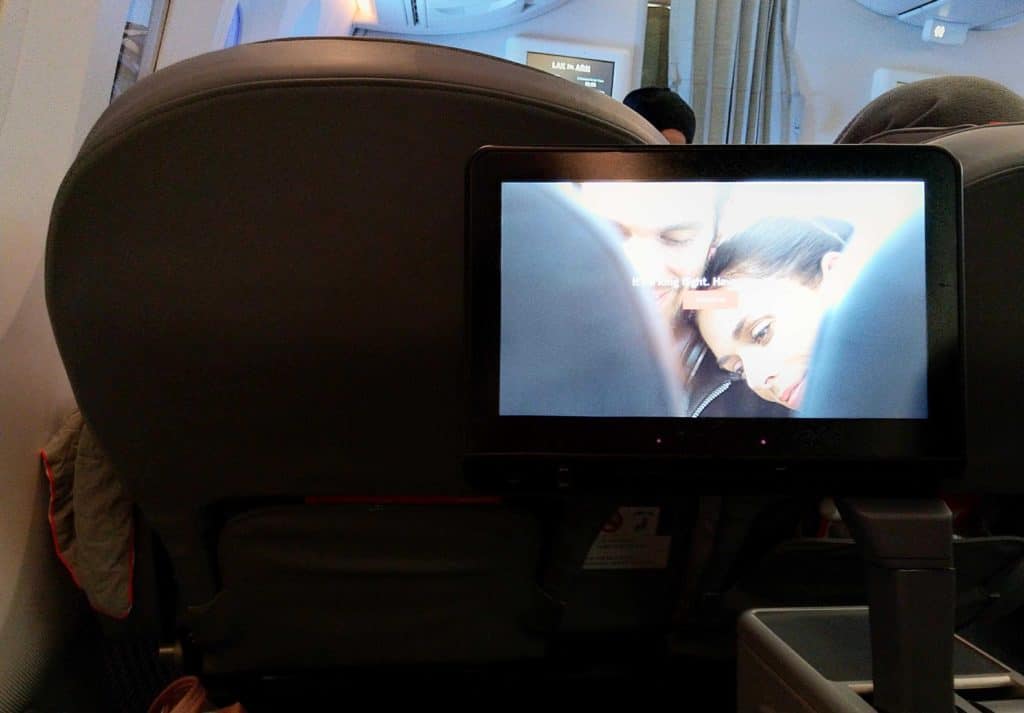 There are a USB port and power plug to charge your electronic devices in every seat. The window is large and has a typical dimming system for Dreamliners, which some love and others hate.
Food and drinks
Before the take-off, we were served juice and water. The first round of drink service began after the take-off.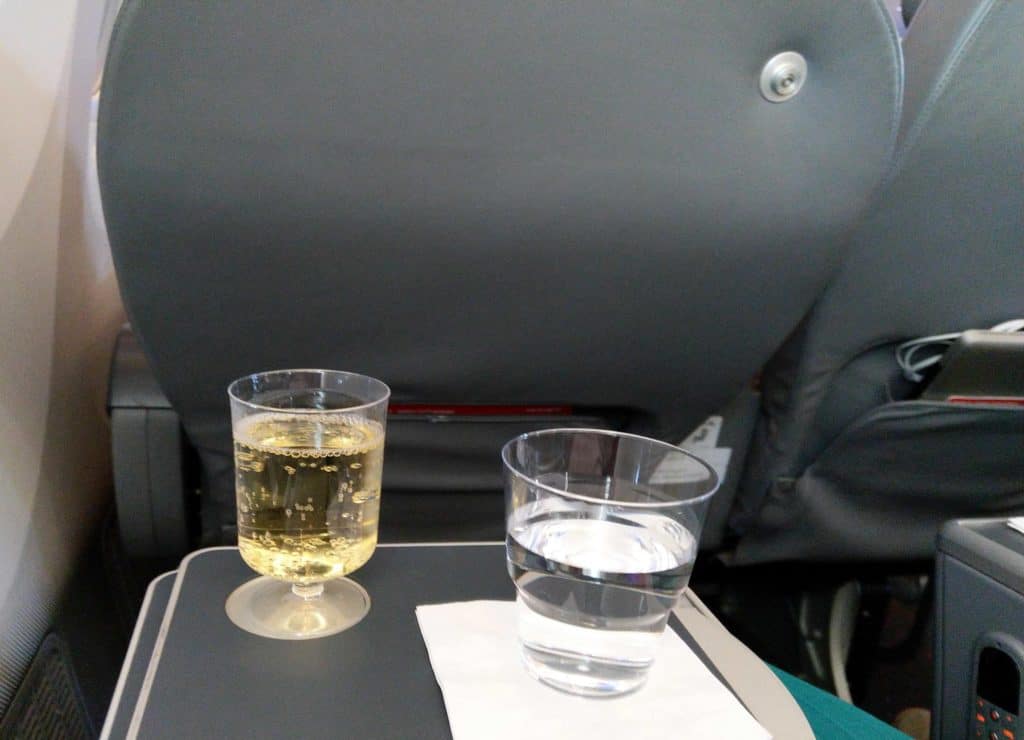 The drink options were quite usual; sparkling wine, red and white wine, the typical liquors, beer, juices, soft drinks, and water. Drinks were offered three times during the dinner service.
Dinner, which is advertised as "3-course Premium dinner", is served in boxes and there were three options to choose from; cod, beef or chicken. I had chicken with potatoes, which didn't taste particularly good. I must admit though that the dessert macarons were tasty! After the dinner, a round of digestives (for example, Bailey's) were offered.
Breakfast was served before landing. It consisted of bread roll, cheese and ham, a boiled egg, and fruits.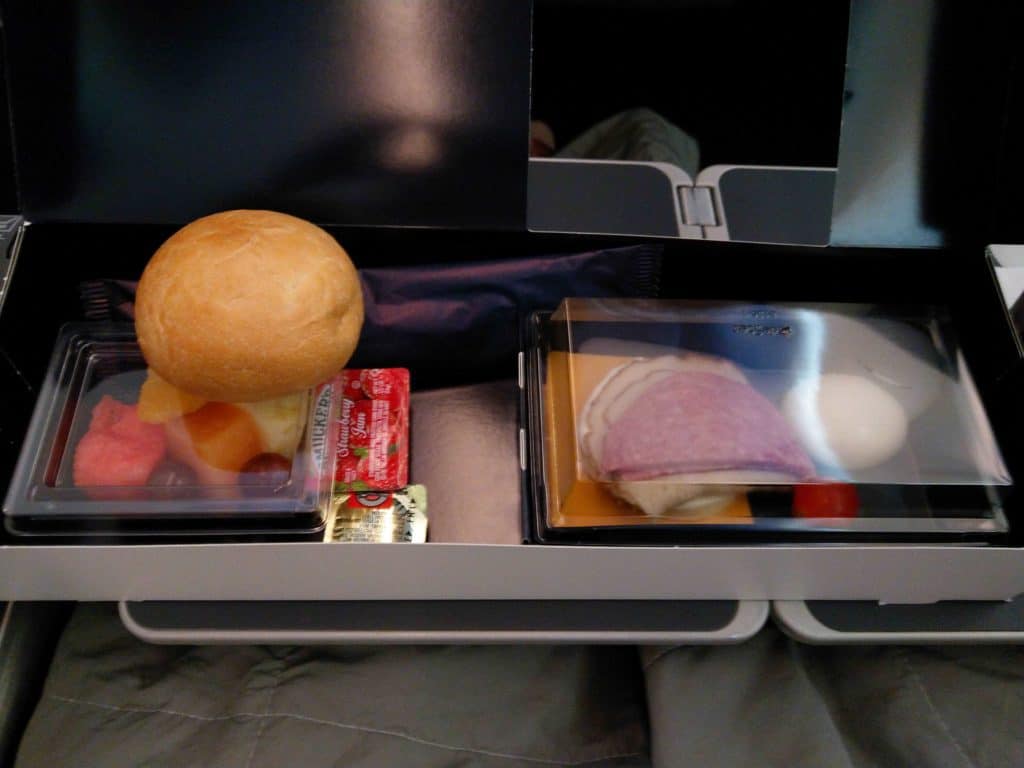 The food and drinks were very basic, and there was nothing luxurious about them. But having something to eat is definitely better than nothing, especially during a 10-hour flight.
Service
The service was what you would expect from a low-cost carrier. Nothing special, but polite and straightforward.
Summary
If you can't find decent business class flight deal, Norwegian Premium might be a good long-haul option – especially if
you want to relax in the lounge before your flight
you enjoy extra leg room and want to have a more comfortable seat with little bit more space to yourself
you want to be able to rest and get some sleep
you want to eat and have some drinks at no extra cost
you need to check in two suitcases
More info on Norwegian Premium Cabin. And don't forget to read our business class flight reviews.