Finnair announced the new business class in February 2022 and is renewing all of its long-haul cabins during 2022 and 2023. I had a chance to fly and test their new business class seat called AirLounge in June 2022 on my way to Singapore.
Booking
Finnair has (June 2022) three different business class seat types. If you want to book the new AirLounge seat, remember that the new cabin is available only on selected routes. As of June 2022, the destinations are Singapore, New York, Dallas, and Chicago, with more to open as the renewal process continues. If you are unsure whether your flight has a new configuration, it's recommended to use services like Expertflyer to check the current situation.
Flight Details
| | |
| --- | --- |
| Route | Helsinki (HEL) – Singapore (SIN) |
| Date | June 2022 |
| Plane | Airbus A350-900 |
| Cabin | Business Class |
| Seat | 6A |
| Capacity | 43 passengers |
Check-in
A lot has changed at Helsinki Airport during the last few years. In June 2022 all airlines have moved to a single terminal (T2) so there's one less thing to think about. The departure hall is completely new, as well as the security check area. Finnair priority check-in desks can be found at the end of the hall, just before the security check area. There is a separate lane for Finnair Platinum/Lumo and Oneworld Emerald customers, so you can expect a smooth check-in experience.
Finnair Business Class Lounge at Helsinki Airport
Finnair has an excellent business class lounge in the non-Schengen area of the airport. There is even a dedicated wing for Platinum/Emerald members, but it was already closed for the day during my latest visit. I hope they will extend the opening hours soon to cover also flights to Asia. Nevertheless, the regular business class area is more than decent. It has plenty of space divided into multiple sections. A wide selection of food and drinks were available during my visit.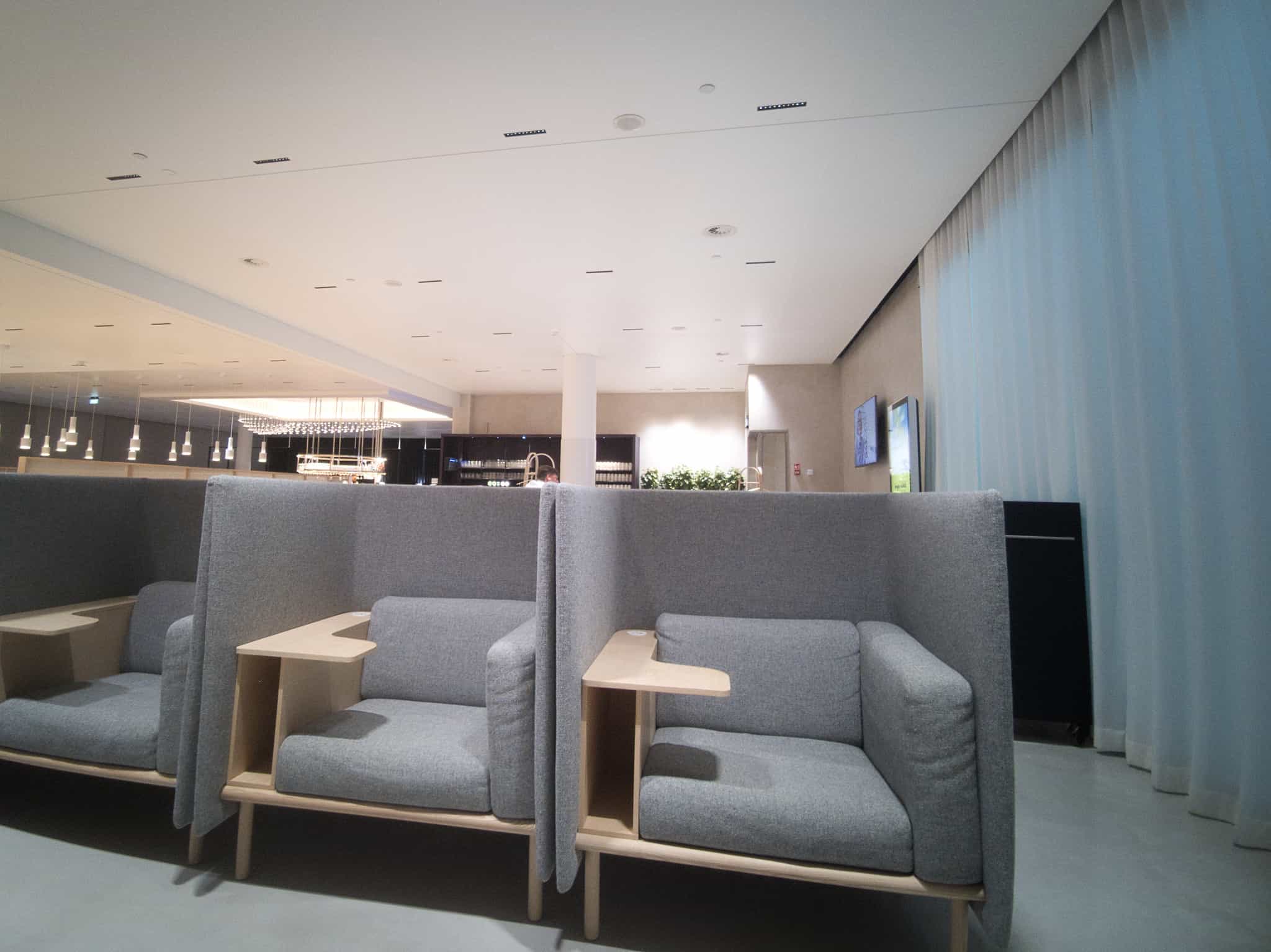 Boarding in Helsinki
Pre-boarding in Helsinki started on time. People were directed to two pre-boarding areas – one for business class and priority passengers and the other for the rest. Once the actual boarding started, it went smoothly at least for the priority group.
Cabin
But how about the renewed cabin and the new business class seat? My first impression after entering the business class was that the new seats look very private. The side panels limit the visibility of the aisle so you can relax inside your private cocoon if you wish.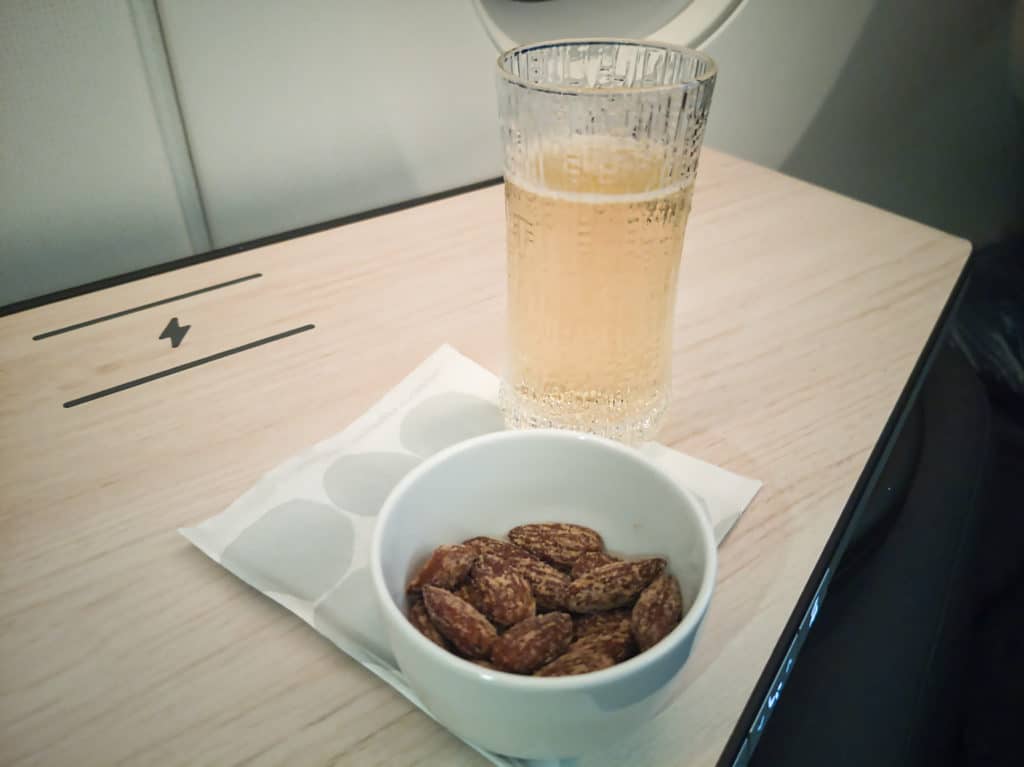 The AirLounge seat is very simple to use. The only moving part is the footrest, otherwise, you are responsible for finding a suitable seating position. Finnair provides two pillows for making your flight more comfortable. In addition to pillows, there is a thin comforter and a blanket available.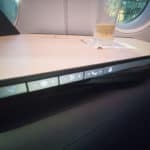 In brief, the AirLounge suits the best travelers looking for a sofa-like flight experience.
I think a few extra pillows would have made the seating a bit more comfortable. And based on this first trip, I personally prefer a traditional (and adjustable) business class seat during daytime flights.
Night time and sleeping is a different story. The AirLounge seat converts to a wide bed, by lifting up the footrest. However, there is one major problem. The seat padding is very hard, so at least for me, it wasn't very comfortable to sleep sideways. But if you are used to sleeping on a futon or otherwise hard mattresses, you probably have no problems with Finnair's new business class seat. Lengthwise there was no problem finding a good position (I'm 190 cm / 6'3″) and even the footwell did not feel too narrow.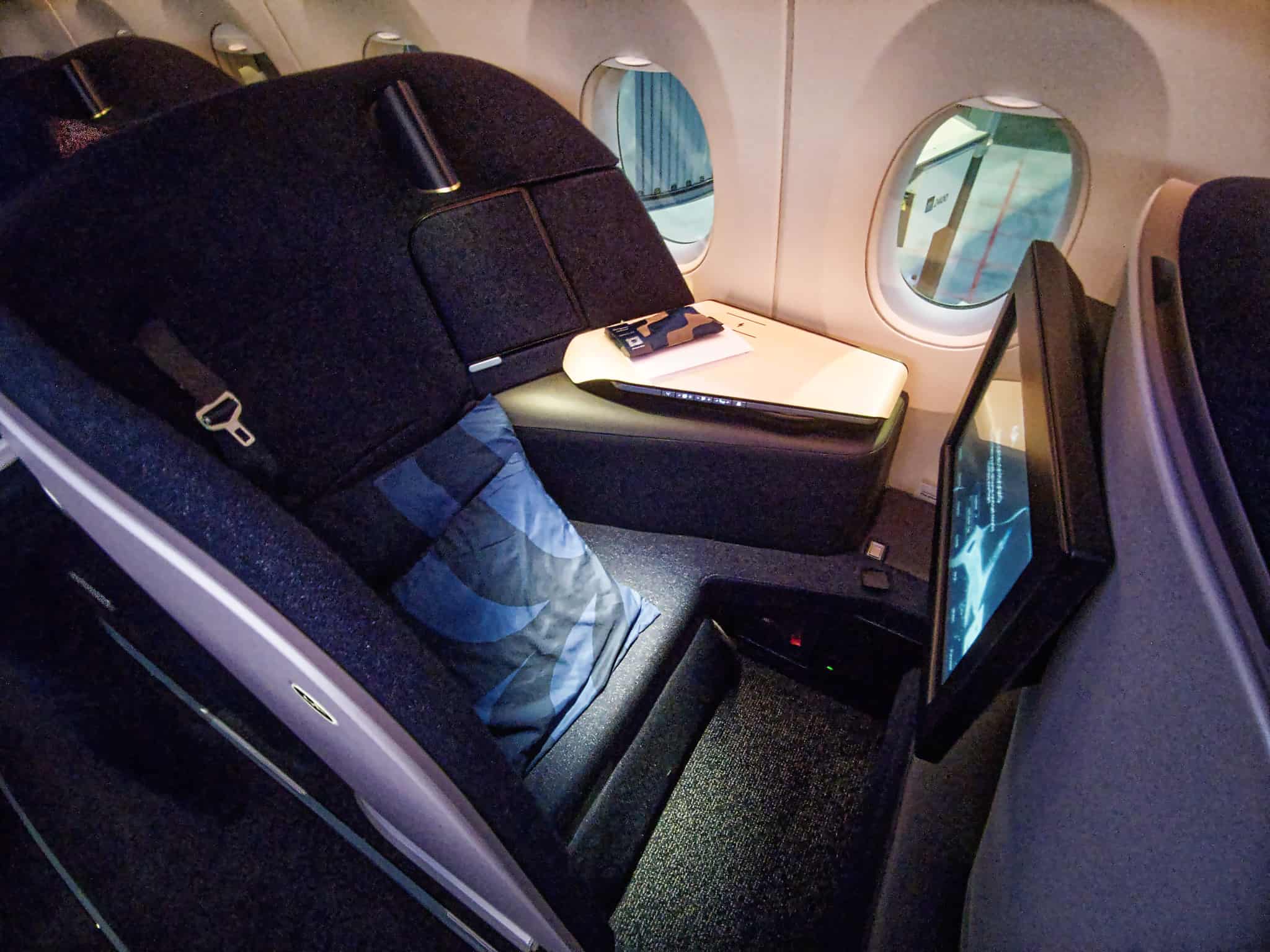 Finnair AirLounge Details
Configuration
1-2-1
Seat arrangement
Suite
Seat type
Collins Aerospace AirLounge
Bed length
over 200 cm (over 80 inches)
Seat width
Wide
Capacity
28/30/43 passengers
Personal TV
18 inches
The best seats on Finnair A350 with AirLounge Business Class
Due to the 1-2-1 layout, there are no bad seats in the new business class. If you want to maximize privacy, the last three rows of the business class form a separate area, kind of a "mini-cabin".
How does the AirLounge compare to other business class seats? Read our Business Class Seat Guide for more information.
Business Class Amenity Kit
Finnair's amenity kit has not changed during the covid years. It's still the same, very minimal, pouch designed by Marimekko. It contains L:a Bruket personal care items, a toothbrush, ear plugs, and a sleeping mask.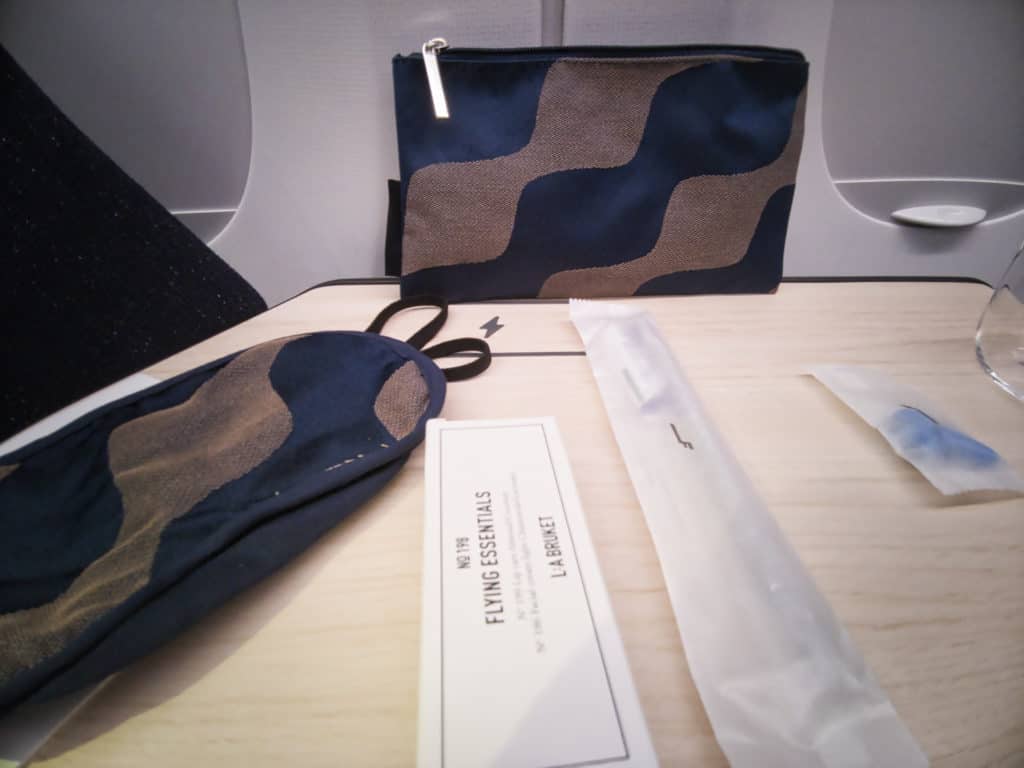 In-Flight Entertainment
The new Panasonic in-flight entertainment system is absolutely fantastic. The 18-inch screen is sharp and bright, providing excellent image quality even for daylight movie sessions.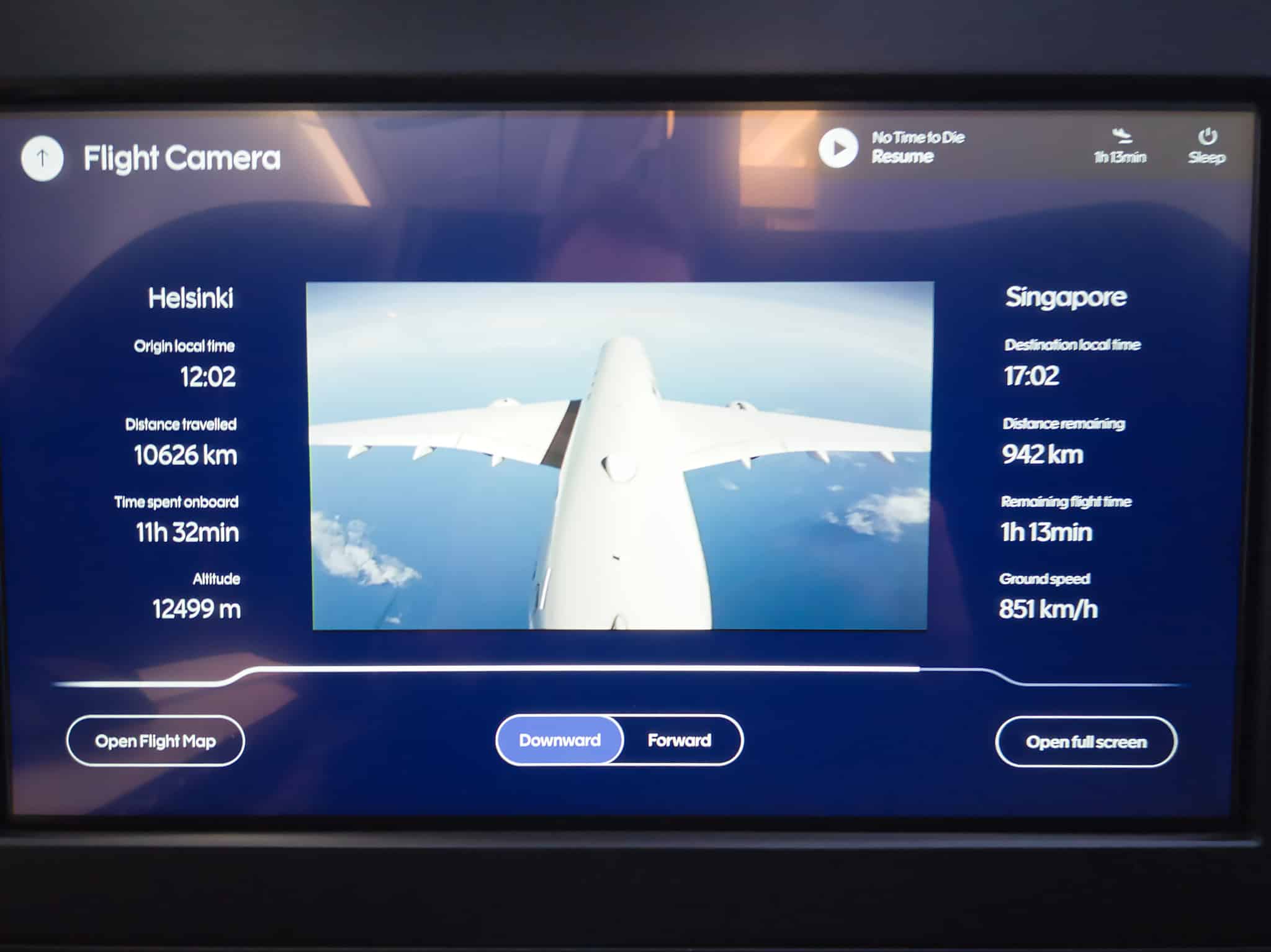 The updated user interface offers easy navigation to all entertainment options and information views. In my opinion, the new UI is one of the best I have encountered so far on any airline. The movie selection was not as comprehensive as I would have hoped, but still had plenty of options to choose from. Probably the biggest downside is that the screen is fixed and cannot be adjusted in any way. Not a problem when sitting upright, but when you slide down to a sleeping position, the viewing angle is not exactly perfect.
Finnair continues to use Bose headphones in their business class, which provide excellent sound quality and one of the best noise cancellation features.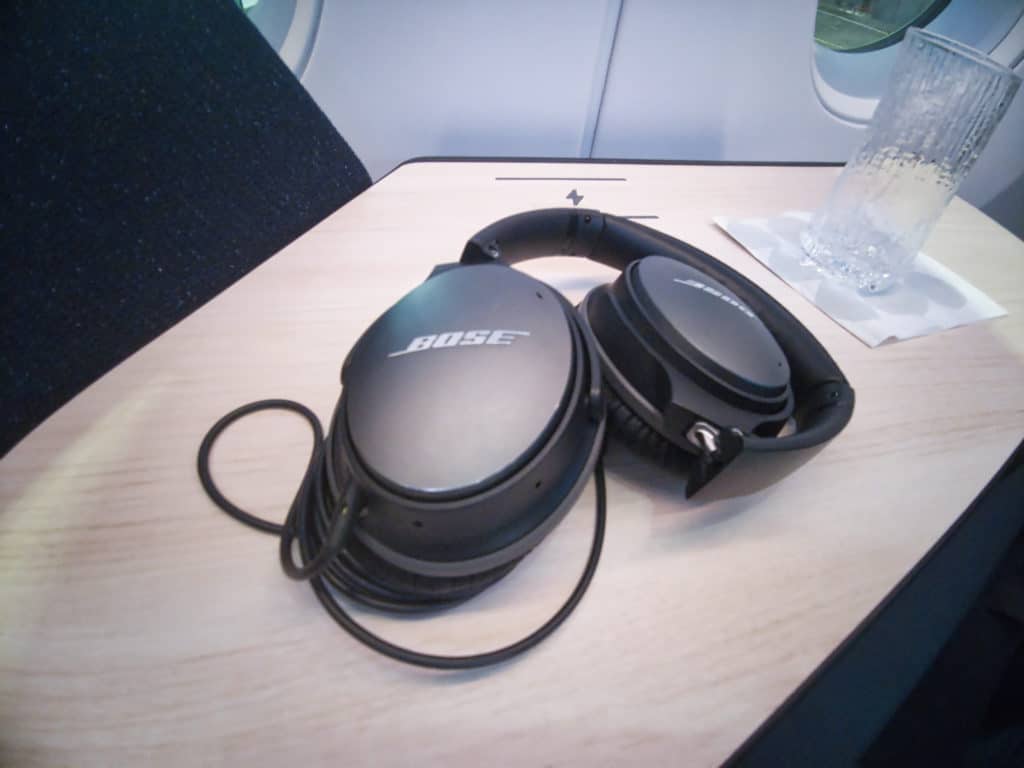 The new business class seat has plenty of options to charge your devices. In addition to the power plug, there are a USB A and USB C -sockets as well as a wireless charger.
Food, Drinks, and Service
Finnair's food and beverage offering was the weakest link on my flight to Singapore. For late-night dinner, there were three main course options and two desserts – but no choices on an appetizer (or "cold plates" as Finnair calls it).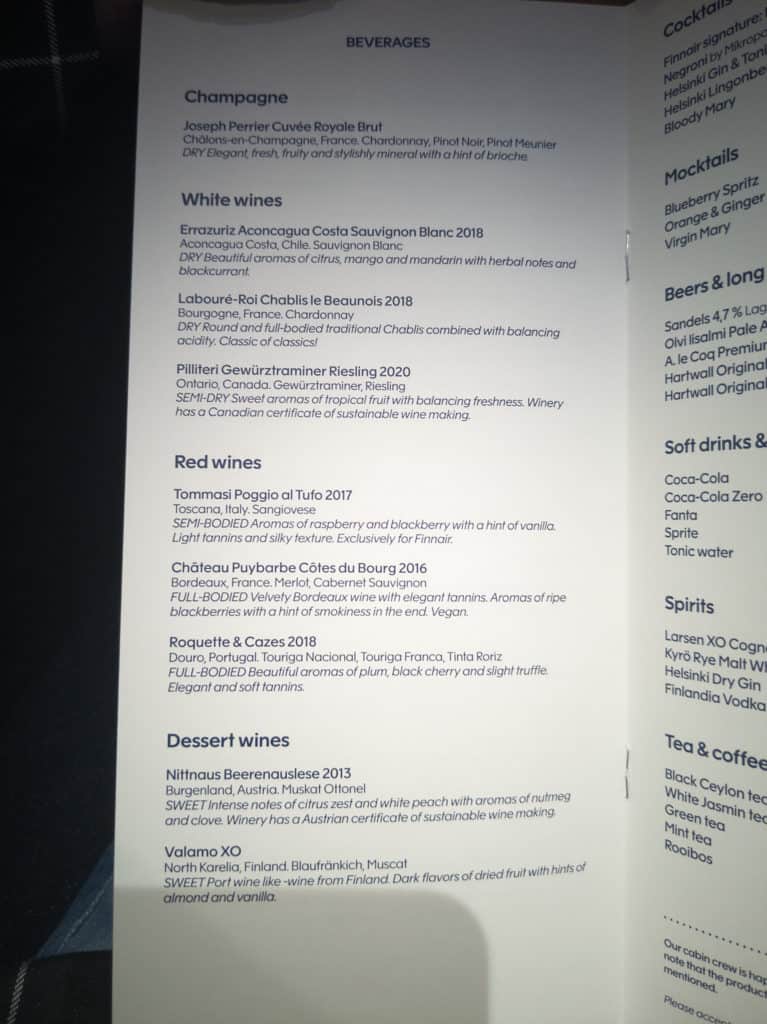 I chose the braised beef cheek, which was quite okay, especially since the truffle sauce was tasty.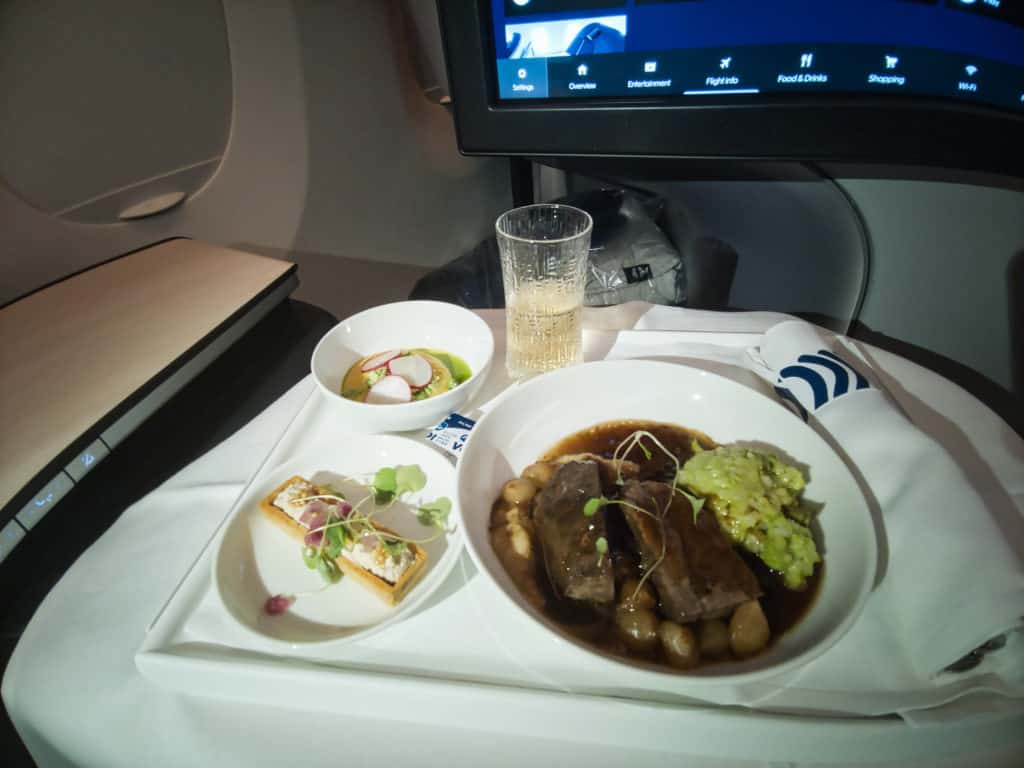 Before landing in Singapore we were offered a light lunch, which consisted of game pie, Skagen salad, and some fruits. No options there, nor was the taste anything spectacular.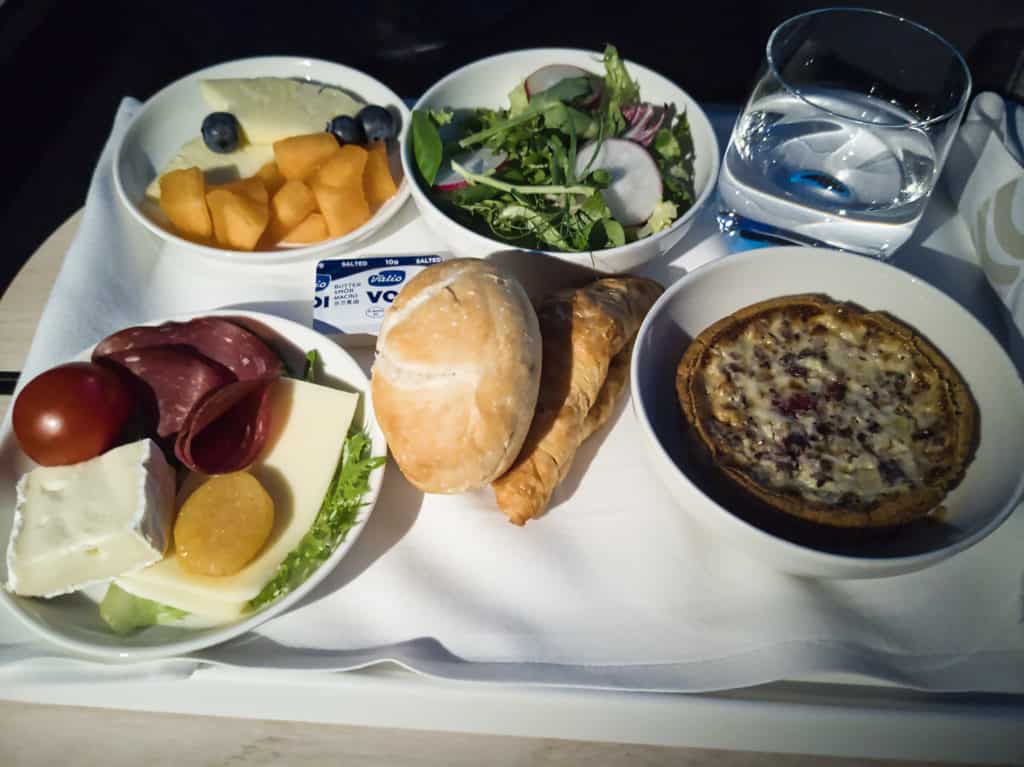 The drinks list is short, with one champagne option (Joseph Perrier Cuvee Royale Brut), and three red and three white wines. I hope Finnair would offer a rose wine or champagne options in the future – like for example, Qatar Airways does (Read our Qatar Airways A350 with QSuites review).
Service on this flight was a bit better than Finnair's usual "blunt and minimal" service level. All the necessary service was handled in a friendly manner, but that was it.
Conclusion
Overall the new cabin is a fantastic upgrade
AirLounge seat is definitely not for everyone
Excellent IFE and charging possibilities
Mediocre dining options
---
Other recent business class reviews:
For more business class flight experiences from other carriers, see all our American Airlines, British Airways and Qatar Airways flight reviews.