Finnair has always been a two-class airline – they had economy and business classes on most flights. That changed in 2022 when Finnair introduced a third class – Premium Economy, alongside their upgraded business class cabin.
I had a chance to test the new premium economy seat on a 13,5 hour-long flight from Singapore to Helsinki. To read more about the new business class, check our review here.
Changi Airport
Before boarding, I had a few hours to enjoy the excellent facilities of Singapore Changi Airport (SIN). Finnair check-in opens three hours before the flight leaves, and mobile check-in doesn't work at Changi Airport, so you should plan your visit carefully. One option is to use Changi Lounge which can be found in the public area, before the immigration. Entry to the Changi Lounge costs around 24 SGD for 2 hours or alternatively you can use Priority Pass or other lounge passes.
After the immigration, the lounge options are plentiful. The best choice is to use Qantas First Class Lounge, which re-opened in June 2022. Oneworld Emerald status is needed to enter that fabulous lounge. I decided to stop by and have a quick dinner before the flight to Helsinki.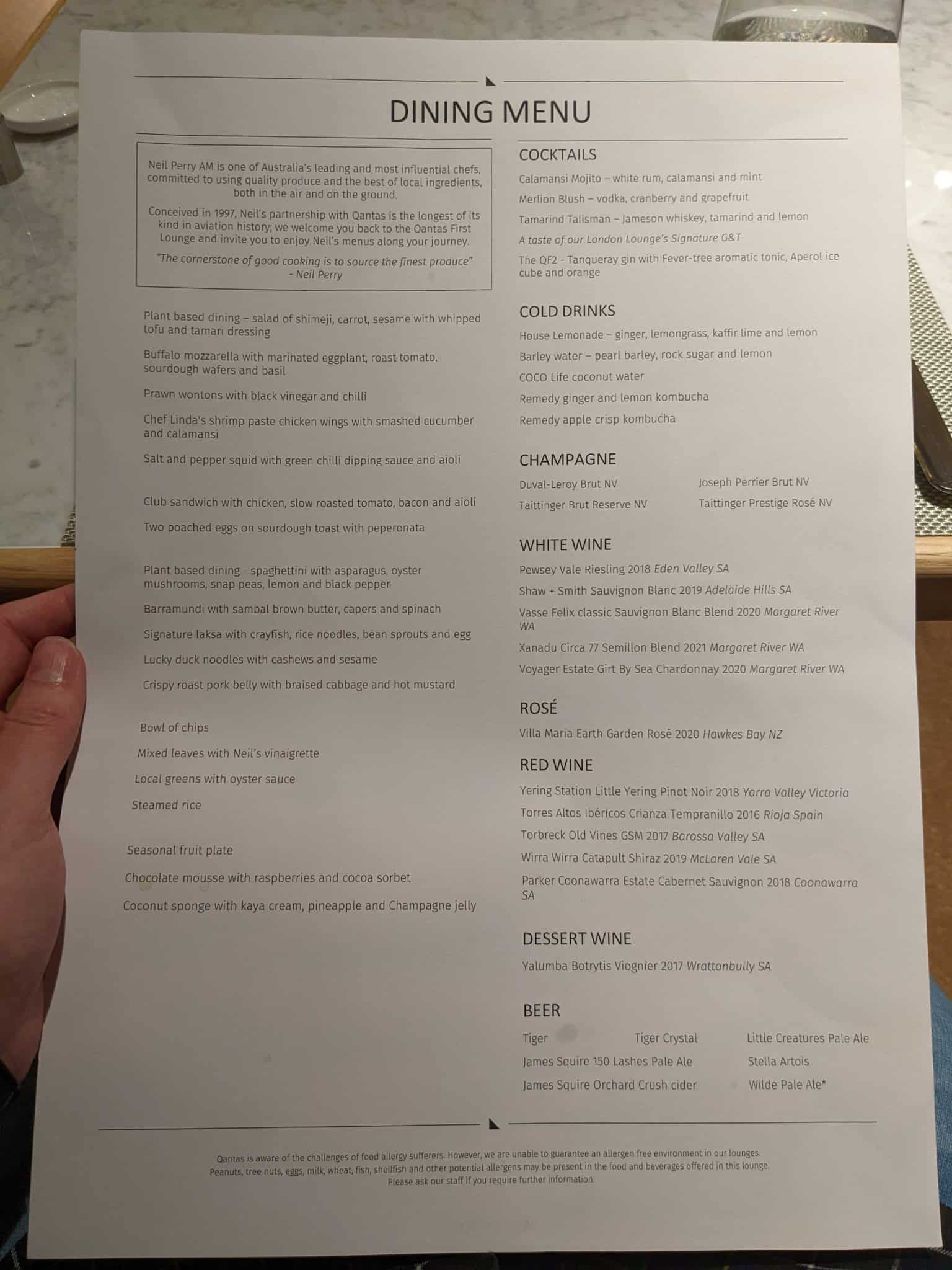 The biggest downside of Changi Airport (in my opinion) is the location of the security checks. They are at the gate – meaning the area will be crowded, and you cannot take any liquids from the airport with you. During my visit, there was a separate priority lane, but only one screening machine. The whole process a bit chaotic and not very well organized. For example, my boarding pass was checked four times during the 5-minute security check.
Finnair Premium Economy Cabin
The current configuration of Finnair Premium Economy consists of just 3 rows (July 2022), but might change in the future. Such a small cabin should be rather private – in theory. In reality, only a thin curtain separates the premium economy from economy class – and usually, families with small children are seated in the first rows of the economy. And that might cause some noise disturbance, as I found out during my flight.
Premium Economy Seat
The seat is very comfortable and offers decent recline and support for the feet. The memory foam cushion has good support for your back while being soft enough at the same time. There is also an adjustable headrest, which makes sleeping easier.
The seat pitch is 96.5cm (38") and the configuration 2–4–2, so the double side seats are probably the best option in most cases. I would personally choose the first row, as it allows easier access to your seat.
The 13-inch Panasonic in-flight entertainment system provides solid image quality and the user interface is the same as in business class.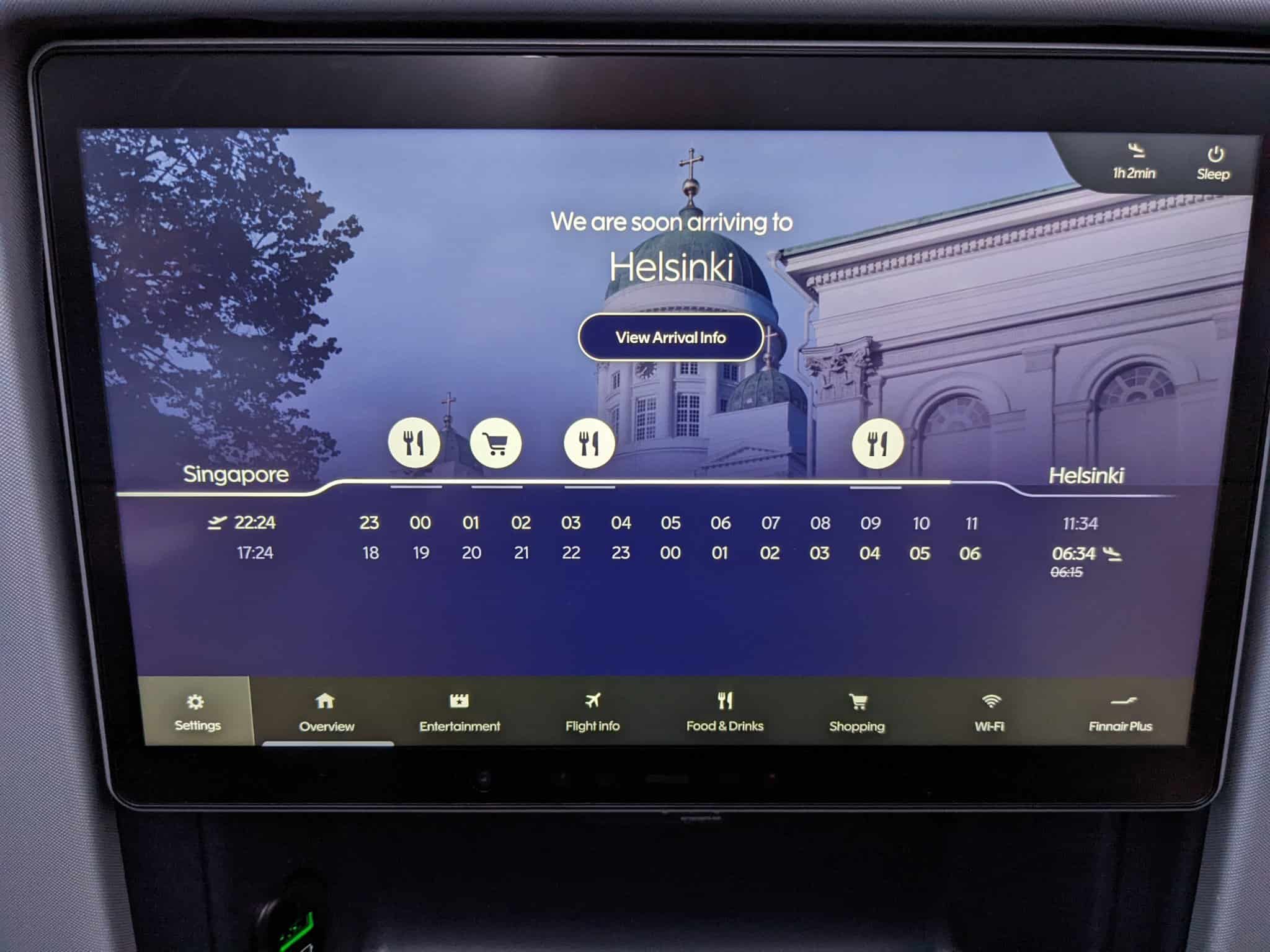 You will also receive an amenity kit, which is exactly the same as Finnair uses in their business class. In addition, there's a thick neck pillow and a blanket, but no slippers. Noise-canceling headphones are also available, but they are not as good as the ones in business class. Instead of Bose, Finnair uses Phitek headphones in their premium economy class.
Food And Service
The service on the flight was very brief and minimalistic, although I was offered a small bottle of complimentary champagne due to my Finnair Platinum status.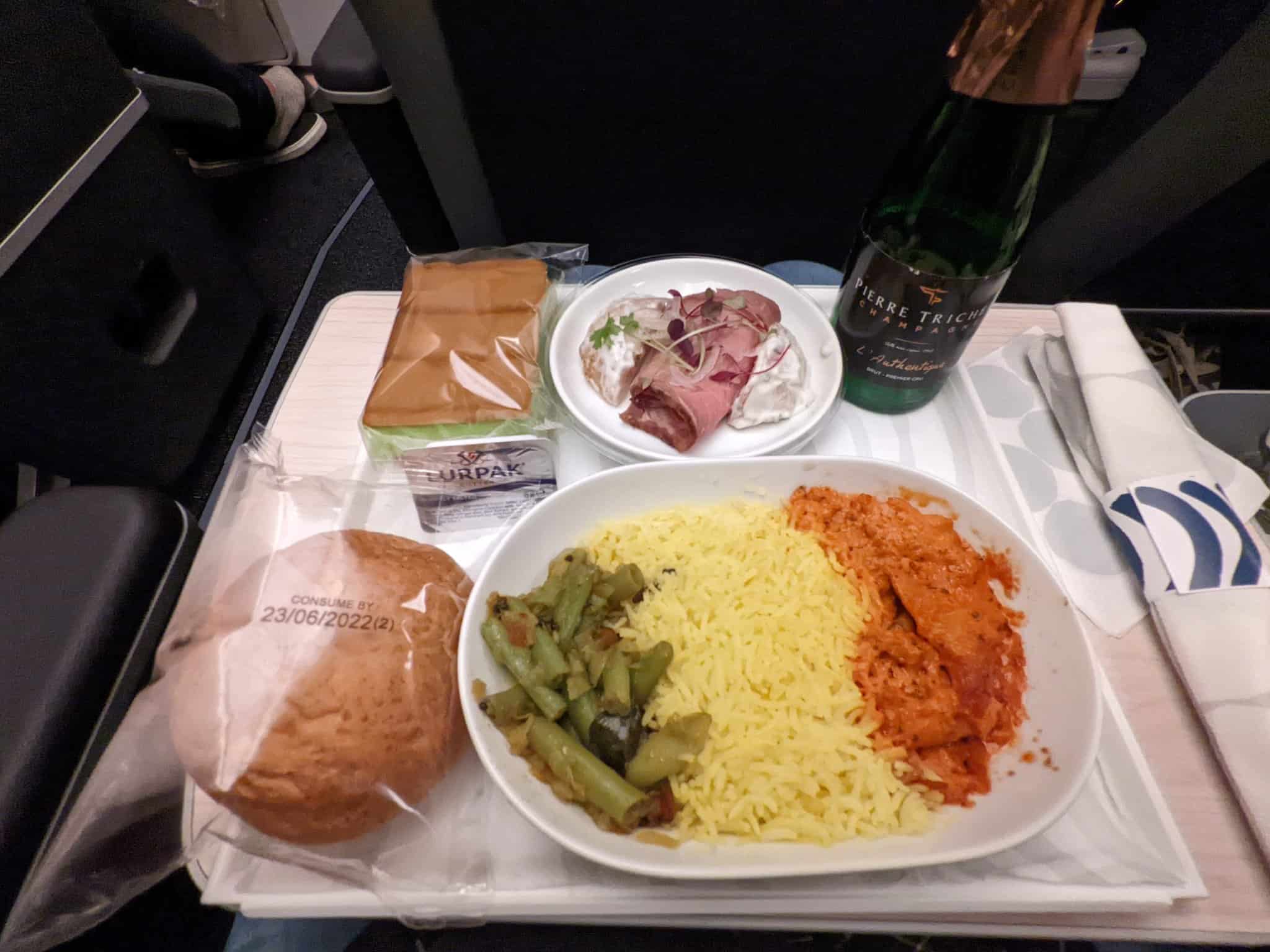 Food is supposed to be the same as Finnair serves in business class, but without any choices. In any case, it was very bland on this flight. Also, no menu was provided so it was difficult to know what exactly was on your plate.
Drinks were complimentary throughout the flight, excluding the champagne.
Conclusion
In brief, I think Finnair's Premium Economy is how the economy class should be.
Comfortable seat (compared to the regular economy seat)
Excellent in-flight entertainment system
Lackluster food
Shared bathroom with economy class
---
Our recent business class reviews: