I have flown on Finnair's A350-900 many times before, also to and from Bangkok, so I kind of knew what to expect – comfortable seat, a bit weird food options and mediocre service. Were my assumptions correct, read on to find out?
| | |
| --- | --- |
| Route | Bangkok (BKK) – Helsinki (HEL) |
| Date | September 2018 |
| Seat(s) | 7A |
Miracle Lounge at Suvarnabhumi Airport
It was an early morning flight and I had only a few minutes to spare before boarding, so I decided to stop by at the "official" Finnair lounge, Miracle Lounge.
This lounge is located next to the G gates, but there are similar lounges also near A, C and D gates.
If you are not flying on Finnair business class, you access the lounge with Priority Pass or through Loungebuddy service by paying 28 euros (for 2-hour visit)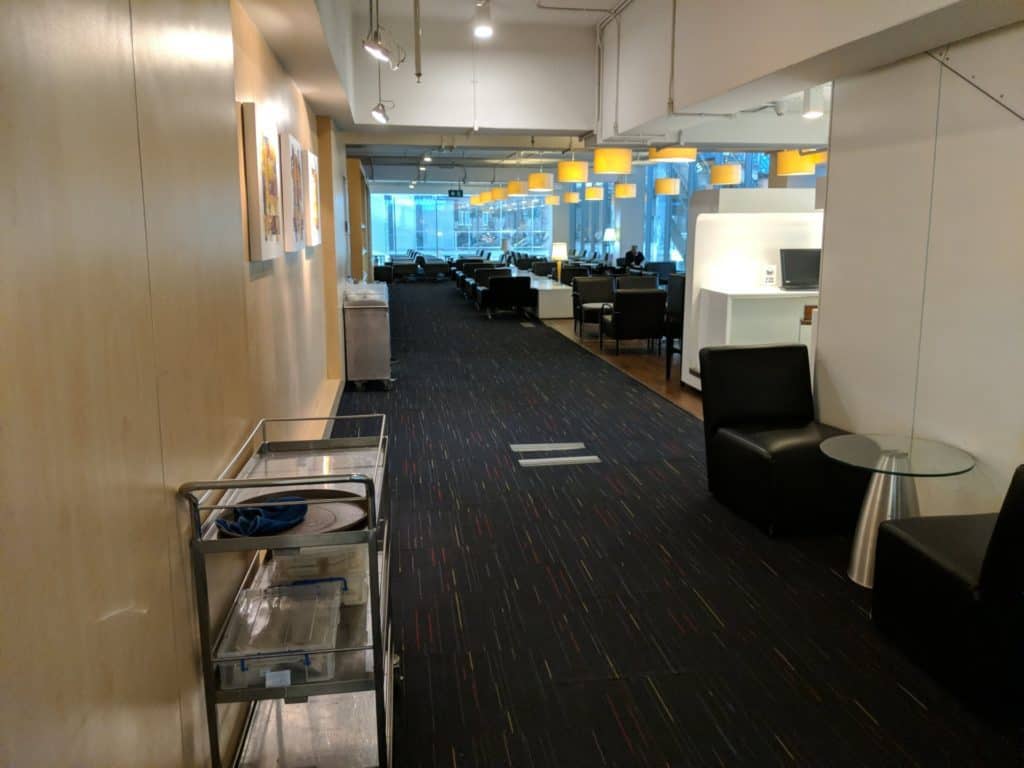 During my visit, the lounge was almost empty (as you can see from the photos above). There were quite many food items available, but their quality was average at best. Among other things there were different kinds of puffs (chicken curry, spinach, ham), fried rice and chicken sausage.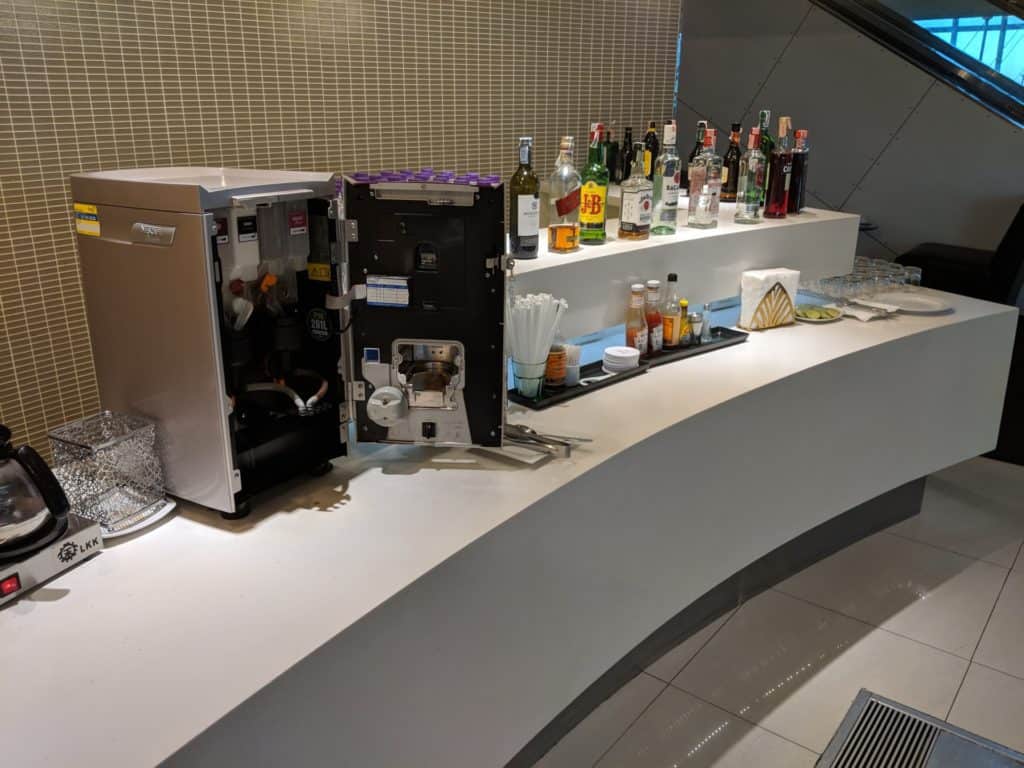 Based on my quick visit, I'd say that Miracle lounge is very basic and not necessarily worth visiting if you have other options – but as always, any lounge is better than no lounge at all.
Boarding in BKK
After a lounge visit, I walked a few steps towards the gate. There was no clear indication when the gate was supposed to open, and since the flight was delayed a bit, a little chaos started to build up. Once the boarding began, the group numbers were not clearly announced nor controlled, which didn't help to control the messy situation.
Finnair A350 Business Class Details
Plane
Airbus A350-900
Cabin
Business Class
Configuration
1-2-1
Bed length
200 cm (79 inches)
Seat width
58 cm (23 inches)
Capacity
46 passengers (in two cabin sections)
Personal TV
16 inches
In-seat power
YES
USB port
YES
Touch screen remote
NO
Cabin and Seat
Eventually, I made it into the plane, to the familiar window seat 7A.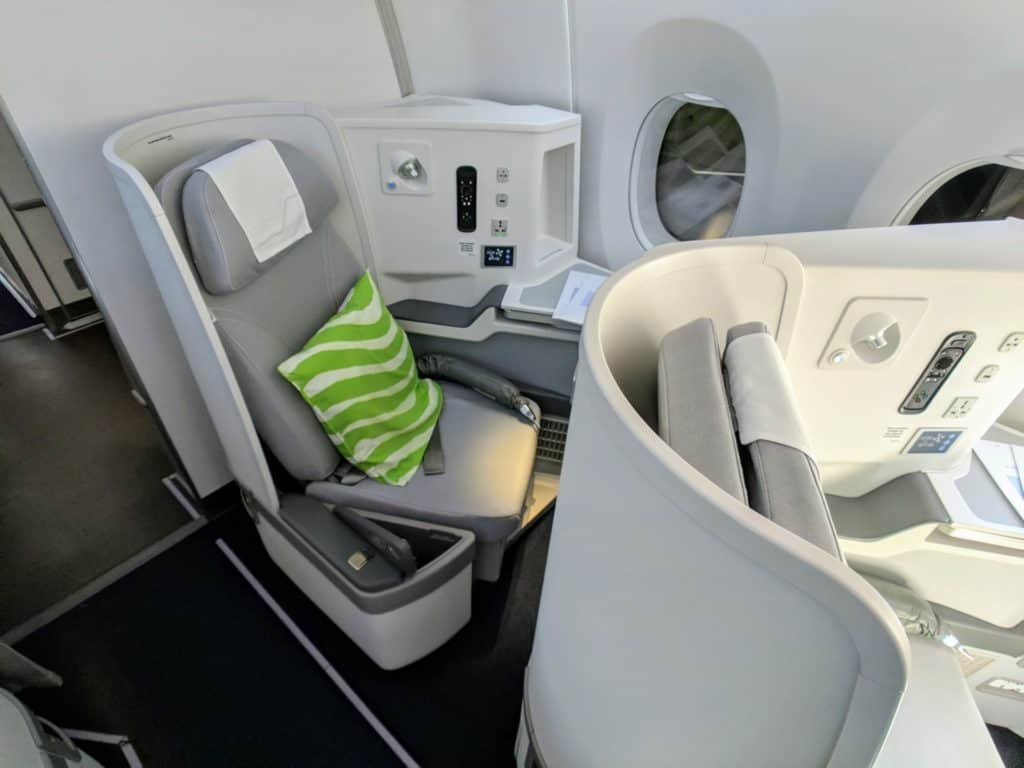 The seat has been reviewed many times (read our Helsinki to Hong Kong review or Helsinki to London review). As a recap, Finnair's Zodiac Cirrus business class seats are arranged in a 1-2-1 reverse herringbone configuration, a similar style can be found from Qatar Airways A380 (read our review here). As all seats have easy aisle access, this configuration suits very well for single travelers.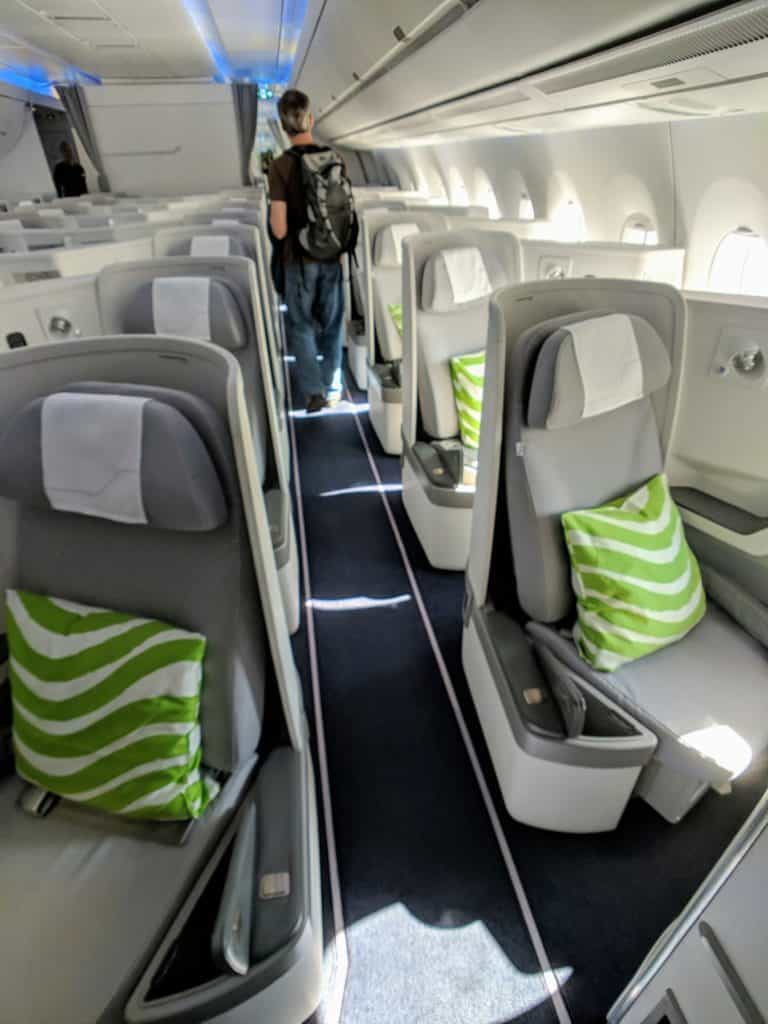 Personally, I find the business class seat on Finnair A350-900 very comfortable, it's much better than seats found on Finnair A330-300 (read our recent review here) or Qatar Airways 777-300 (old configuration, without QSuites – read our review here). One thing that might bother some travelers, especially if you are a tall person (over 190 cm / 6'2" or so), is the rather narrow foot space.
---
How does Finnair A350 seat compare against other Oneworld carriers? Read our business class seat guide to find out.
---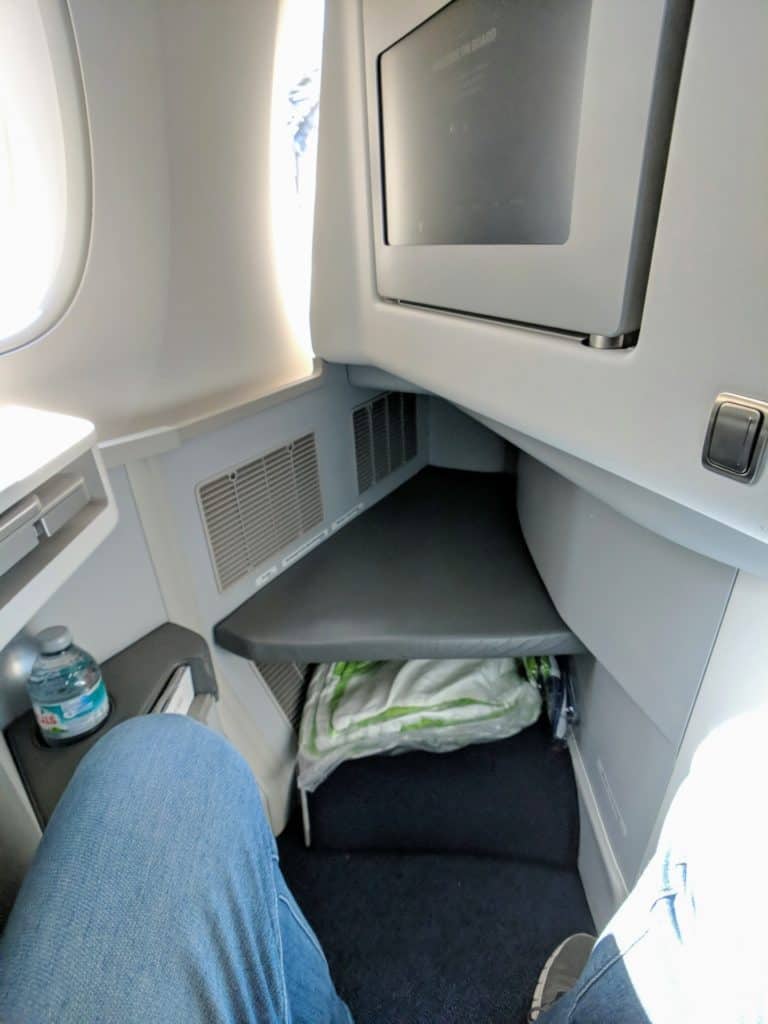 Blanket, slippers, and amenity kit were stored under the footstool. There was also a bottle of water waiting for a thirsty passenger.
As I have mentioned in previous reviews, the storage space is minimal. On the right side of the seat, there is a small compartment, where headphones are located. It can fit an iPad nicely, but anything bigger – like a laptop would probably not fit inside.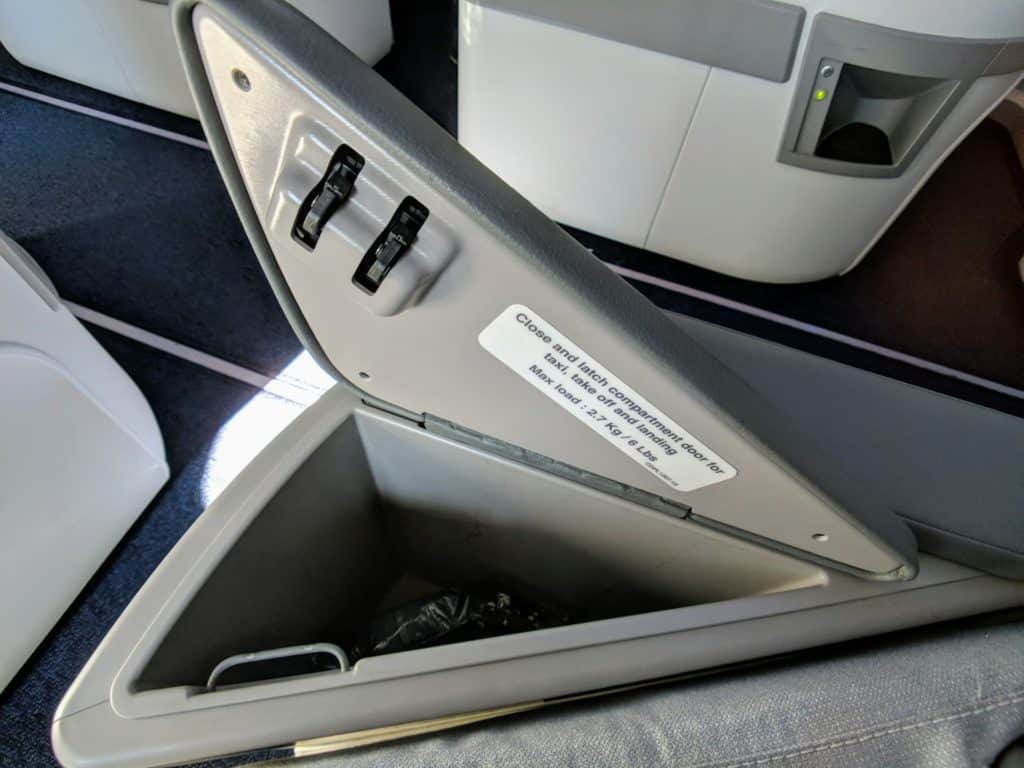 The amenity kit is the same sad little Marimekko pouch. Inside the amenity kit you can find a tube of moisturizing eye gel, intense hydration moisturizer, toothpaste and brush, eyeshades and earplugs.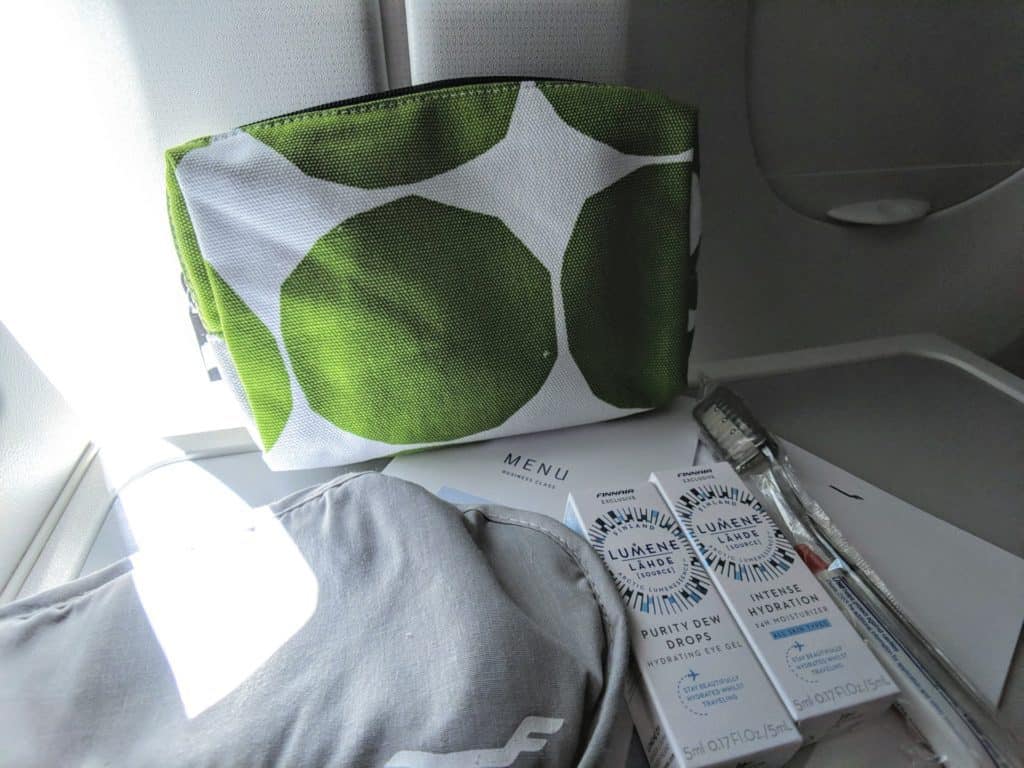 In-Flight Entertainment
Finnair A350 has an excellent In-Flight Entertainment system, with a 16″ big screen, top-notch image quality and very responsive touchscreen combined with in my opinion the best user interface I have seen so far.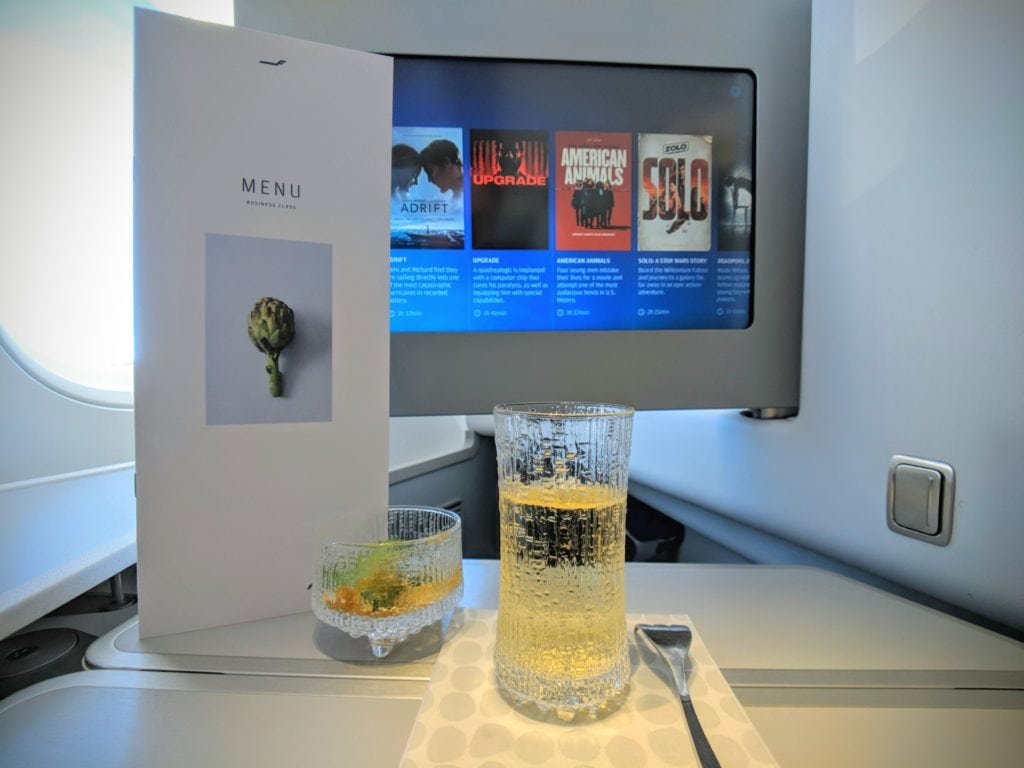 The selection of movies was excellent, with plenty of Hollywood blockbusters (like Solo or Deadpool 2) to choose from.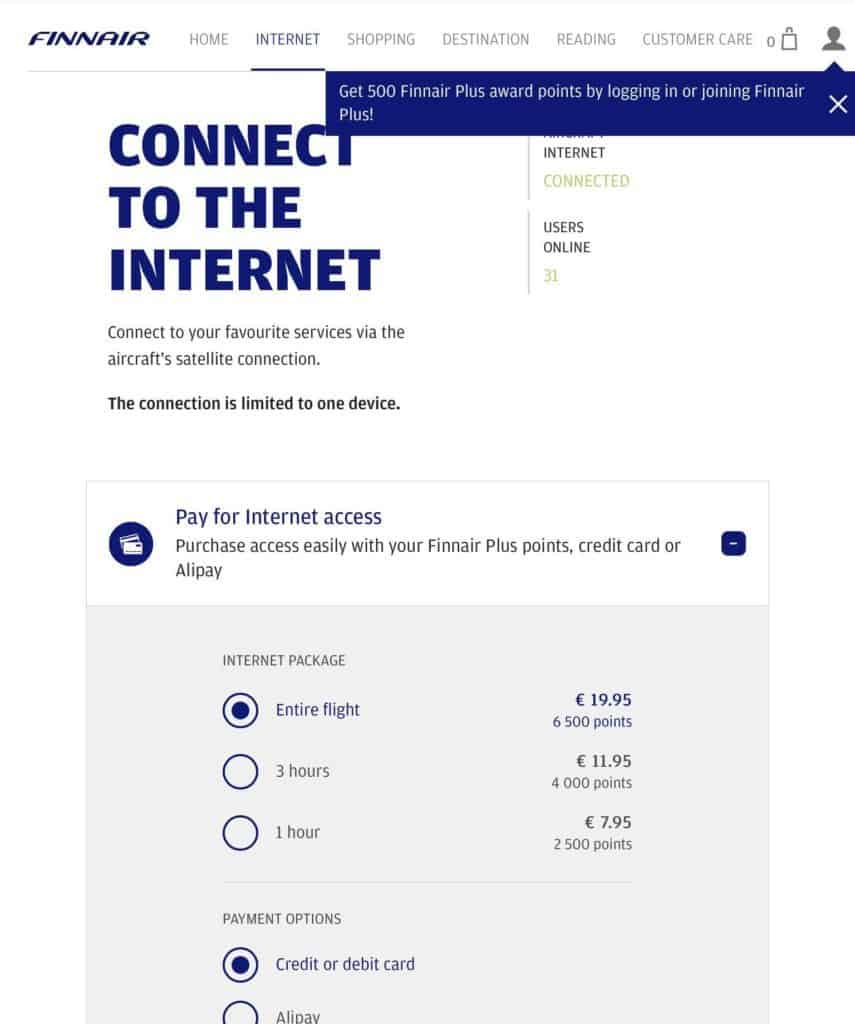 Nordic Sky Internet available, for business class 1 hour free of charge (Finnair Platinum or Lumo free completely). After the first free hour Internet access costs 19,95 euros for the rest of the flight (or 6500 Finnair points)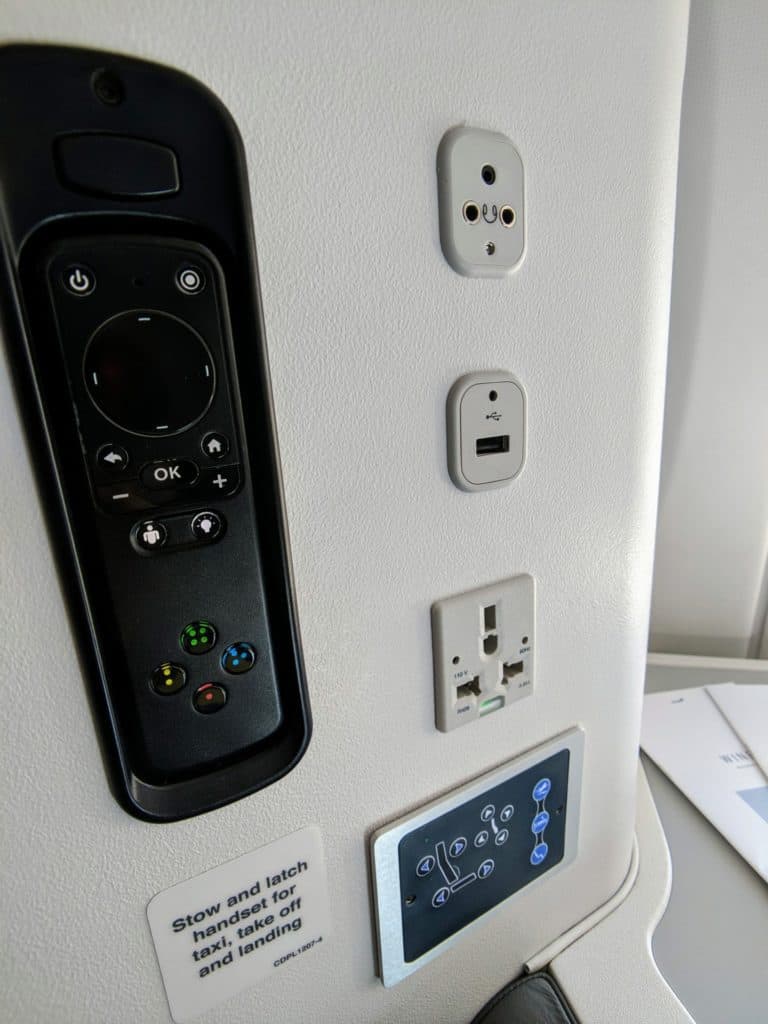 The charging options are good enough, with one power plug and one USB port. They are located conveniently next to the table, so you don't need a long cable to charge your equipment.
Finnair deserves some extra credit for their comfortable Bose QuietComfort headphones. Currently, these awesome headphones are available only on Airbus A350 flights, so if you are traveling on other Finnair planes, like A330-300, remember to take your own headphones with you.
Food and Drinks
The first glass of Champagne (or orange juice) was offered about 10 mins after boarding. Currently, Finnair has only one Champagne option, Joseph Perrier Cuvee Royale Brut which was served in traditional Iittala Ultima Thule glasses.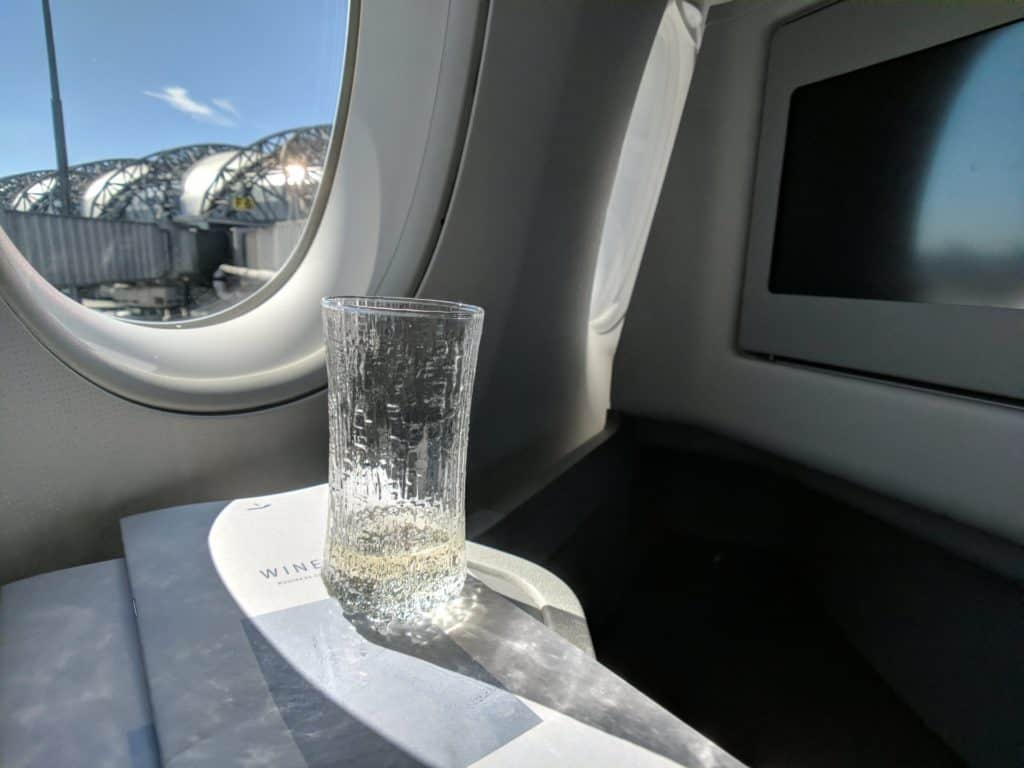 Amuse bouche (not listed on the menu) was some kind of cheese and jam. It was quite OK, but not particularly tasty.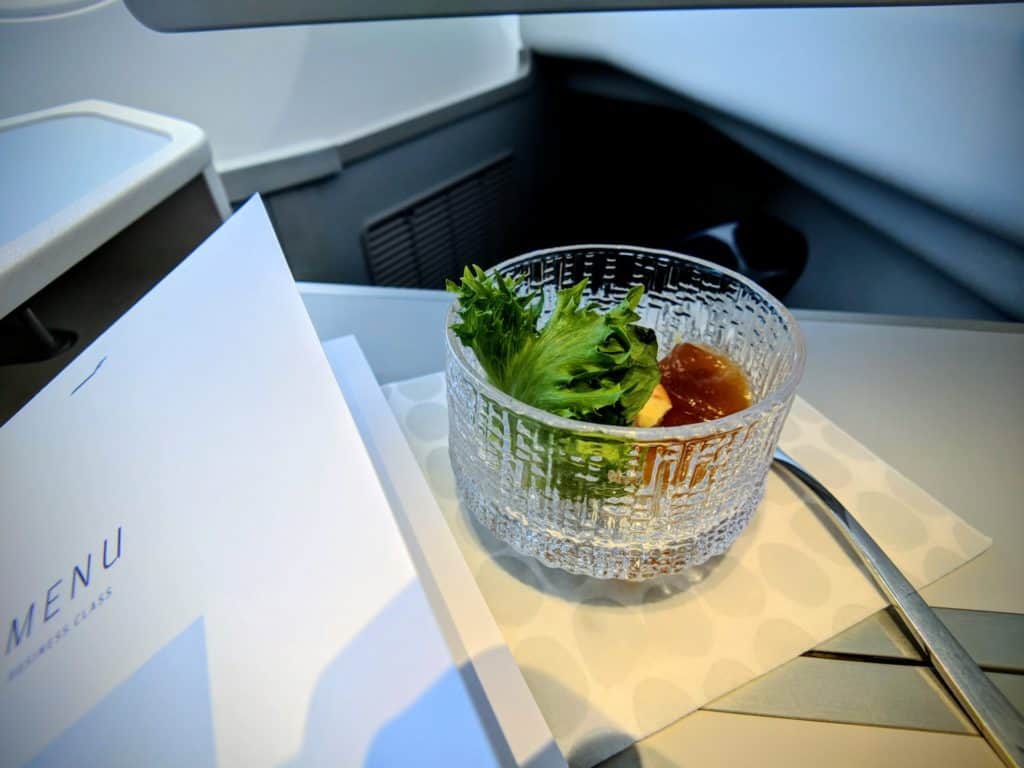 The next up was an appetizer of gravlax with potato salad and quails egg. Salmon was fresh and delicious – and also looked nice.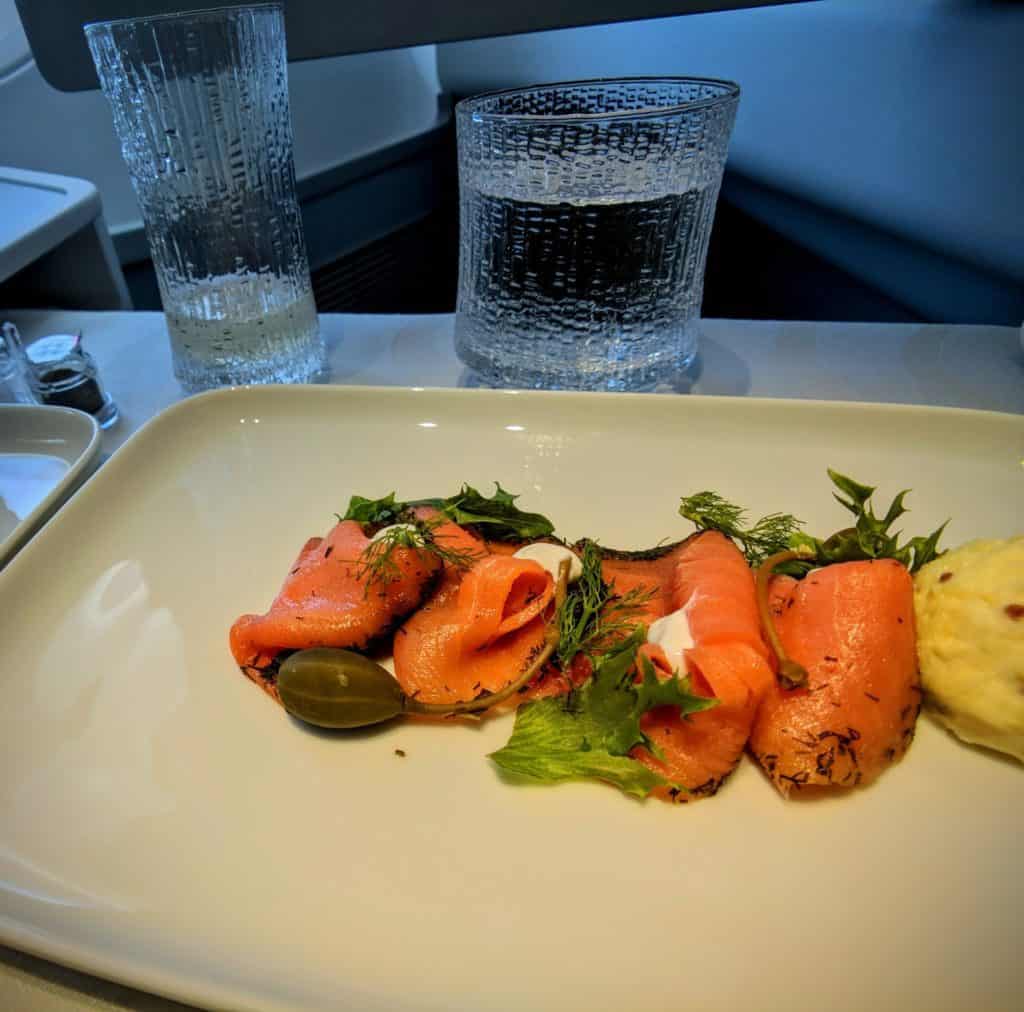 My main course was stir-fried beef in Karchai chili sauce with rice. When the dish arrived I was disappointed, thinking I had made a mistake. But despite really bland presentation, the beef was delicious and had a spicy taste in it.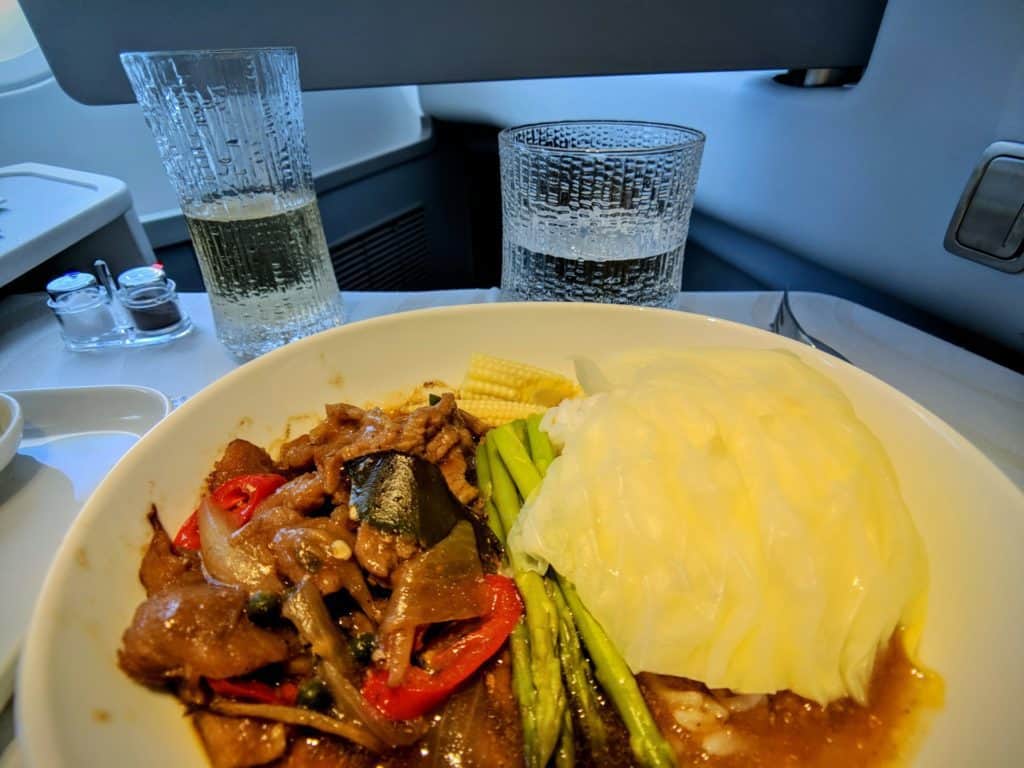 Dessert was a pleasant surprise as ice-cream was "upgraded" to Häagen-Dazs! The regular dessert ice cream, Finnish Jymy is also decent (served for example on recent A330-300 flight), but nothing beats good old HD. Fantastic improvement!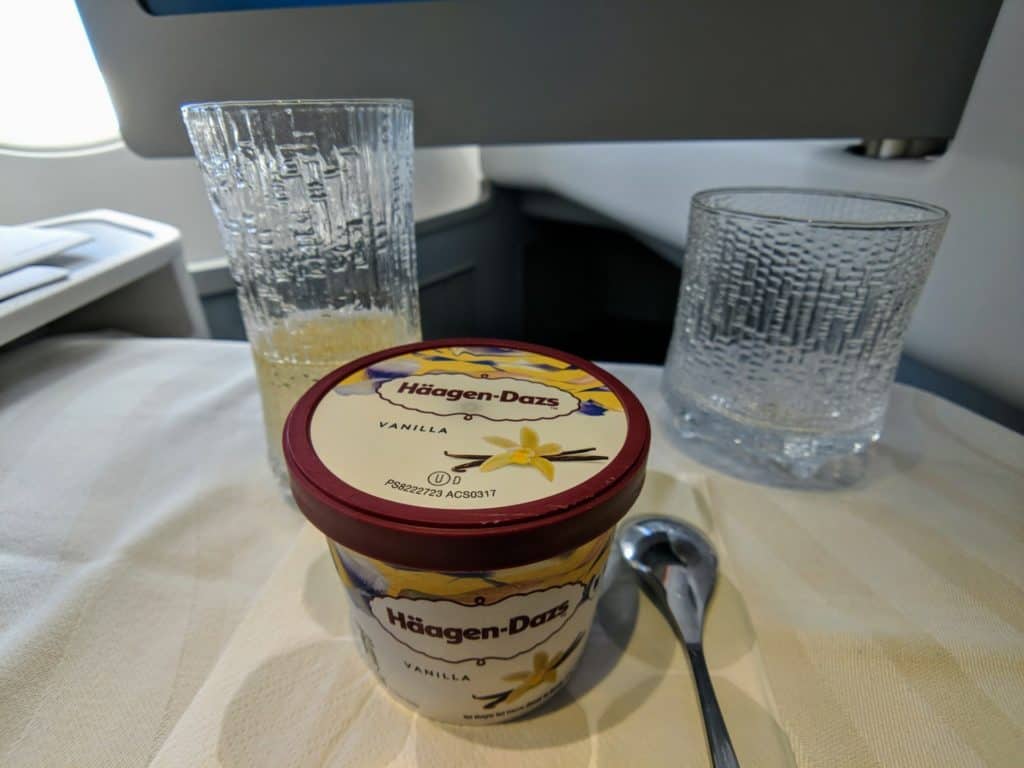 Some sweets were offered between the meals – different kinds of Finnish chocolate and an assortment of other candies.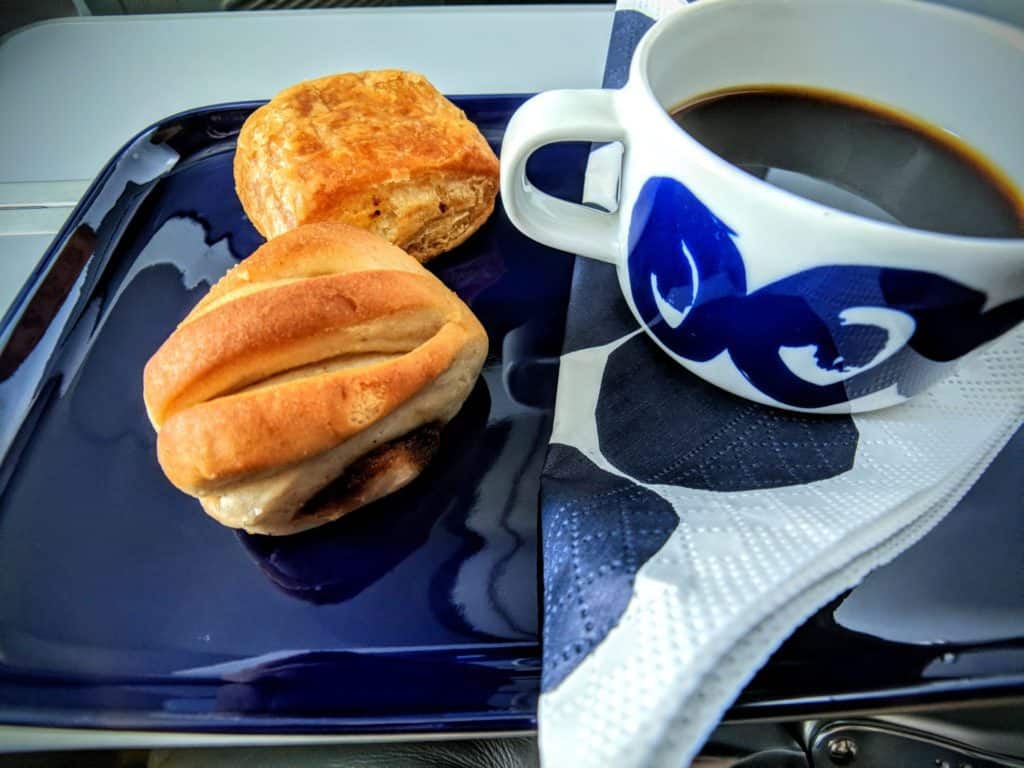 Before landing in Helsinki, Finland the light meal was served. I chose pork in Thai curry sauce Panaeng and rice. Again, the presentation was very basic, the dish looked more like an economy meal. The taste was more or less ok, but I couldn't get rid of the economy feel of the dish.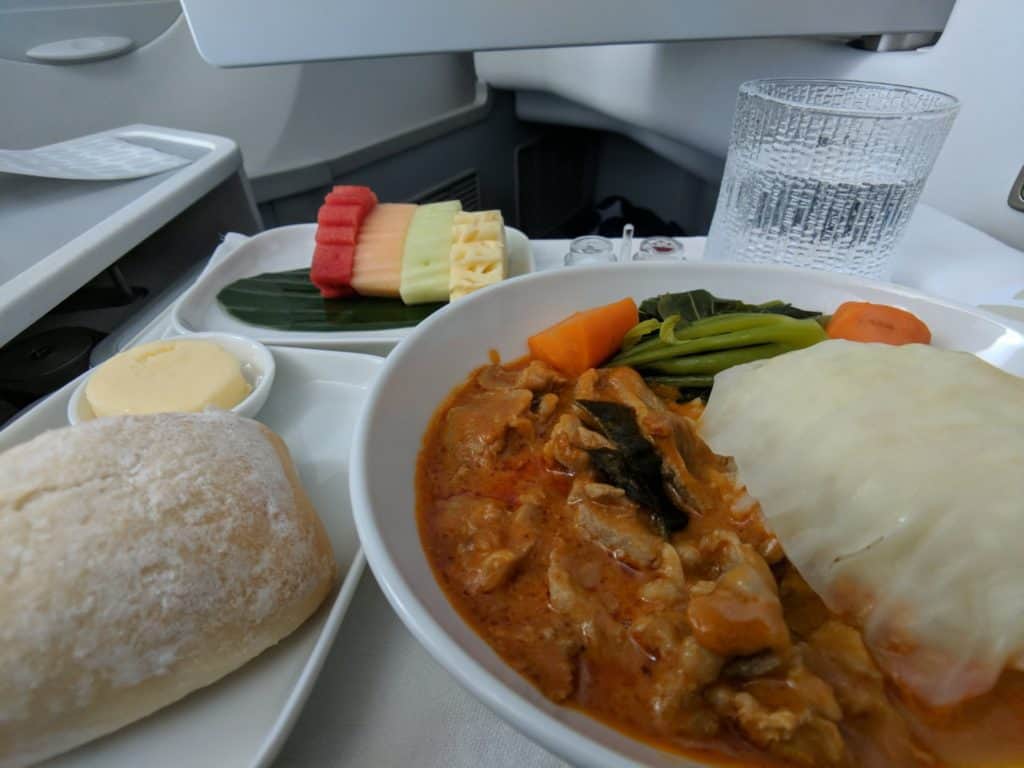 Service on this flight was just average on Finnair standards. Attendants were polite, and food service was done punctually. But there was no extra effort to make business class passengers flight more enjoyable, for example by actively offering more refreshments or something like that.
Conclusion
Great "hard product" – Comfortable seat and quiet cabin of Airbus A350-900 makes the travel comfortable
Excellent IFE system and Bose QuietComfort headphones
Limited storage options
Above average food and below average service
Fantastic Häagen-Dazs ice-cream dessert
---
Check out also our other Finnair Business Class Flight Reviews: