Finnair operates their Helsinki-Bangkok route with Airbus A330 and their new Airbus A350. On my recent trip to Thailand, I was able to test both of them again.
We have reviewed Finnair A330-300 twice before, so you might want to read them (Finnair A330 Helsinki to New York and Finnair A330 Chicago to Helsinki) as well if you are interested in a comprehensive view of this old Finnair workhorse.
Lounge and Boarding
It was probably my last visit to the Premium Lounge for a long time since the lounge space will be under renovation during the 2018 winter months.
My flight departed around midnight, and the Premium Lounge stayed very quiet most of the time. Food wasn't that impressive, smoked salmon or chicken and vegetables. In addition, there were a couple of small bites, dessert options, and snacks. But nothing really "premium." So you could say that some kind of renovation is definitely needed.
Boarding the Finnair Airbus A330 went very smoothly. Business class and priority members were guided to a separate pre-boarding area and we were able to board the plane first. The whole process was well organized and fast.
Finnair A330-300 Business Class Details
Route
Helsinki (HEL) – Bangkok (BKK)
Plane
Airbus A330-300
Cabin
Business Class
Seat
7L
Configuration
1/2-2-1
Bed length
about 195 cm (77 inches)
Seat width
53 cm (21 inches)
Capacity
45 passengers
Personal TV
12,1 inches
In-seat power
YES
USB port
YES
Touch screen remote
NO
Cabin and seat
The cabin crew greeted me at the door and pointed towards my seat. Due to the last minute booking, I hadn't been able to secure the throne seat for myself; instead, I got seat 7L.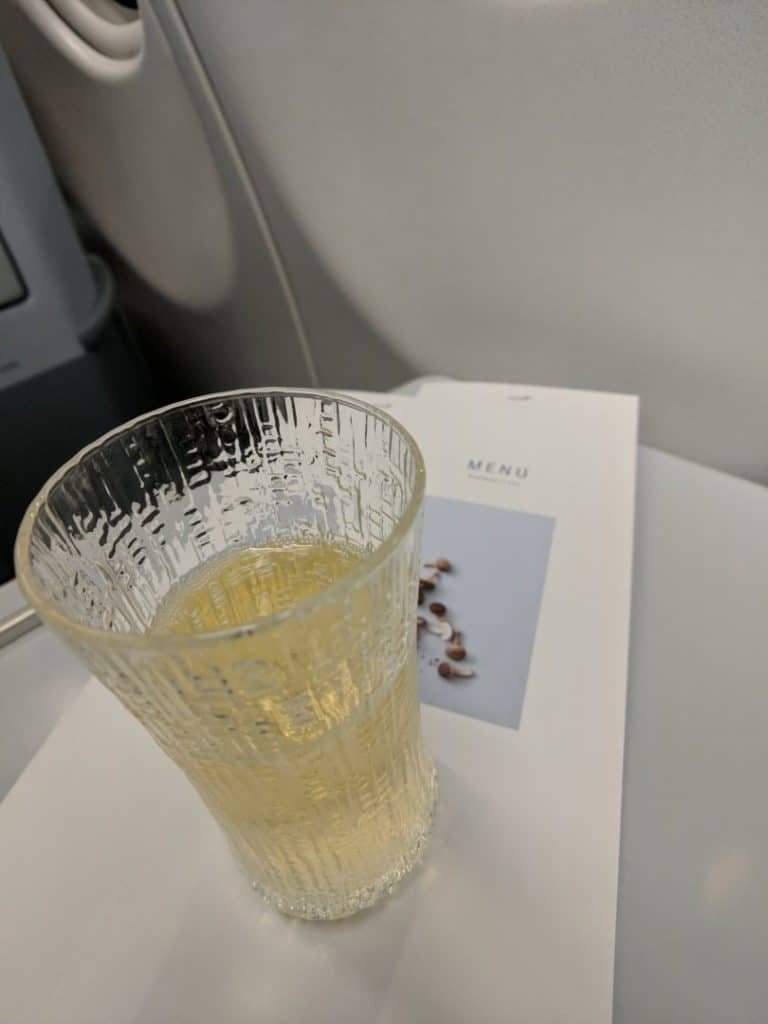 As I mentioned on the previous Finnair A330 review the best seats for single traveler are the even row 2/4/6 A seats. The next best options are on the other side of the cabin, seats 2/4/6 L.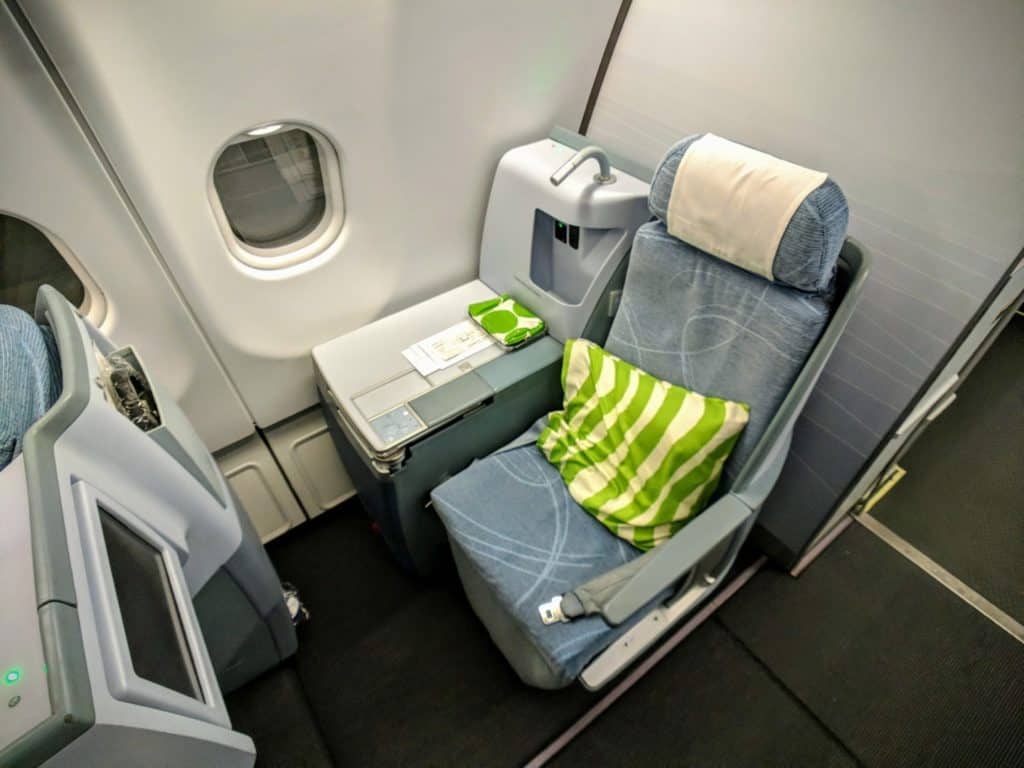 The main problem with seat 7L is that it's completely exposed to the aisle. On top of that, the seat is also very close to the galley, noises coming from there can be (and they were) disturbing if you want to get some sleep. Oddly there is no curtain or anything to block the light coming from the galley.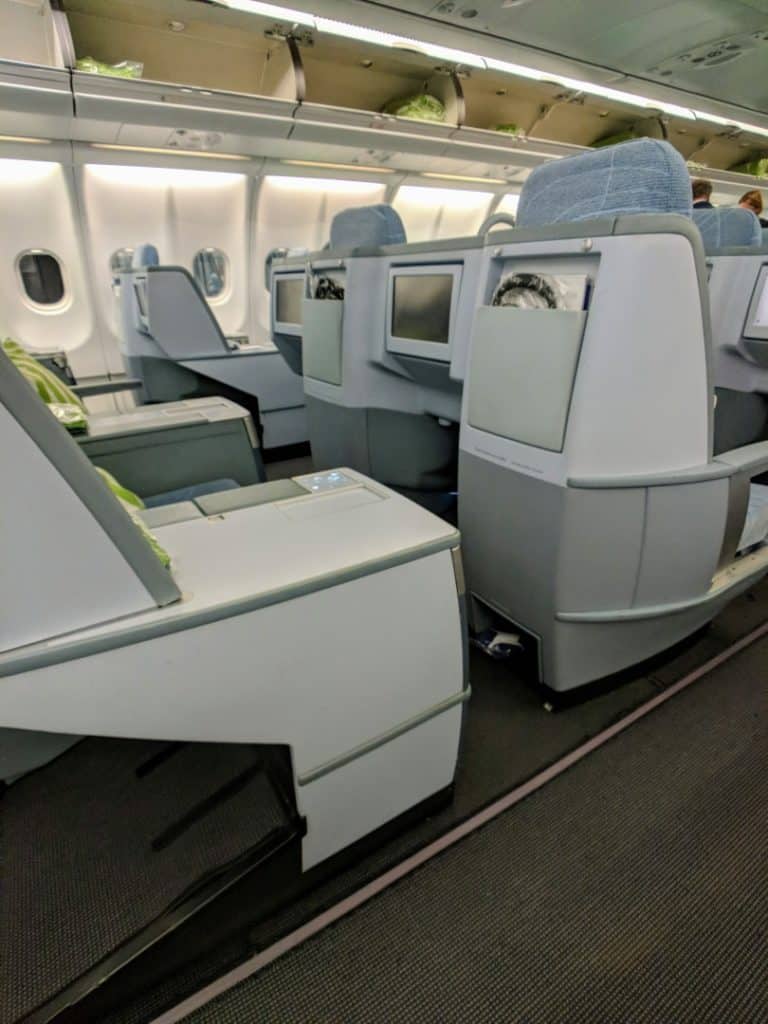 Like the A330-300 plane, also the seat is ancient and worn out. But probably the worst part of the seat is the hardness. It is borderline ok for daytime flights, but sleeping on that is very difficult – unless of course you are used to sleeping on a hard floor.
In my experience, Finnair A330 seat is one of the worst business class seats for sleeping.
The length is decent, and there is even some foot space. But the seat is so hard that it makes sleeping in one position really painful.
IFE and amenities
In-Flight Entertainment screen on Finnair A330 is decent – It's relatively small but, the image quality is decent. Way better than old British Airways 747 First Class. Remote controller for the IFE can be found under the under the armrest.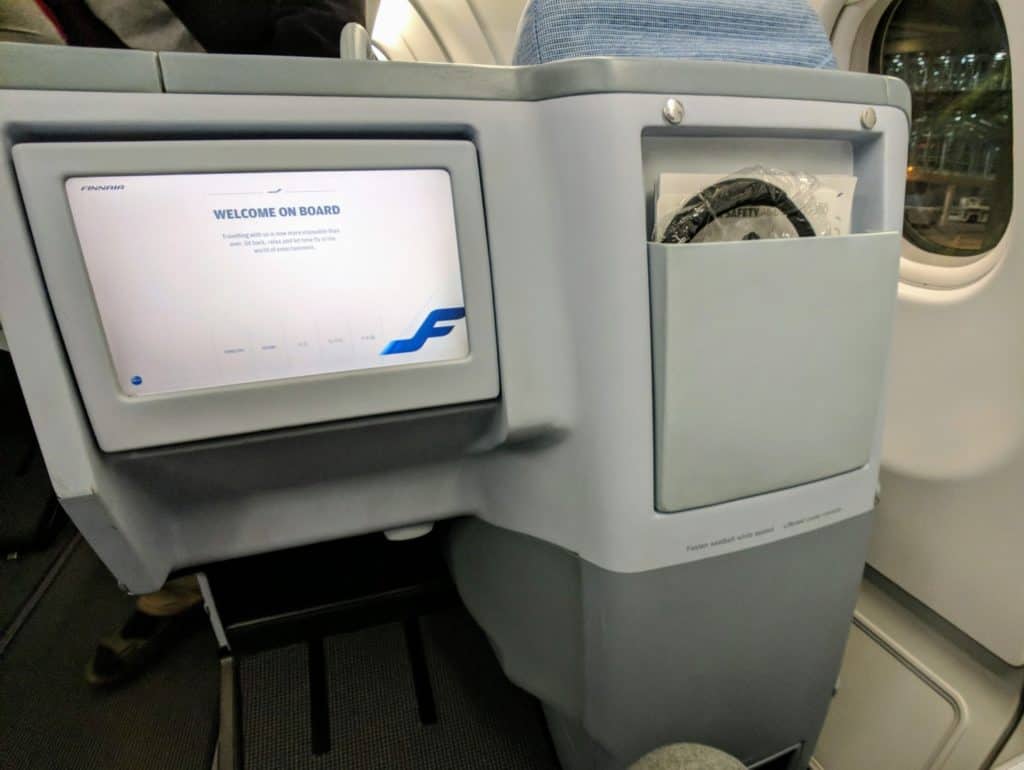 The movie selection was excellent, about 100 titles with close to 20 recent Hollywood blockbusters like Rampage, Solo and Deadpool 2.
There were also dozens of TV series available but unfortunately only a couple of episodes per season.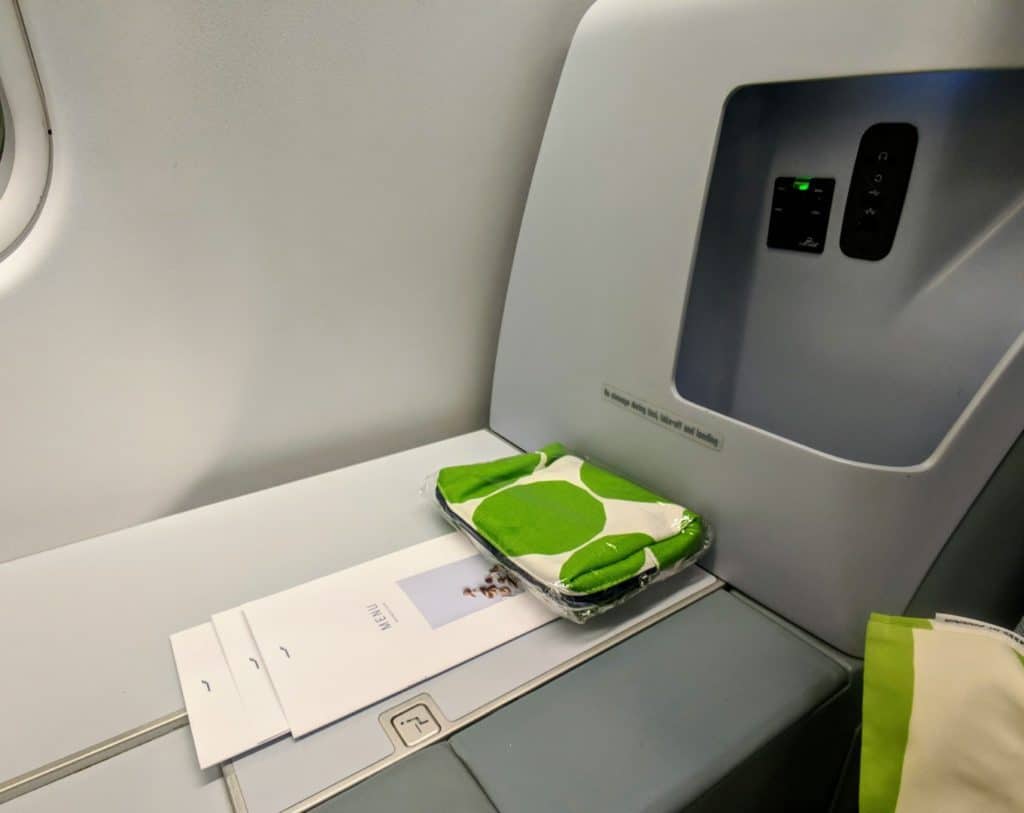 Charging options are excellent with two USB ports and two power plugs next to the seat. Provided headphones were noise-canceling but not very comfortable – the same Phitek ones than before.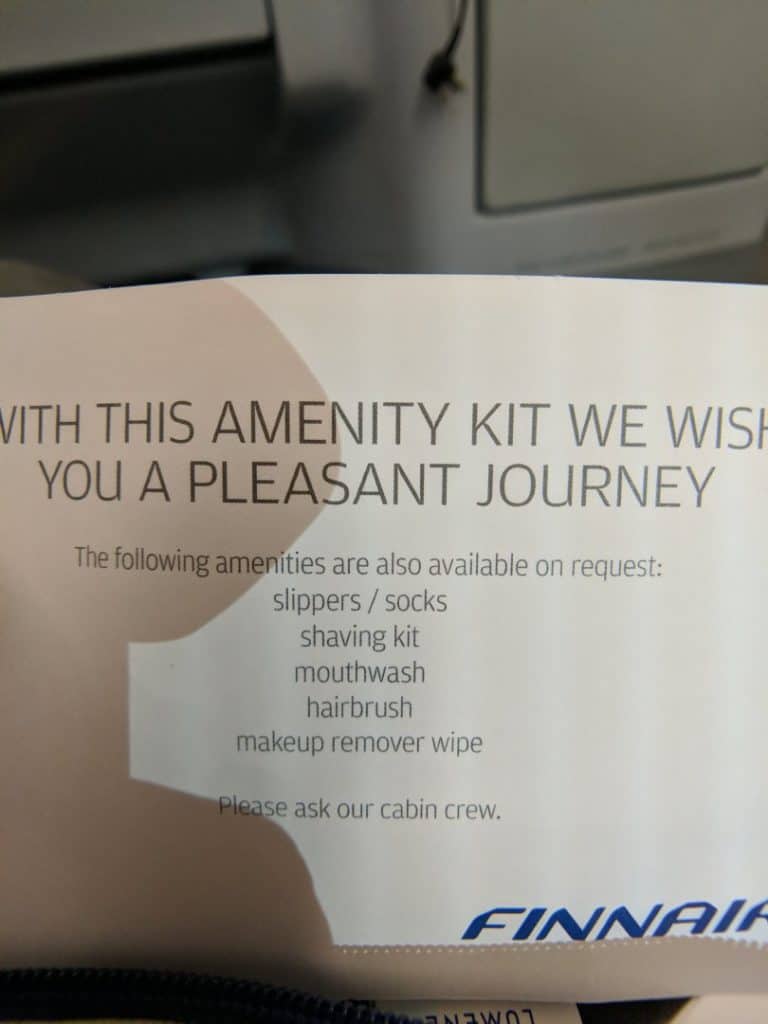 Amenity kit situation also hasn't changed – it's still the same, quite sad, Marimekko pouch. And as usual, the pouch contains moisturizing eye gel, intense hydration moisturizer, toothpaste and brush, eyeshades and earplugs. They should really add a pen into the kit since many countries (including Thailand) require some kind of immigration form to be filled.
Food, drinks and service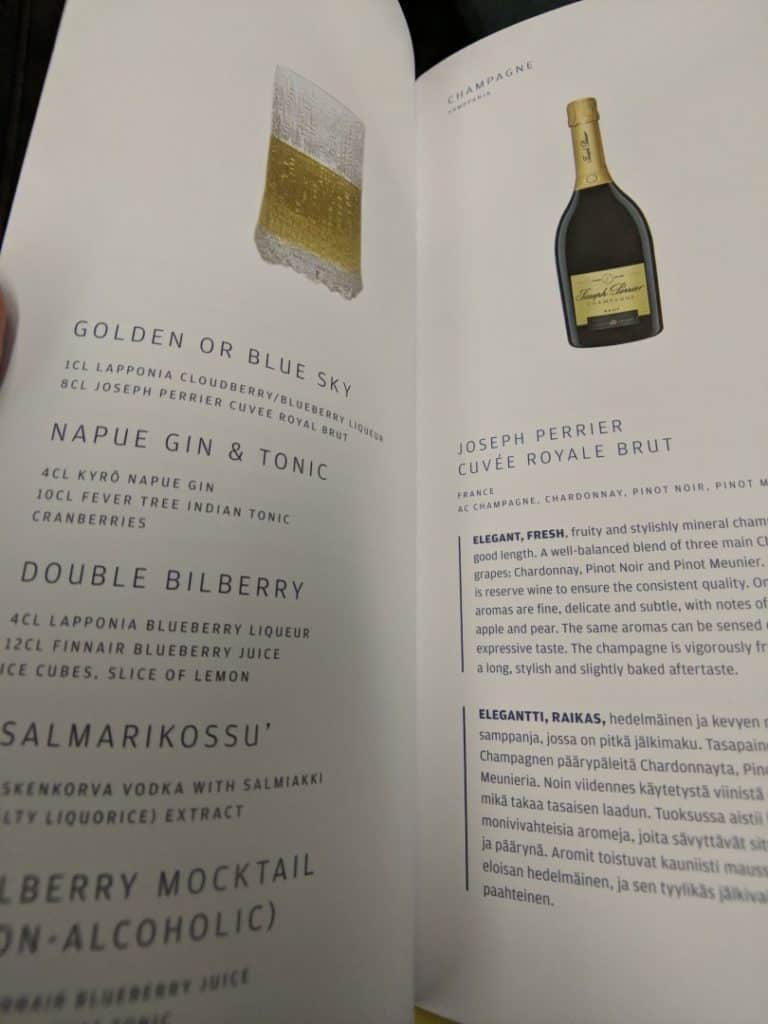 Currently, Finnair has only one Champagne on their drink menu, Joseph Perrier Cuvee Royale Brut. On the positive note, the menu also contains traditional Finnish shot "Salmarikossu", which is Koskenkorva Vodka mixed with salty licorice extract. Highly recommended if you want to taste something very Finnish… and exotic.
The food service started with Rye Cracker and Smetana, which went down well with some Joseph Perrier.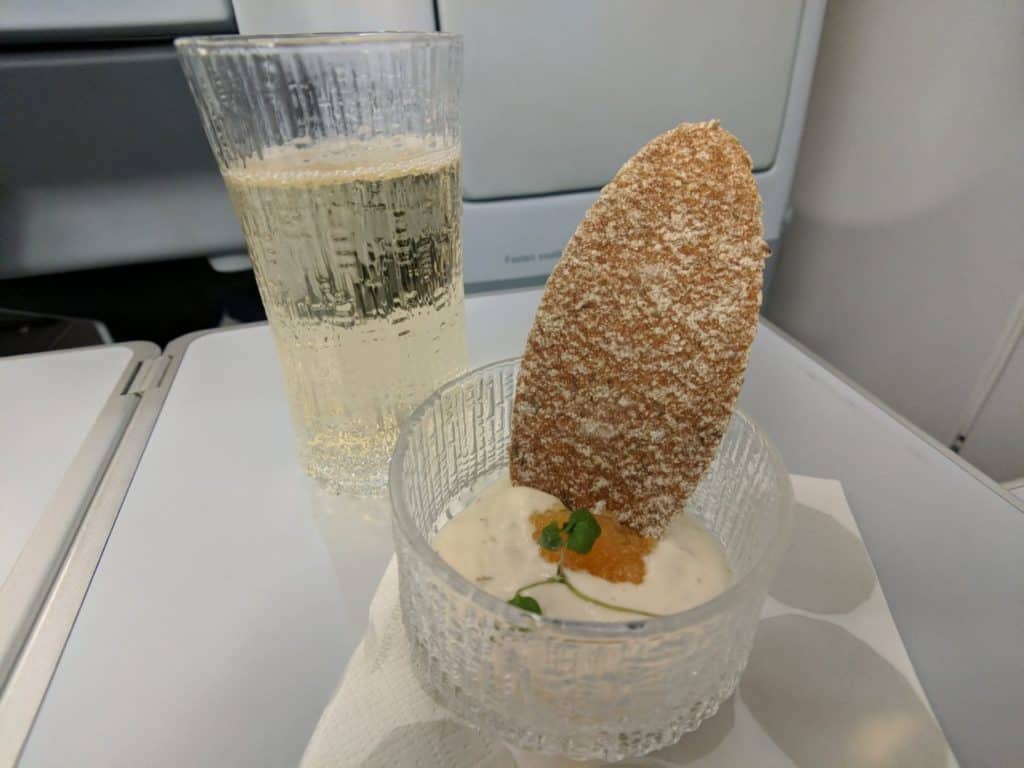 My starter choice was cold smoked salmon, which was really tasty.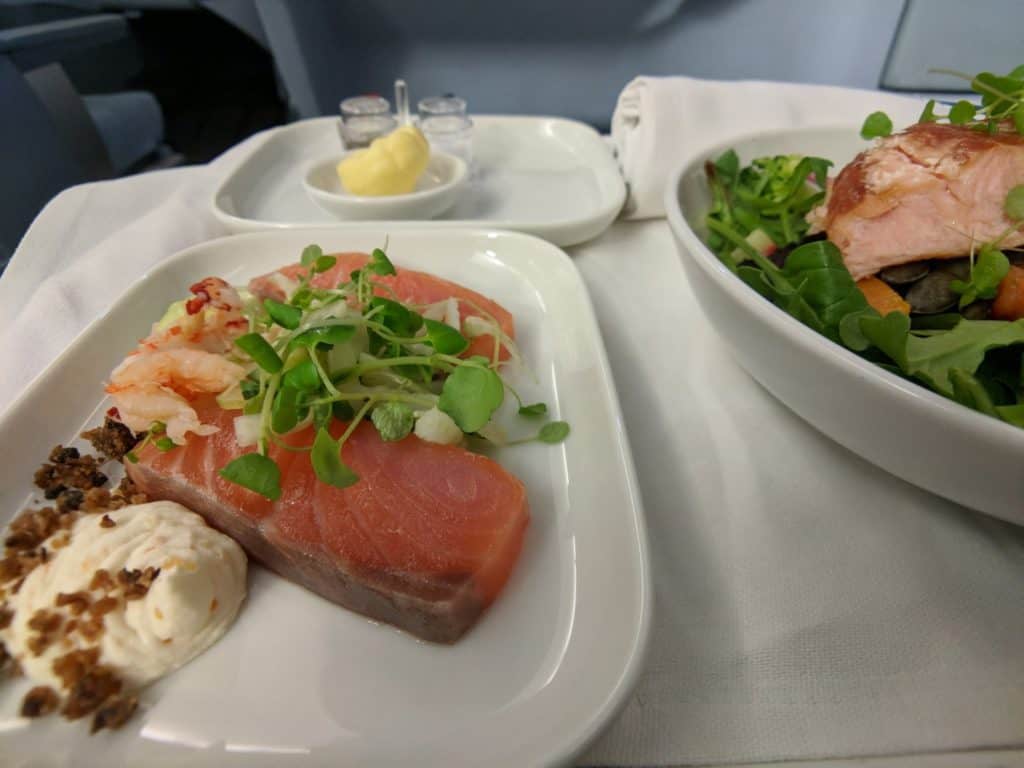 The fish theme continued on my main course. Smoked Salmon salad was mediocre at best – the actual fish part was good, but everything else lacked taste.
During the dinner service, the flight attendants served bread a few times.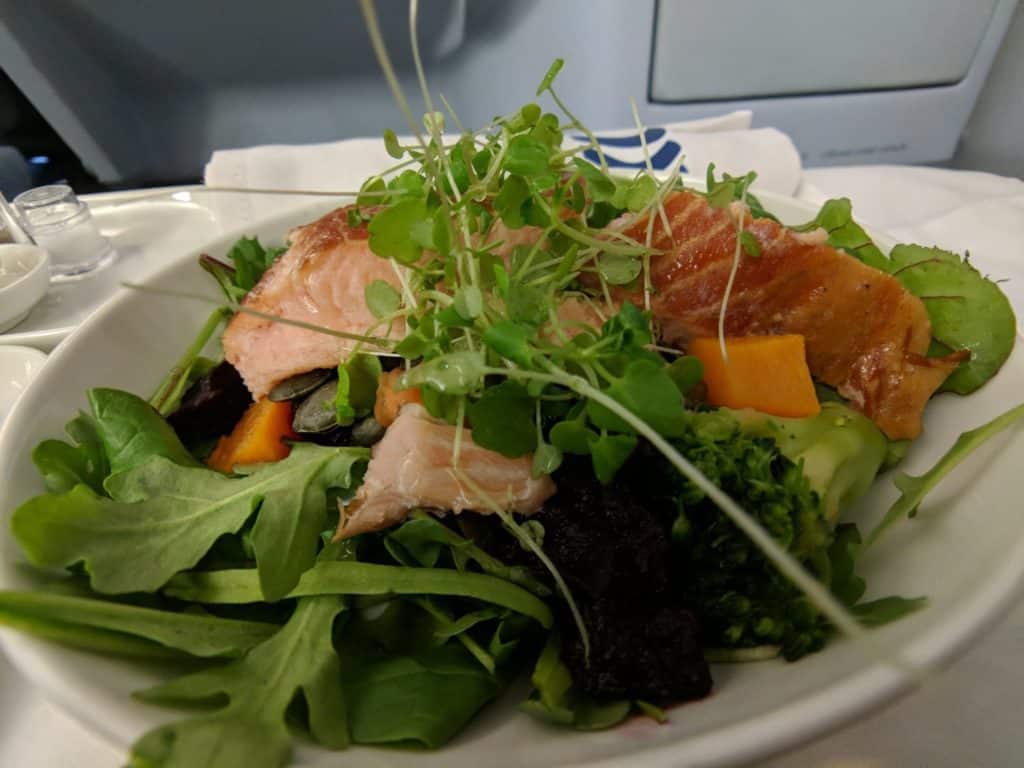 Breakfast preferences were collected through a paper form – in my opinion, a very convenient way of organizing the breakfast. After a good night's sleep on a rock hard seat, the morning service started just as I had selected, and perfectly on time.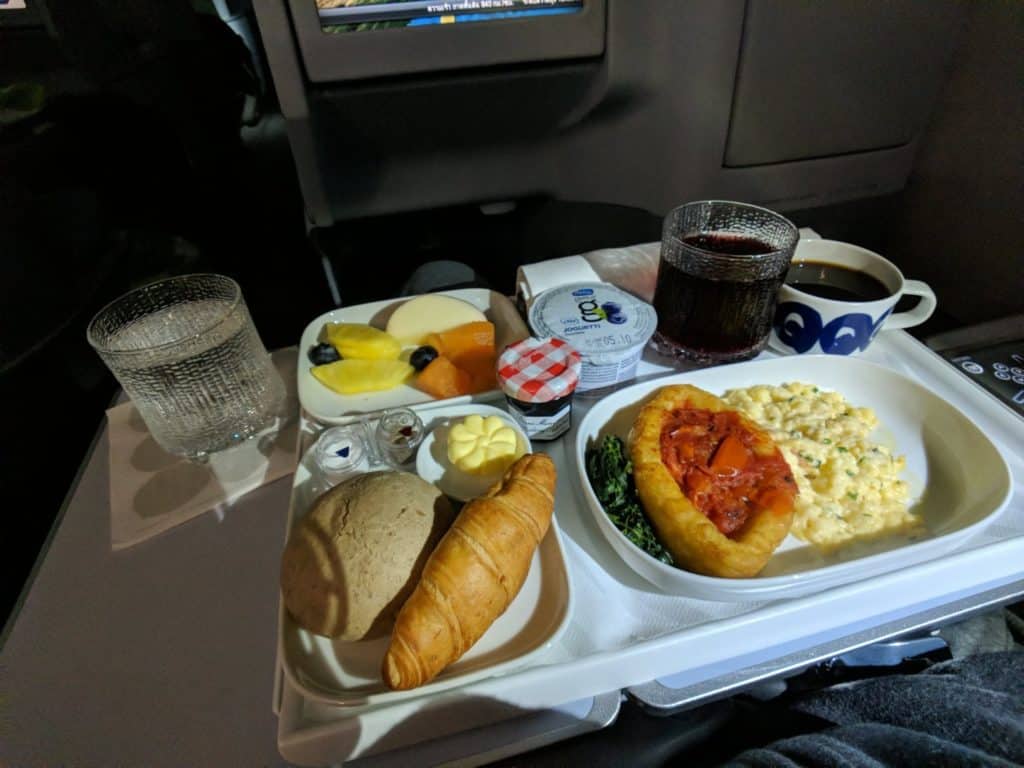 I chose "Roesti Potato Boat" with sun-dried tomatoes and smoked salmon omelet. The whole breakfast set was served on one tray. In addition to the potato boat and omelet, there was also a collection of fruits, small yogurt, marmalade, a small croissant and a piece of bread – but additional slices of bread were not served during the morning service. Overall it was quite a decent basic breakfast.
The service on this flight was much better than usual. The flight attendants were attentive and very friendly throughout the flight.
Conclusion
Extremely hard seat, not optimal for sleeping
Decent food choices, but only one Champagne option
Good IFE system with nice movie selection
Surprisingly upbeat service
---
Check out also our other Finnair Business Class Flight Reviews: