How does the British Airways Boeing 787-900 business class compare to their other planes? I had an opportunity to test BA Dreamliner on my July 2018 trip from Los Angeles to London, my foundings can be found below.
Check-in
The check-in at Los Angeles International Airport (LAX) opened about 3,5 hours before the departure. There were three separate lines, one for the economy (super crowded), one for business class (about seven people queuing) and one for the first class (I was the second in line).
During the check-in process, I was offered an upgrade to the first class for 800 USD. This time I didn't take the offer since it was a red-eye flight.
One thing they didn't mention during the check-in was that the priority security is only available through the right side stairs (which are farther from the BA check-in desk). Naturally, I chose the wrong stairs, but luckily the security was not crowded at that time, so I managed to go through in maybe 10 minutes.
Lounges at LAX
Since there was plenty of time before the departure, I decided to check both of the Oneworld lounges. First I paid a quick visit to the Qantas First Class lounge and had a spicy Macau-style pork sandwich there. And a glass of Nicolas Feuillatte Rose Champagne. There were also three other champagnes available: Pommery, Perrier Jouet Grand Brut, and G.H. Mumm Cuvée Privilège.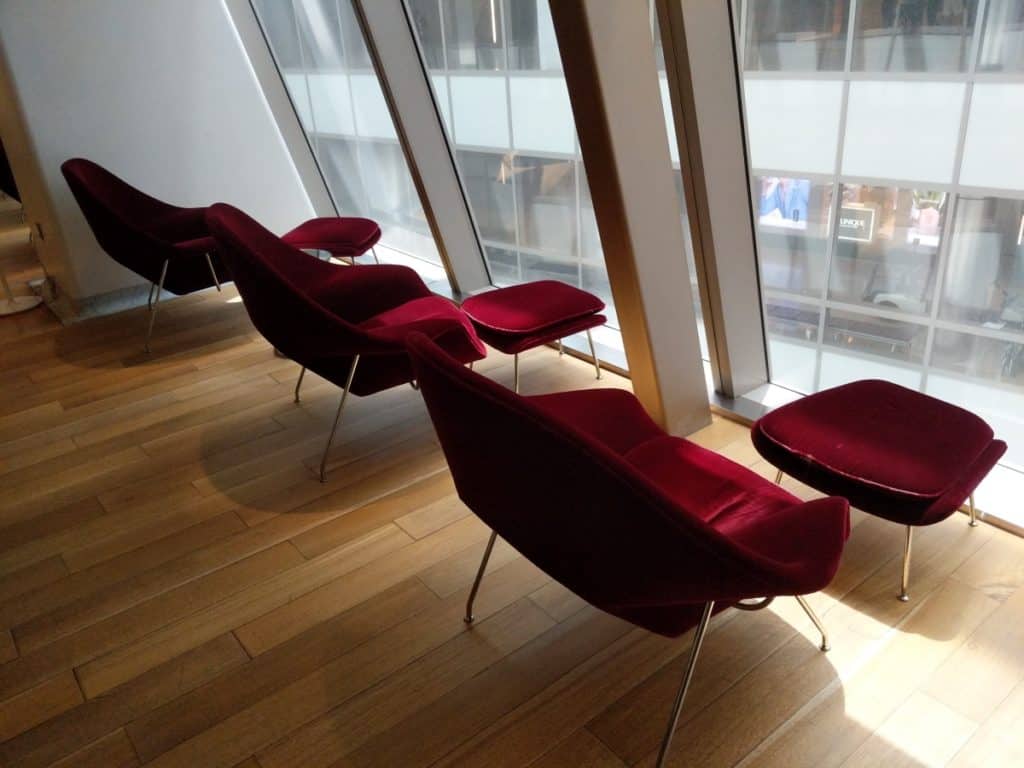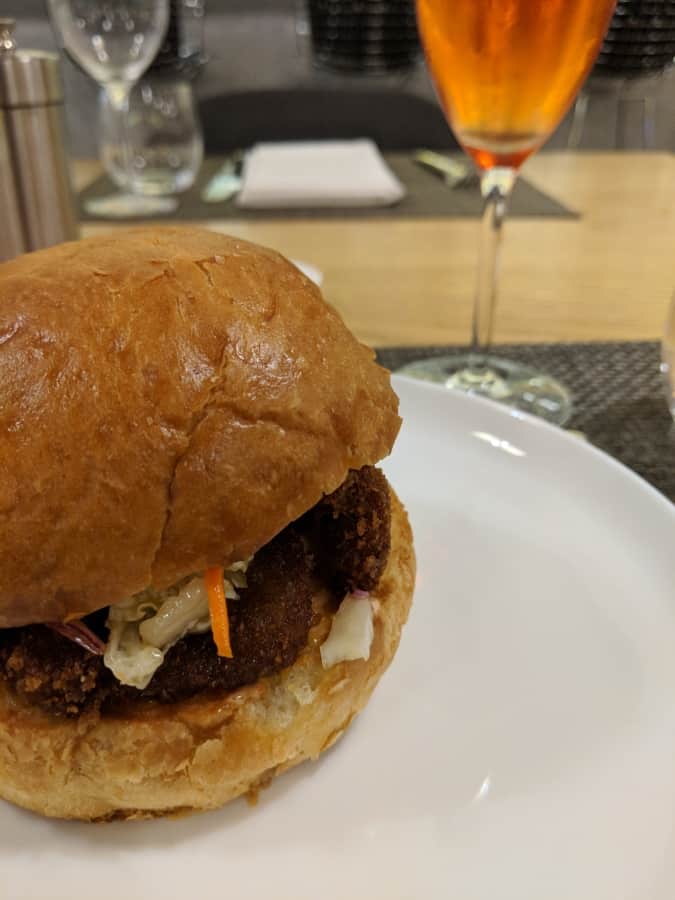 I also visited the Oneworld business class lounge, which was more noisy and crowded, but there was still plenty of seating available. No champagne though.
Boarding
Using group numbers has definitely improved British Airways' boarding process. Also at LAX, it went pretty smoothly (at least until I got on board).
British Airways Boeing 787-900 Business Class Details
Route
Los Angeles (LAX) – London Heathrow (LHR)
Date
July 2018
Plane
Boeing 787-900
Cabin
Business Class
Seat
7A
Configuration
2-3-2
Bed length
about 183 cm (72 inches) + footstool
Seat width
51 cm (20 inches)
Capacity
42 passengers
Personal TV
10,4 inches
In-seat power
YES
USB port
YES
Touch screen remote
NO
Cabin
The business class cabin of British Airways Boeing 787-900 consists of 6 rows. The first two rows (6 and 7) form a kind of "mini-cabin" which is an excellent choice if you are looking for some extra privacy. Ying-yang style seats are arranged in a 2–3–2 configuration, like on BA A380 upper floor (read our full review).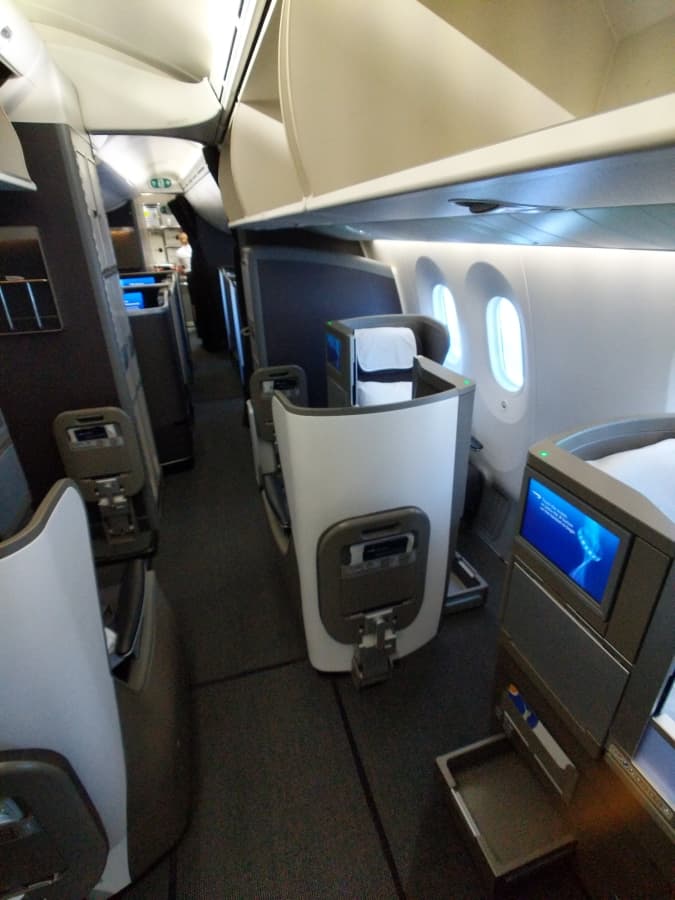 I had managed to secure the seat 7K for this flight, which offers direct aisle access and a beautiful view of Rolls Royce engine and the right side wing.
As a nice bonus, the cabin was only half full, and one of the empty seats was next to me. So no awkward face-staring on this flight (which, in my opinion, is one of the worst features of this BA seat).
The seat and amenity kit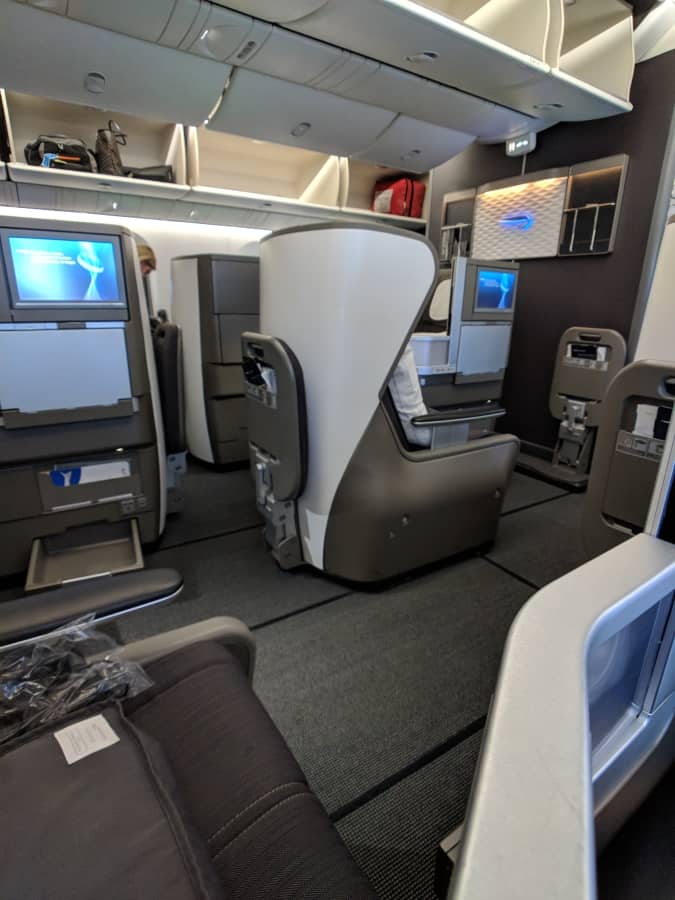 For sleeping, the window seats of British Airways' business class has always been a good option. When the seat divider screen is up, they are VERY private and recently added White Company beddings add some extra comfortability – especially the pillow is fantastic.
On the minus side, the footstool is quite narrow and not the ideal option for sleeping.
Amenity kit on this flight was a super small White Company purse, which contained the usual stuff – a lip balm, moisturizer, socks, a pen and eye shades.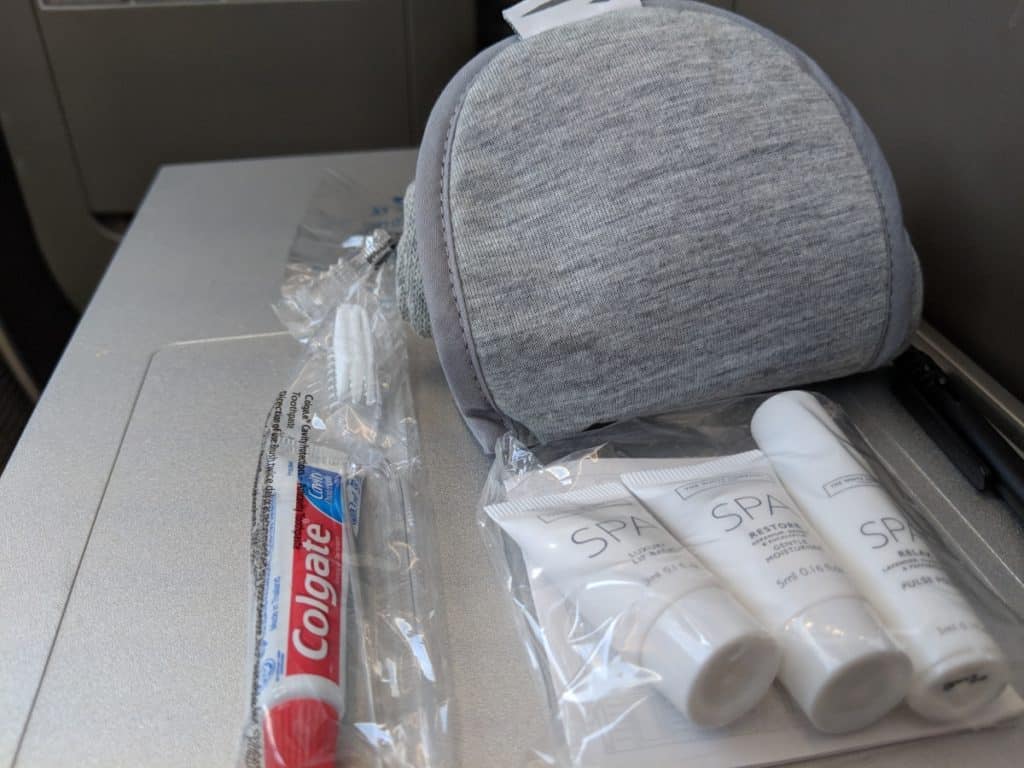 There is no table space for your stuff but you can store them in a floor-level drawer – which is the only possible storage option. While the drawer is decent sized, it's difficult to reach when the seat is in the sleep mode.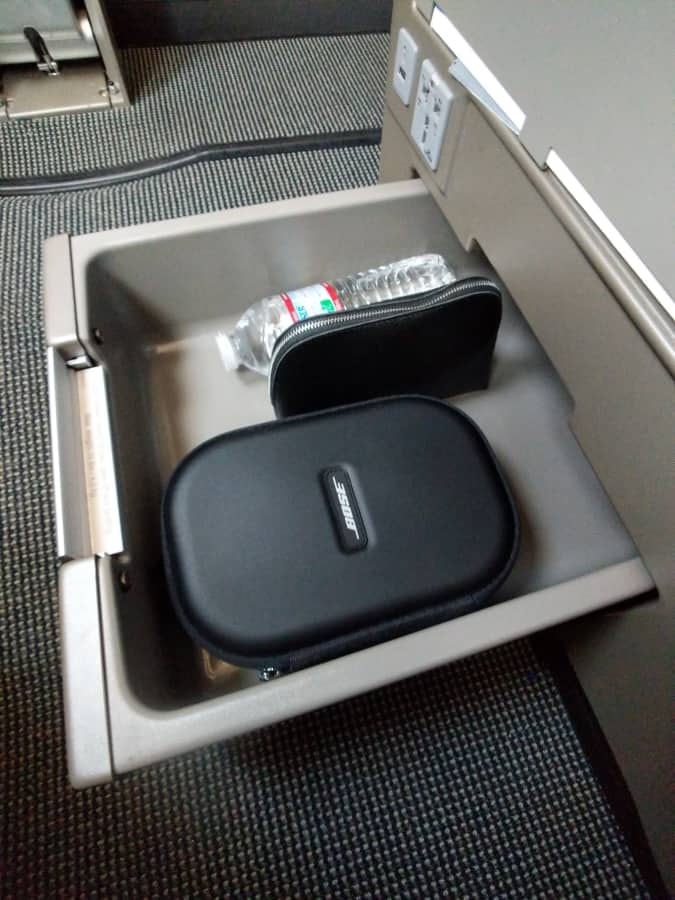 In-Flight Entertainment
The In-Flight-Entertainment screen on British Airways 787-900 is a bit small, but otherwise excellent, being several light years ahead of the one found on their 747 First Class (read our full review here).
If you want to see how the best business class In-Flight Entertainment system looks like, check our Qatar Airways Airbus A350-1000 with QSuites review.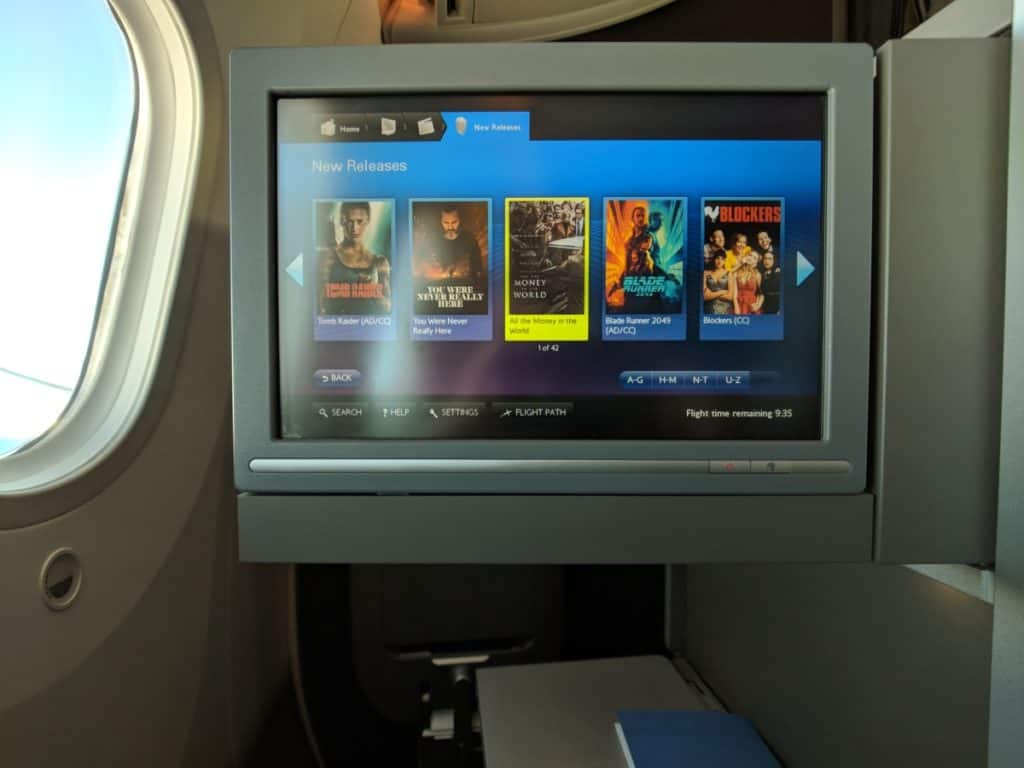 Also the selection of movies was extensive, with 42 recent releases available. There were also 11 box sets (=full seasons) of TV series, for example Silicon Valley Season 5.
Unfortunately, the headphones are the same crap you find on other British Airways' planes. Still definitely better than no headphones at all.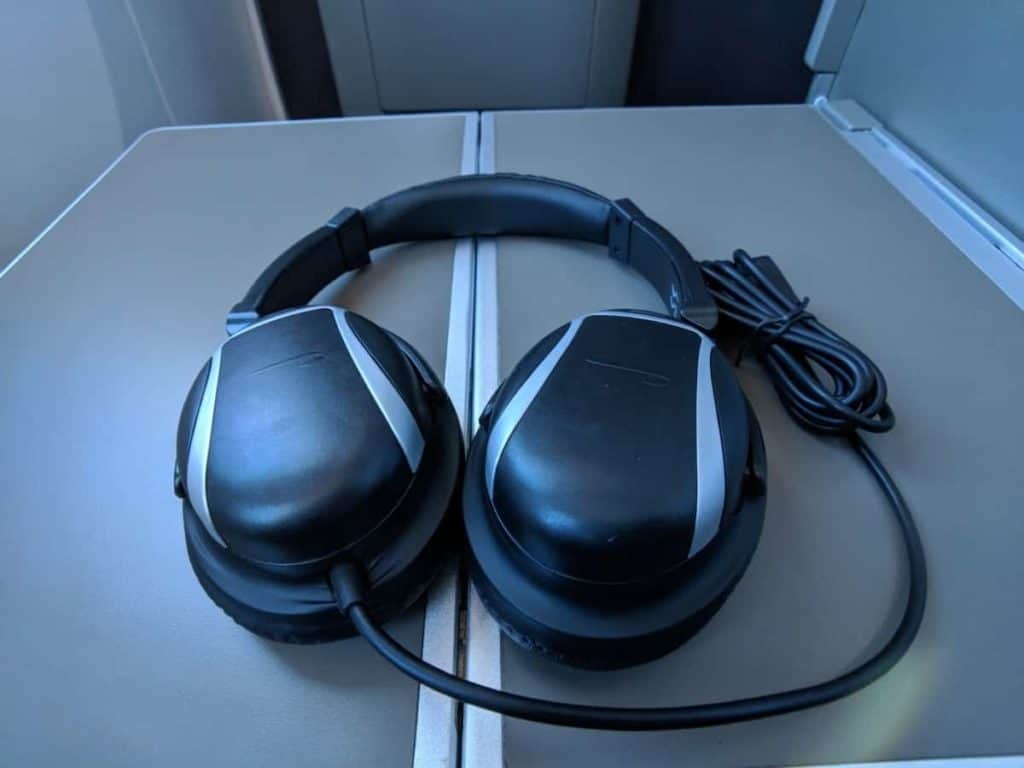 For charging your electric devices, there are two options. The power plug and one USB are located next to the storage box. The placement is not very convenient since the ports are almost impossible to access when the seat is in the sleep mode. If you need just a USB port for charging, there is one extra port below the remote controller.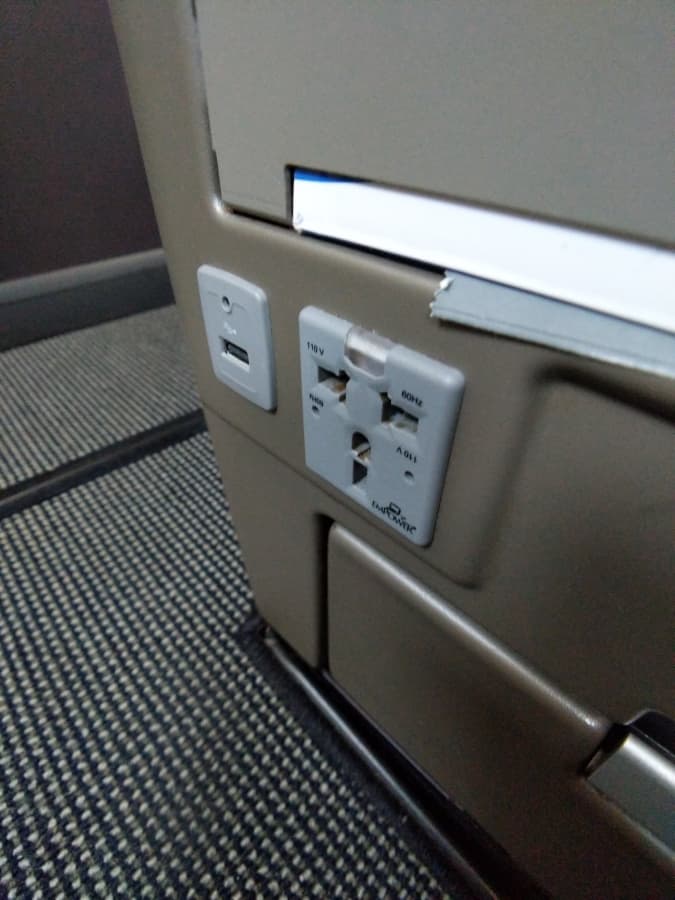 Food and Drinks
On this Boeing 787-900 flight, there were three champagne options: Henriot Brut Souverain NV, Castelnau Brut Reserve, and Castelnau Brut Rose NV.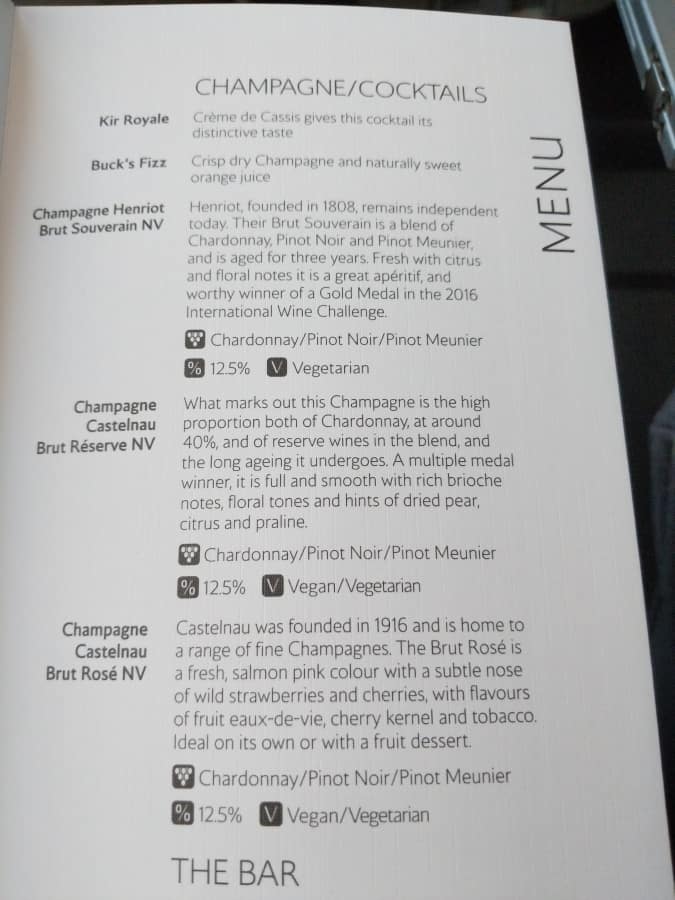 The dinner service started a bit late, about 1,5 hours after the departure. I found the service method a bit odd. The tray with just warm bread was delivered first, and appetizer followed about 10 minutes after that – and at that point, the bread was not warm anymore.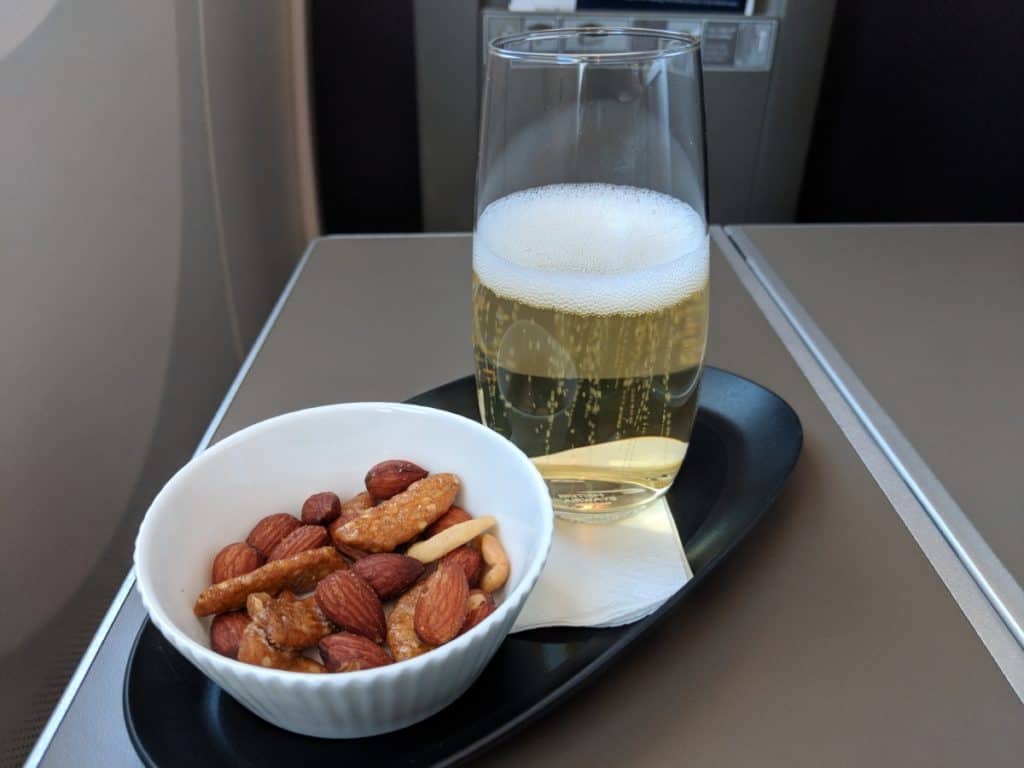 My choice for the appetizer, which was served from the cart, was spicy prawns and caramelized fig. Extra bread was not served during the dinner service.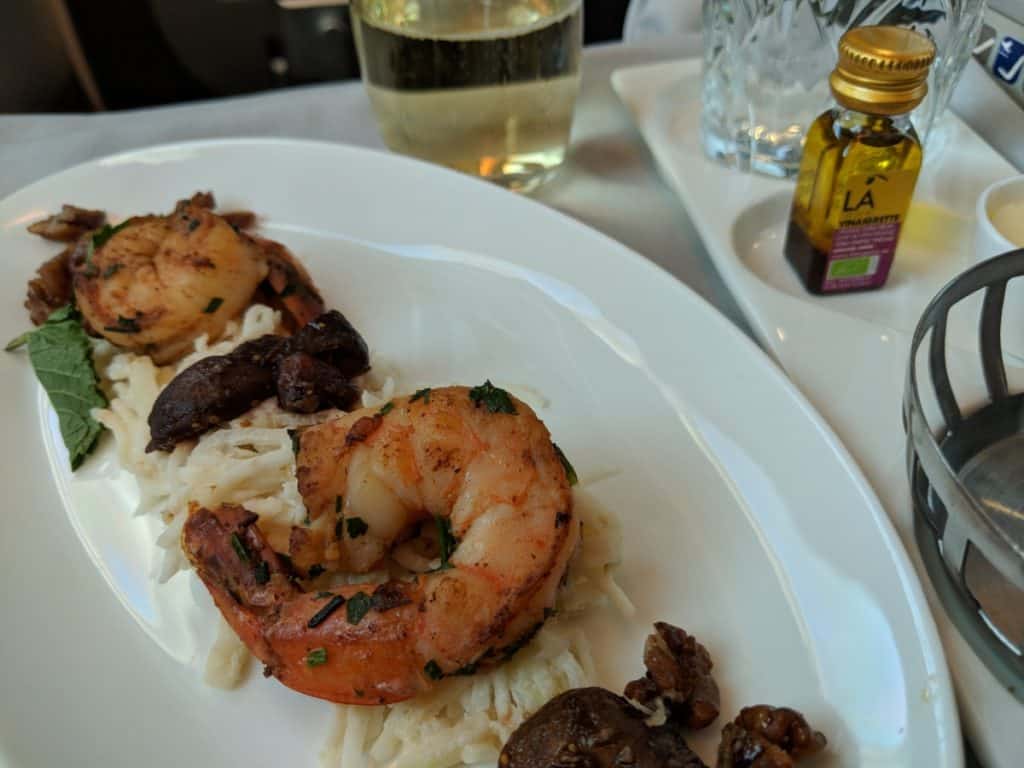 My main course was pan-seared salmon with cauliflower and rice pilaf. The presentation of the dish was really nice, but unfortunately, the salmon was a bit tasteless.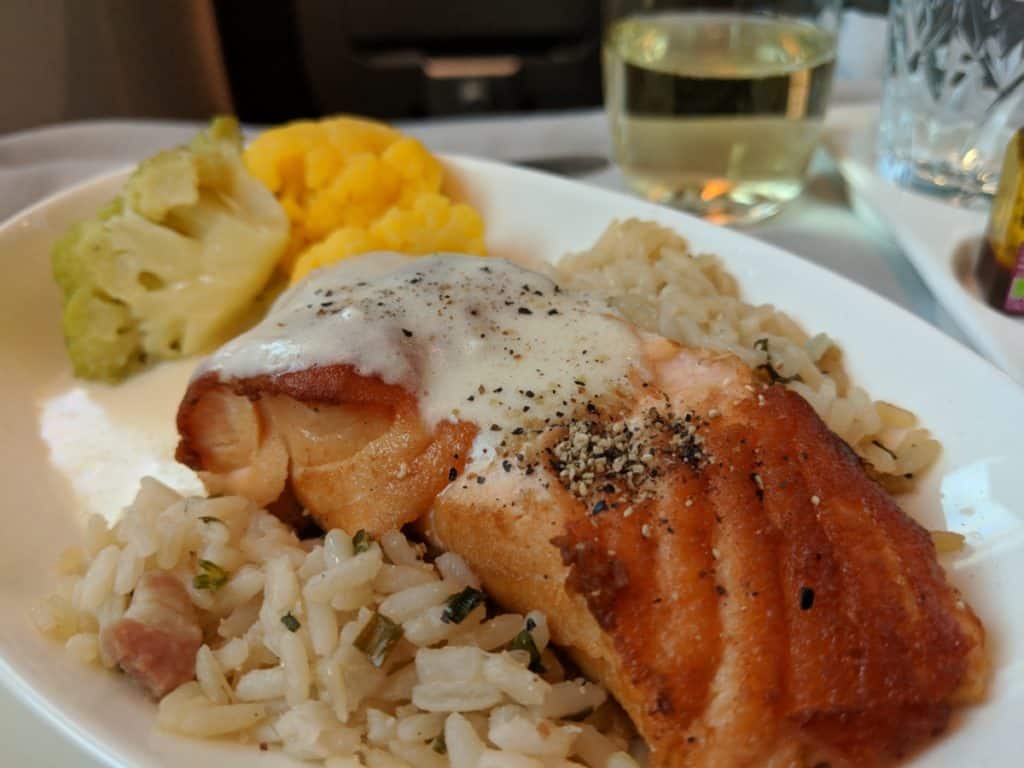 As a dessert, I opted for a glass of Castelnau rose champagne and a piece of lemon tart, which was a delicious combo.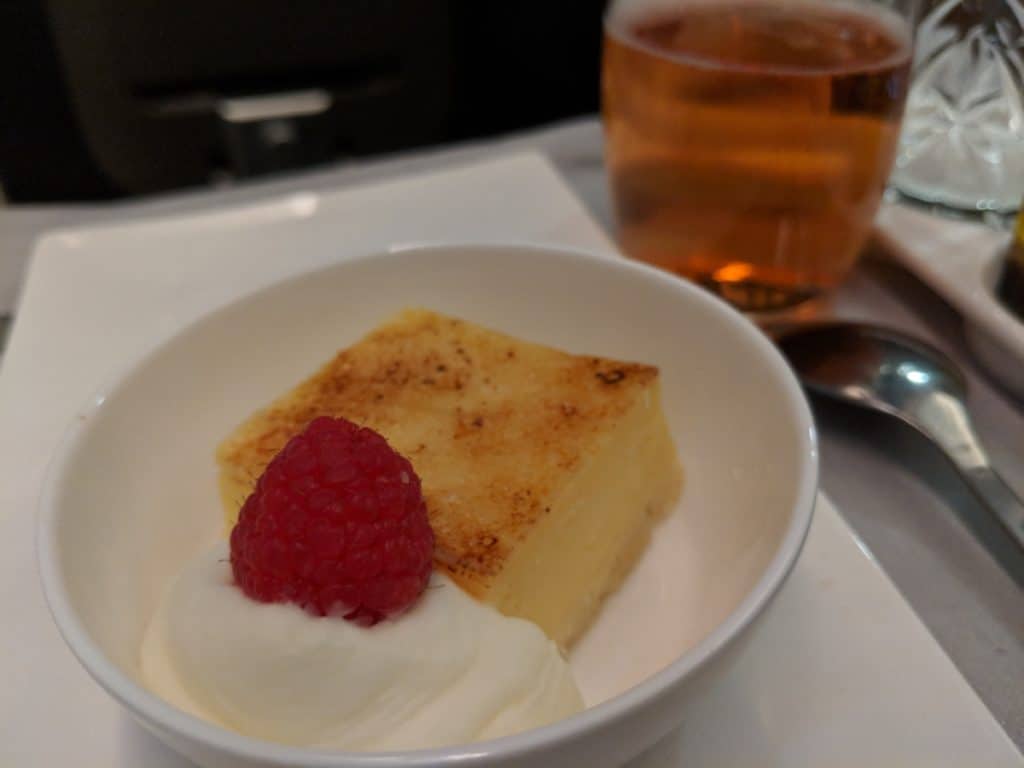 On this flight, breakfast preferences were collected using the form (see the photo below). I chose pancakes, which were just ok – not the best, not the worst.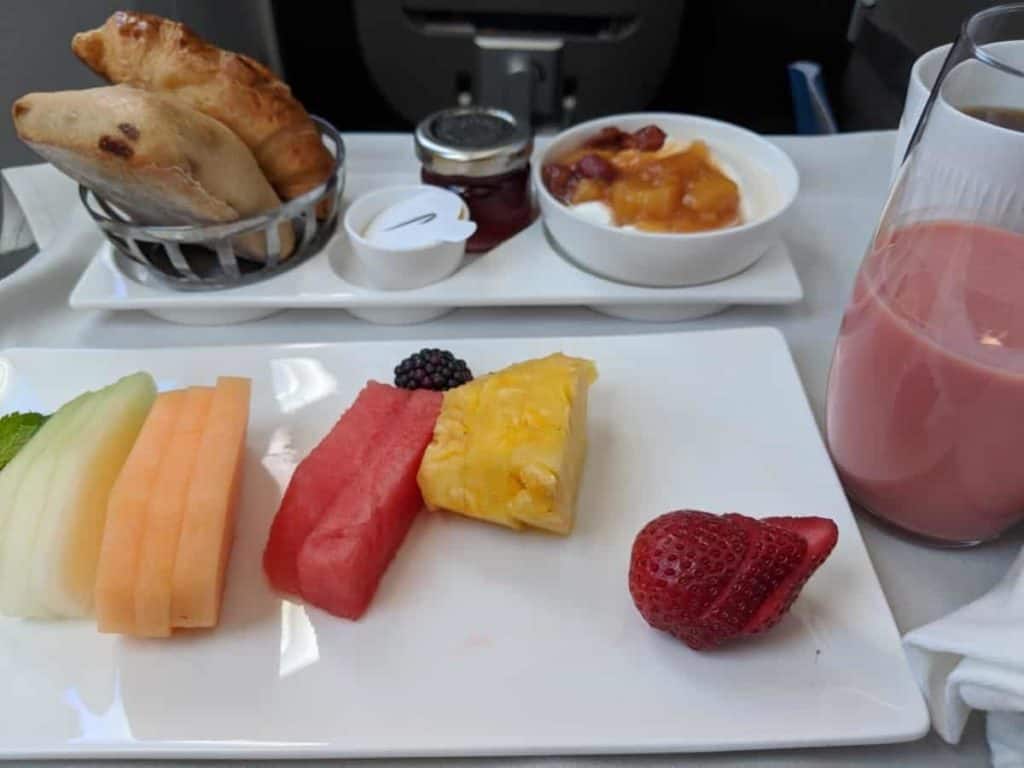 Service
I have been criticising British Airways service a lot (usually goes to the same category with Finnair and American Airlines). BUT on this flight the service was excellent, I'd say the best I have ever experienced on a British Airways flight. The flight attendants (especially George) were attentive, and refills were offered many times during this 10,5-hour flight.
Conclusion
Great modern IFE, lousy headphones
Good champagne and options
Fantastic service
Window seats offer excellent privacy
At the time of writing this review (July 2018) – Boeing 787-900 had the best business class when flying on British Airways. However the situation changed in late 2019 when British Airways released their new "Club Suite" business class seat – which will eventually replace all of the old "Ying-Yang" seats. Read the up-to-date situation from our Business Class Seat Guide.
Other British Airways' business class flight reviews: