How does British Airways First Class compare to the best Oneworld business classes like Qatar Airways? That was my goal to find out on my first FIRST class flight on British Airways 747-400 from London Heathrow to Las Vegas.
British Airways Boeing 747-400 First Class Details
Route
London Heathrow (LHR) – Las Vegas (LAS)
Date
May 2018
Plane
Boeing 747-400
Cabin
First Class
Seat
1A/2A
Configuration
1-2-1
Bed length
about 198 cm (6ft 6 in)
Seat width
56 cm (22 inches)
Capacity
12 passengers
Personal TV
VERY bad quality 15″
In-seat power
YES
USB port
YES
Touch screen remote
NO
Boarding
Since Las Vegas (LAS) flights depart from London Heathrow (LHR) Terminal 3, I wasn't able to test the exclusive Concorde Room, found only from Terminal 5. Instead, I paid a quick visit to British Airways Galleries First and had a glass of champagne there.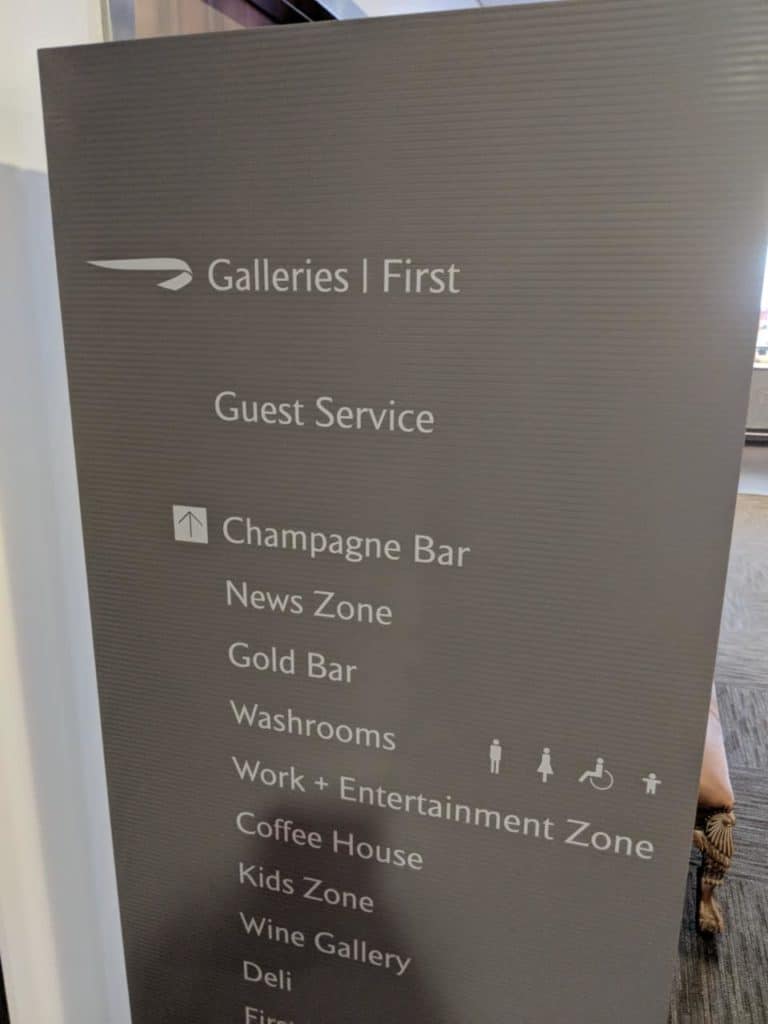 Boarding at LHR started about a half hour late and was a bit of chaos. Group numbering has helped a bit, but it seems that waiting for a correct number to be called is still a problem for some people. Or maybe it's reading and understanding part, I don't know…
Upon entering Flight Attendants greeted me at the door, the atmosphere was welcoming but not super-friendly like on Qatar Airways (for example, read our review of Qatar Airways A380) .
First Class Cabin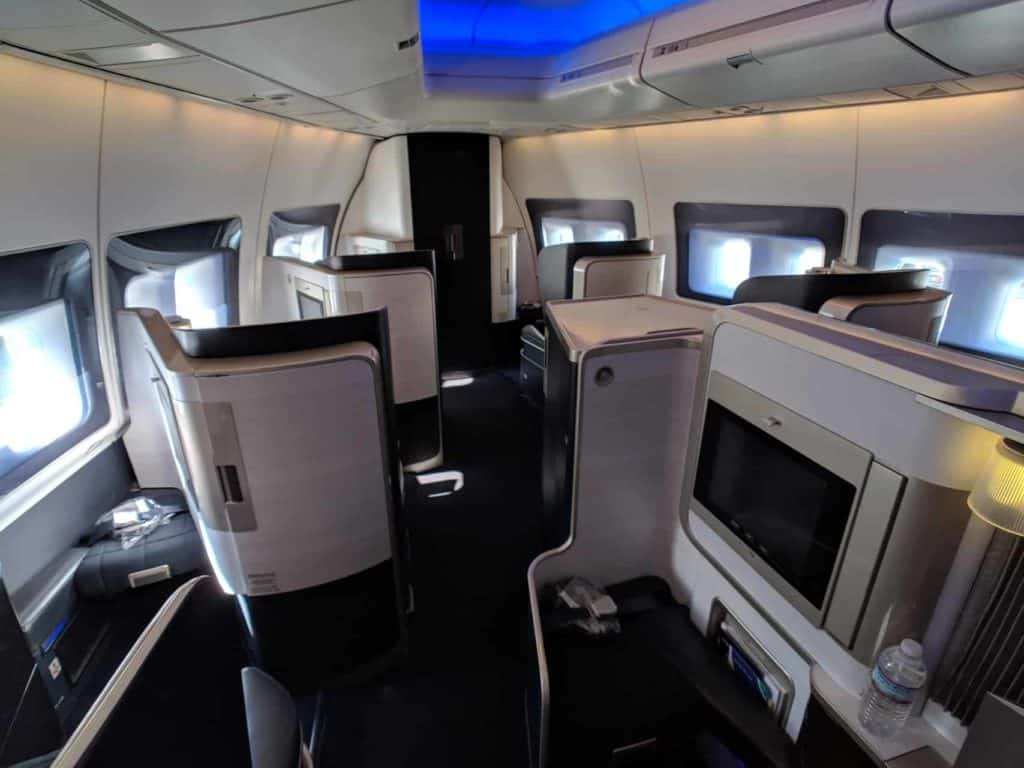 After guiding me to my seat, the first refreshments were offered, and I was asked whether I want a pajama or not. It was then delivered shortly along with the Liberty London amenity kit.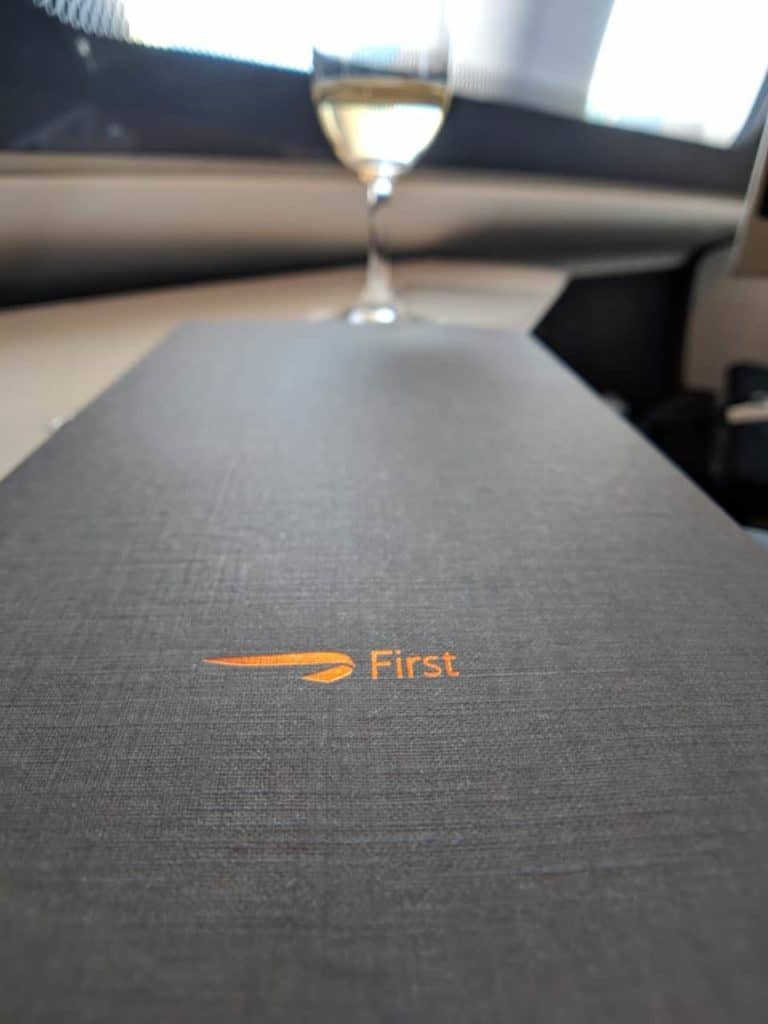 Since I'm a British Airways Executive Club Gold member, I managed to secure the 1A seat for myself. As a comparison, I chose 2A for the return trip – to see how it compares to the first row.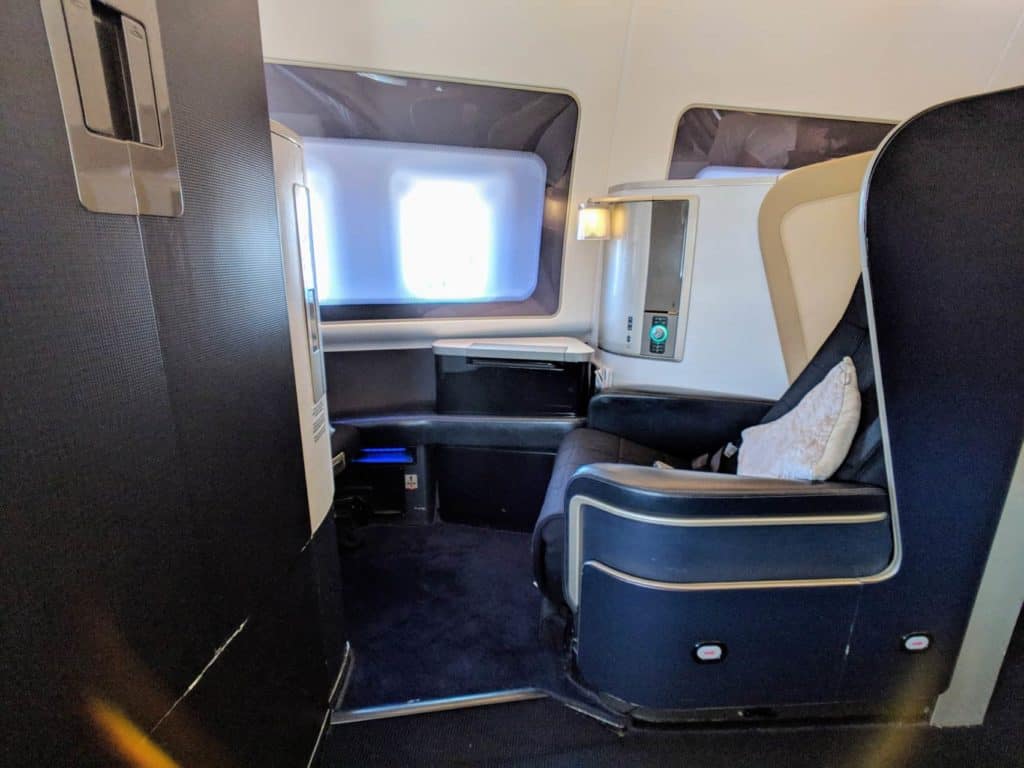 1A is super isolated from the rest of the cabin, in my opinion, it's definitely the best seat in the 747-400. I've read comments saying 1A is somewhat close to 1K, which is kind of true – but I didn't find it problematic at all. In any case, the front row seats suit very well for traveling with a partner.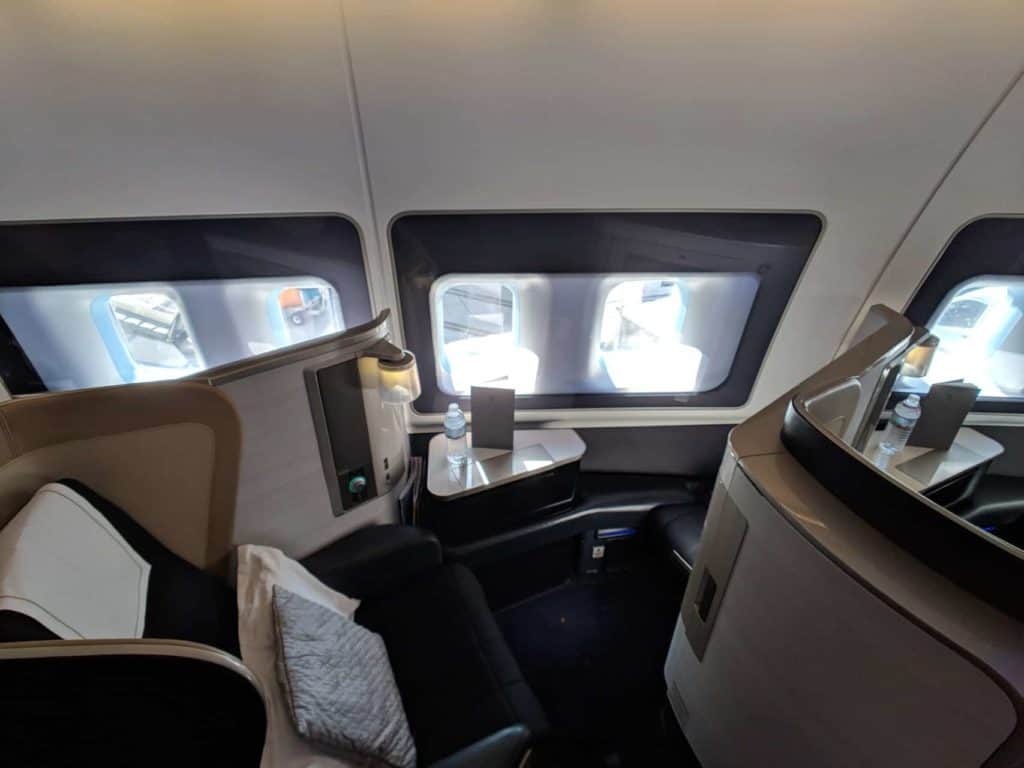 The second row is also quite isolated, and there is more distance to the seat across the aisle.
I would try to avoid choosing the center seats in the back of the cabin as they are really exposed to the aisle.
Boeing 747 First Class Seat
The first impression of the seat area was not overly positive. It was slightly worn-out, and there were scratches all over the place. On top of that, the floor area wasn't very clean. IFE screen locking mechanism seemed to be broken since it didn't remain closed during the take-off. In general, not really a first class experience.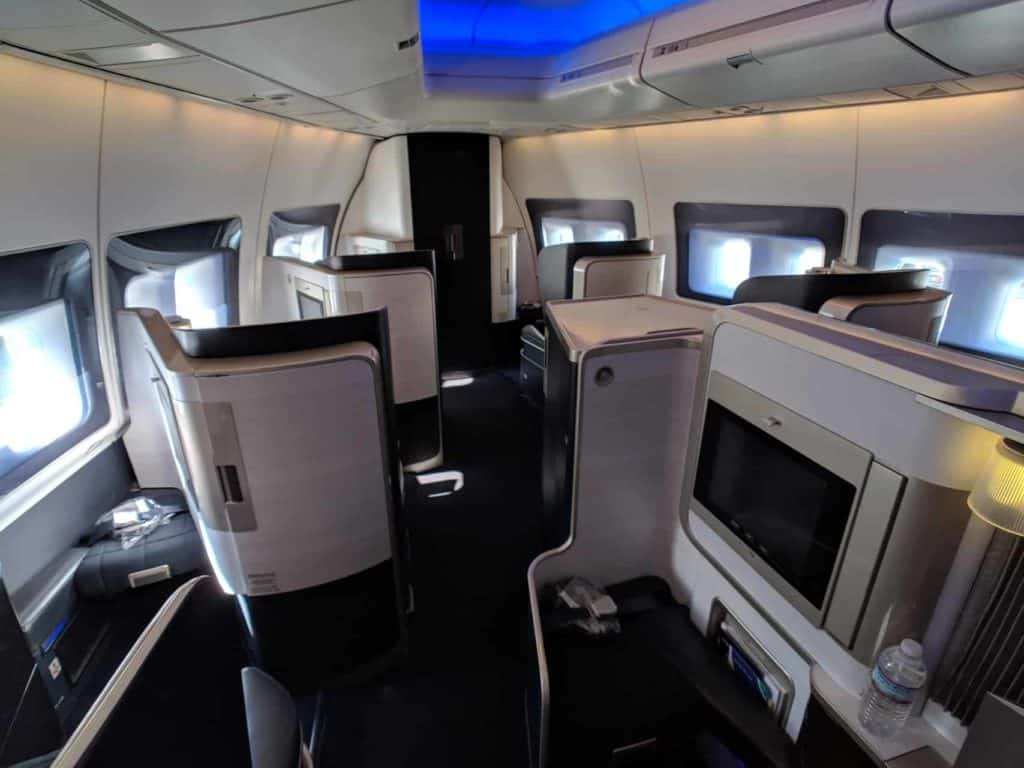 The seat itself was wide and comfortable with leather armrests. There was plenty of foot space, also in sleeping mode.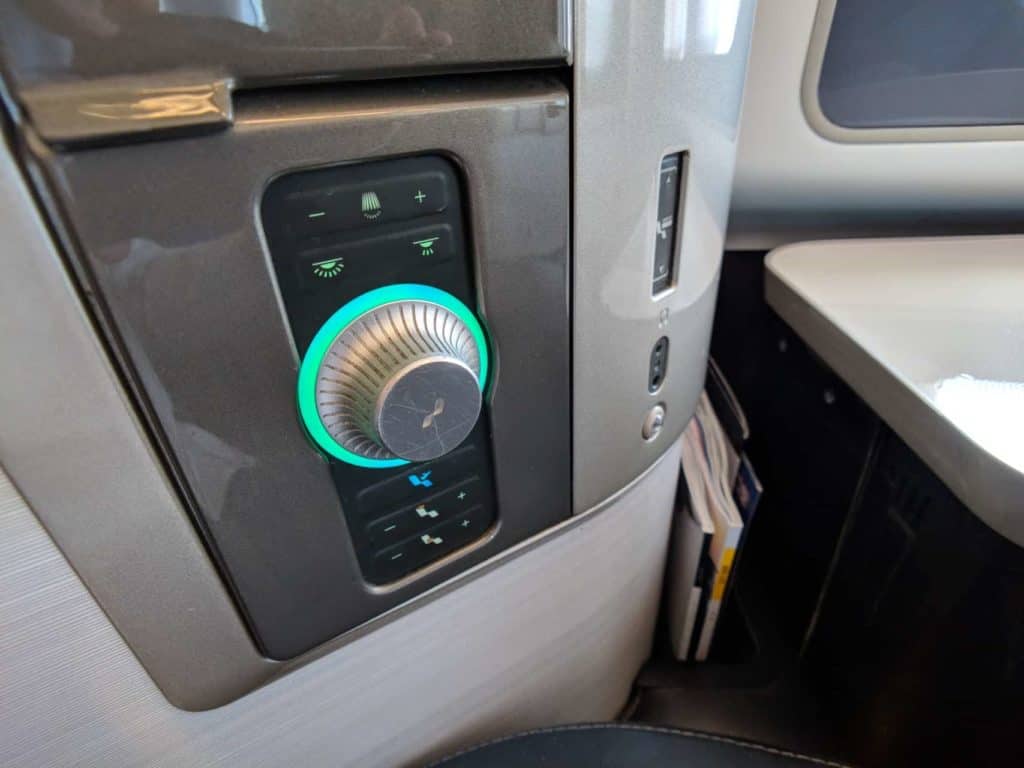 The seat controlling wheel was easy to use, from the usability point of view probably one of the best I have experienced.
Storage space is quite limited if you want to keep your belongings close. A separate coat closet exists, but there's not much extra room for bigger items.
First Class Drinks
Although I don't usually drink much whiskey, I decided to have a glass of Johnnie Walker Blue Label as an aperitif.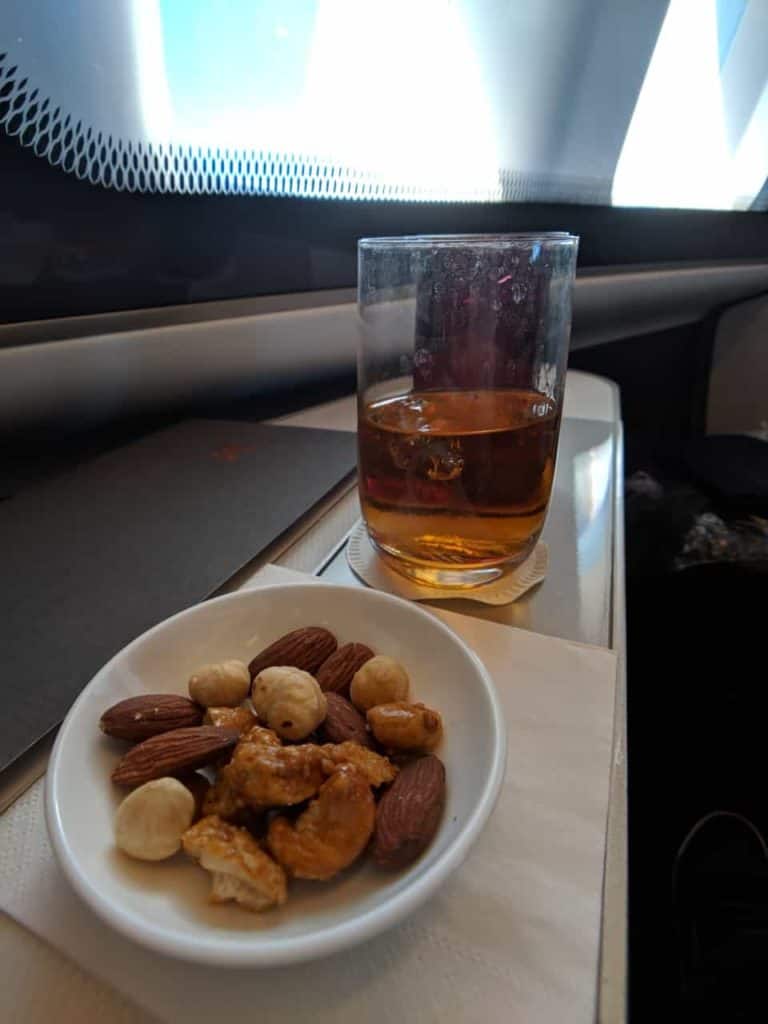 In addition to JW and the other hard liquors, there were two champagne options (Laurent Perrier Grand Siecle, Jacquart Rose Mosaique) and one sparkling wine (Camel Valley Cornwall Brut 2013) available. I opted for Laurent Perrier, which is excellent champagne.
Tray table was enormous, so there was plenty of space for champagne glasses and other necessities.
First Class Food
The food options for my two flights were quite traditional. I tried to choose relatively light and healthy options, so ended up eating a lot of salads and fish. In general, most of the dishes tasted ok – but the presentation was really bland for first class meals.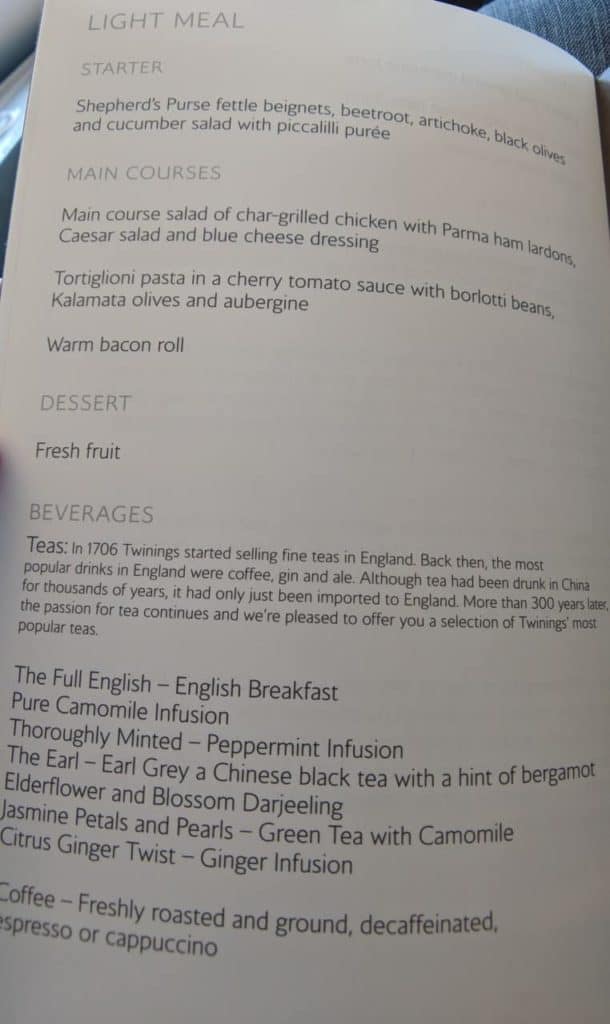 I have to give extra credit to the main salad of the return flight. It didn't look that special, but the salmon was super fresh and taste absolutely fantastic.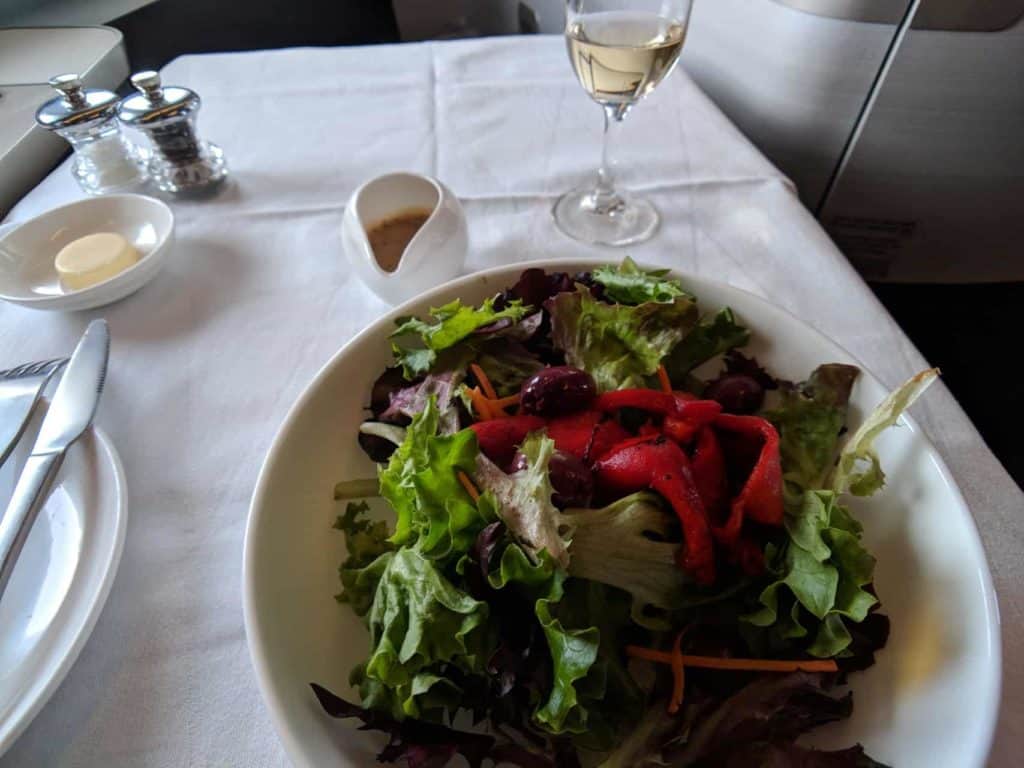 Very basic seasonal salad, with an excellent vinaigrette sauce.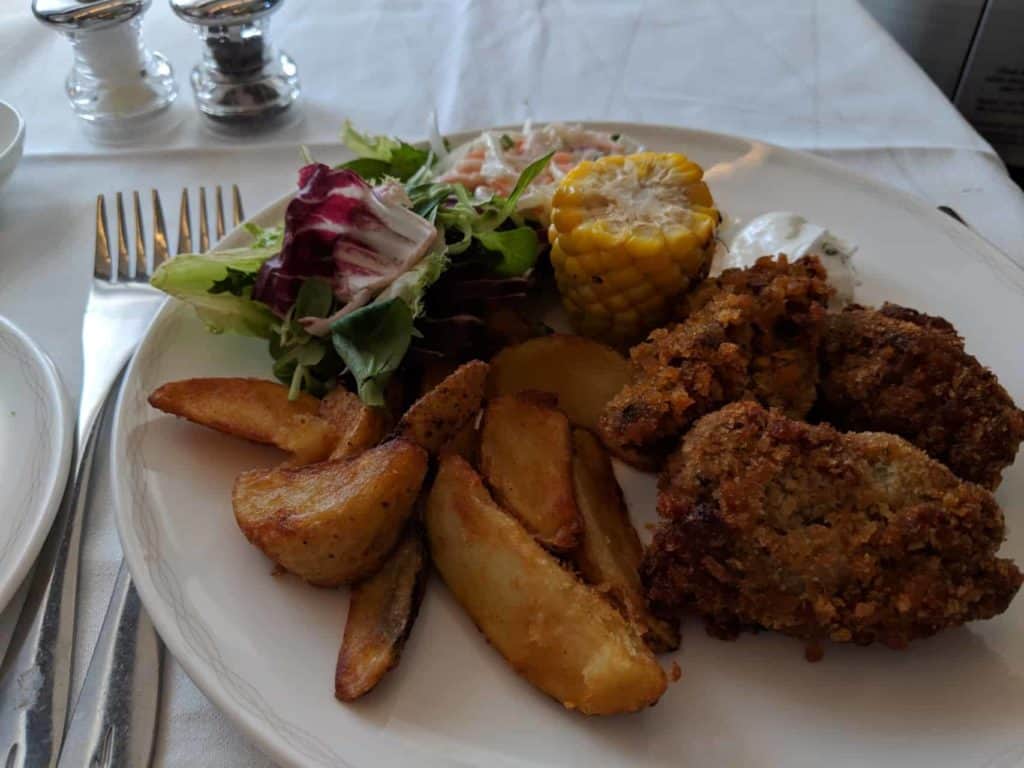 Main dish, Louisiana-spiced fried chicken with corn on the cob, tasted ok – but wasn't crispy at all.
Pre-appetizer – Cheese and prosciutto ham canape.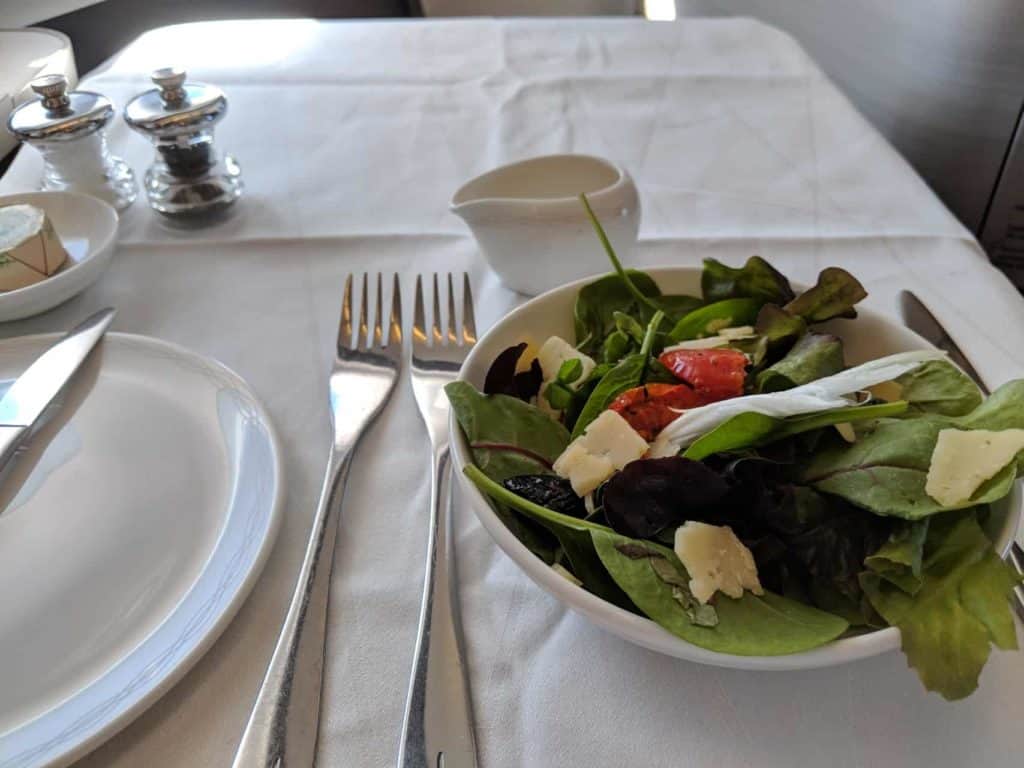 Starter salad was…. well, salad. Nothing special there.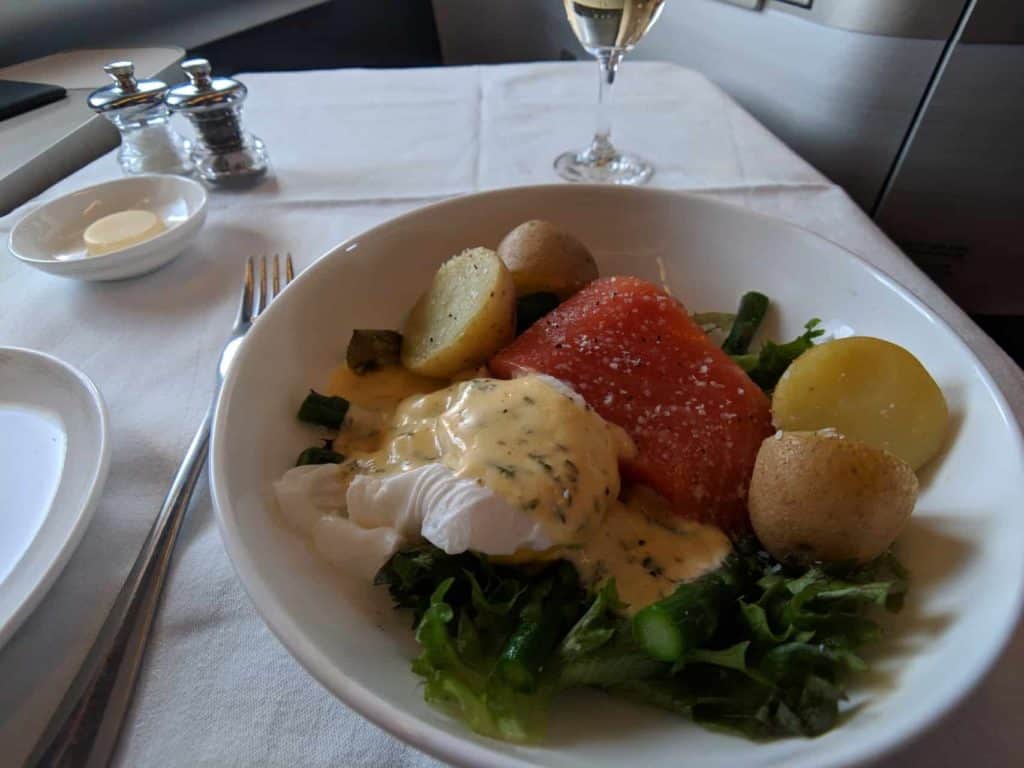 The main course salad Smoked salmon with poached egg was absolutely fantastic. The salmon was super fresh and tasty, probably the best salmon I've ever had on a plane. Well done, BA.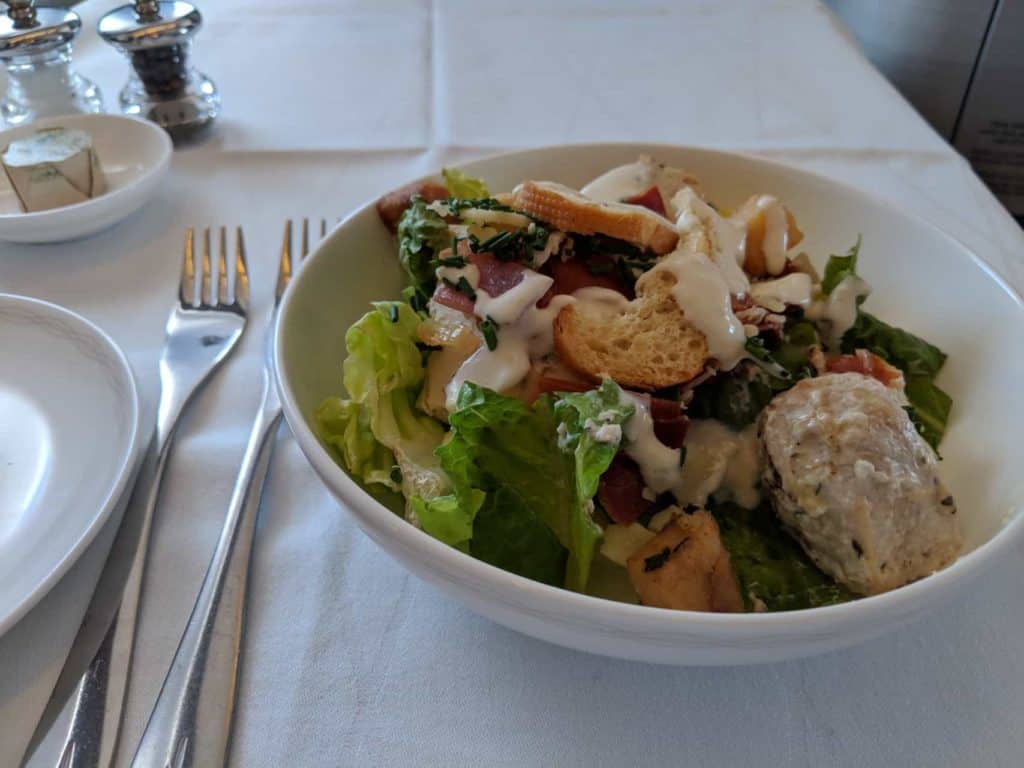 Light Lunch, char-grilled chicken salad with Parma ham lardons.
Dessert. Vanilla ice cream was ok, but the presentation was really bland. On the return flight, the presentation was a bit improved, but the ice cream was the same.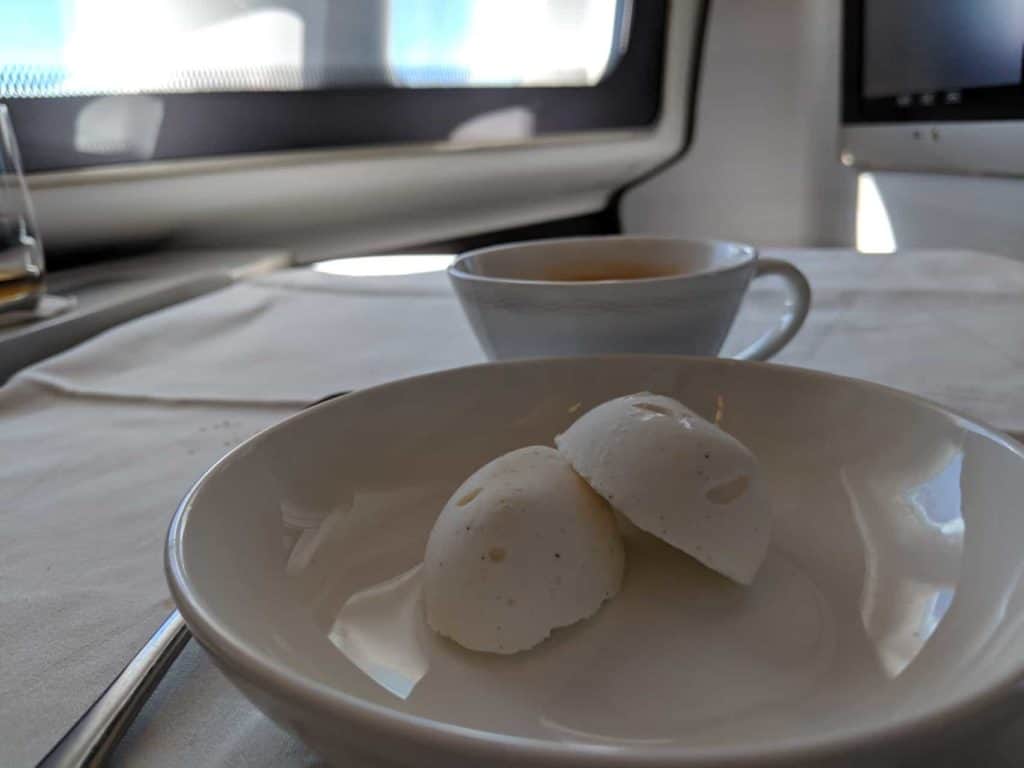 After the dinner, I was offered a turndown service, which was then done quickly and efficiently.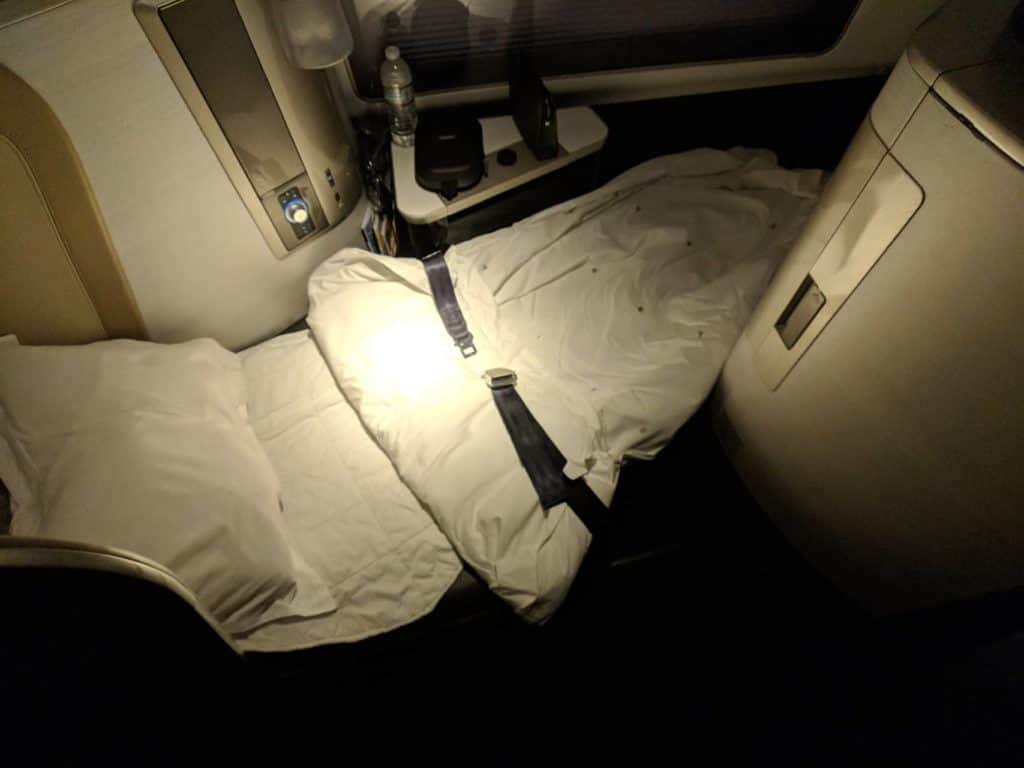 In-Flight Entertainment
It might not be necessary for all First Class travelers, but I usually like to watch a couple of movies during 10+ hour flights. Well… That didn't happen on this flight. I started to watch the recent Blade Runner 2049 but had to stop after a couple of minutes, since the quality of the movie was so low. There were disturbing "ghost images" moving around the screen, and the resolution was closer to old VHS tapes than modern HD quality. Absolutely horrible experience – in any way not acceptable on the First Class. On top of that, my remote controller was stuck, so I had to use the touchscreen to control the IFE.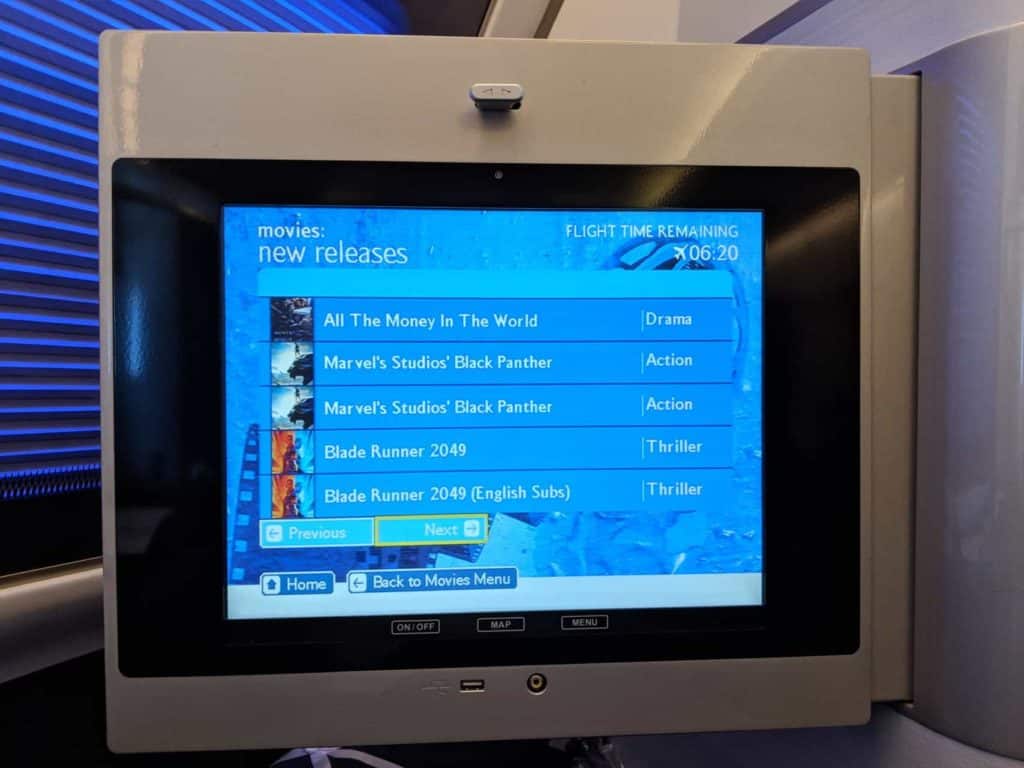 Also, the selection of movies was small; there were about 20 relatively new Hollywood blockbusters to choose from.
On the positive side, there was a USB port on the front panel of the screen, which made charging my devices easy.
Noise canceling headphones were available, but unfortunately, they were the same (low) quality than the ones available in British Airways business class (read our review of British Airways A380-800).
Amenities and Service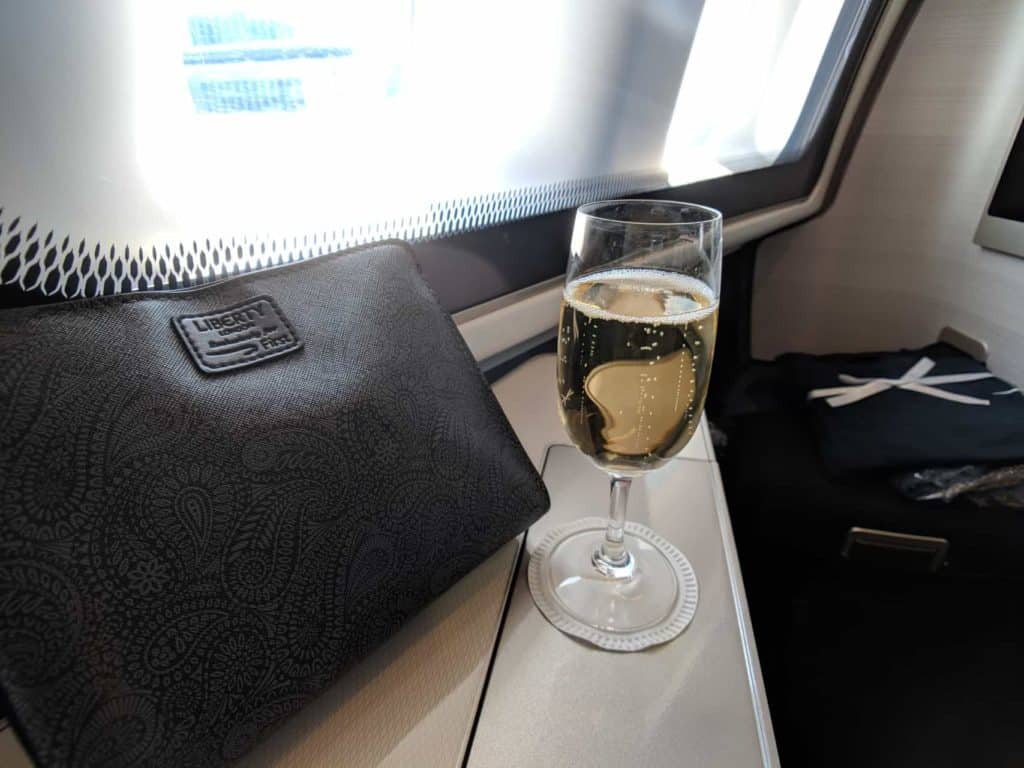 Amenity kit by Liberty London was well equipped, containing lip balm, shave gel, moisturizer, deodorant stick, earplugs, socks, excellent eye shades, pen, razor, comb, toothbrush and a paste. No complaints there.
The service in general during this 747-400 flight was decent, but not really different than on British Airways business class. For example, Qatar Airways usually has better service in their business class. On a side note, there was a quite significant difference in the service during the two flights. On my return flight from Las Vegas, the crew was seemingly more upbeat, and service level was closer to Qatar's.
Conclusion
Absolutely horrible, outdated IFE screen
Good beverage options with one excellent champagne
Decent food choices, but quite lame presentation (for a First Class product)
Comfortable seat for lounging and sleeping
Mediocre service (similar to BA business class)
To get back to my original question: "How does British Airways First Class compare to the best Oneworld business classes?" Well, for daytime travel I'd choose the fantastic Airbus A380 instead of BA First – but that's just me. What do you think of BA First and Qatar Airways business class?
---
More British Airways business class reviews: