I had a chance to test British Airways' A380 business class seat during my August 2017 trip from London to Los Angeles and back.
This was my second Airbus A380 flight during 2017, the first being Qatar Airways flight from Doha (DOH) to Bangkok (BKK). This time I had booked a return flight on the same plane, so I am going to compare my experiences on both legs in this article.
British Airways Airbus A380-800 Business Class Details
Route
Los Angeles (LAX) – London Heathrow (LHR)
Date
August 2017
Plane
Airbus A380-800
Cabin
Club World (Business Class, Upper Deck)
Seat
56A and 53K (return flight)
Configuration
2-3-2 / 2-4-2
Bed length
about 183 cm (72 inches) + footstool
Seat width
51 cm (20 inches)
Capacity
97 passengers
Personal TV
10,4 inches
In-seat power
YES
USB port
YES
Touch screen remote
NO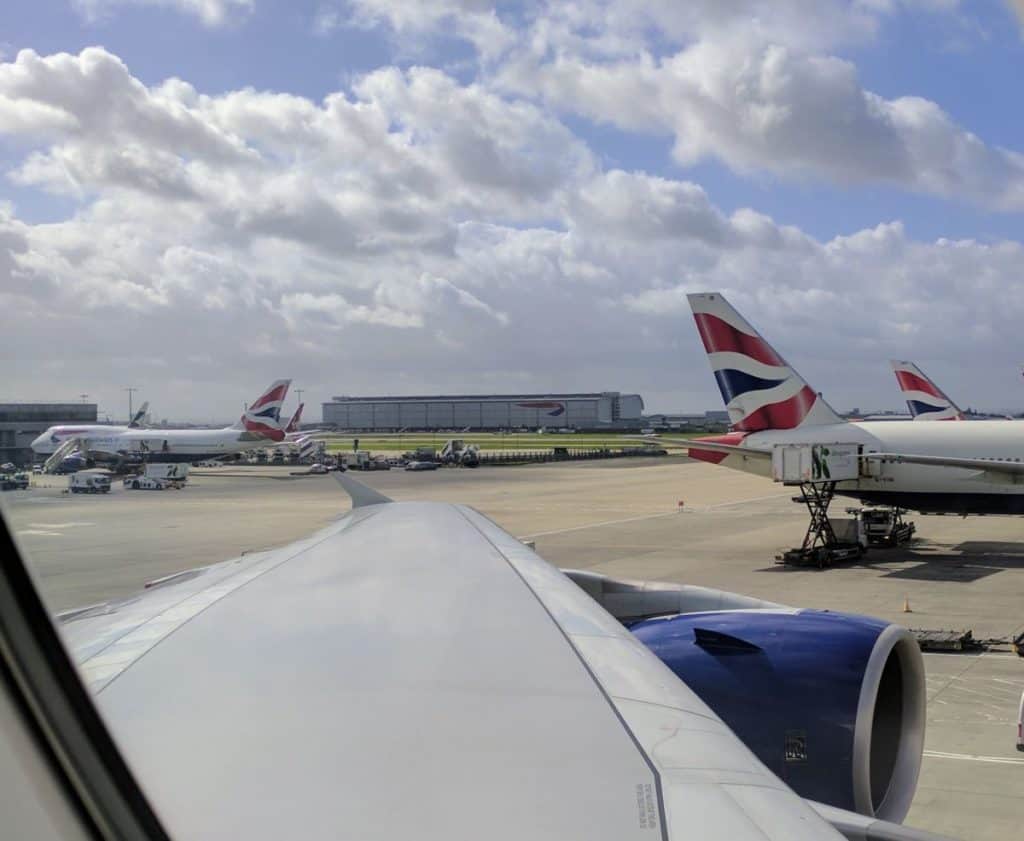 Check-in (Heathrow T5)
Since I'm a British Airways Gold member, I was allowed to use the first class check-in area in Heathrow Terminal 5. It was hands down the smoothest check-in experience ever, after entering an isolated first class area, I was greeted by friendly attendants who guided me to the closest free check-in desk (all of them were available during my visit).
Once I had a boarding pass in my hand, I was guided to dedicated security area – again reserved only for British Airways first class / BAEC Gold passengers. I was the only customer at that moment, so I got personal and friendly service. I was through the check-in and security in about 7 minutes.
After security you are immediately inside British Airways Galleries First Class Lounge, so using this route you can entirely skip crowded areas and shops of the Terminal 5.
Check-in (LAX Tom Bradley International)
I was relatively early at the airport, and there were no queues at check-in or security. There was a priority security for business class passengers, but it was closed, probably due to the lack of passengers. In any case, the whole process was rapid, took maybe 15 minutes total – but obviously, the experience wasn't anywhere near Heathrow T5 (first class check-in).
The Lounge (Galleries First at Heathrow T5)
British Airways lounges at Heathrow T5 are not among my favorite ones. The first class lounge is huge, but usually quite crowded. It's really close to business class lounge, just better food and drink options and fewer children.
The Lounge (Qantas First Class Lounge at LAX Tom Bradley International)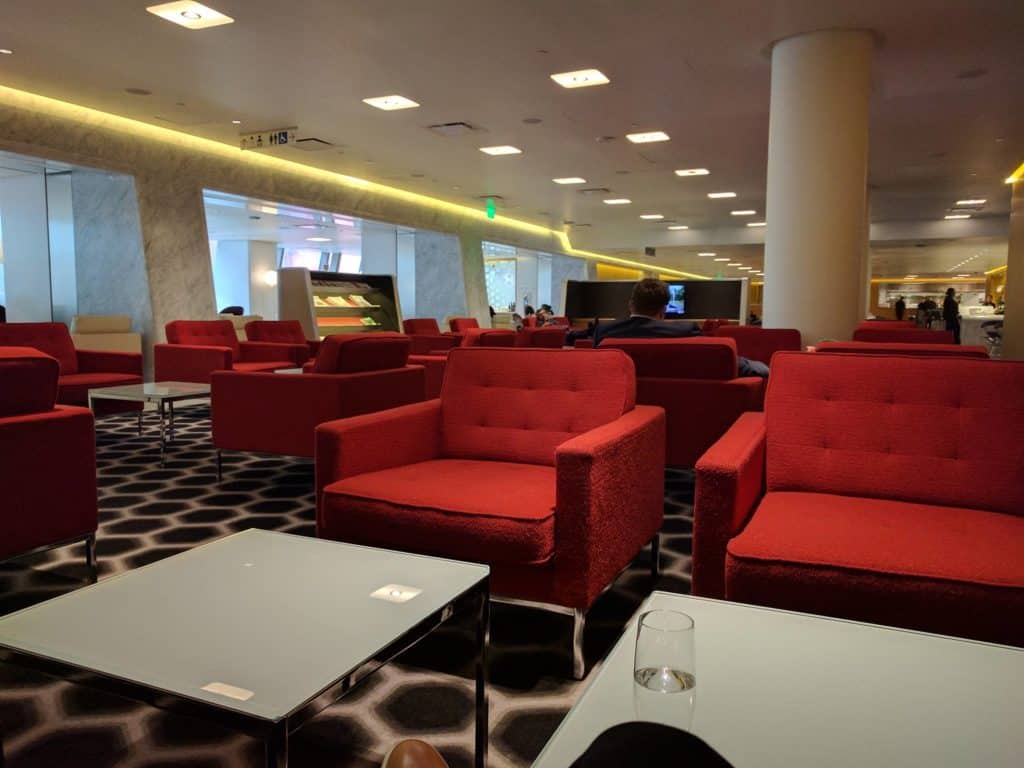 The Qantas First Class Lounge at LAX is an entirely different story. At least during my visit, it was relatively quiet, there was a lot of space, and the overall mood was pleasant and relaxing. The waitresses were friendly and attentive, serving drinks to visitors sitting outside the restaurant area.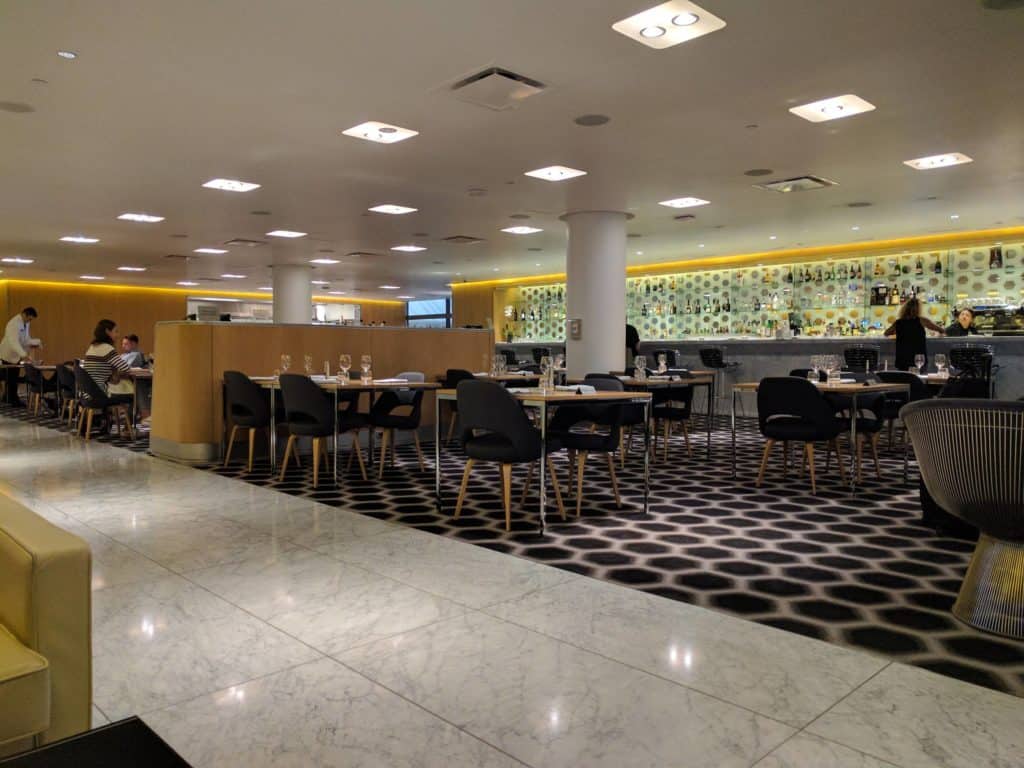 The restaurant had a short menu, this time I decided to try their signature Reuben Sandwich (see photo below) and a glass of Mumm Cuvee Privilege Champagne. In addition to Mumm, there were also three other champagnes (Perrier-Jouet Grand Brut, Pommery Brut Royal, and Nicholas Feuillatte Rose) to choose from.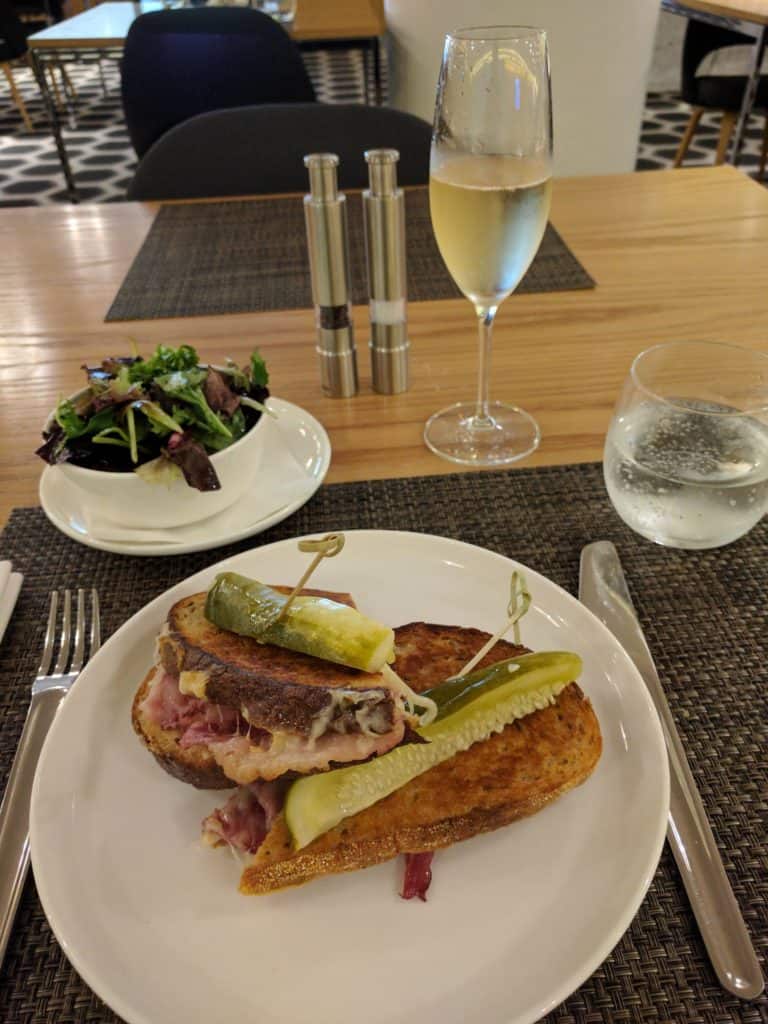 Boarding (Heathrow T5 and LAX TBIT)
The boarding process on both legs was typical chaos. British Airways should do something about that. For example, Qatar Airways boarding process at Doha airport (DOH) is a good example how it can be done right.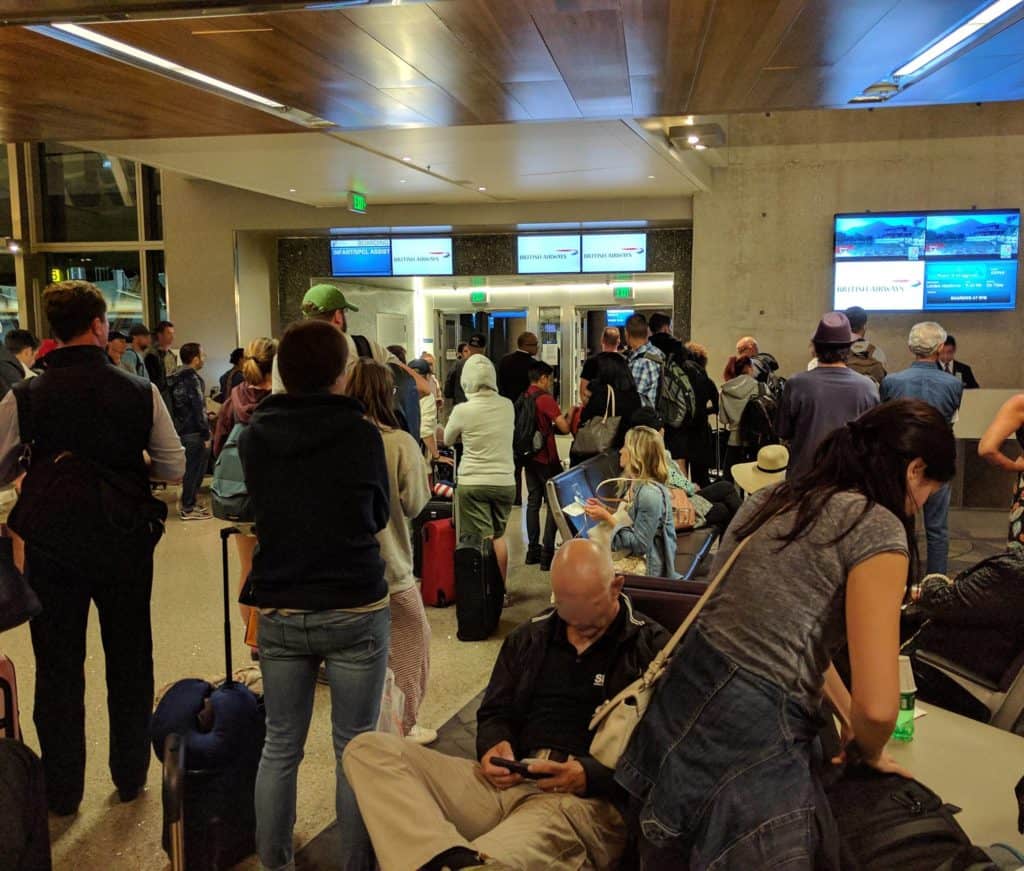 The first class and BA Gold card members were invited to board first, but especially at LAX, the area was so loud that it was difficult to hear any announcements. It's also weird why airlines don't use the information screens more efficiently.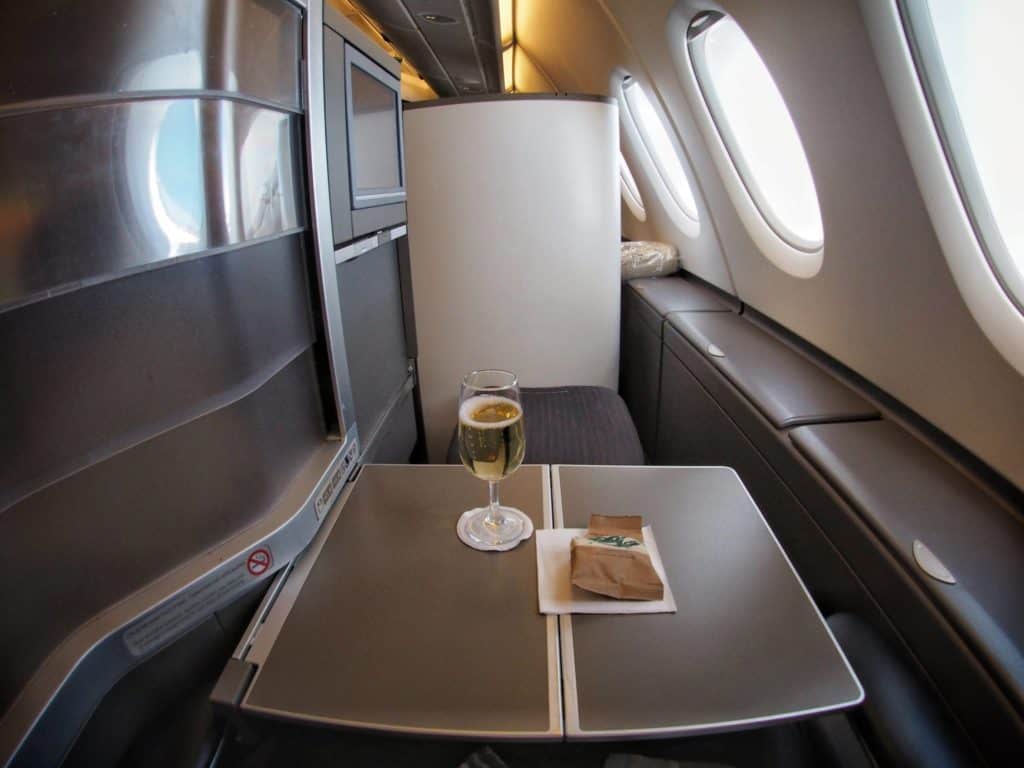 On the plane, I was greeted by friendly flight attendants who guided me to my seat. Soon after I sat down on my seat, I was given a British Airways amenity pouch and offered some beverages.
Amenity kit contained the usual toiletries – a lip balm, skin and body lotion, toothpaste and -brush, a pair of socks and an eyeshade.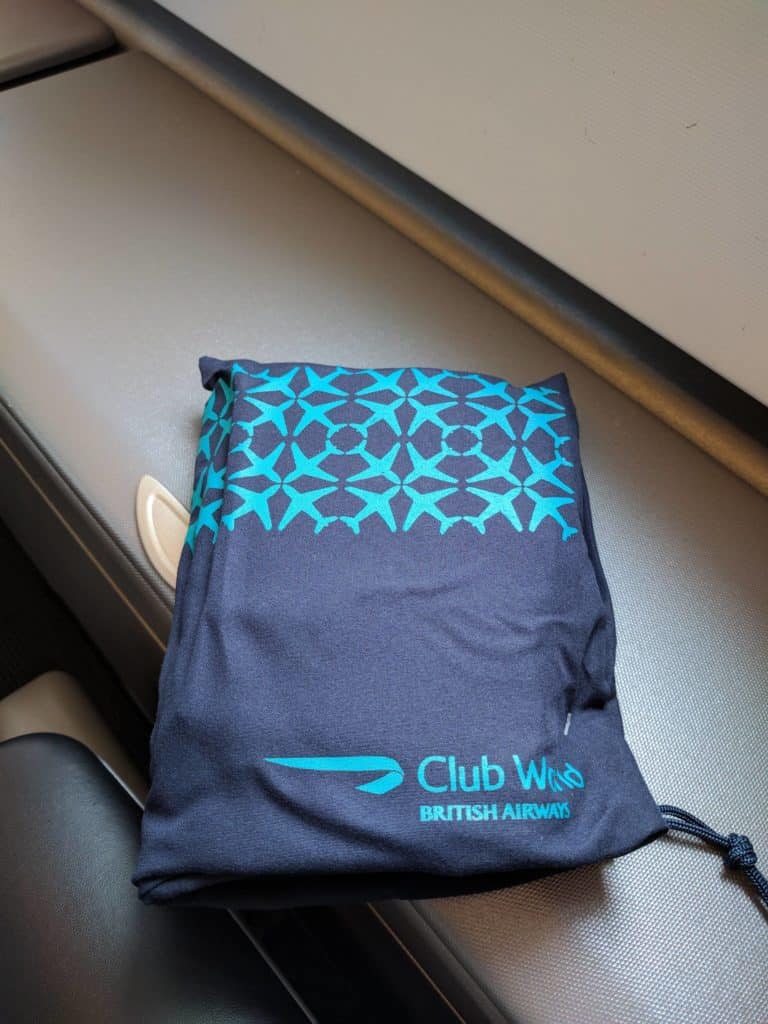 The Airbus A380 Cabin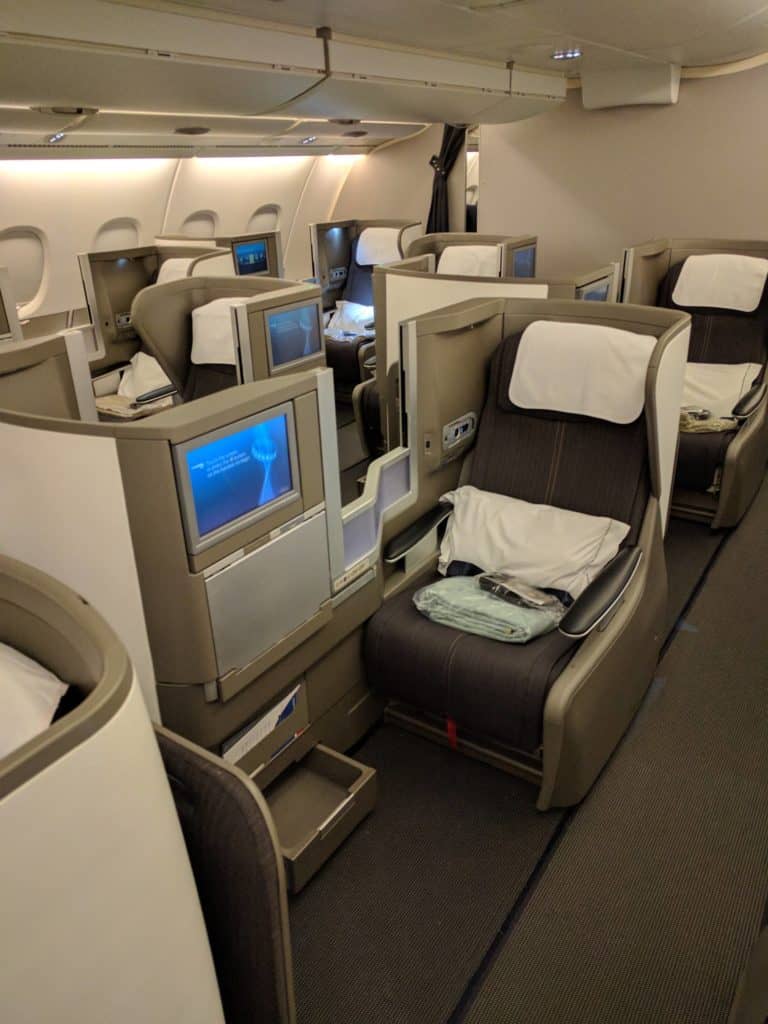 On both legs I managed to get the second-floor window seat, initially seats 53 A (LHR-LAX) and 53 K (LAX-LHR), but due to missing my first flight I was assigned to seat 56 A on the first leg. This might sound like a minor thing, but the difference is actually quite significant. 53 A/K are considered as the best seats on British Airways A380, because they offer an unobstructed aisle access, whereas 56 A is blocked by another seat and passenger traveling on it.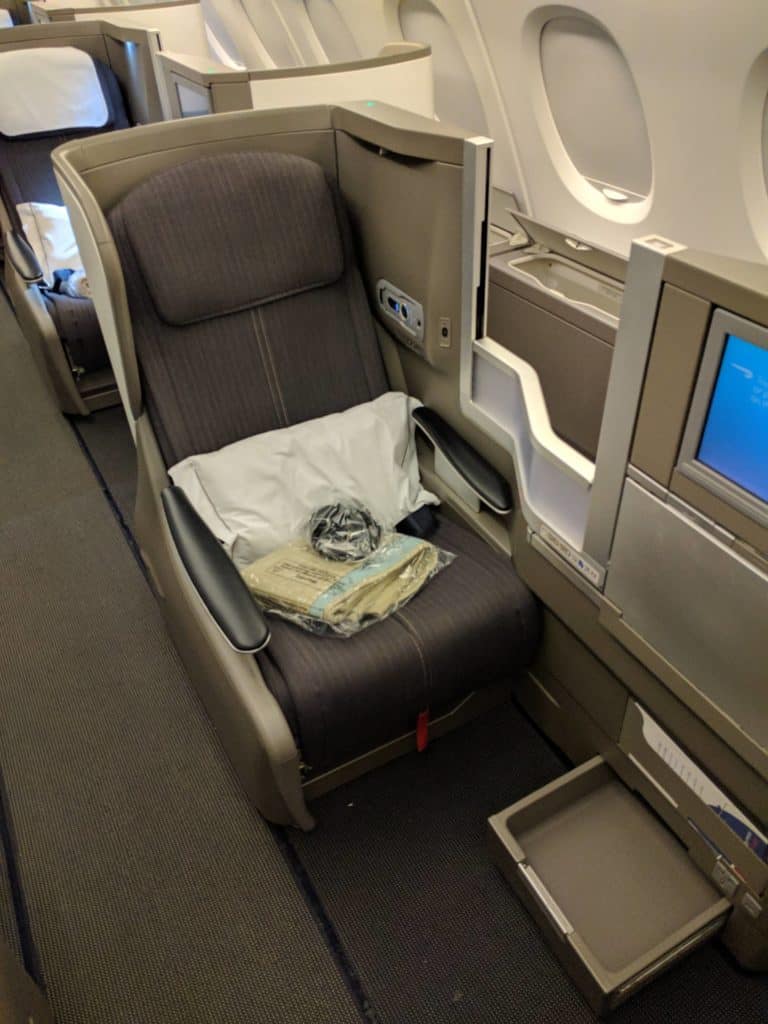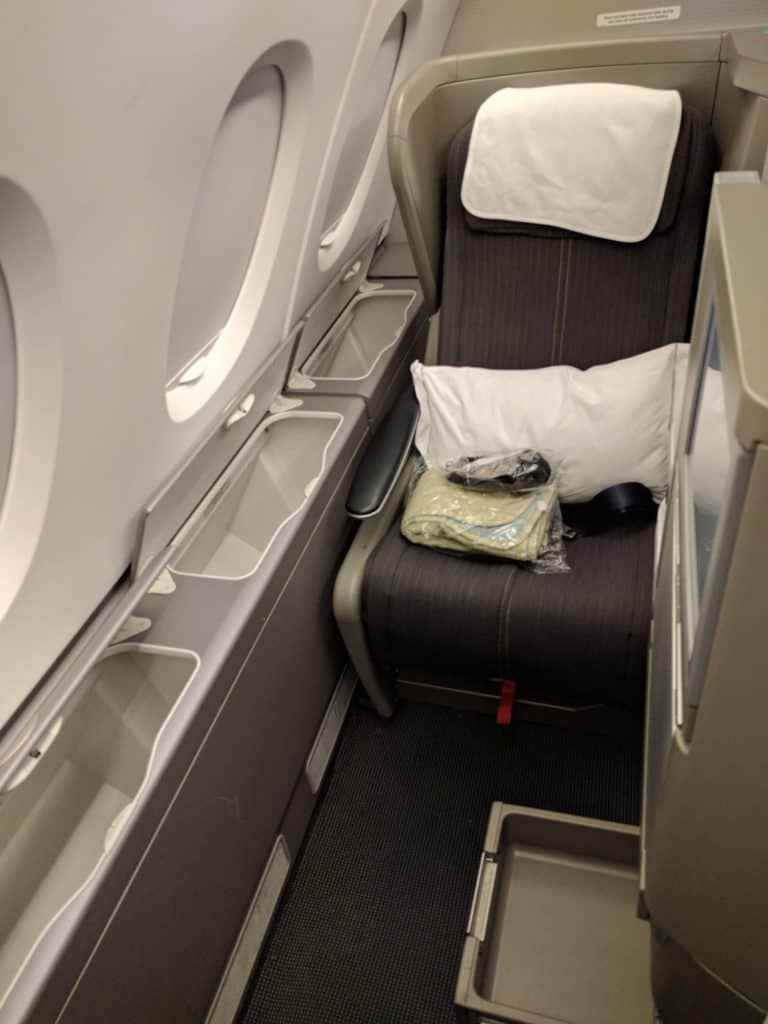 The seat itself had seen its better days, some scratches and stains were clearly visible and on the LAX-LHR flight cleaning wasn't made properly, there was some trash left from the previous passenger.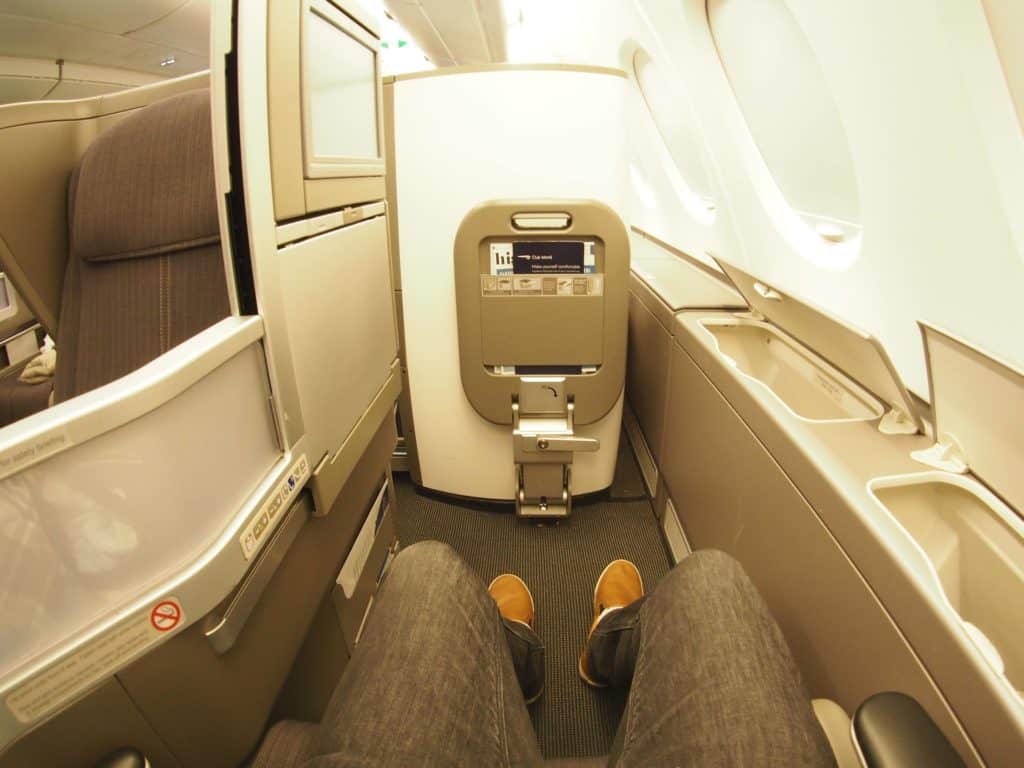 Other than that the seat was somewhat comfortable, although quite narrow. The seats in British Airways business class, called Club World cabin, are quite tightly packed – the seats in downstairs are in arranged in a 2-4-2 configuration and in a bit more comfortable 2-3-2 setting on the second floor.
Due to the ying-yang seat configuration, you basically have to stare the face of the passenger next to you, which some might find quite uncomfortable. There is a divider between the seats, but it has to stay down during the take-off and landing. Also sometimes attendants lower the divider during the meal service, but during my trip that didn't happen, flight attendants managed to squeeze the meals over the divider.
Seat controls and storage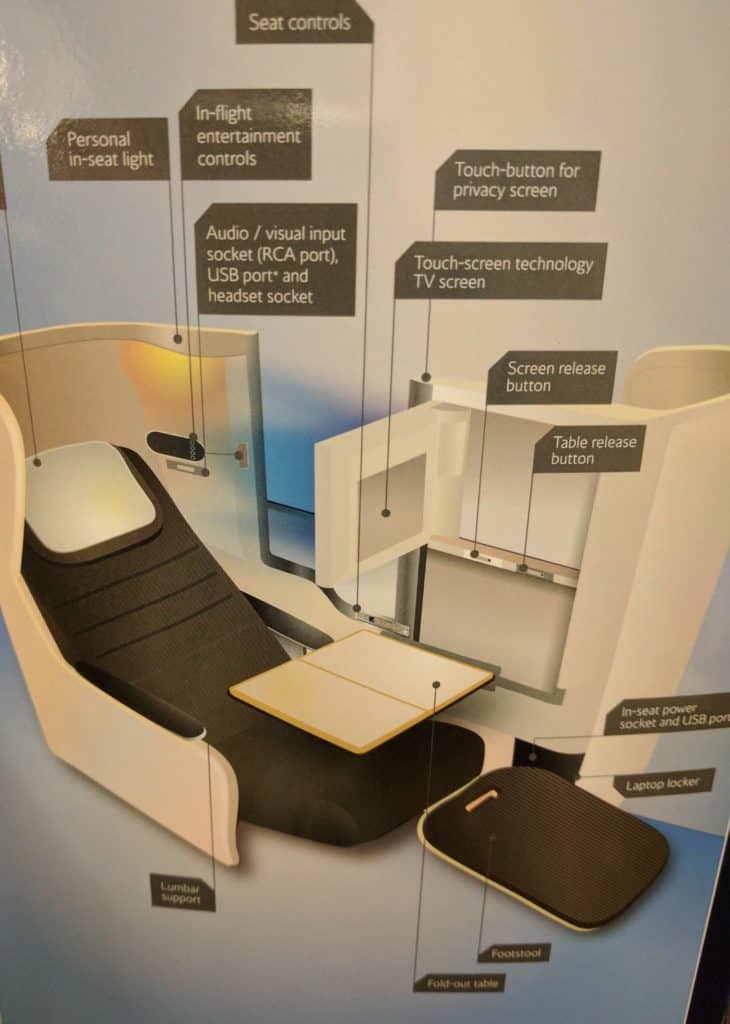 The second-floor business class cabin on Airbus A380 is tranquil compared to the older plane models. During my flights, it also stayed relatively dark (even on the daytime flight) and quiet, which makes sleeping easy.
The most significant strength of the window seat is the amount of privacy. When the divider is up, you have kind of own suite – or a coffin, depending if the narrow width of the seat is a problem.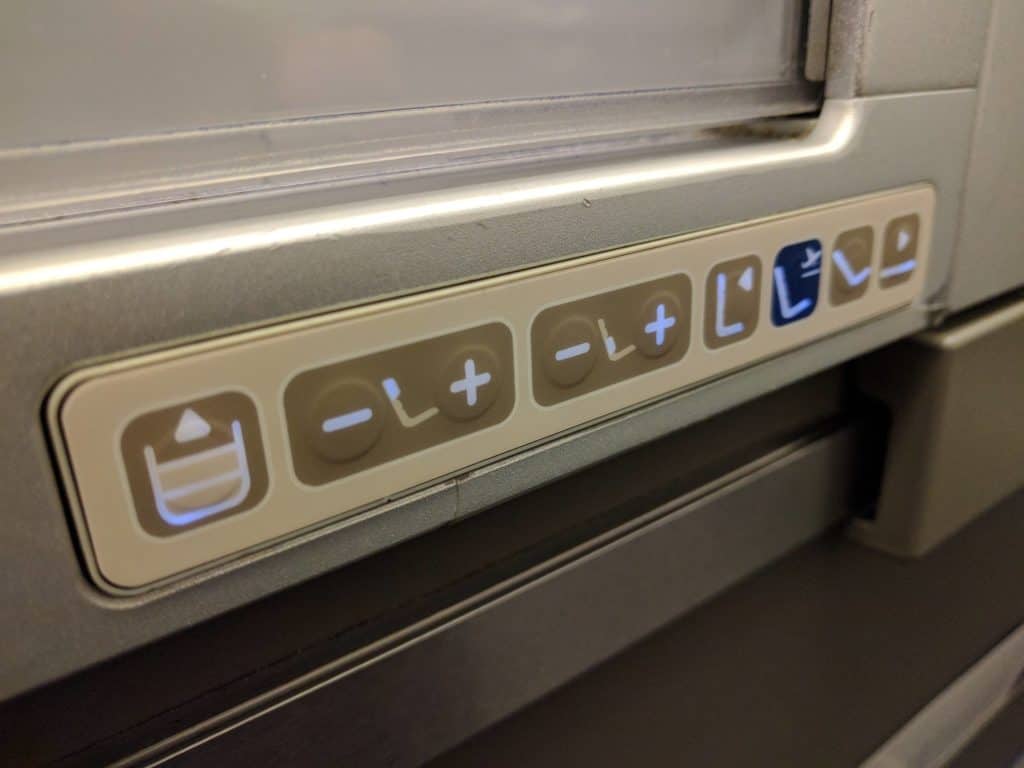 The storage capacity of the window seat is also a big plus. There are three rather big storage boxes next to the window and one locker on the left side of the seat.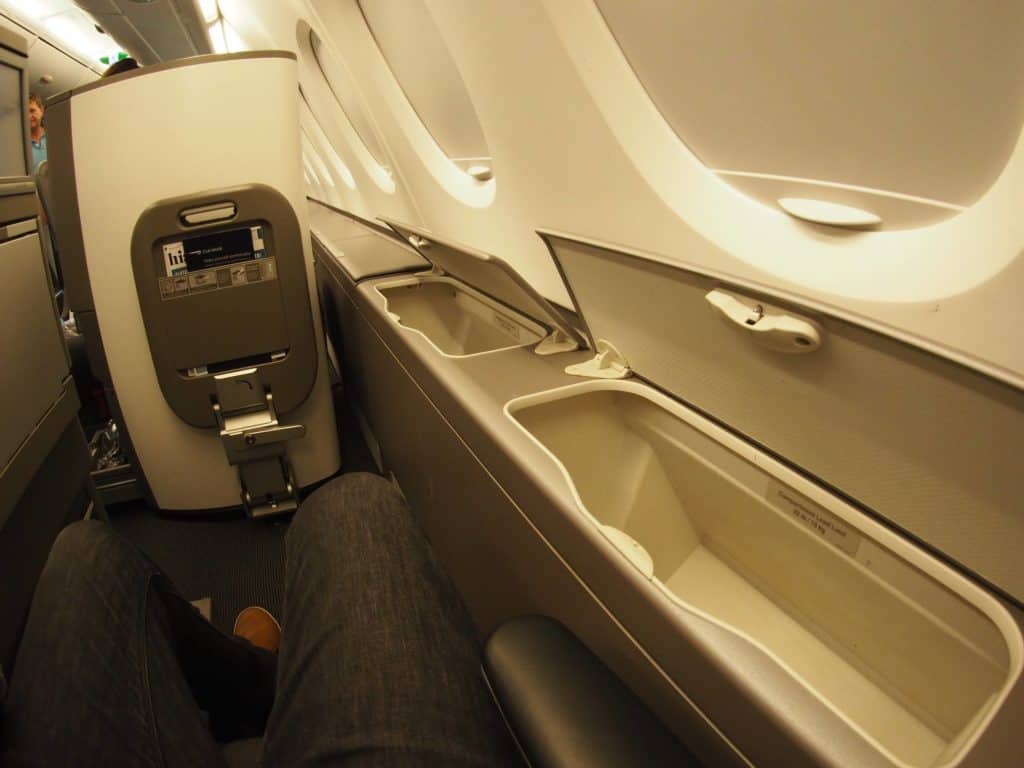 Food and Drinks
There was no amuse bouche served during my flights. Instead, the meal service started with a bag of nuts and some drinks. On the plus side, there were three different champagnes to choose from, which was a pleasant surprise. I started my beverage tasting with Henriot Brut Souverain Champagne.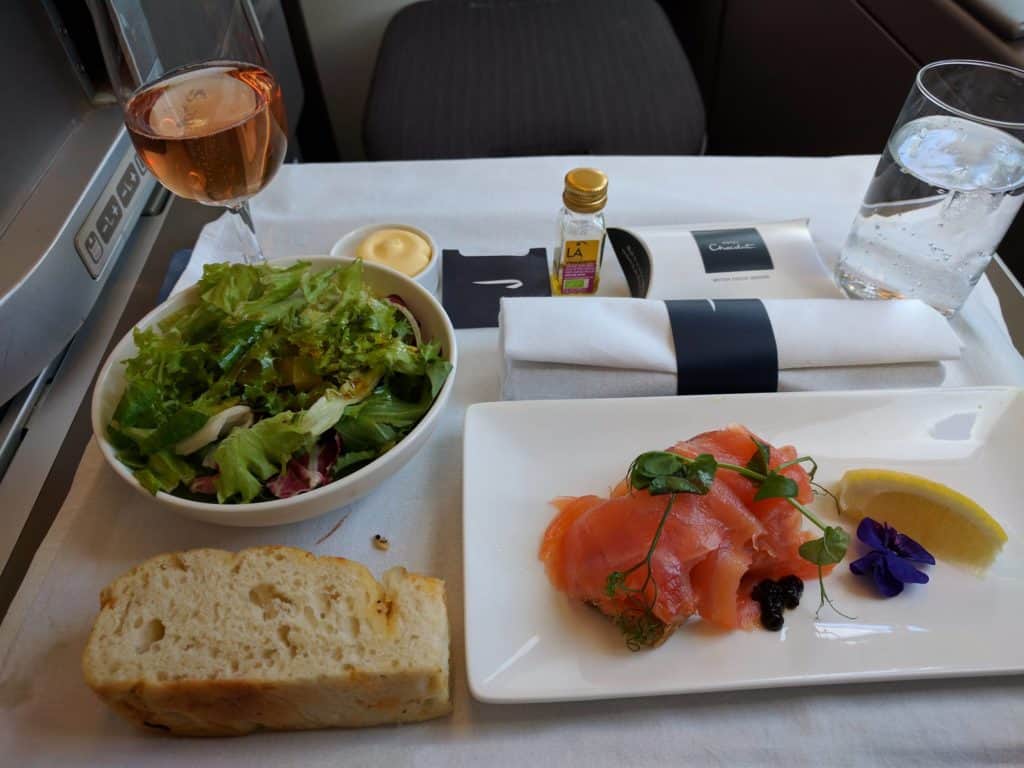 The starter, a salmon bread, was really delicious and worked well with the second bubbly option, Champagne de Castelnau Brut Rose. The third available champagne was Castelnau Brut Reserve, which I tasted later during the flight.
My first choice for dinner, Barbecue Prawn Salad, was not any more available, even though I was the second or third passenger to choose the meal. It seems that there is a little inventory of specific items available. This time even being a BA Gold member didn't help.
I ended up choosing Chicken Tikka Masala as my main dish. It was pretty tasty and had even some spicy flavor in it – which is quite rare among airline meals. It was not the best dinner I've had but beats, for example, most of the Finnair meals hands down.
A light dinner was served later during the flight. The starter was a bit weird, didn't taste much at all. The main course Mediterranean salad with warm seared Scottish salmon was ok but could have used more taste. I had to use salt and pepper to fix the bland taste.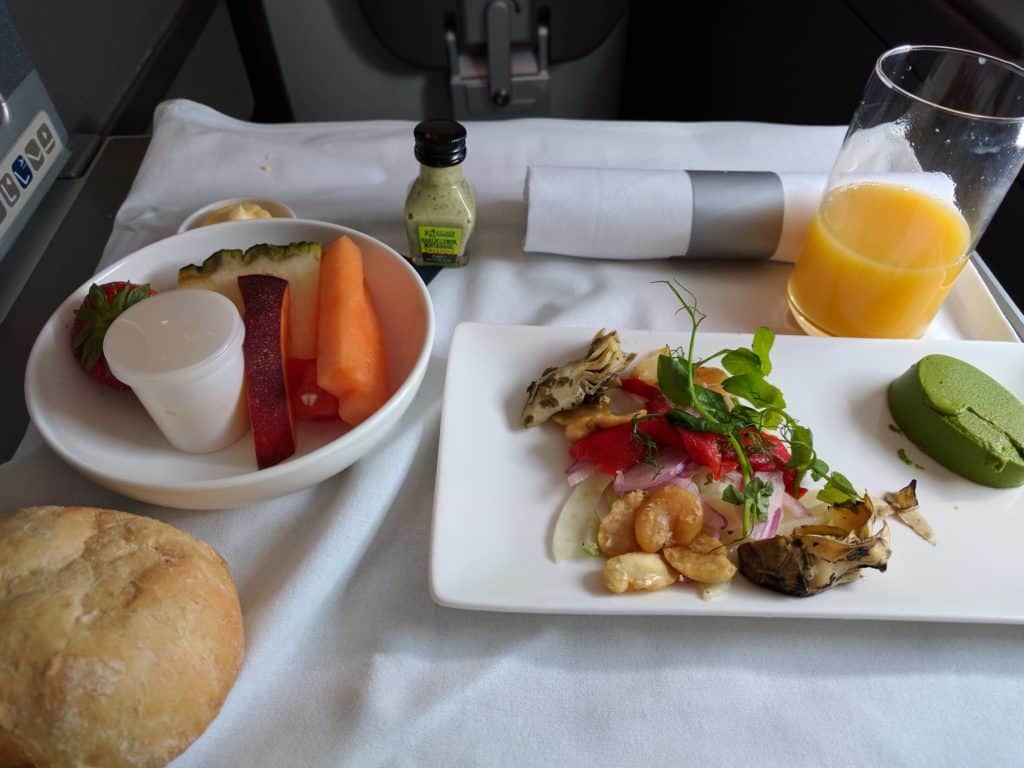 The service was typical to British Airways – It was polite and relatively smooth, but basically, nothing was done between the meal services. For example service on Qatar Airways A380 was way better.
In-Flight Entertainment
For entertainment purposes, there's a 12.1-inch foldable touchscreen display, which is nowhere near today's standards. For example, if the viewing angle is not 100% correct, colors start to look distorted. The display is supposed to be adjustable in both directions, but on my first flight, the vertical angle adjustment didn't work, which made watching TV quite painful.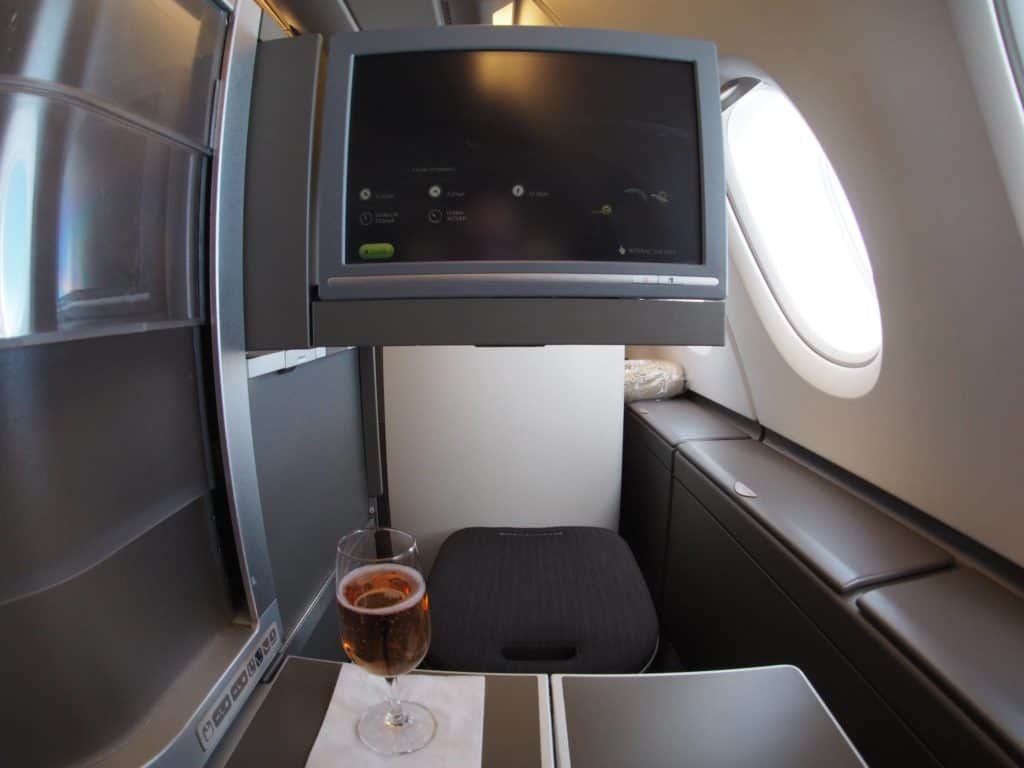 In addition to games and music, there was a wide selection of the latest movies available, like Logan and Kong: Skull Island.
There was also an excellent selection of TV series, including "box sets," a full season of the series. Among the available series were Westworld S1, Big Little Lies S1, Riviera and The Affair S3 which all are top-notch tv shows, watched and recommended by Always Fly Business. Other than full seasons, there was a selection of single random episodes of different TV shows available – the thing that I've always found a bit odd.
If you are thinking of working during the flight, note that currently there's no Internet on British Airways business class.
Conclusion
Outdated, narrow seats
Aisle seats are terribly exposed, choose the seat carefully
Isolated window seats for maximum privacy
Lots of storage space
No onboard Internet
Crappy noise-canceling headphones
Excellent champagne options, decent food – mediocre service
---
How does British Airways A380 business class compare to the other King of The Skies – Qatar Airways Airbus A380?
Read also our other recent business class reviews: