After months of planning, it was finally my time to test Qatar Airways' new business class seat called QSuite. Introduced early 2017, this seat has quickly become the favorite among frequent flyer community. It's widely considered as the best business class seat out there – even better than some first class seats.
On my February trip from Gothenburg, Sweden to Singapore, I managed to secure QSuites on Qatar Airways Airbus A350-1000 for the Doha-Singapore flight.
Booking QSsuites
Getting on a plane with QSuites can be very tricky, although the amount of planes is increasing, Qatar Airways is famous for their last-minute equipment changes. And it's definitely not an urban myth, on my last 4 flights that showed up as QSuites during the time of the booking, 3 of them were changed to another plane.
My booking process starts always with Google Flights – if you haven't used this free service read our tutorial on how to start using Google Flights. To actually verify if the selected flight has QSuites or not, I switch to Expertflyer.com, which is also an excellent free tool. There you can create seat alerts and also check the seat configuration of any particular flight.
Qatar Airways A350-1000 Details
| | |
| --- | --- |
| Route | Doha (DOH) – Singapore (SIN) |
| Date | February 2019 |
| Plane | Airbus A350-1000 |
| Cabin | Business Class |
| Seat | 3K |
| Configuration | 1-2-1 |
| Bed length | about 200 cm (79 inches) |
| Seat width | 54 cm (21.5 inches) |
| Capacity | 46 passengers |
| Personal TV | 21.5 inches |
| In-seat power | YES |
| USB port | YES |
| Touch screen remote | YES |
Check-in
As I was transferring from Gothenburg (GOT), I didn't get to test the check-in options at Doha International Airport (DOH). The transfer process was very smooth, thanks to a dedicated first and business class transfer lane. You should pay attention to the signs, that single lane is relatively easy to miss in the huge transfer area.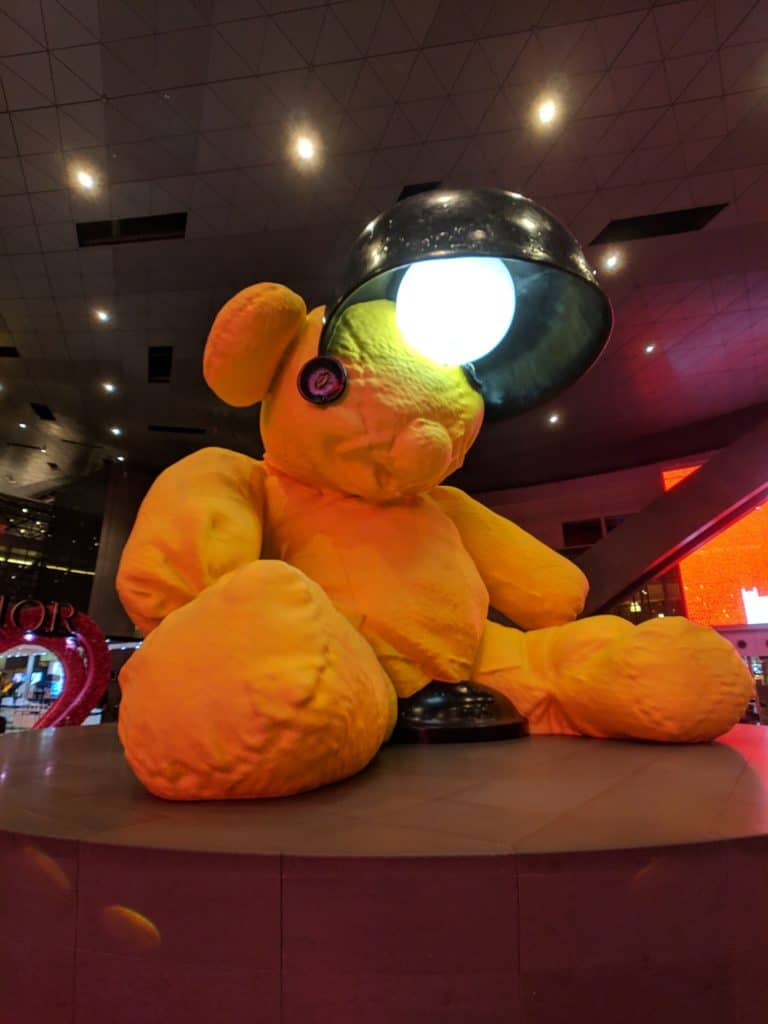 Boarding in Doha
For some reason, the boarding process at Doha International Airport has recently been bizarre. Economy passengers are being boarded first, while business class passengers have to wait in the boarding area. I find this very annoying as you are in any case forced to come to the gate as boarding begins – only to find out that you have to wait for 15-20 minutes more. This "enhanced process" could be because of the bus transfer to the plane but doesn't explain why it has to be done that way.
In my case, there was a dedicated business class bus, but once it reached the plane, there was still a line of economy passengers waiting to enter the cabin. It's a minor issue in the big picture, but definitely an annoyance.
Cabin
Things started to improve once I entered the Airbus A350-1000 plane. I was greeted warmly at the door, and one flight attendant guided me to my QSuite seat 3K. That seat is facing backwards, which bothers some people. I don't see any difference which way I'm sitting, so I was entirely satisfied with the seat.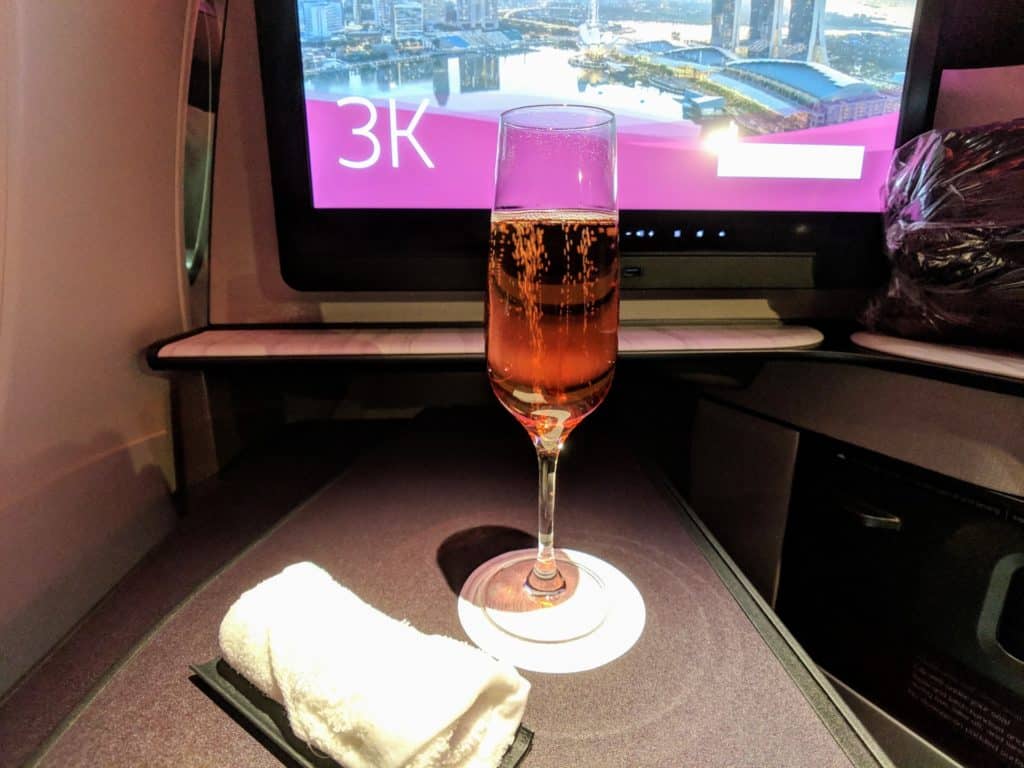 A welcome drink was offered right away, and this time I opted for a glass of Atair Etoile Rose Champagne.
Best seats on A350-1000 with Qsuites
When booking a flight on QSuites equipped plane, your seat selection is limited, based on the group size. If you are a solo traveler, by default, only window seats (A/B or J/K in each row) are available for you. There are 22 of these seats in the A350-1000. For couples, there are more options, as also rear-facing middle seats (E/F in each row) are available. Those seats convert to a double bed, and there are 6 of these pairs in the A350-1000. The last option, if you are traveling with a group of 4 people, you can get quad seats – four seats connected into one big suite. For example seats 1 E/F & 2 D/G form one "quad." There are 6 possibilities for quad seats in the A350-1000.
QSuites Seat
As you can imagine and see from the photos, the QSuite seat offers fantastic privacy when the door is closed. However it doesn't block much noise, so it provides almost no help against crying babies – which I, unfortunately, had to witness.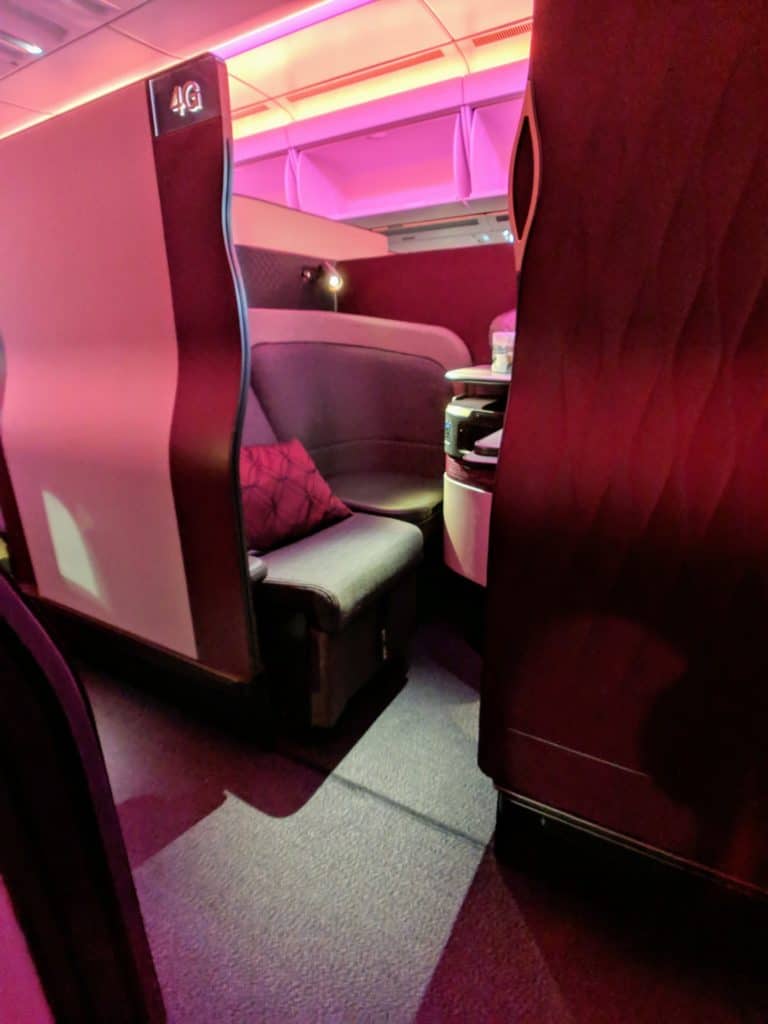 There is plenty of room to store your stuff. The table on the right has two sections, so the lower part can be used to store your small electronics like phones, tablets or e-book readers.
Also, there's a storage box on the right side of the seat.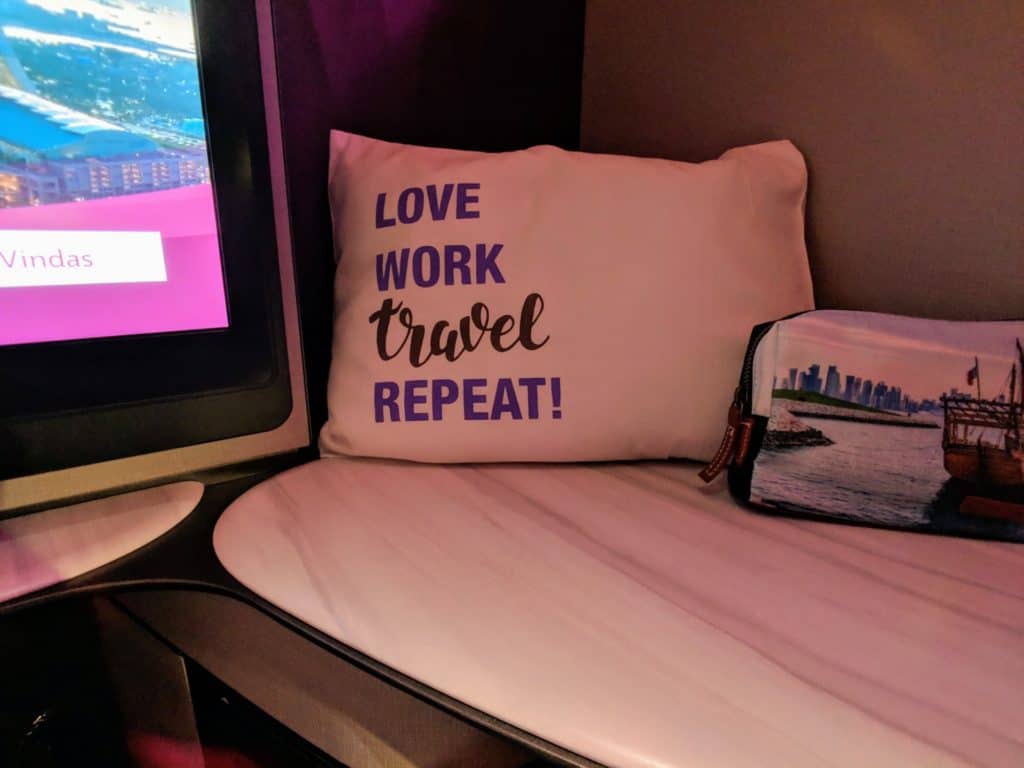 It was a night-time flight, so I was delivered a pajama and amenity kit. The new amenity kit by Nappa Dori is in my opinion much worse than the old Bric's kit but contains the same things as before – lip balm, hydrating facial mist, "anti-aging" moisturizer, socks, adjustable eyeshades, and earplugs.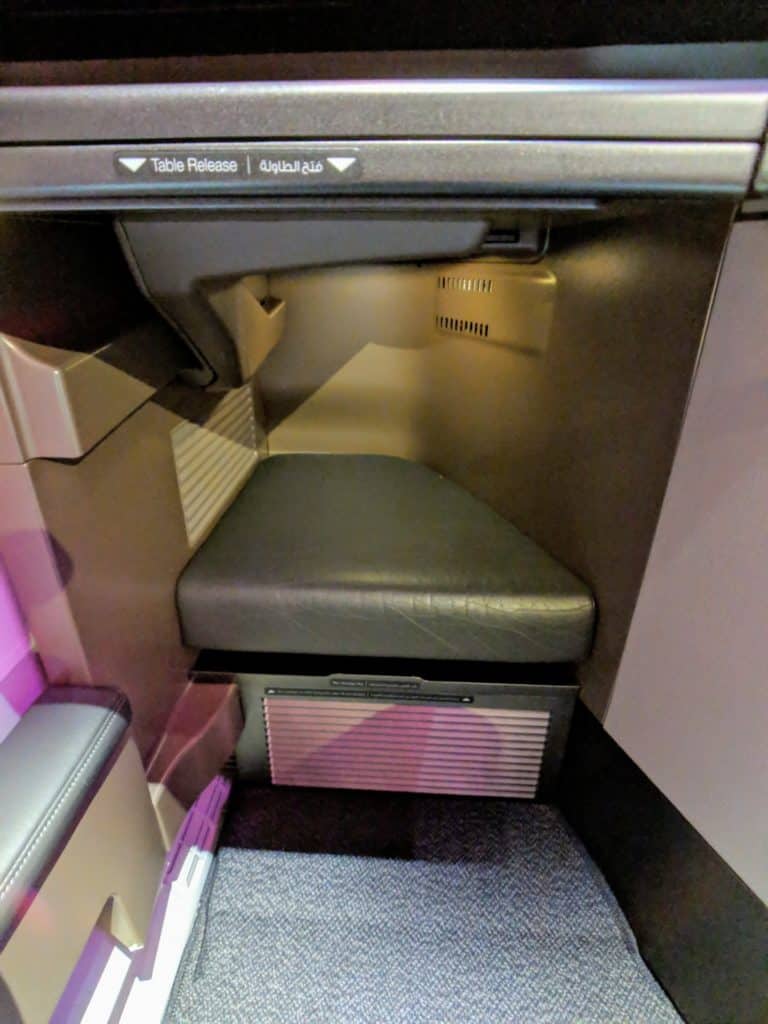 As much as I like the new QSuite seat, I have to say that it's not the most comfortable seat for sleeping, especially if you are sleeping on your side. In my opinion, the seat is much harder than for example Qatar Airways Boeing 787-800 seat.
In-Flight Entertainment
QSuites are equipped with a massive 21.5″ high-definition screen for watching movies and TV series. Qatar Airways Oryx One entertainment system can be controlled through a touch screen display or via a remote controller.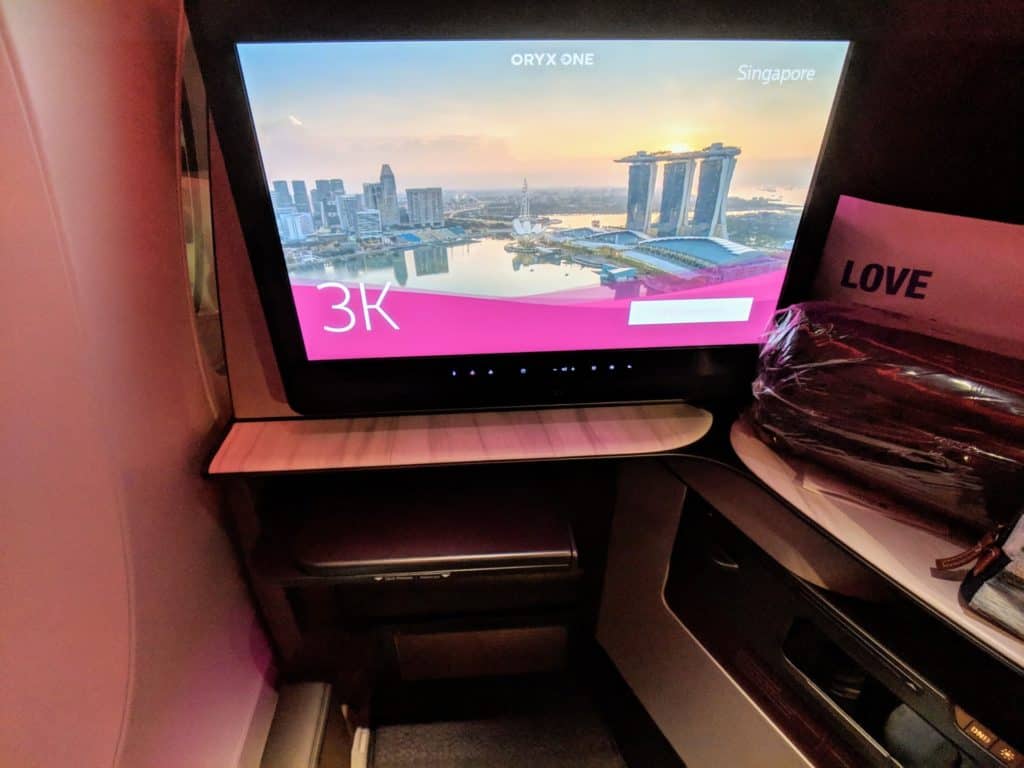 Even though the quality of the display is excellent at least my screen suffered a lot from sunlight reflections because the blinds did not block the sunlight properly. I later realized that the shades had two options, day mode and full blackout mode – that probably would have helped with the reflections.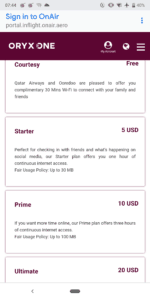 The selection of movies was good, there were about 60 Hollywood movies, and about 30 of them were relatively new releases (on February 2019), like Venom, Night School, Bad Times At The El Royale.
In-flight internet was available, and as usual, it's free for the first 30 minutes. This time I bought the Prime package, but it was a mistake since the connection during the flight was really bad – and once it started working, I fell asleep (so that part is my own fault).
Food and drinks
Dining options were plentiful on this flight. There was a dedicated menu for small snack plates and standard A la carte list. As I was going to sleep during the flight, I decided to start with small snacks and have a proper breakfast before landing. Thanks to Qatar Airways "Dine Anytime" concept, this was no issue.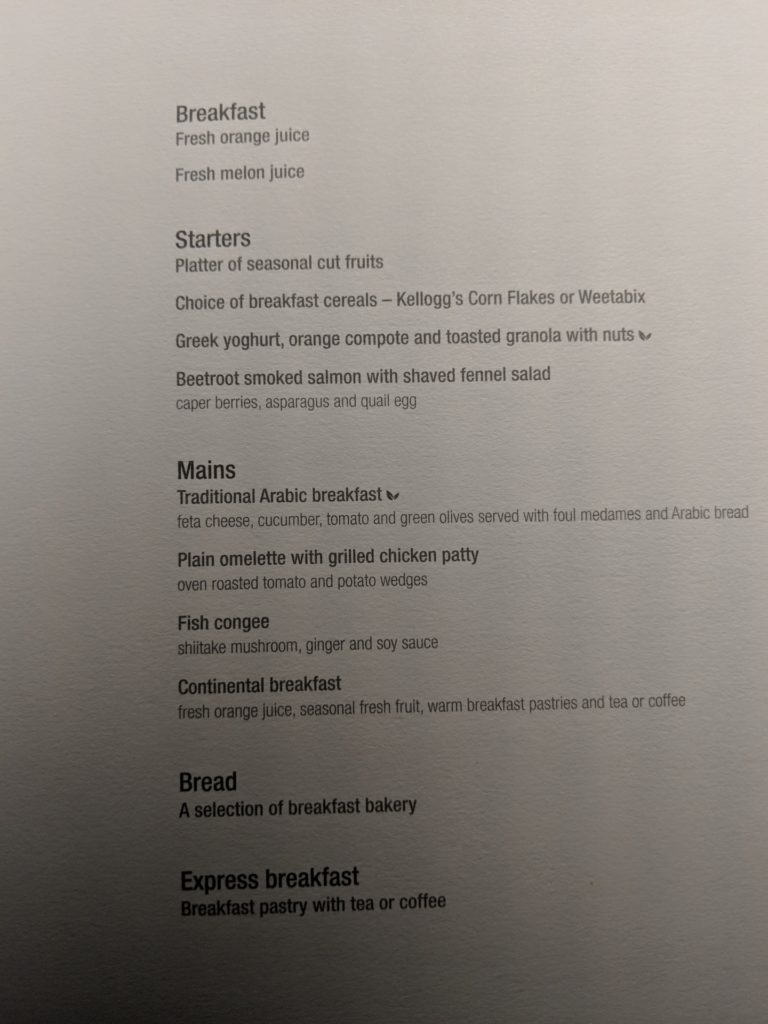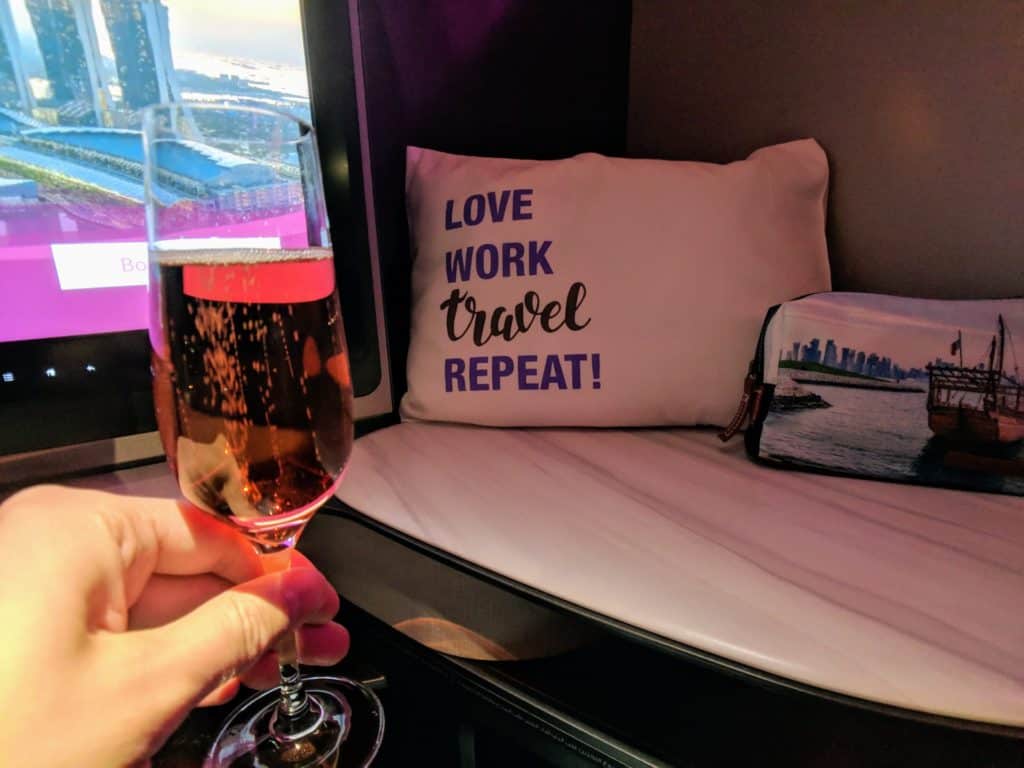 Wine list consisted of two champagnes, Lallier Grande Reserve and Atair Etoile Rose. For white wines, there were Enco Reserve Sauvignon Blanc from Chile, Spier Chardonnay from South Africa and Conundrum California White Blend – from California. Red wines were Chateau Vieux Maillet from France and Baily & Baily Folio Barossa from Australia.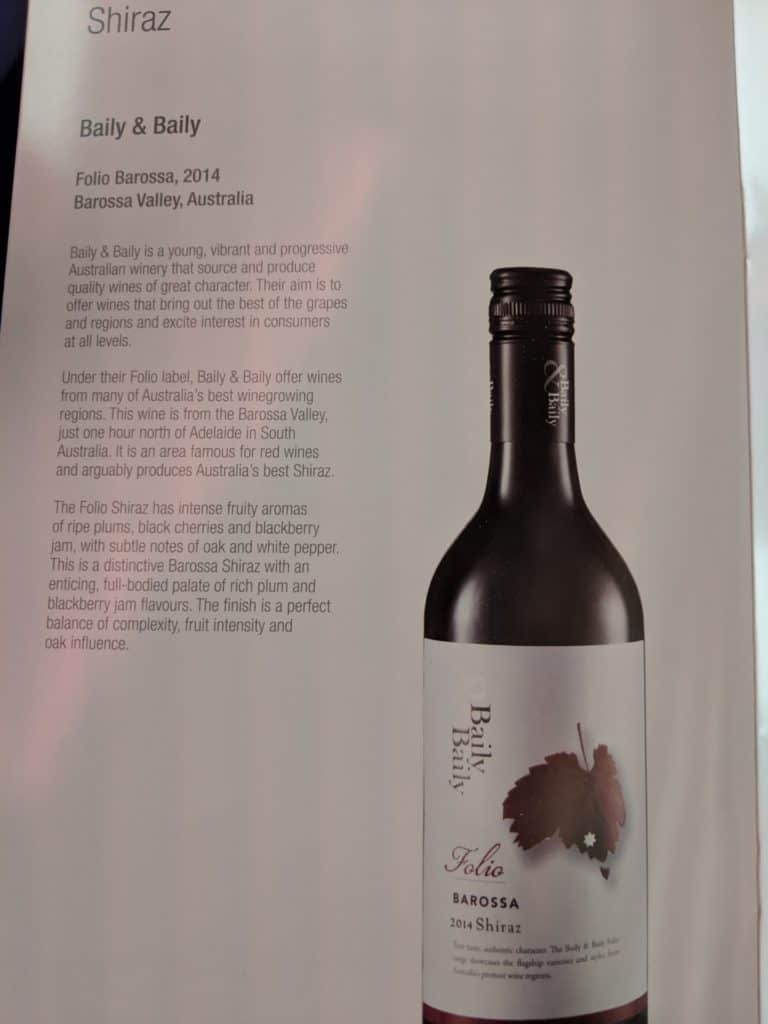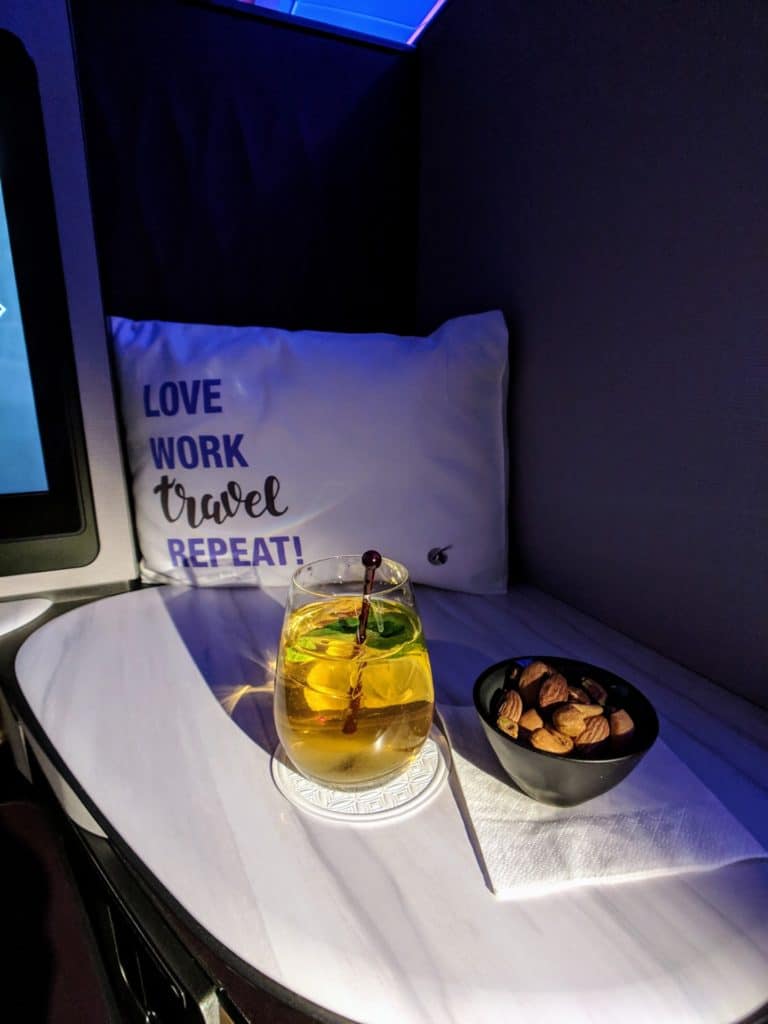 Before dining, I was offered some warm nuts and Qatar's special mint lemonade drink.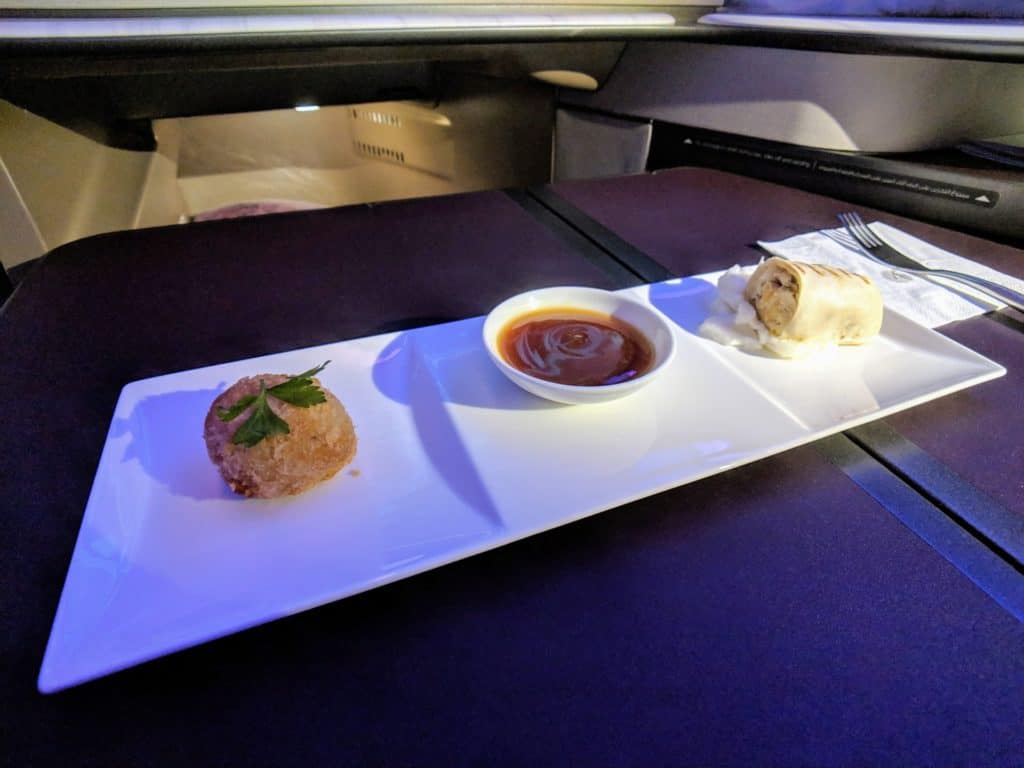 I had chosen Lamb Kofta and Chicken Shawarma on my snack platter. They both were ok, but nothing exceptional. Also, they were smaller than I initially thought – which left me a bit hungry. But I was tired and knew that breakfast would be good, so I decided not to order any more food before sleeping.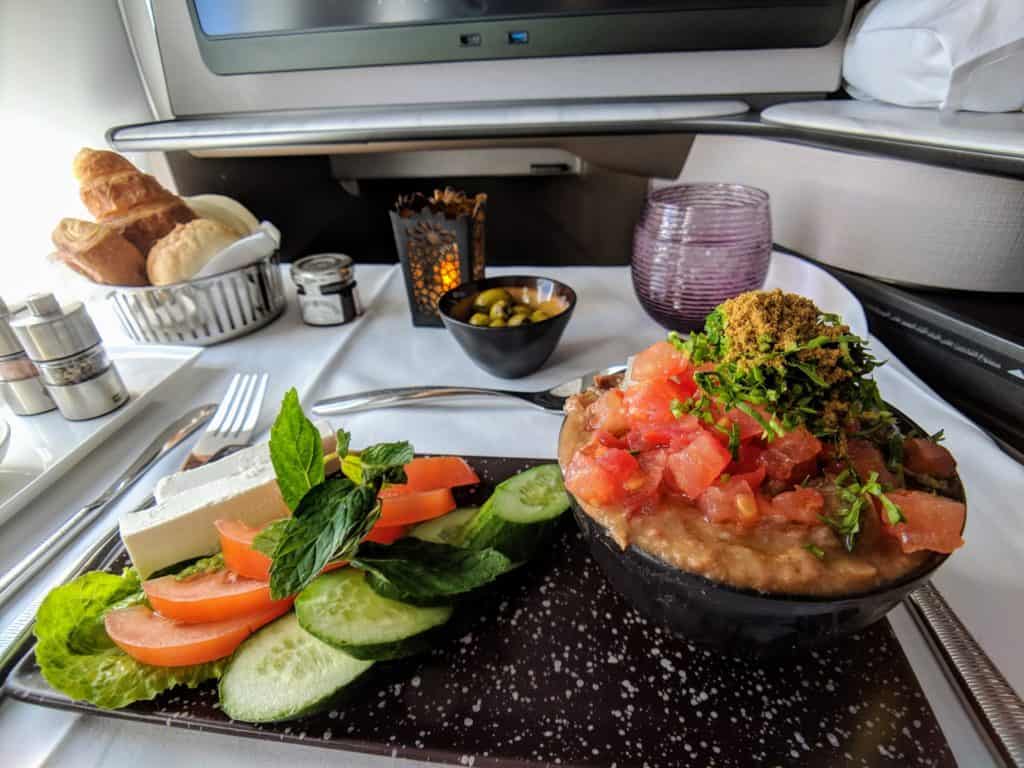 For breakfast, I decided to go with my favorite Qatar dish, Traditional Arabic Breakfast.
The service on this flight was average – not the best I have had on Qatar Airways flights, but also not the worst either. I would compare this to Finnair on their excellent service days.
Conclusion
Slow and confusing boarding process at Doha airport
Great QSuites seat for travelers looking for privacy
Excellent dining options and decent wines
Amenity kit quality is decreasing
And lastly… if you want to book QSuites flight – beware of equipment changes
---
Check out also our other Qatar Airways Business Class Flight Reviews:
For more business class flight experiences from other carriers, see all our American Airlines, British Airways and Finnair flight reviews.