Is Qatar Airways business class still the crown jewel of Oneworld Alliance? During my annual spring trip to Thailand, I was able to test Qatar Airways' oldest business class option, on Boeing 777-300 from Bangkok to Doha.
I flew Qatar Airways 777-300 again in April 2019, and this article was updated after that trip with recent photos, food, and drink menus and comments. The route was the same, from Doha, Qatar to Bangkok, Thailand, and back.
Airport and Lounge
Since Qatar Airways has only a couple of daily flights from Bangkok, the check-in desk is not always open. During my trip, it opened about four hours before the flight departure. The check-in process was over in a minute, and friendly check-in attendant reminded me about the lounges. Some of the Qatar flights depart from D gates, where the new Qatar Airways lounge is located. The attendant told me that my flight was departing from gate C5, which was quite far away from the Qatar lounge. Therefore she offered me also an entrance pass to Thai Airways' lounge which can be found at the C gates.
After using premium security and immigration line (with zero queues) I decided to head towards D gates and the Qatar Airways lounge. That was an excellent choice since I was apparently the first customer of the night – so for the first half hour, I got the full attention of all lounge personnel.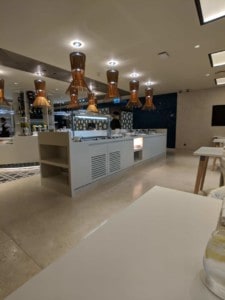 The lounge had a wide selection of seating options and a buffet-style dining area. On that night the dining options consisted of noodles, fried rice with chicken and some kind of beef stew. There were also a salad table, fruits, cheeses and an extensive dessert menu. The champagne option was Pommery Brut Royale.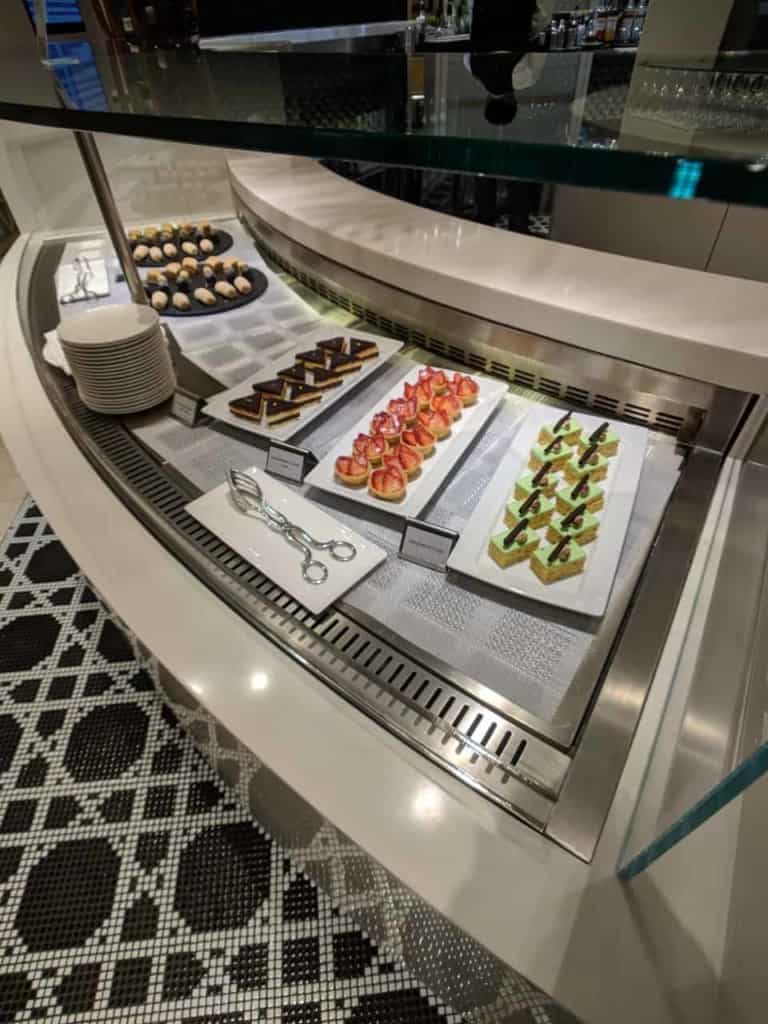 Like on Qatar Airways planes, the service was top-notch also inside the lounge.
Qatar Airways 777-300 Business Class Details
Route
Bangkok (BKK) – Doha (DOH)
Date
April 2018
Plane
Boeing 777-300
Cabin
Business Class
Seat
3A / 2K
Configuration
2-2-2
Bed length
about 198 cm (78 inches)
Seat width
56 cm (22 inches)
Capacity
42 passengers
Personal TV
17 inches
In-seat power
YES
USB port
YES
Touch screen remote
YES
Cabin and seat
Boarding started on scheduled time and was a bit chaotic at first. The airport personnel managed to control the situation by announcing boarding instructions repeatedly.
Business class was first to board, and I was one of the first passengers to enter the plane – to get the photos of an empty cabin. As usual, there were plenty of friendly flight attendants greeting me next to the door and the first glass of champagne was offered to me in no time.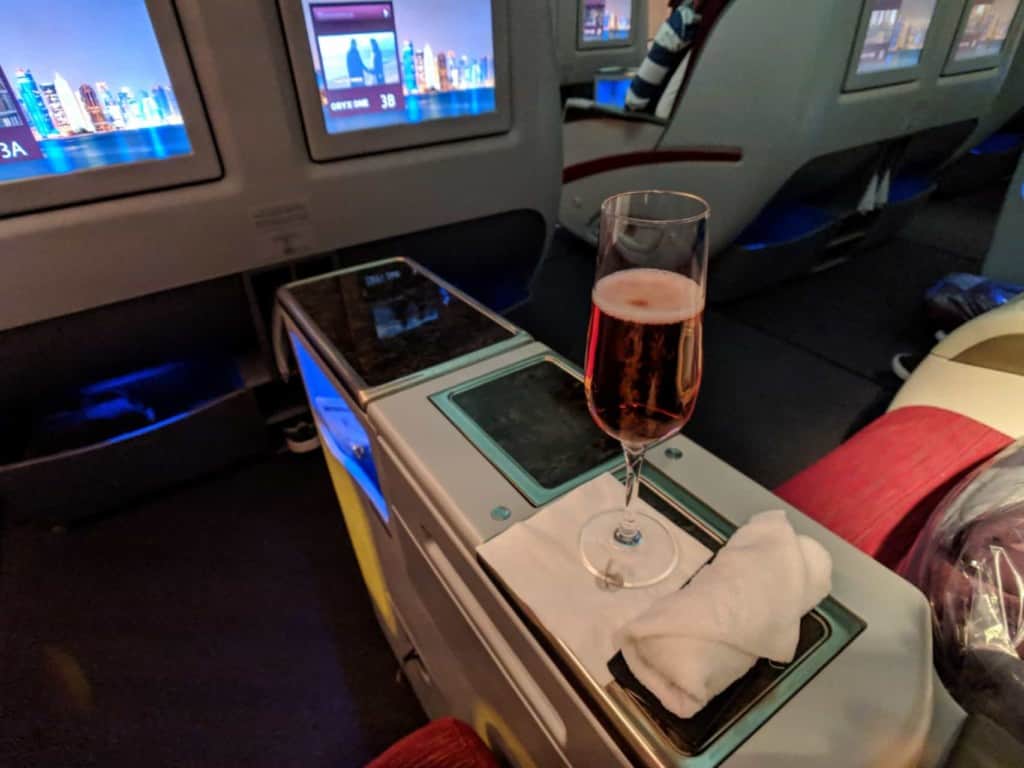 Due to the 2-2-2 configuration, the privacy is very limited on all seats. Also if you are sitting next to the window, you have to jump over the aisle passenger if the seat is in lie-down position.
The seat itself is quite old, and Qatar is in the process of renewing the 777 business class cabins with their fantastic QSuite seats. Read our review of A350-1000 with QSuites business class here.
2019 777-300 Business Class Cabin Photos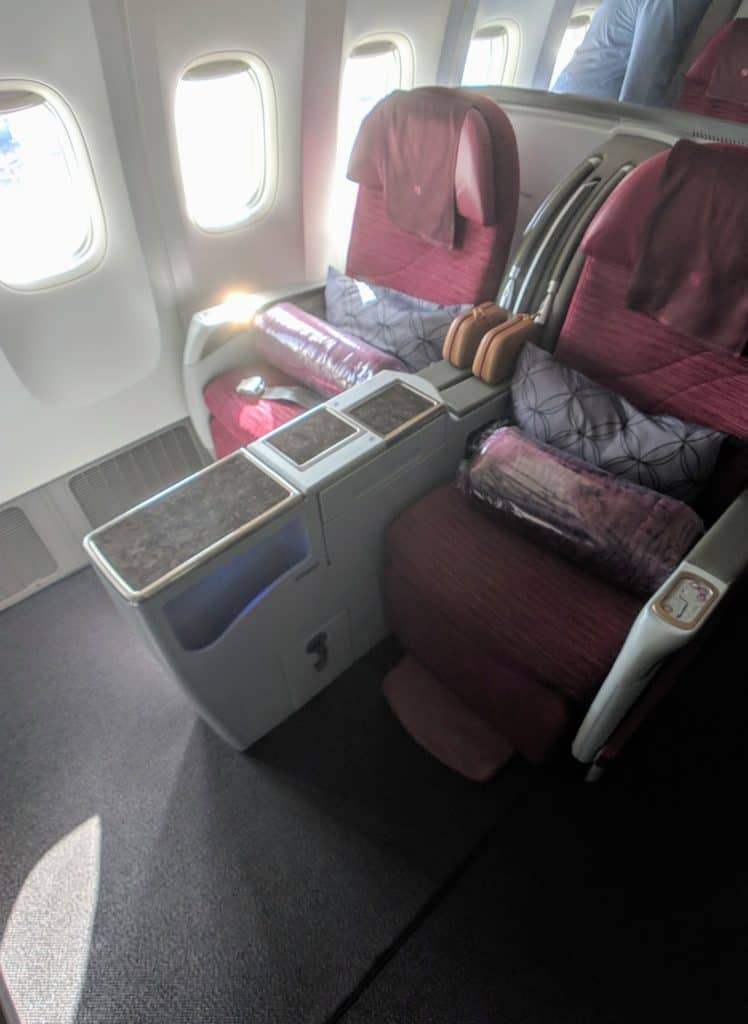 The old seat offers plenty of adjustment options but is not very comfortable – especially for sleeping. I tried to sleep on a lie-flat position, but found the seat way too hard for my liking, especially if you wanted to sleep on your side. It reminds me of Finnair A330 seat, which is also super hard. Compared to Finnair A330 (read review), Qatar Airways Boeing 777 seat still offers much better adjustment options and would be my choice of these two.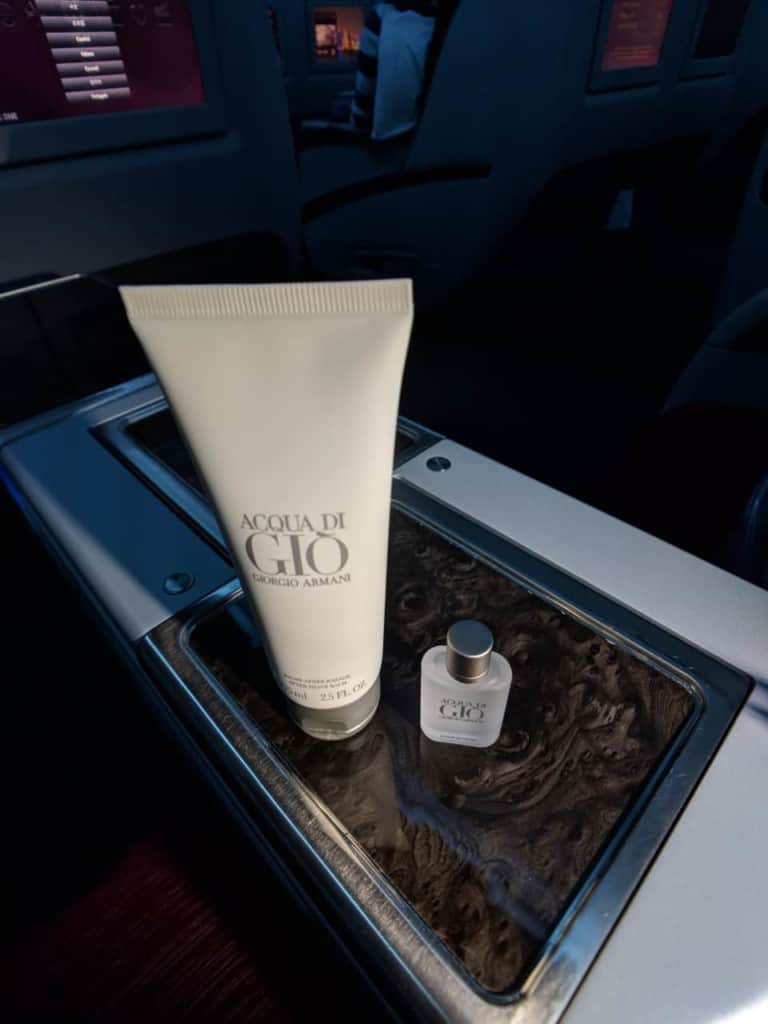 The amenity kit was made by Armani and contained a big 75 ml after shave balm, small Eau de Toilette, lip balm, a pair of socks, eyeshades, and earplugs. Quite traditional, but not as useful as their Brick'samenity set. For the night flight, I was given a White Company pajama and a pair of slippers.
Qatar Airways updated their amenity kits for 2019, but on my April trip from Doha to Bangkok, the kit was still the old hard-shell Bric's – which is actually my current favorite.
2019 777-300 Amenity Kit Photos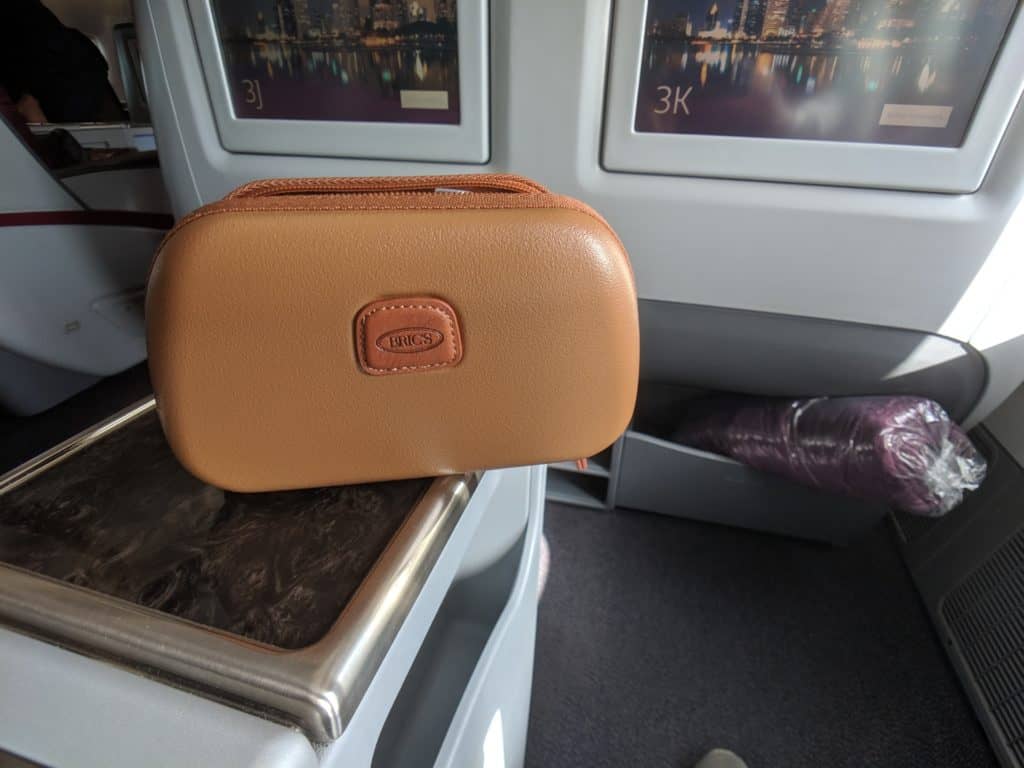 IFE and amenities
The entertainment section consists of 17″ IFE screen, located in the back of the seat in front of you. The quality of the screen was excellent, no complaints there. Unfortunately, the selection of movies is relatively small; there were only about 30 new releases available.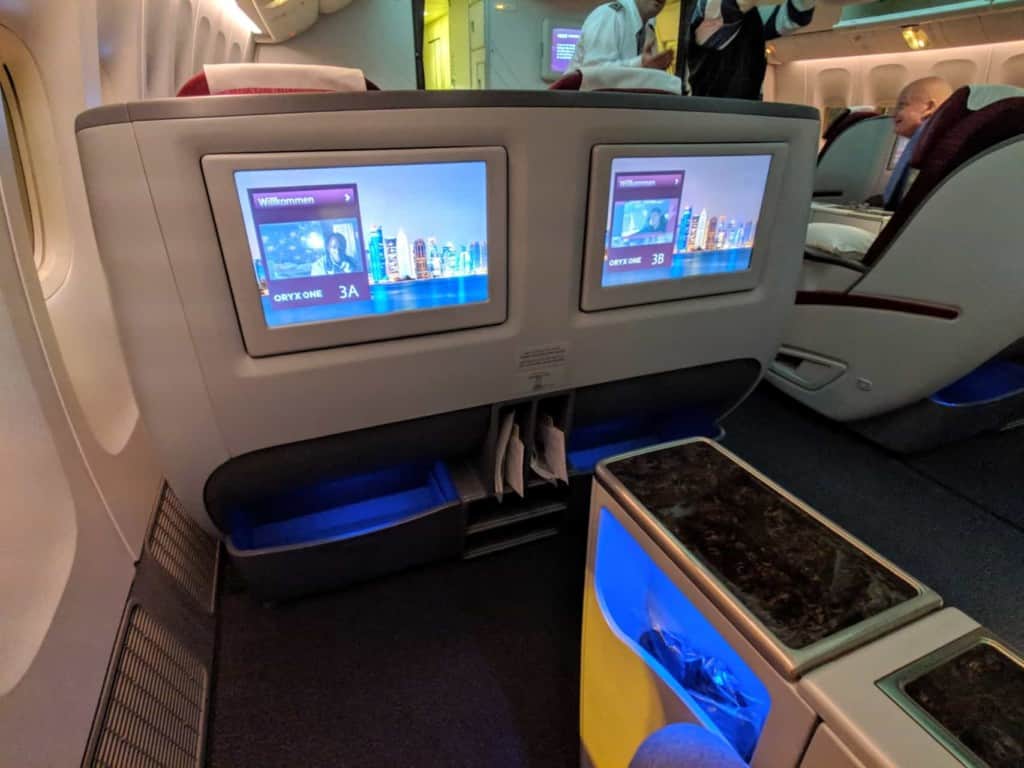 Noise canceling headphones were available, but as I have mentioned in my previous reviews, they are low quality and very uncomfortable – although definitely better than no headphones at all.
Food, drinks and service
Since Qatar Airways has "Dine Anything Anytime" concept, I decided to have two appetizers and the dessert, skipping the main course entirely.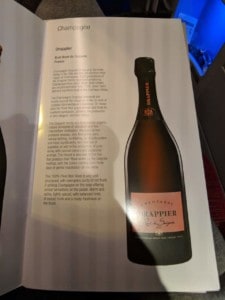 The dinner service started with amuse bouche, a piece of smoked salmon. It was just ok, not particularly tasty.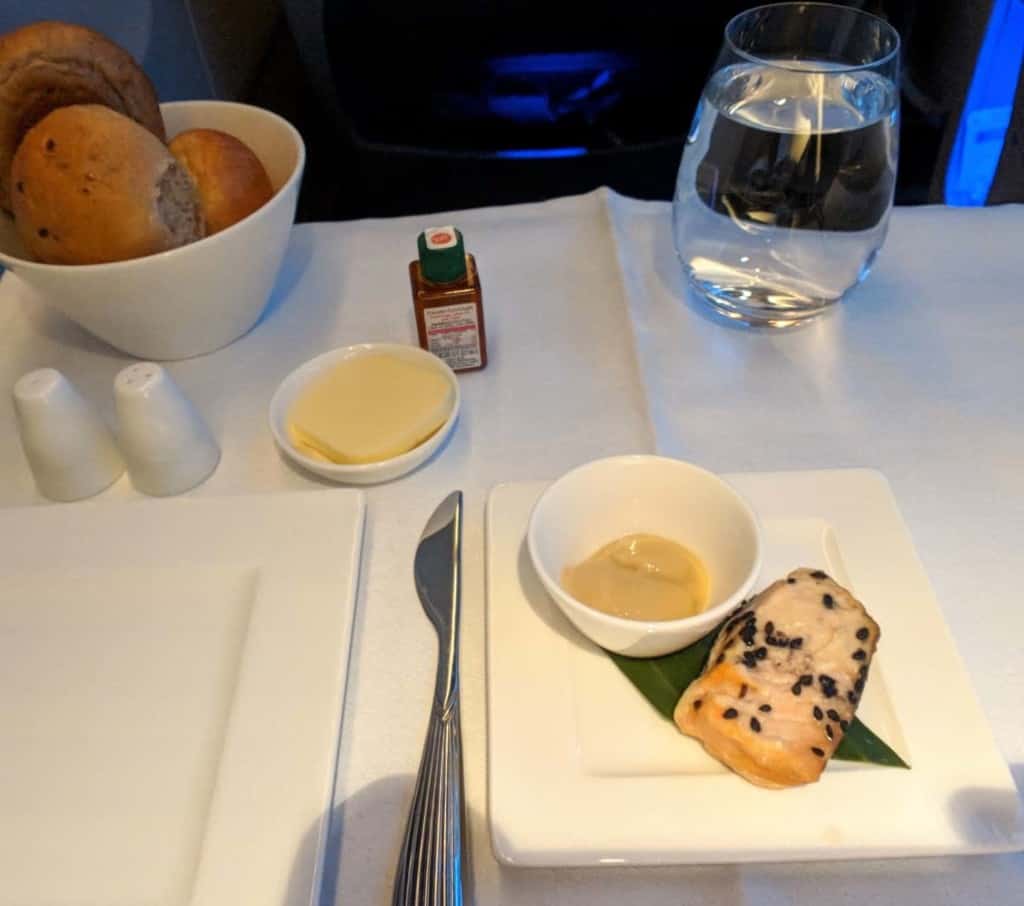 After that I had Arabic Mezze, which was decent – can't go wrong with that. The next appetizer was fresh and quite tasty Prawn Salad.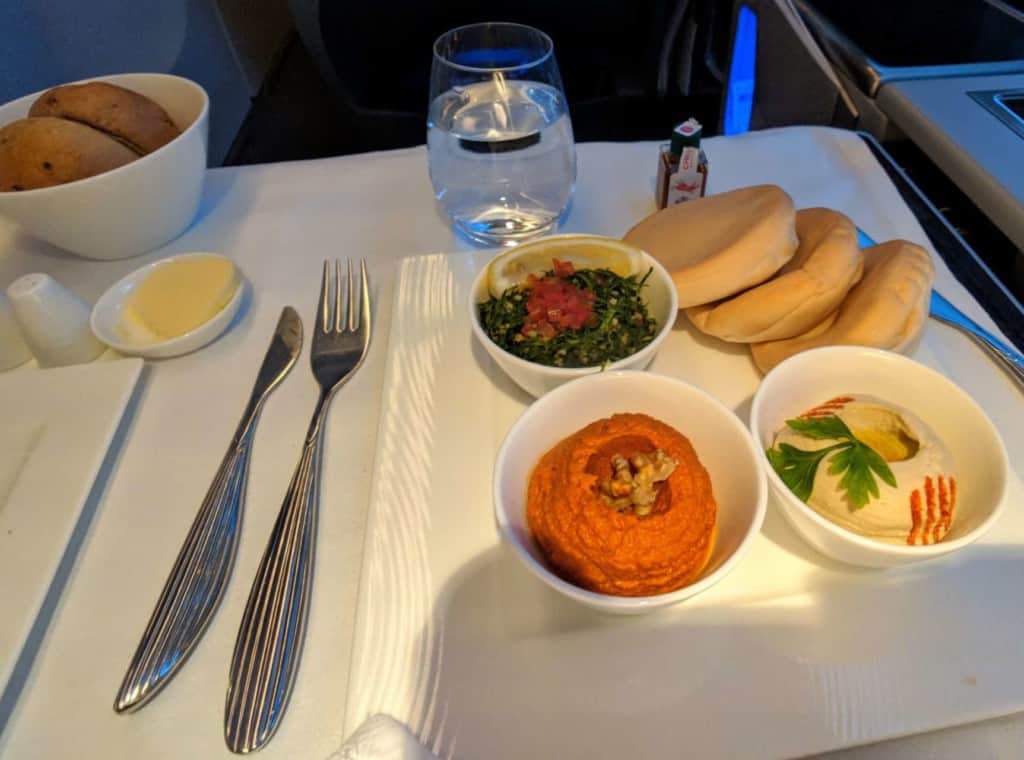 The dinner service was finished with Mango Sticky Rice, which was really delicious. In general, the whole dinner was above average, but I have definitely had better business class meals.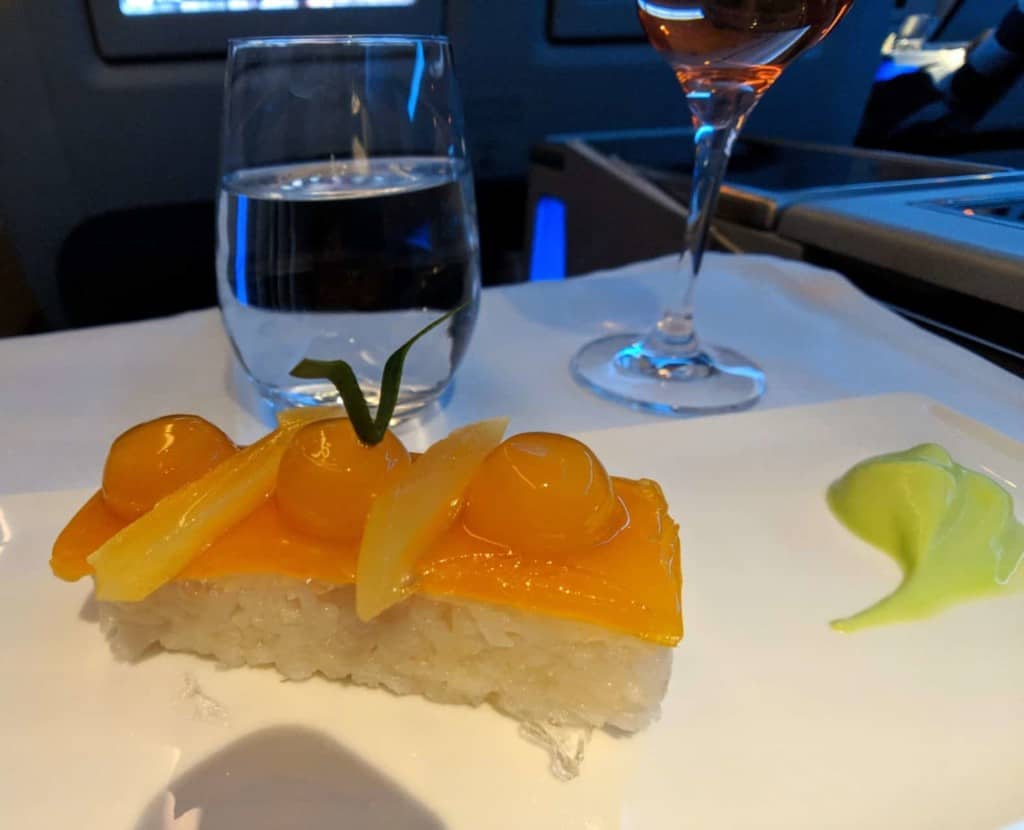 There were two champagne options available, Lanson Black Label and Drappier Rosé de Saignée Champagne Brut – this time I find the rose option better to my liking.
In April 2019, champagne options had changed to Lallier Grand Reserve and Taittinger Prestige Rose – see the description and photos below. Also, the menu was in my opinion much better.
2019 Business Class Food and Drinks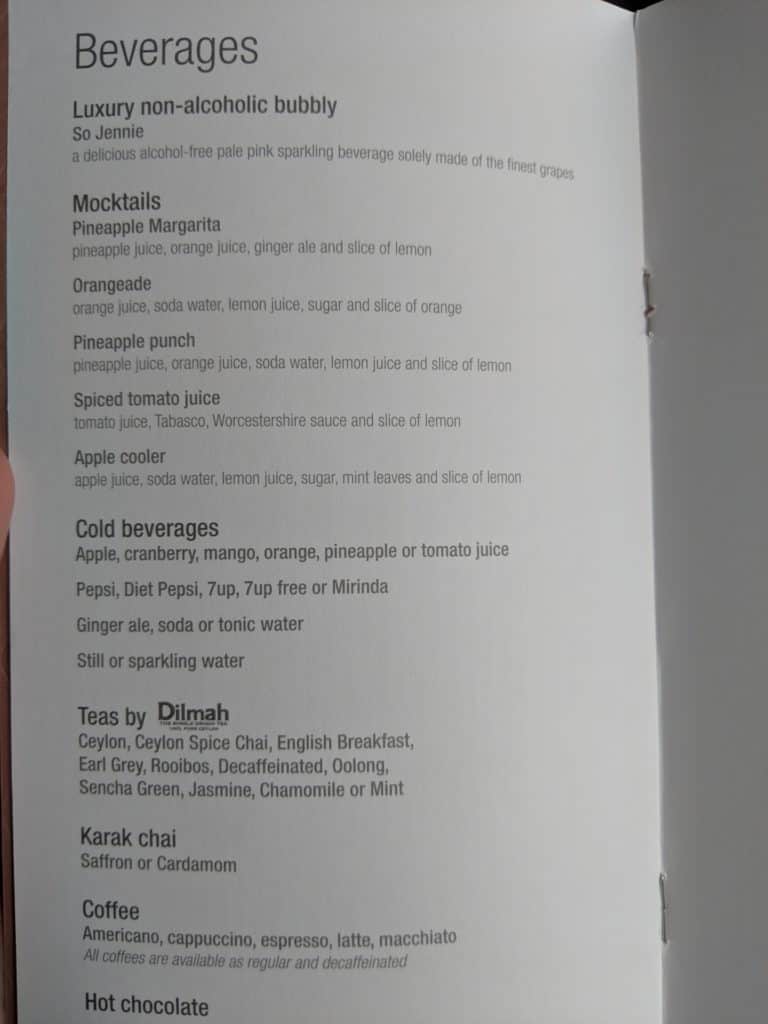 The service on this flight was among the best I have ever had, one reason why I try to fly on Qatar Airways always when possible.
Conclusion
Absolutely fantastic service
Outdated seats which are OK for daytime travel but super uncomfortable for sleeping
Better than average food (but I have had better dishes on Qatar)
Mediocre In-Flight-Entertainment selection
---
Remember also to check the other Qatar Airways' business class reviews, for example the fantastic Airbus A380.
For more business class flight experiences from other carriers, see all our American Airlines, British Airways and Finnair flight reviews.