Google Flights is an easy-to-use online flight search service which uses search algorithms created by ITA Software. It is an excellent search tool for finding cheap business-class flights.
Why To Use Google Flights?
One of the major benefits of using Google Flights is that it's completely free (at least for now) and no registration is required to use the service. It also offers a straightforward way to compare prices between multiple cities. When a suitable connection is found, usually there's a direct link to book the tickets. Also, the usability of the service is top notch, different user interface options are presented clearly, and the search results are loaded fast.
User Interface Basics
Here's how the landing page of Google Flights https://www.google.com/flights/ looks: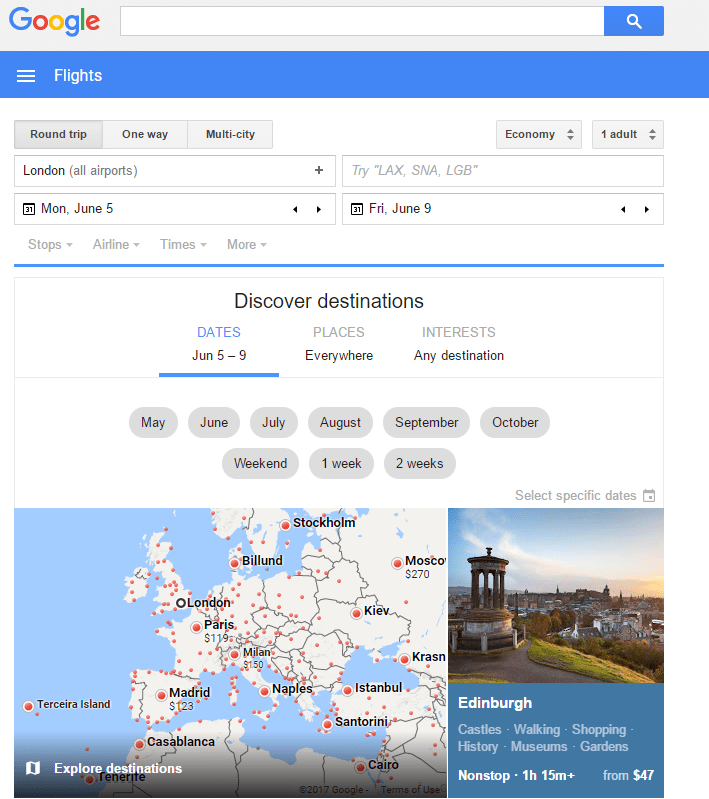 To start searching for the best flight prices, you just need to fill in the departure city and the destination and change the dates if the default ones are not suitable. Then just press Enter and the best flight suggestions appear on the screen.
However, that's just the beginning. The power of Google Flights lies behind the ability to search for the best prices between multiple cities with a single search. So, for example, as shown on the screenshot below, you could search for the cheapest business-class flights from London Heathrow (LHR), Dublin Airport (DUB) or Amsterdam Schiphol Airport (AMS) to any west coast city in the United States.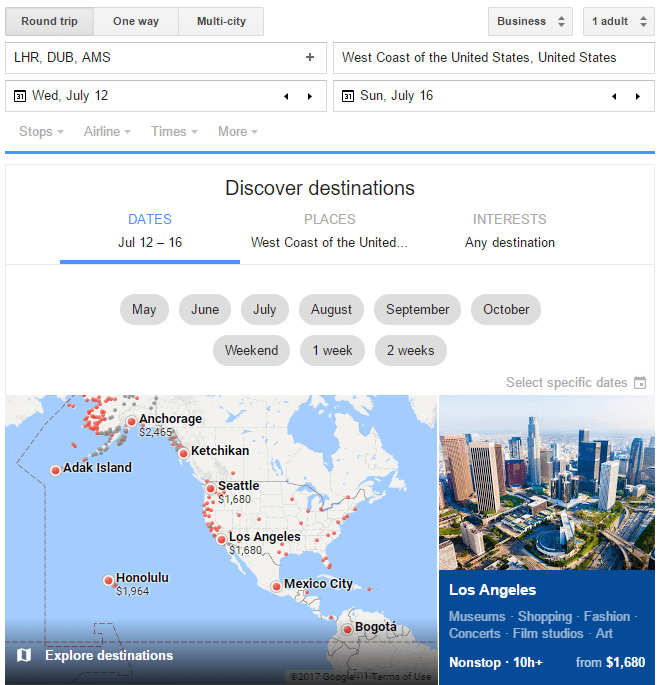 Before getting into actual flight selection, you need to select the destination city by clicking any of the city images shown on the screen. In the above screenshot, we are shown Los Angeles first, but there are more cities available if you scroll down the page. Another option is to select "Explore destinations", but we will cover that topic later in this article.
Example: Cheap Business-Class Flights To Los Angeles
So, we have a mission – to find the cheapest business-class flights from Europe to Los Angeles. We have already selected London Heathrow (LHR), Dublin Airport (DUB) or Amsterdam Schiphol Airport (AMS) as our preferable departure cities and Los Angeles (LAX)as our destination city. Note that you can also define multiple destination cities by adding them as comma separated list.
In this example, we have changed the travel dates to July 12th-16th and used the airline filter to select a specific alliance, this time Always Fly Business' favorite Oneworld Alliance.
Based on the above selections, we are shown "Best flights". As usual, when flying between these cities, Dublin is the cheapest option ($1680 for the round trip).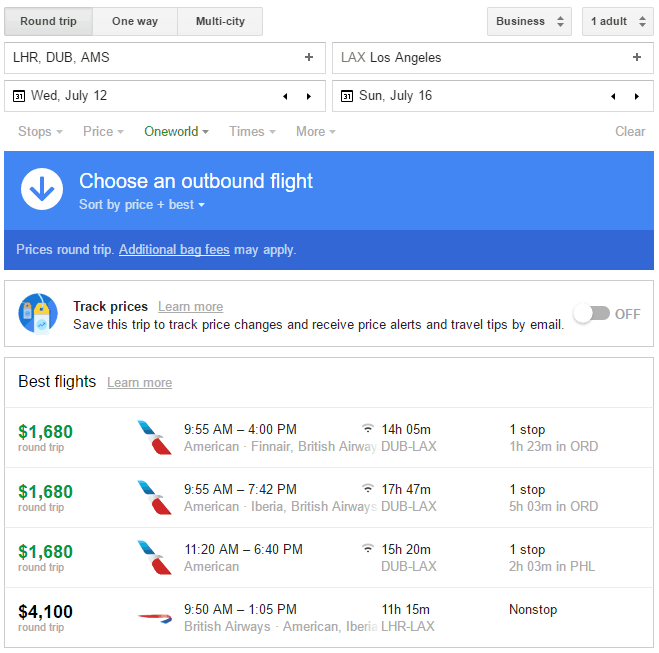 If your schedule is flexible, it always makes sense to check the other options for the departure and arrival dates. To do that, just click the departure date input field and a calendar view opens (see the screenshot below).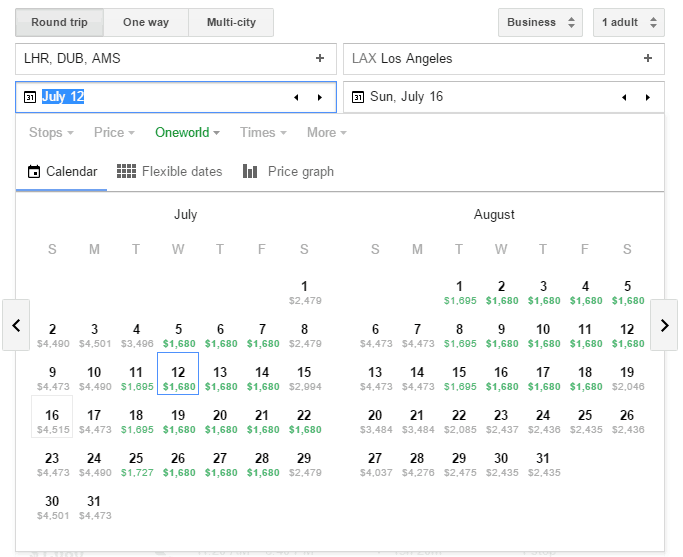 This time, the calendar view shows us that we actually managed to find the cheapest business-class flights during that month, but that's not always the case. Note that in addition to Calendar view the date selector modal also has two other options, Flexible dates and Price graph, which both can be extremely handy when searching for the cheapest flight deals.
Now when we have found the suitable dates, we need to pick the outbound and return flights. In this phase, it's important to pay attention to layover times, possible airport transfers and airplanes used on selected flights. These factors can impact your travel plans, so be sure to review them.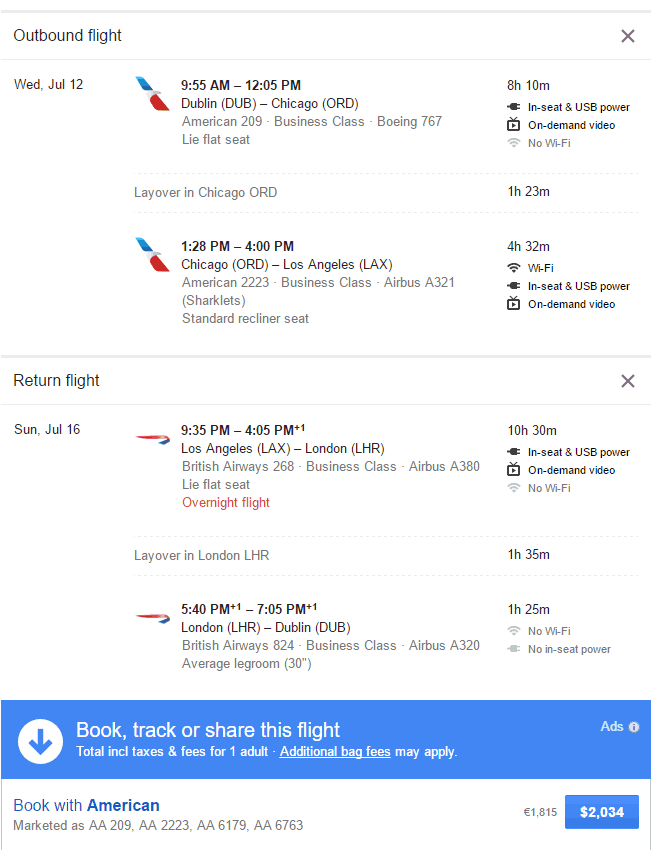 In our example above, we should notice that the first leg, Dublin – Chicago is flown with Boeing 767, which is a mid-size airliner. Google Flights shows us that the business-class seat should be "lie flat" model, but if you haven't previously flown on that particular route, it makes sense to search for business class seat reviews for that specific airline/route.
The other thing you should consider in our example is the layover time in Chicago (ORD). If you are not an American citizen, you need to go through immigration at Chicago airport before continuing to your Los Angeles flight. That is often a time-consuming process and can take several hours in the worst case.
When we are satisfied with the flights, we can continue booking the tickets immediately by clicking the link below the flight options. If you have created a more complex flight combination, the direct booking option might not be available. In that case, you need to call the airline or travel agency. Also, remember that prices shown on Google Flights are not "guaranteed," the final price is shown once you land on the airline's web page.
Other Useful Features
If you are not ready to book the flight instantly, you can use the tracking feature of Google Flights. It allows you to monitor price changes over time and even send email warnings if there's a dramatic drop/rise in the price. And if you are planning a trip together with someone, you can send the itinerary to your friend's email or post it to social media.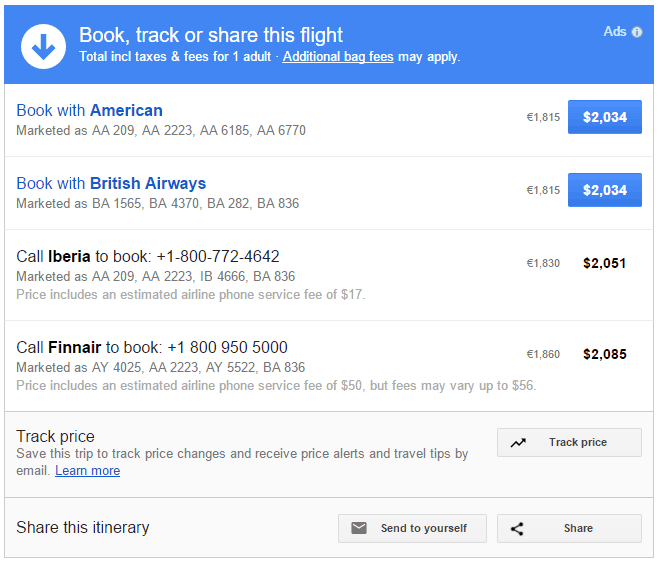 If you just want to fly somewhere, the "Explore destinations" feature might come in handy.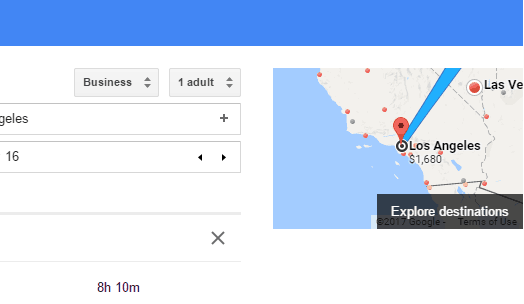 It allows you to see the prices for different nearby cities during the specified timeframe in a map view. Using our example dates below, we'll see that instead of Los Angeles, we could have flown to Seattle, Phoenix, Denver or San Francisco for the same price ($1680).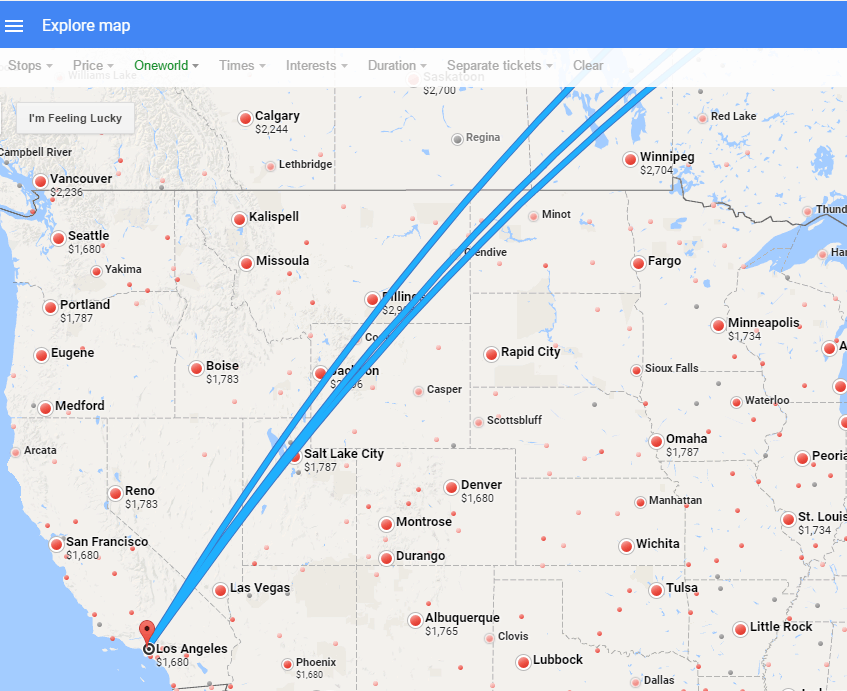 In Brief – TL;DR
Google Flights https://www.google.com/flights/ is a powerful tool if and when you want to search cheap business-class flights between multiple cities at once
Use calendar view to find the cheapest dates
When selecting flights, be sure to reserve enough time for airport changes and immigration
Review the airline and the plane model options carefully before booking the flight
We have also written an article on How to Find Cheap Business Class Flights. Consider checking it out for more information on how to get the most out of your money.