I was able to test Qatar Airways' Dreamliner 787-800 business class experience during my April 2018 trip to Bangkok (via Doha).
Qatar Airways operates Helsinki-Doha route currently with two aircraft models, the other one being previously reviewed Airbus 320.
Boarding
Boarding in Helsinki went smoothly at first, with a separate section for business class and Oneworld top-tier travelers. Since there was a bus transfer to the plane, we were allowed to enter the bus first – which is actually a bad thing. The bus was shared with economy passengers, which meant that we were the last to enter the plane.
After boarding the aircraft things changed immediately. Friendly flight attendants greeted me at the door and guided me to my seat. And as usual, a glass of champagne was offered as soon as I sat down.
Due to some unfortunate changes in my flight plan, I wasn't able to secure a window seat; instead, I had one of the center seats. It wasn't as bad as I first thought, although it wasn't very private. Compared to for example Finnair A350 center seats (read our review), the seat was less private – but on the other hand, works very well if you are traveling with a partner.
Qatar Airways 787-800 Business Class Details
Route
Helsinki – Doha (DOH)
Date
April 2018
Plane
Boeing 787-800
Cabin
Business Class
Seat
3E / 3K
Configuration
1-2-1
Bed length
about 203 cm (80 inches)
Seat width
56 cm (22 inches)
Capacity
22 passengers
Personal TV
17 inches
In-seat power
YES
USB port
YES
Touch screen remote
YES
Cabin and seat
The business class cabin of 787 is quite small, consisting of 5 full rows and two seats on the sixth row. Seats are arranged reverse-herringbone style in a 1–2–1 configuration.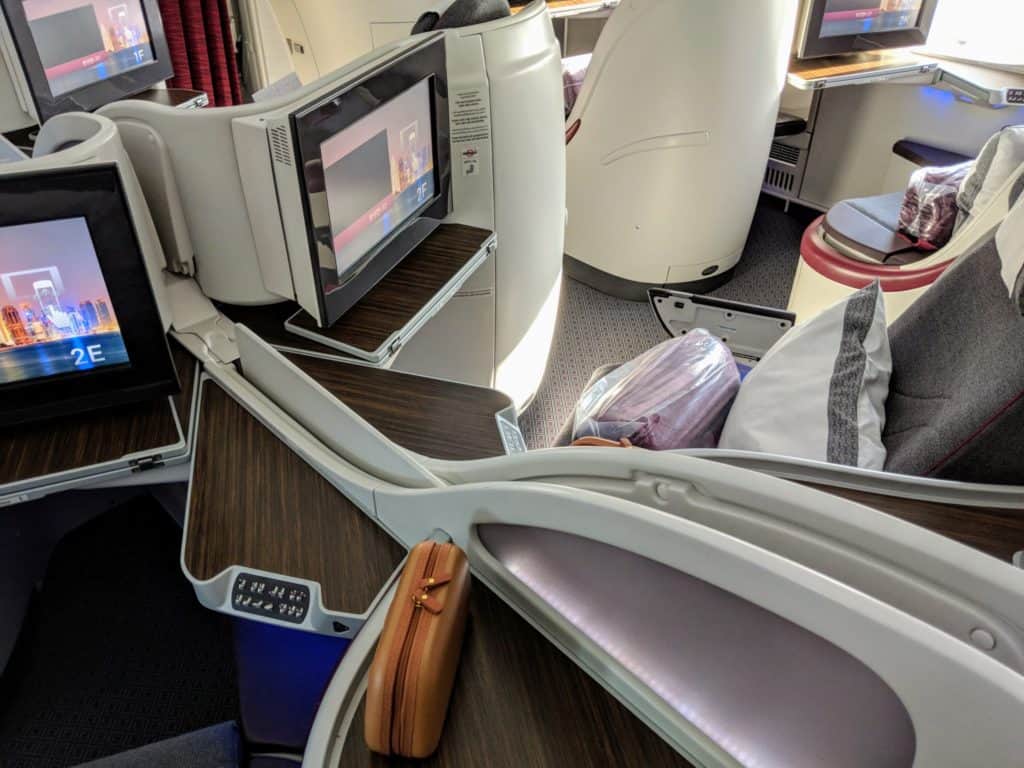 The B/E Aerospace Super Diamond seat is quite similar to the one found from Qatar Airways A380, modern and comfortable. I found it also much better for sleeping than recently reviewed Qatar Airways Boeing 777-300.
My seat, 3E, was in the center of the cabin. In my opinion, there is not much difference where you sit on 787 business class. The last two rows, 5 and 6 are close to the lavatories – which you might want to avoid.
Pillow and a blanket were placed on the seat, both very comfortable. Pillow was big and puffy – just the way I like it. It was probably the best pillow I have slept on my Oneworld flights, although Casper pillow on American Airlines 321 Transcon (read our review) was also really comfortable.
IFE, amenities and WIFI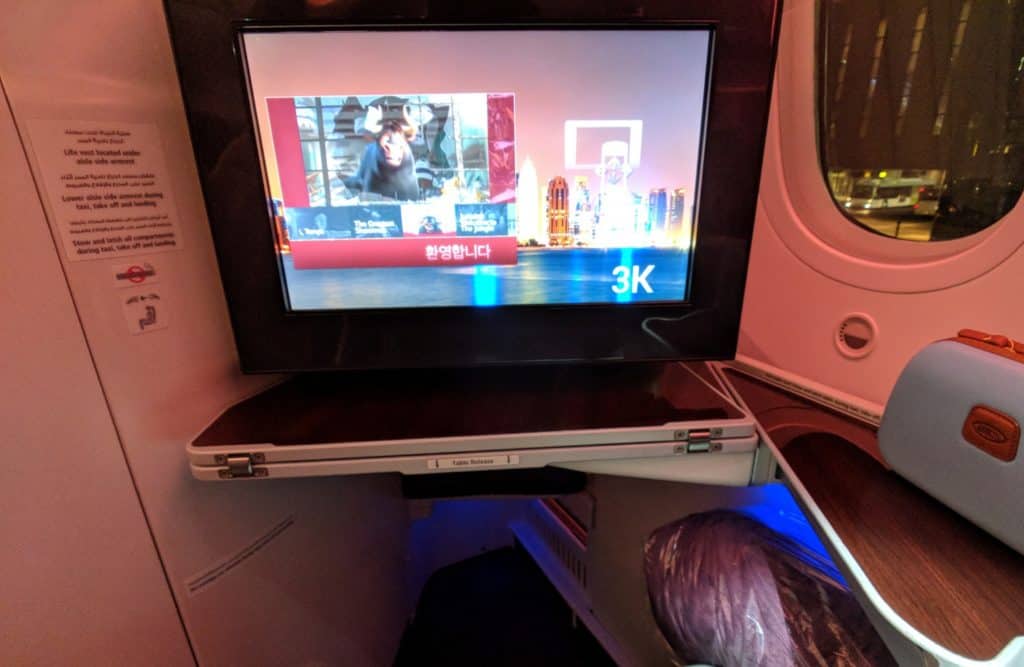 17″ In-Flight Entertainment screen was bright and sharp, utterly different than for example on old British Airways 747-400 (read our review). IFE is powered by Qatar's Oryx One system, but unfortunately, there were not that many movies to choose from – at least I couldn't find anything interesting.
Qatar Airways has currently two different amenity kit options, on this flight, they still had the old Bric's one – which in my opinion is better than the new Armani amenity kit (read our Qatar Airways 777-300 review).
The kit contained lip balm, hydrating facial mist, and "anti-aging" moisturizer. Plus the usual socks, adjustable eyeshades, and earplugs.
There was an onboard WIFI available, but only the first 15 minutes were free of charge.
Food, drinks, and service
The dinner service started with amuse bouche, which was Salmon with Wasabi potatoes. It wasn't the freshest fish I've had, and there were three big fish bones inside my piece – VERY disappointing.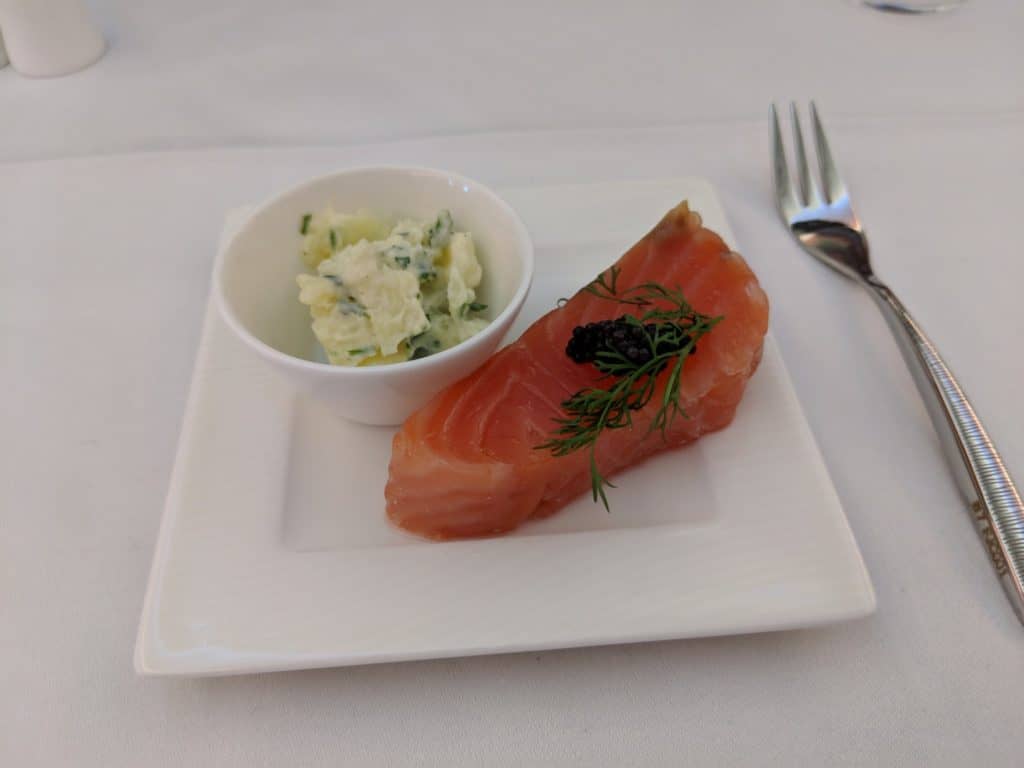 I continued my meal with some more salmon (my favorite seafood when done correctly) – Smoked salmon with pea and potato salad. It was fresh and tasty, definitely better than the amuse bouche.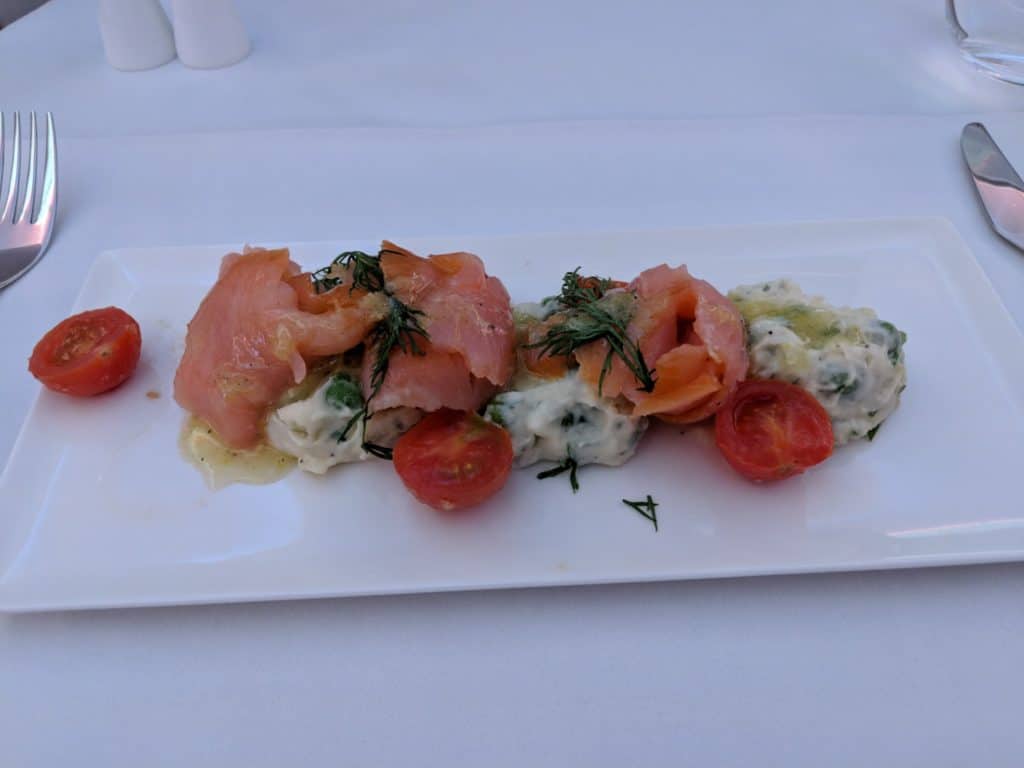 The main course, Arabic spiced chicken with machboos sauce, was extremely dry and tasteless. It was probably the worst meal I've had during my recent 8 Qatar Airways business class flights.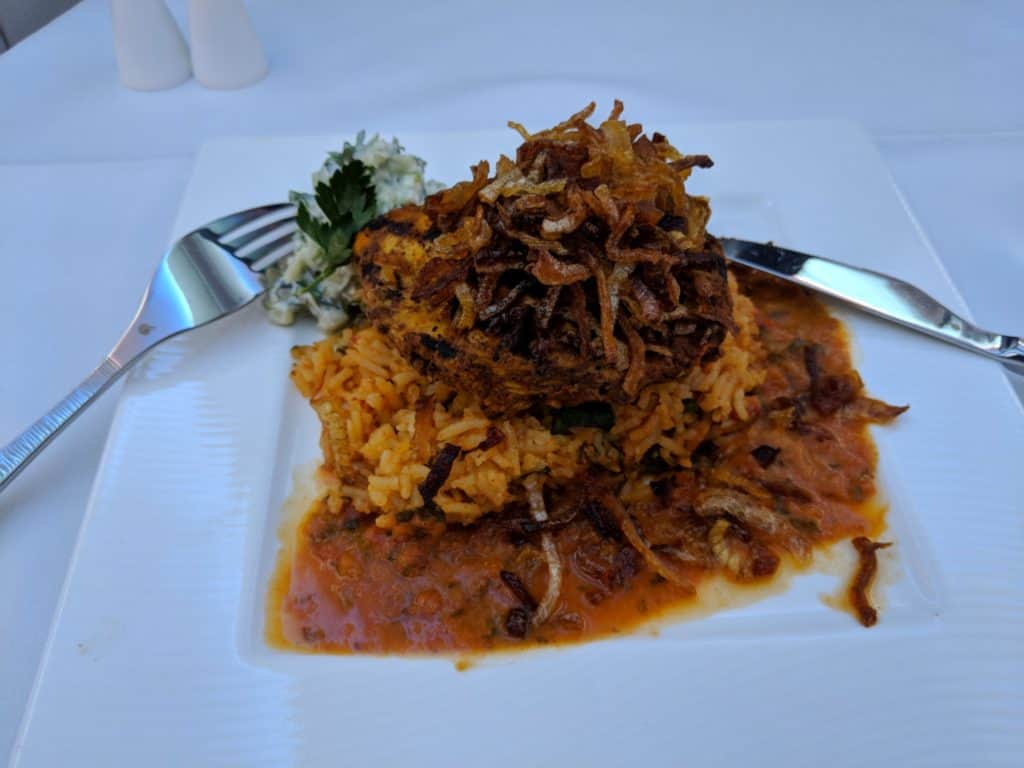 I finished my meal with some "gourmet" ice cream, which was ok – and at least looked good (compared to British Airways First miserable ice cream desserts).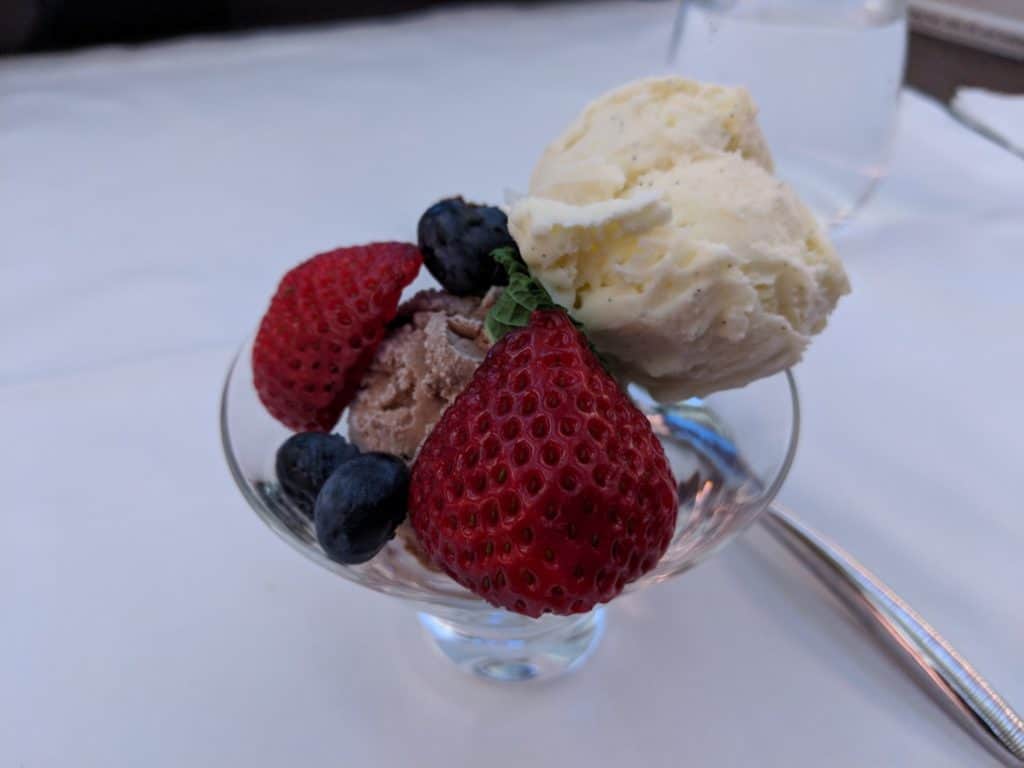 There were two Champagne options (like on their 777) available – Lanson Black Label and Drappier Rosé de Saignée Champagne Brut – and again I selected the Rose option.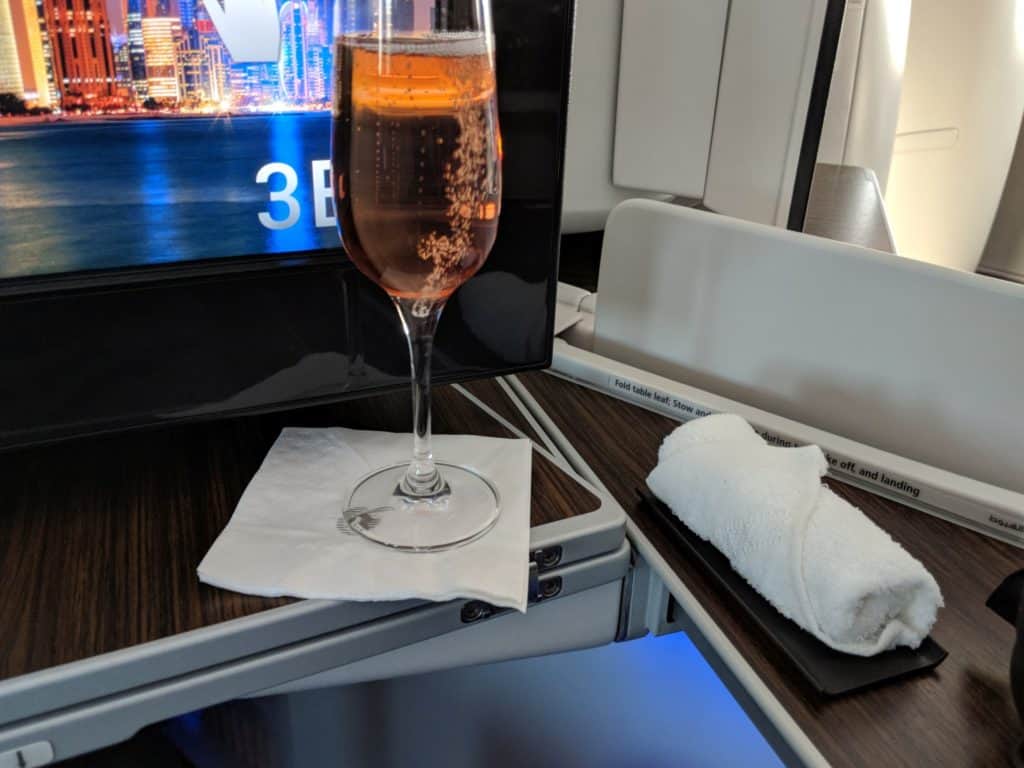 Service on this flight was not as good as I have used to on Qatar Airways flights. For example, beverage refill was offered only once during the whole flight. In any case, the service was still way better than on most Finnair or British Airways flights.
Conclusion
Badly organized boarding process at HEL
Comfortable modern seat
Some issues with the food
Excellent IFE screen with a limited selection of movies
This time just OK service
---
Remember also to check our other Qatar Airways' business class reviews, for example:
.