On my recent weekend trip to Bangkok, I was able to test Qatar Airways' superjumbo A380 for the first time.
Based what I had read about Qatar Airways and their flagship Airbus 380, my only worry was that the flight from Doha Hamad International Airport (DOH) to Bangkok Suvarnabhumi Airport (BKK) would be too short (about 6.5 hours) to fully enjoy the amenities of the king of the skies.
Flight Details
| | |
| --- | --- |
| Route | Doha Hamad (DOH) – Bangkok Suvarnabhumi (BKK) |
| Date | May 2017 |
| Plane | Airbus A380 |
| Cabin | Business Class |
| Seat | 14A |
Boarding
Boarding experience in Doha Hamad was exceptional; probably the smoothest I have ever experienced. Firstly, all first and business class passengers were guided to the second floor, which was reserved just for us. Once the boarding started, there was a jet bridge straight to the second floor of the Airbus A380 plane.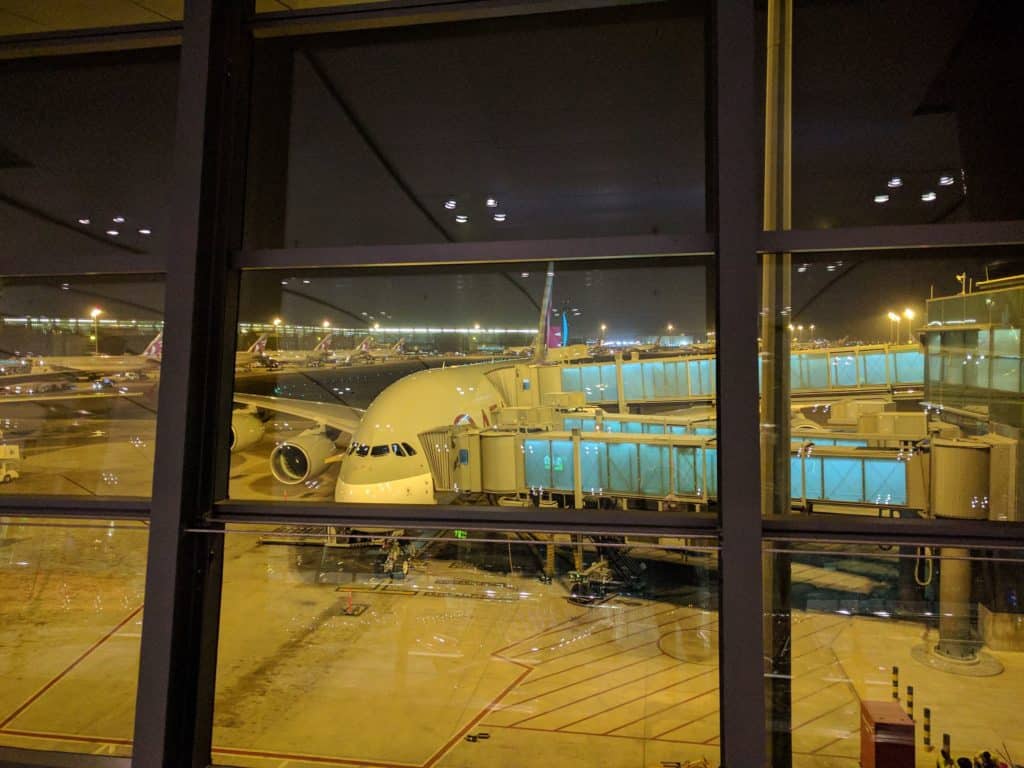 The Cabin and Seating
Friendly flight attendants greeted me and guided me to my seat (14A), which was located in the center of the cabin. Once seated, I was delivered the amenity kit and a Qatar Airways -branded pajama, plus I was asked if I wanted any pre-flight refreshments.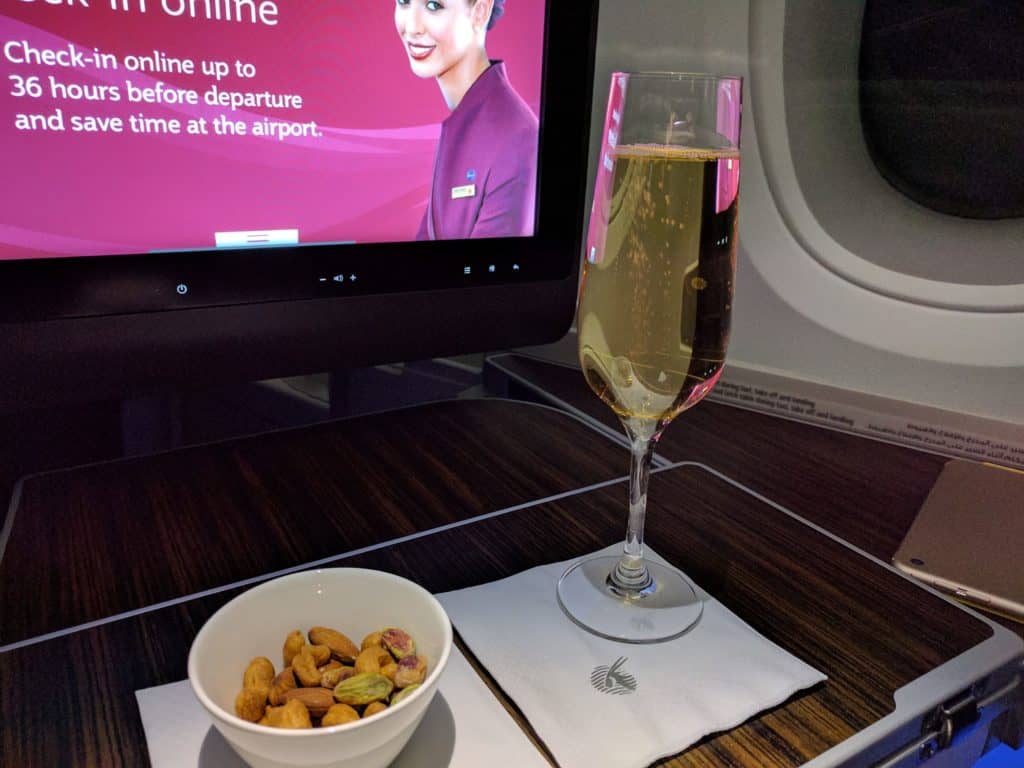 To my delight, I soon noticed that Qatar Airways had two different champagnes available; I decided to start with the traditional white Billecart-Salmon Brut.
A hard-shell Bric's amenity kit contained the basic things: Castello Monte Vibiano skincare products, hydrating face mist, earplugs, and an eye mask. My kit was missing a toothbrush and toothpaste. However, those missing items were available in all lavatories. Extra credit goes to the eye mask, which had a Velcro strap on the back – making the size adjustment really easy.
Qatar Airways A380 business class seats are arranged in a 1-2-1 "reverse herringbone" configuration, so all the outward facing window seats have easy aisle access and offer relatively good privacy – recommended if you travel alone. In my opinion, you should book the middle seats only when traveling with someone, although the dividers between the seats offer some amount of privacy.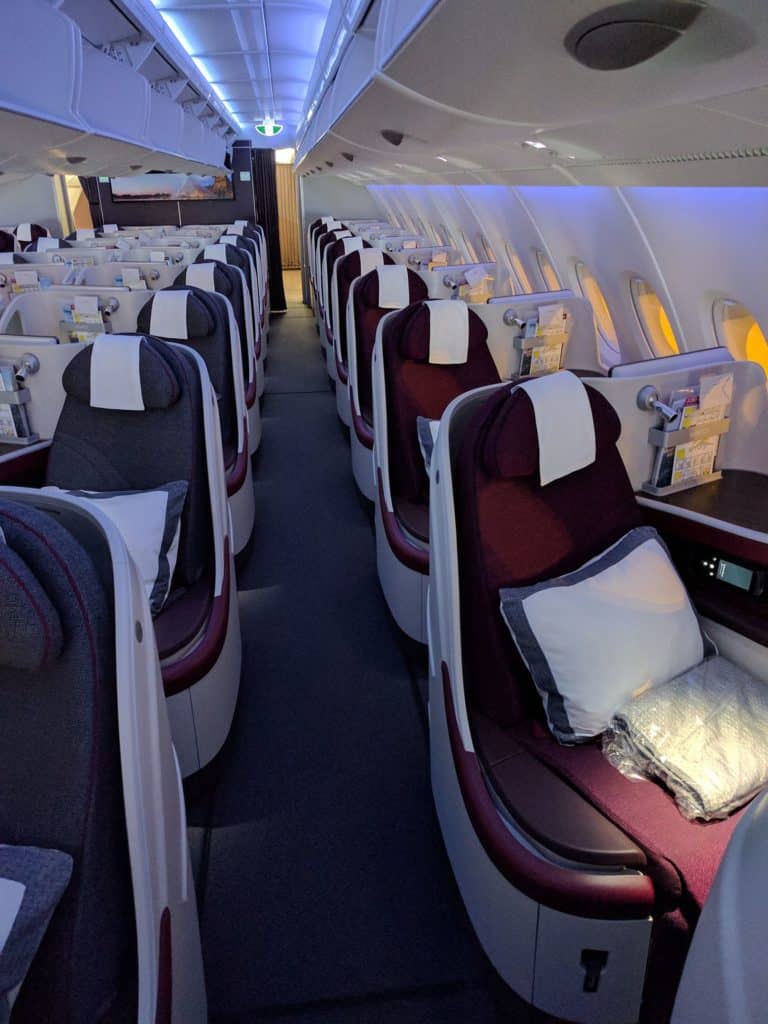 On Qatar Airways A380, all business class seats convert into fully flat beds. The seat is similar to the one found from American Airlines B777-300ER or Finnair A350-900, so comfortable but the foot space is relatively narrow with little extra space to wiggle your feet.
The second-floor business class cabin was very quiet, and there was a lot of storage space for your personal items. Just note that all of the lockers were quite small and not able to fit any larger items you might have.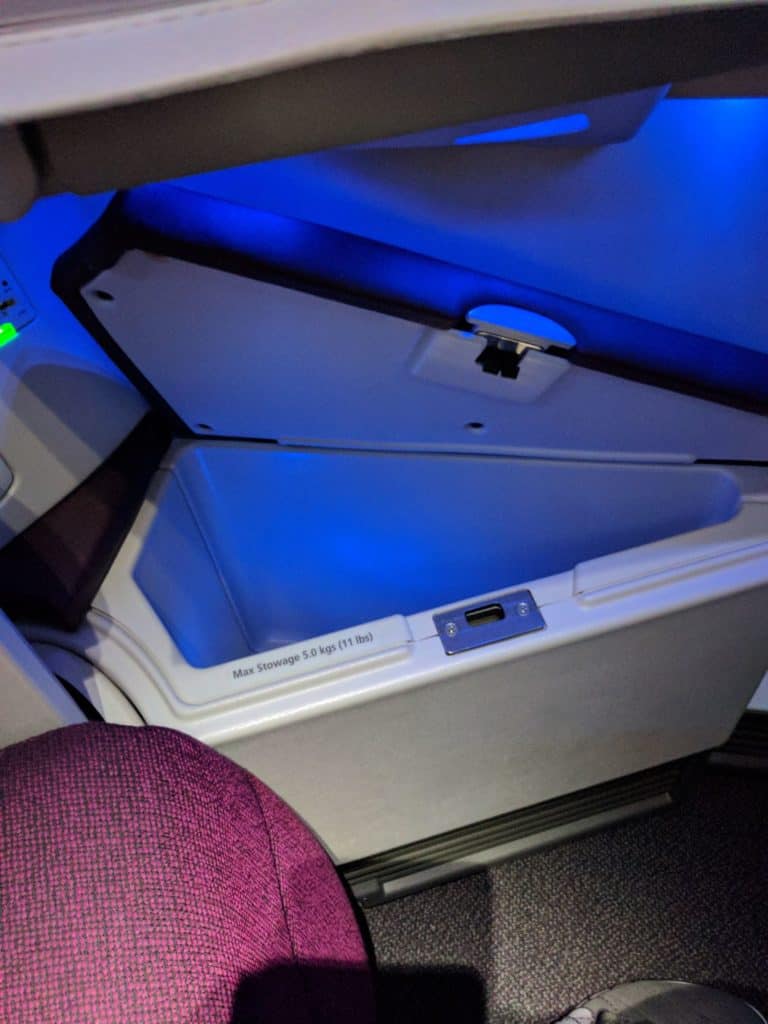 In-flight Entertainment
Entertainment system Oryx One is controlled by touchpad remote controller or touching the big 17" screen. The selection of TV series and movies was good, but during this flight I spent most of my time on other things (as mentioned before, it was just a six-hour flight). In-flight Internet was available, but it was free only for the first 15 minutes.
There were one USB and an electric plug for charging your personal devices. They are placed so that even a device with a short cord can still be accessible.
The Phitek noise-canceling headphones were one of the few downsides on this Qatar Airways flight. They are definitely not the best headphones out there, not even close to the quality of Bose QuietComfort headphonesfound from, for example, Finnair A350-900.
Food, Drinks, and Service
First of all, I was told that dining was possible at any time of my choosing (Qatar Airways' "Dine Anytime" concept), and it would have been possible to eat whatever I wanted, in whatever order. However, I noticed that most of the passengers (including me) didn't use that option and were eating at a normal pace. The tray table was located under the IFE screen, very easily accessible and providing a lot of space.
Due to the 2am departure time, the menu consisted of "late night dining" options and a separate breakfast menu. Warm assorted nuts and a glass of champagne were served before the actual meal.
For an appetizer, I opted for smoked tuna remoulade with fresh bread rolls and a date-cinnamon smoothie. Since I was rather hungry, I continued with the traditional Arabic breakfast from the main list. Both dishes were quite tasty, but not as good as the full dinner menu on my return flight from Bangkok (see photos below).
The drink menu on Qatar Airways is way better than on most other Oneworld airlines. As mentioned before, for champagne enthusiasts, there were two options available: a white Billecart-Salmon Brut and a rose Piper Heidsieck Rose Sauvage. They have received relatively good reviews on https://www.wine-searcher.com/ so I decided to try them both and found the rose option more to my liking. There were also red and white wines available, as well as classic drinks like "Buck's Fizz" and "Old Fashioned".
The service was excellent throughout the flight; the flight attendants really tried to keep us passengers happy and comfortable. I think I didn't have an empty glass at any point of the flight (except when I was sleeping).
The Lounge
One unique feature found from Qatar Airways A380 is the separate lounge space reserved for first and business class passengers. The lounge is located behind the business class cabin and is actually quite far from first class – maybe that was one of the reasons there were not many first class passengers in the lounge.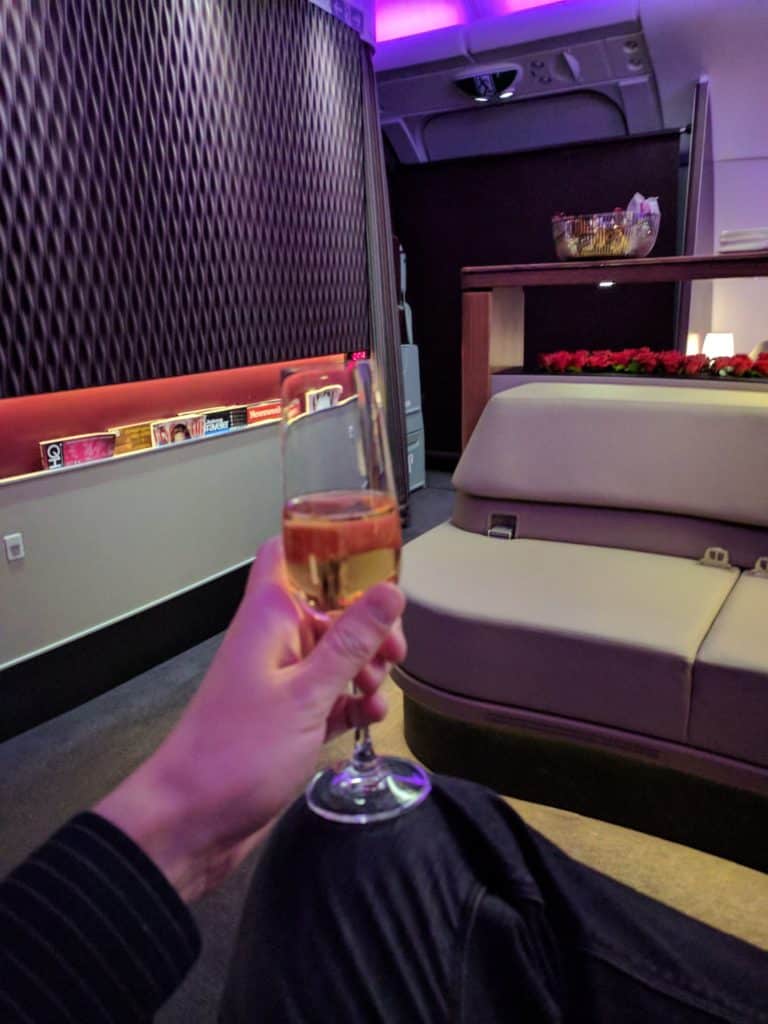 There was a bar in the middle and plenty of sofa seats on both sides. In addition to the full bar, there were some snacks available on the bar counter. Due to such a short flight, I didn't have that much time to spend in the lounge, but it was a really unique experience, and I'd definitely like to fly on Qatar Airways A380 in the future again.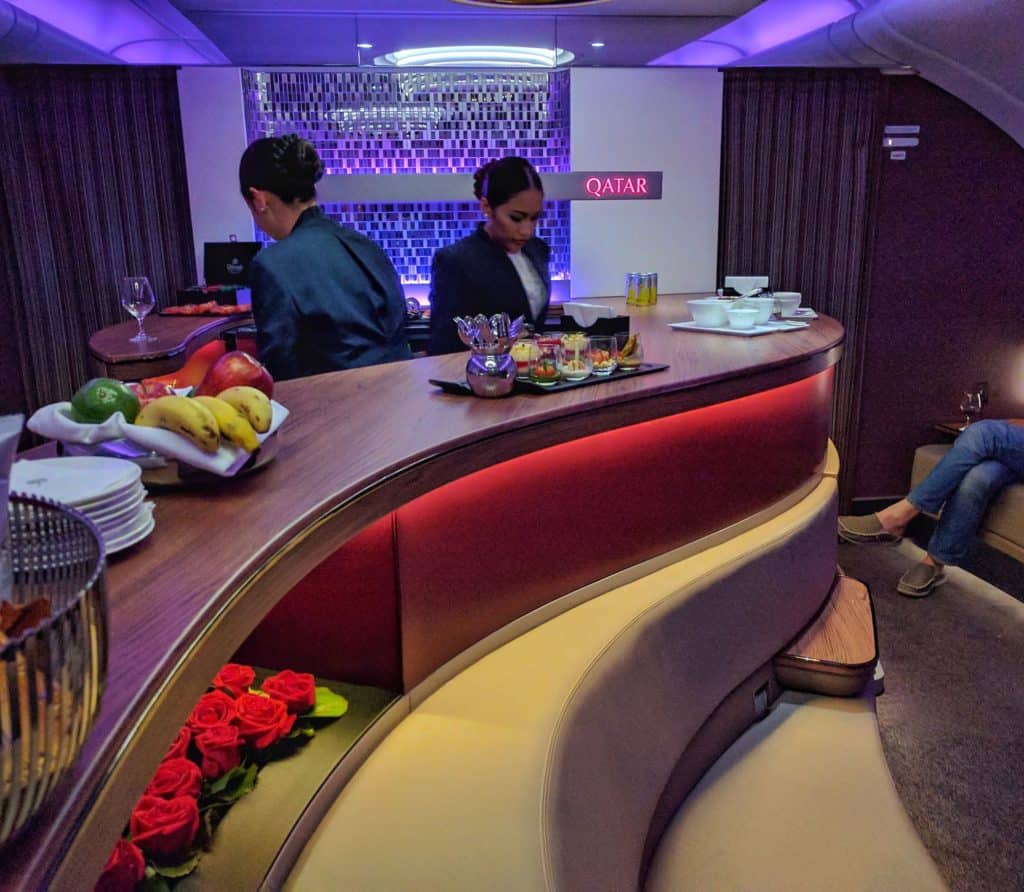 Conclusion
Excellent service – the best I have received so far on any (Oneworld) airline
Quiet cabin, OK business class seat
Extensive and delicious dining possibilities and two champagne options
The lounge is an experience itself
Good IFE screen but unfortunately low-quality headphones
---
For more Airbus 380 business class experiences, read our flight review on British Airways Airbus A380. And if you'd like to read how Qatar Airways business class compares to British Airways First Class, read our review of British Airways 747 First Class. Personally, based on only few first class flights, I'd prefer Qatar business class over British Airways First. What do you think?
Or read more Qatar Airways business class reviews:
For more business class flight experiences from other carriers, see all our American Airlines, British Airways and Finnair flight reviews.