Located perfectly for shopping and city sightseeing, Hilton Singapore provides a perfect base for weekend trips – if you can live with the aging property.
Booking
This time I booked the hotel room directly through hilton.com as the Spring 2019 campaign was still active. The communication was excellent before my arrival, I received a welcome email about a week before, which also explained the best way for Hilton Diamond check-in.
Location & transportation
On my April 2019 trip to Southeast Asia, I landed at Changi International Airport (SIN) after a fantastic flight on Qatar Airways QSuites business class.
Changi Airport is the main gateway to Singapore. Located on the main island of the Lion City, the airport features efficient and affordable connections to the downtown area.
The Mass Rapid Transit (MRT) is both efficient and affordable transportation option from SIN to the city. The train station is located at Terminal 2, where you can board the train leaving to Tanah Merah Station. Change platforms there to catch the connection to downtown Singapore (East West Line). The time of the journey is around 30 minutes. The approximate cost is around S$1.75 with the EZ-link card. MRT trains operate from 5:30 am to 11:18 pm (Mon-Sat) and between 6 am to midnight on Sundays. Departures take place between 7 and 13 minutes.
Another option is to take Grab or taxi from the airport. Taxi companies charge up to S$60 for transfers from the airport to downtown Singapore, while Grab costs much less. During my last trip the most economical option, JustGrab, was S$20 from the airport to Hilton Singapore.
Hilton Singapore is located on the busy shopping street Orchard Road. It's a really convenient location for shopping and walking around that part of the city. There are many restaurants and big shopping malls nearby.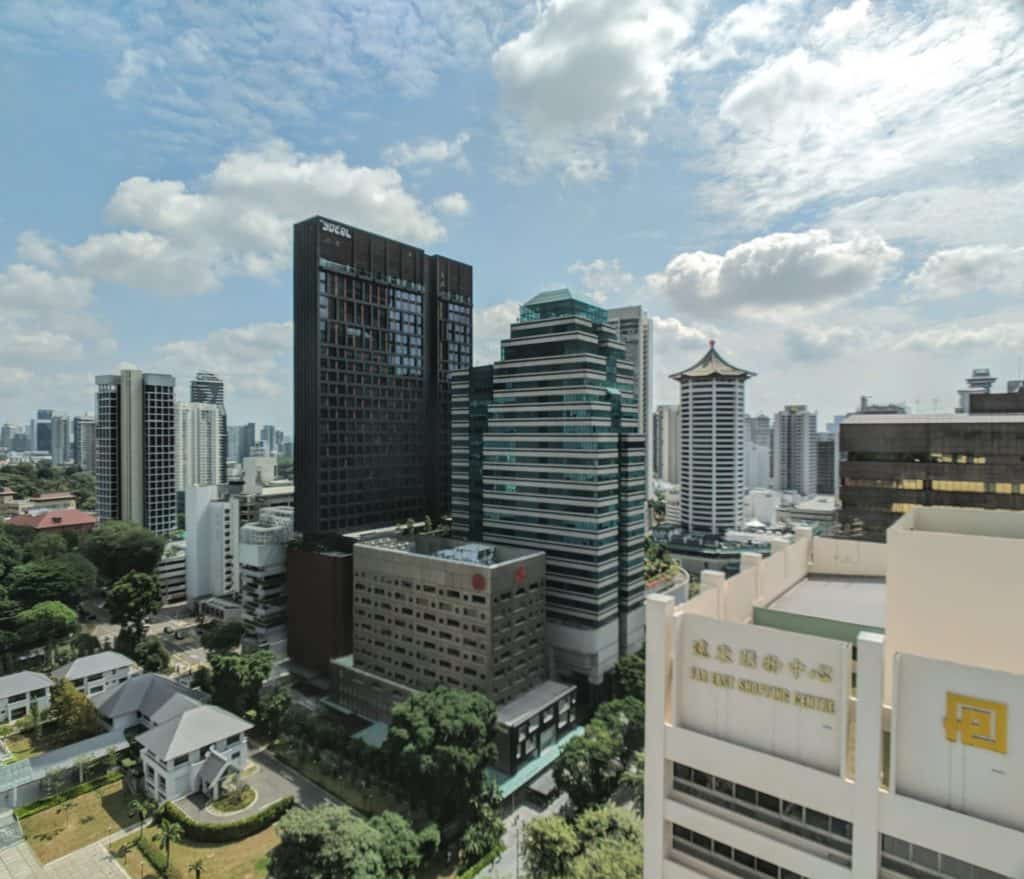 Check-in
When asked lobby personnel about the location of the lounge, they guided me to the elevator and called upstairs ahead. So once I walked into the lobby, I was greeted by my name and check-in process had already started. This time I didn't get any substantial upgrade due to Hilton Diamond status, which seems to be an unfortunate norm nowadays at Hilton properties.
Later I asked about late check-out due to my late flight and got 3 pm check-out time, which was more than I expected.
The Room
Unfortunately, the room is not on par with the service. There's nothing terribly wrong about it, but it's just a bit old and dated.
The king sized bed was really comfortable, perfect for my liking – firm, but not too hard.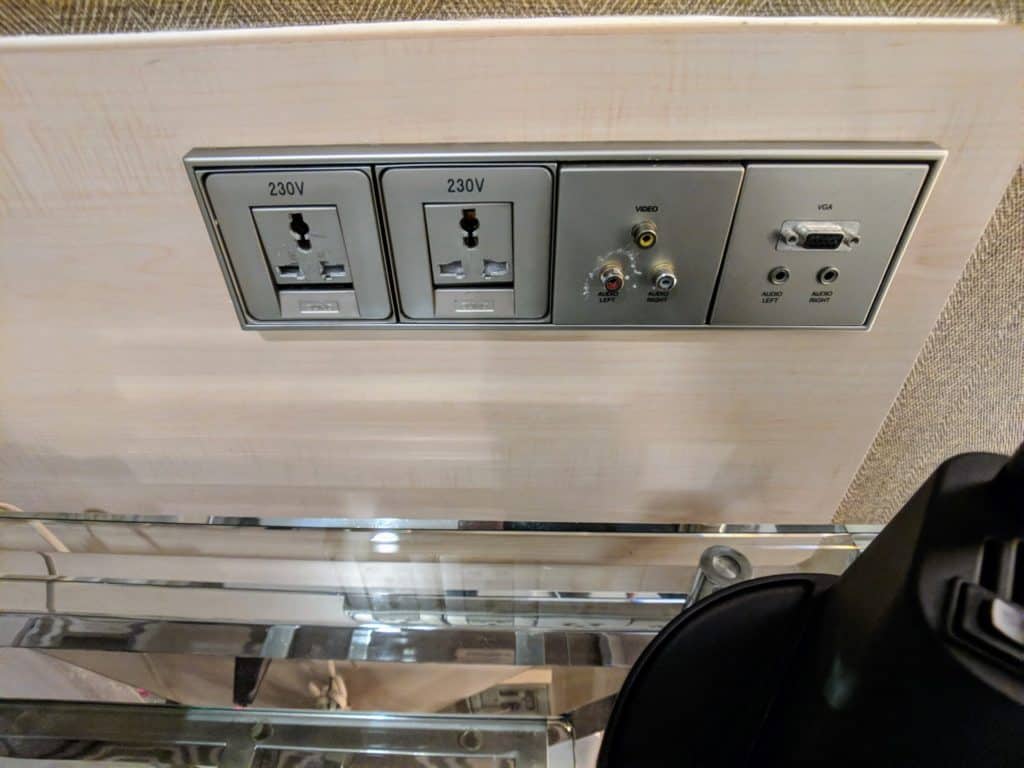 The age of the room shows clearly in video/audio connectors. The only available connector is VGA, which really is not the standard anymore.
Soundproofing on windows is minimal, so if your room is facing Orchard Road, there is some amount of traffic noise coming from there (even during the nights) – could be a problem for light sleepers. Seems that some people use Orchard Road as their race track during the nights. It can be quite noisy during the days as well, especially weekends when there are street performers outside.
Dining options at the executive lounge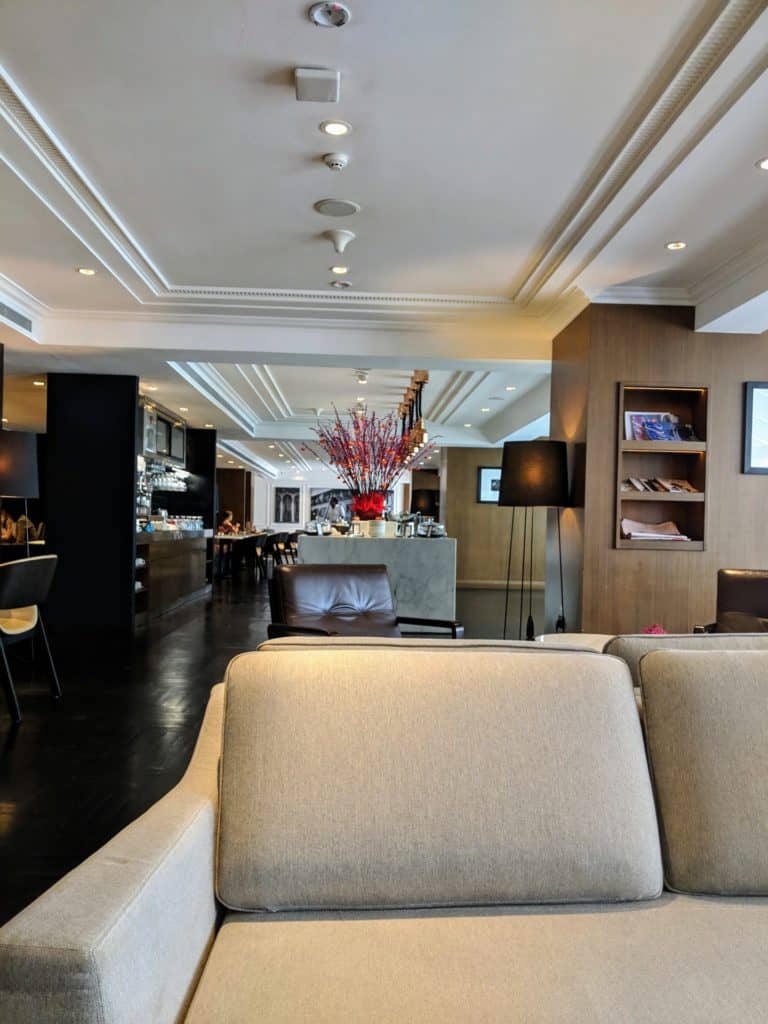 The executive lounge is located on the 22nd floor. Like the room, it's also bit dated and boring – but the staff is super friendly, and the service was exceptional there.
The breakfast at the lounge was quite OK. Food options included cold cuts, delicious smoked salmon, cheeses, french toast, pancakes, dim sums, bacon, scrambled eggs, muesli, yogurt, and a few different types of bread. The ingredients were all fresh and tasty – especially the salmon got high marks in my books.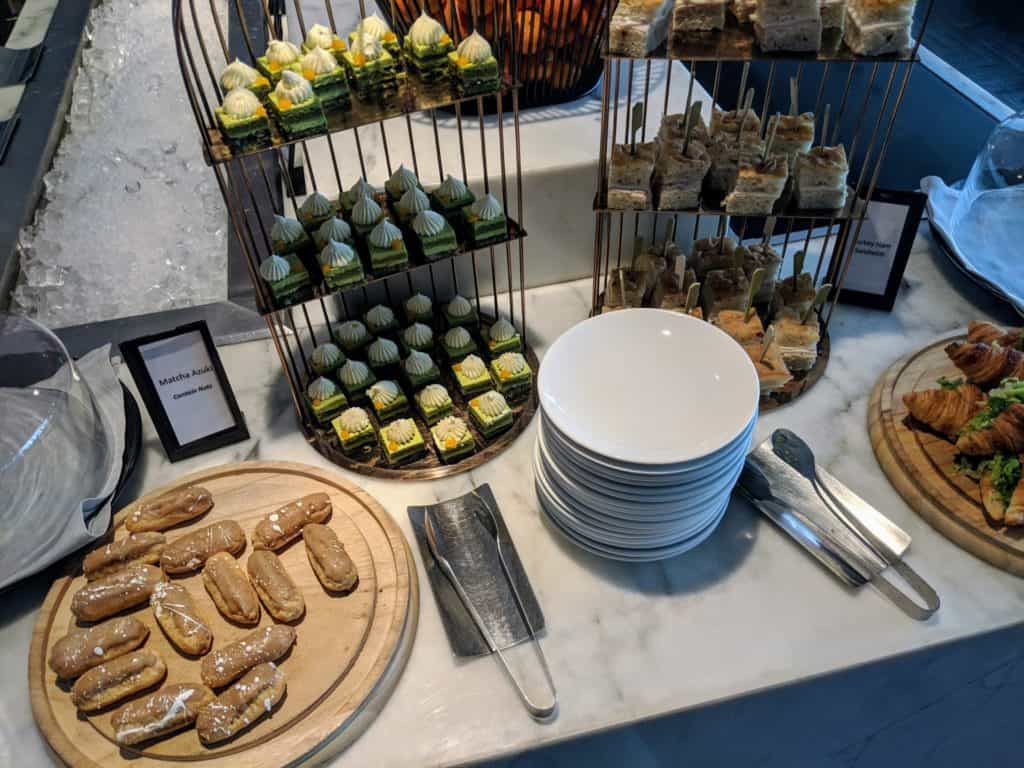 For Hilton Diamond members, it's also possible to enjoy breakfast at the downstairs restaurant (which usually offers a much wider variety of breakfast items). Unfortunately, during my short visit, I was unable to test that option.
The food offering during the cocktail hour was relatively good with small pizzas, chicken wings, noodles, dim sums, and different salads. On the drinks side, there were red, white, and rose available as well as beer.
The lounge was crowded but never full during my visit, I always managed to find a free spot for myself. But there was one substantial negative aspect. MANY small kids were bouncing around the room, during the breakfast, afternoon tea, cocktail hour, and after the cocktail hour. Although lounge rules very explicitly stated that children should be kept in control, nobody did anything. That is a huge minus in my books; unfortunately, many other Hilton executive lounges in Asia seem to suffer from the same problem.
Pool and Gym
The rooftop pool was on the 24th floor. It was almost empty during my visit and provided a peaceful place to chill and read my Amazon Kindle before the evening activities.
The gym is located on the 23rd floor of the hotel – easily accessible also from the pool. It can be accessed 24 hours with a key card, which is always a bonus for jetlagged travelers. I'd say that the gym at Hilton Singapore is better equipped than the average hotel gym. There were plenty of cardio machines, including step and rowing machines, as well as a spacious free weights area.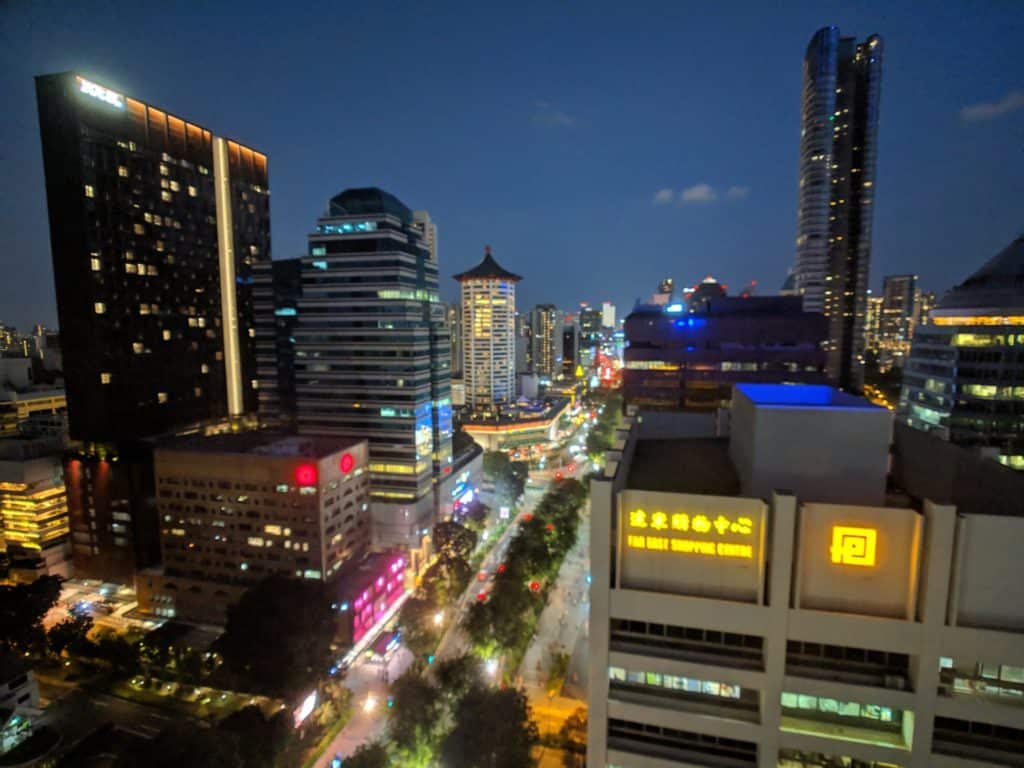 Conclusion
Fantastic service started with communication before arrival
Excellent location for shopping
Nice rooftop pool area
Dated noisy room with a great bed
OK executive lounge, but felt at times like a kindergarten
If you are looking for more luxury accommodation under the Hilton brand, you might want to consider Hotel Conrad Centennial Singapore, located in the Marina Bay area.
More Hilton hotel reviews: