Flying short-haul flights on a long-haul aircraft can be a jackpot for frequent flyers. How was the situation with Royal Jordanian Boeing 787 Dreamliner from Kuala Lumpur, Malaysia to Bangkok, Thailand?
Booking
I booked the flights directly from the British Airways website since short-haul flights in Southeast Asia are an excellent way to use British Airways Avios points. There are two Oneworld carriers flying directly from Kuala Lumpur (KUL) to Bangkok (BKK) – Malaysian Airlines and Royal Jordanian. I had already tested Malaysian Airlines and when found out that Royal Jordanian was actually flying this route with Boeing 787 Dreamliner, the choice was relatively easy.
Check-in and Lounge at Kuala Lumpur
Kuala Lumpur International Airport (KUL) is rather far from the city center. During my visit, it took about 50 minutes to get from Hilton Kuala Lumpur to the airport by Grab. You could also take KLIA Ekspres train, which takes about 30 minutes to the KL Sentral. It's an excellent choice for St. Regis Kuala Lumpur and Hilton, as the KL Sentral train station is connected to these hotels.
I arrived at the airport well ahead of my flight departure, but luckily the check-in opened after a short wait. I was the first person to use the priority lane, so the whole process was over for me within minutes. After clearing the priority security and immigration I started to find the correct lounge. It actually took some time to figure out where the Malaysian Airlines Golden Lounge was located, but eventually found it from the second floor of the satellite terminal building. Since I have a Oneworld Emerald status, I was guided to the First Class part of the lounge.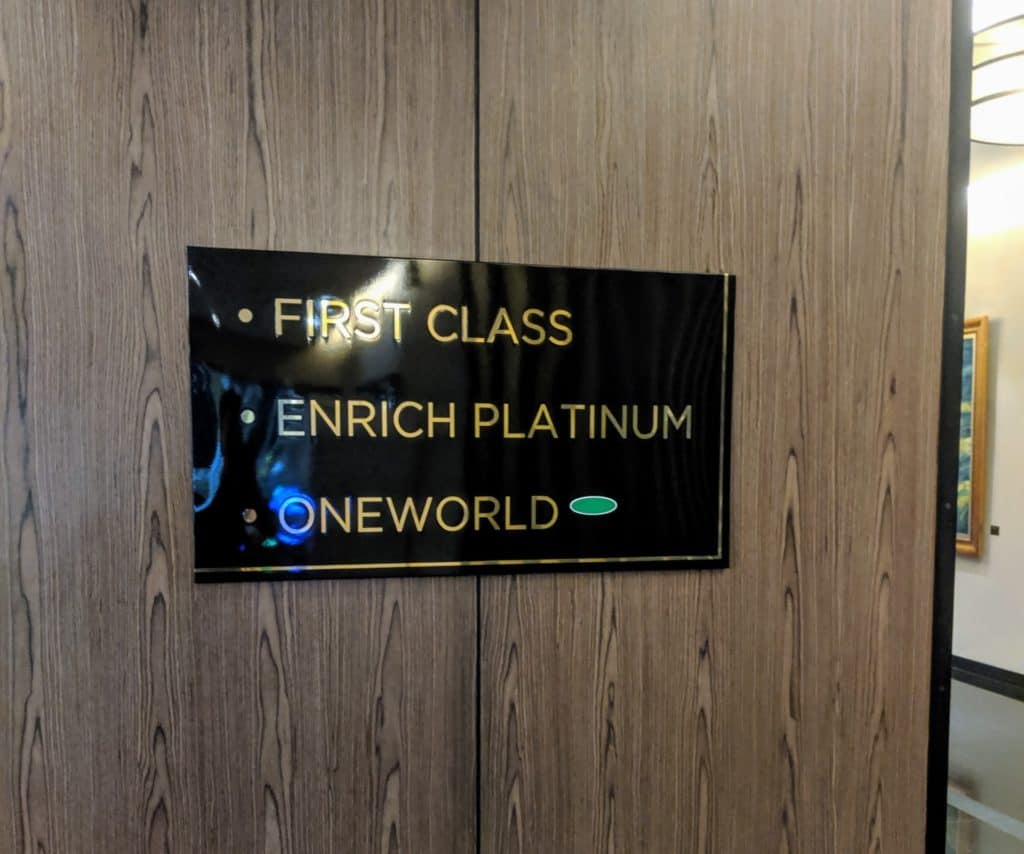 The atmosphere inside Malaysian Airlines Golden Lounge was really nice, the First Class lounge was not crowded at all once I step in. I was immediately greeted by two attendants and asked whether I would like to dine right away. I decided to do just that, so I was lead to the peaceful dinner area and given a dinner menu.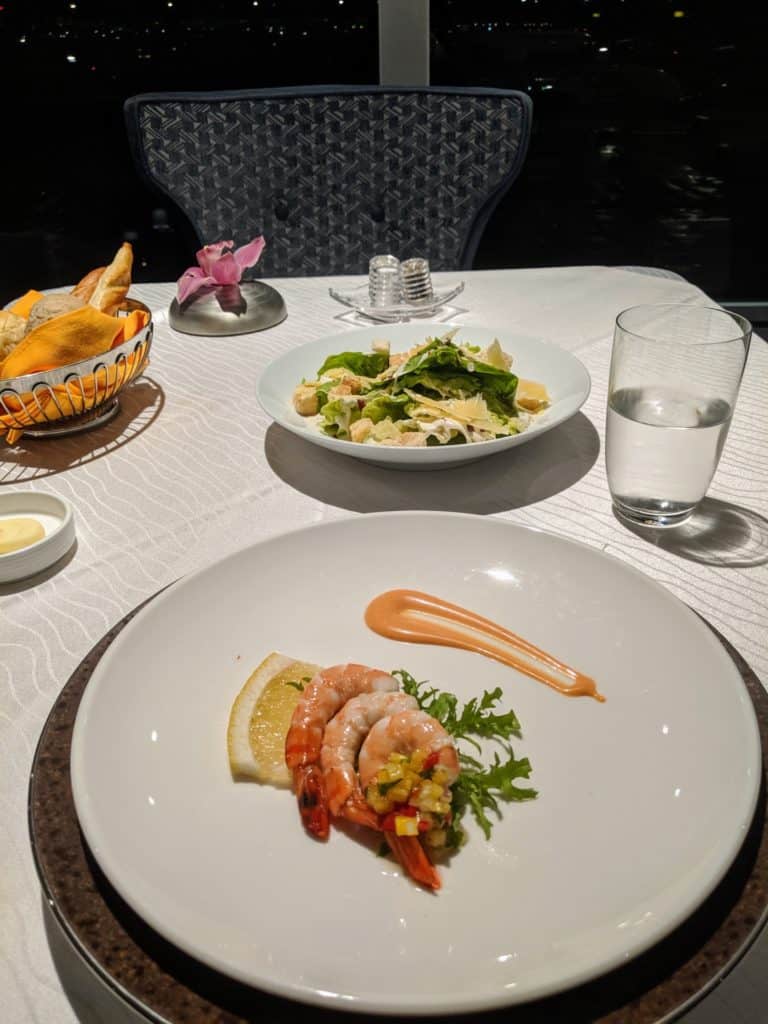 The whole menu looked really good, and I could have eaten almost every dish mentioned there. This time I decided to try the Prawn Cocktail and Caesar Salad – and of course a few glasses of champagne.
The prawns were really fresh and tasty, I could have easily eaten a few more of them. Also, the Caesar salad was perfect, exactly what you should expect in a First Class lounge.
---
More First Class lounge experiences: Read our review of British Airways 787-900 business class and a visit to Qantas First Class lounge at Los Angeles International Airport.
Boarding
Kuala Lumpur International is one of the airports where the security check is done at the gate. I personally hate that kind of setup, and KUL airport is a perfect example of why that kind of approach just doesn't work.
The whole boarding process is a huge mess, there is no clear information when the gate security opens. Once it did, people started rushing through the two open lanes. And obviously, there was no dedicated lane for business class passengers. Once through the security, there was more waiting and not too much information. The actual boarding started even before than shown on the screen, and business class was instructed to board first. No other information was given, and people were swarming like bees around the boarding area. Luckily I was the first one to board and left the boarding chaos behind me as quickly as possible.
On the plane, I was briefly greeted and pointed towards my seat. The welcoming committee didn't look like particularly happy when people started entering the plane.
| | |
| --- | --- |
| Route | Kuala Lumpur (KUL) – Bangkok (BKK) |
| Date | June 2019 |
| Seat(s) | 2K |
Royal Jordanian 787-8 Business Class
Royal Jordanian Boeing 787-8 aircraft has 24 flatbed business class seats in a 2-2-2 configuration. The seat is B/E Aerospace Diamond Parallel – the same one American Airlines uses on their A321 Transcontinental flights (read our review) and Qatar Airways on their A320s (read our review). I personally find the seat very comfortable for lounging and sleeping, but limited aisle access might be problematic especially on longer flights.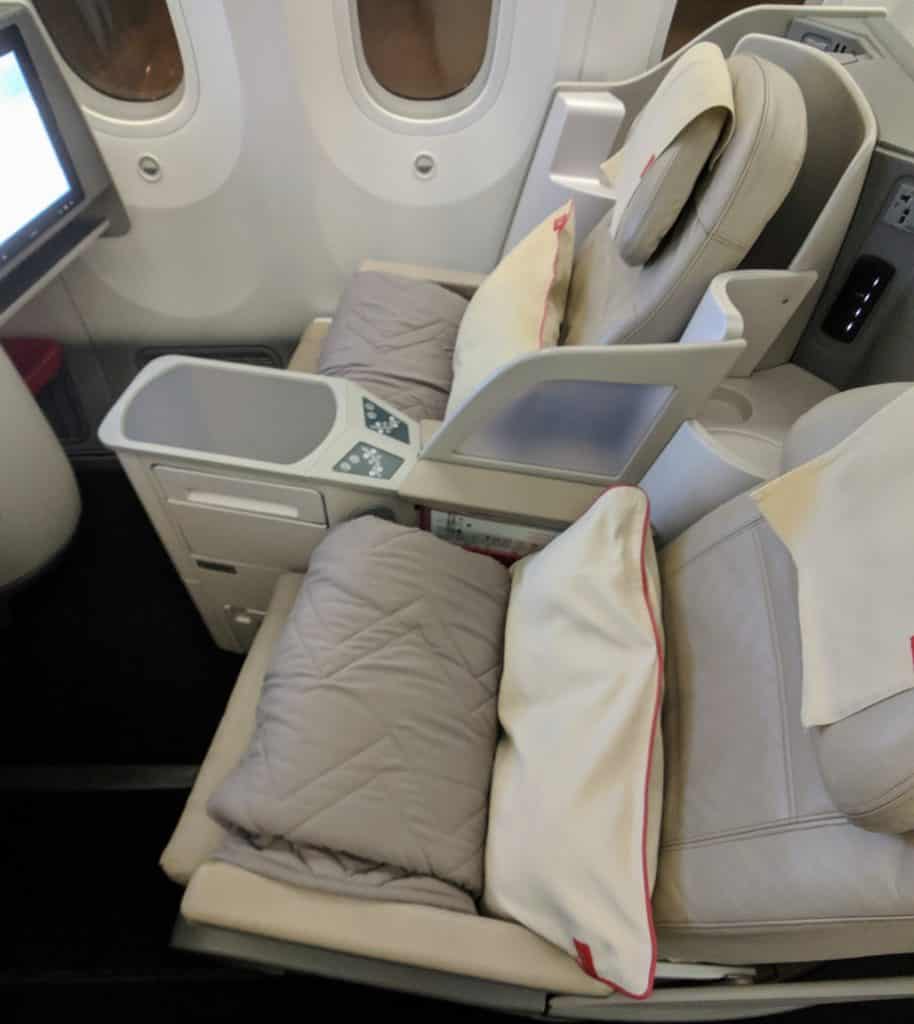 Configuration
2-2-2
Seat arrangement
Offset fully flat
Seat type
B/E Aerospace Diamond
Bed length
200 cm (79 inches)
Seat width
53 cm (21 inches)
Capacity
24 passengers
Personal TV
15.4 inches
The best seats on Royal Jordanian 787-800
Our recommendation goes to window seats 2 A/K and 3 A/K, as they are farthest from the galley on this relatively small business class cabin.
See the seatmap on Seatguru.com
---
Food, drinks and entertainment
Food offering on this short flight was quite disappointing. First of all, there was no menu or any kind of questions regarding the food – the tray was just placed in front of me. Also, the food, which was some kind of roast beef and salmon sandwiches, looked almost disgusting. It didn't smell or look very fresh, so I just tasted the beef sandwich a bit, only to find the taste very bland. Luckily I have had an excellent meal at the KUL Golden Lounge, so I wasn't that hungry.
The service throughout the flight was quite non-existent. Only the bare minimum was done as quickly as possible, without any additional communication. The flight attendants seemed very busy and stressed, maybe their thoughts were already on the long flight from Bangkok to Amman.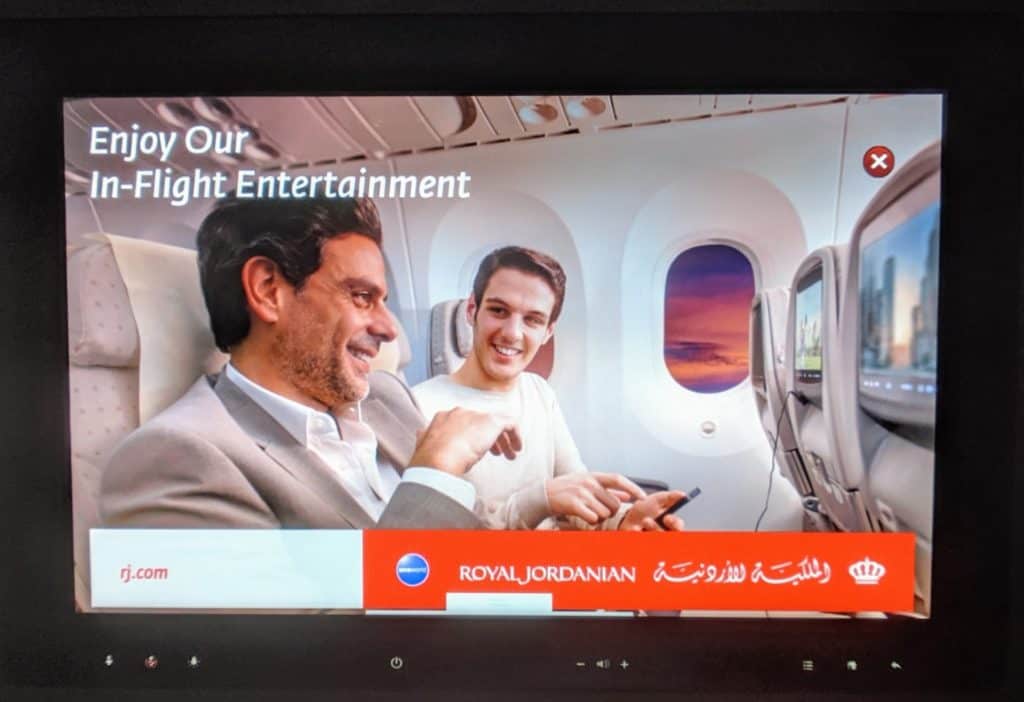 Entertainment options are top-notch on Royal Jordanian 787 business class. The in-flight entertainment screen is big and sharp, suits perfectly for watching movies. Only negative thing with this seat setup is that you are kind of forced to watch also the TV screen next to you, which might be problematic in certain situations. During my short hop, the neighbor seat was empty, so I could enjoy my entertainment in peace.
Noise-canceling headphones were available and quality-wise they felt decent, definitely better than Phitek ones that British Airways and Finnair are using. Separate headphone covers were also a big plus.
Conclusion
The full long haul experience on Royal Jordanian business class might be different – but this short flight from Kuala Lumpur to Bangkok didn't leave me a very positive image of the carrier.
Absolutely fantastic First Class lounge at KUL airport
Blunt and rushed service
Poor food offering
Comfortable seat and excellent IFE screen
---
Other recent business class reviews:
For more business class flight experiences from other carriers, see all our American Airlines, British Airways and Finnair flight reviews.