On this trip, I was traveling from London Heathrow (LHR) to Hong Kong International Airport (HKG), switching planes at Helsinki Airport (HEL).
The airport in Helsinki is relatively small and usually not too crowded, making transit quite painless. My flight from London was a bit late, so my flight to Hong Kong was already boarding at the next gate. The transit couldn't have been smoother; as a business class passenger, I walked from my arriving plane straight to the next one – no security checks or any other additional hassle.
If you want to know more about Helsinki Airport lounge facilities, remember to check our Finnair A330-300 review.
Finnair A350 Business Class Details
Plane
Airbus A350-900
Cabin
Business Class
Configuration
1-2-1
Bed length
200 cm (79 inches)
Seat width
58 cm (23 inches)
Capacity
46 passengers (in two cabin sections)
Personal TV
16 inches
In-seat power
YES
USB port
YES
Touch screen remote
NO
The Cabin and Seating
Being the newest plane on Finnair's fleet, the cabin felt really modern compared to other aircraft, such as the Finnair A330-300. On this plane, the business class cabin was divided into two parts; my seat (6A) was located in the bigger cabin section. Rows 9-12 form a so-called "mini-cabin," which can be a tranquil and comfortable place to travel. However, it's closer to the economy cabin, and there might be some noise coming from that direction.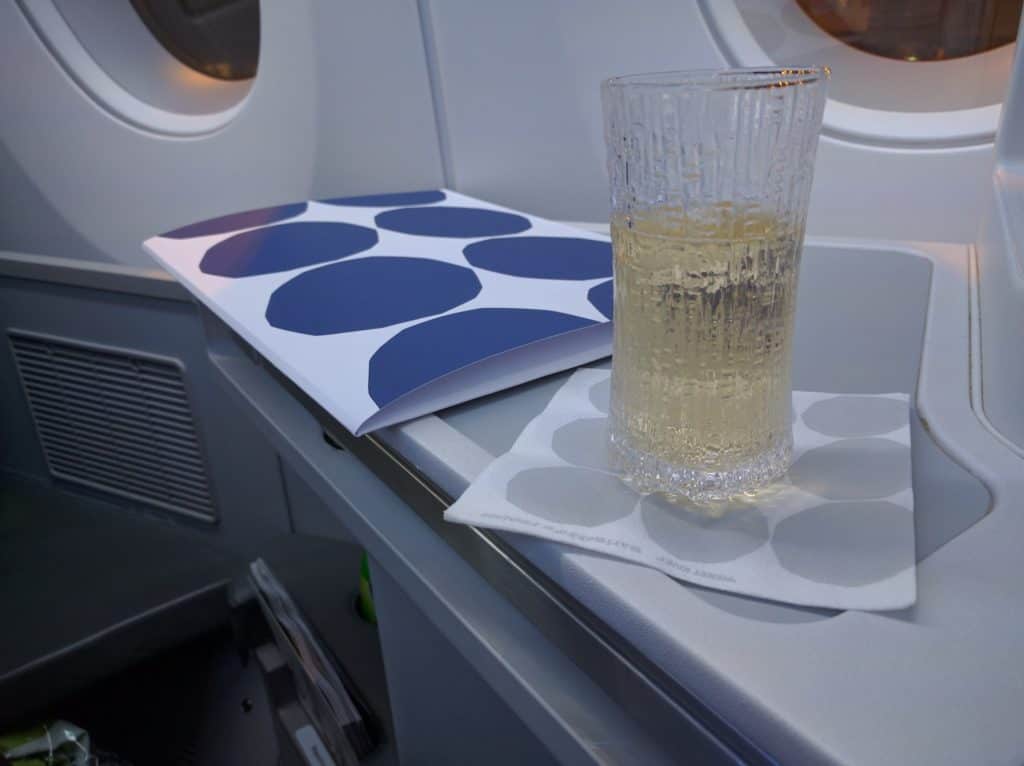 The Zodiac Cirrus seats in Finnair business class are arranged in a 1-2-1 "reverse herringbone" configuration (similar layout can be found from American Airlines B777-300ER and Qatar Airways A380), so all the outward facing window seats have easy aisle access and offer relatively good privacy –recommended if you travel alone. In my opinion, you should book the middle seats only when traveling with someone, although the dividers between the seats offer some amount of privacy. Like all other Finnair long-distance flights, business class seats convert into fully flat beds.
On my seat, I noticed all the amenities were nicely placed and waiting for my arrival. The Marimekko amenity pouch contained the usual necessities: Clarins skincare products, earplugs, toothbrush and toothpaste, and an eye mask. In addition to the Marimekko amenity pouch, Marimekko-branded slippers and a blanket were available.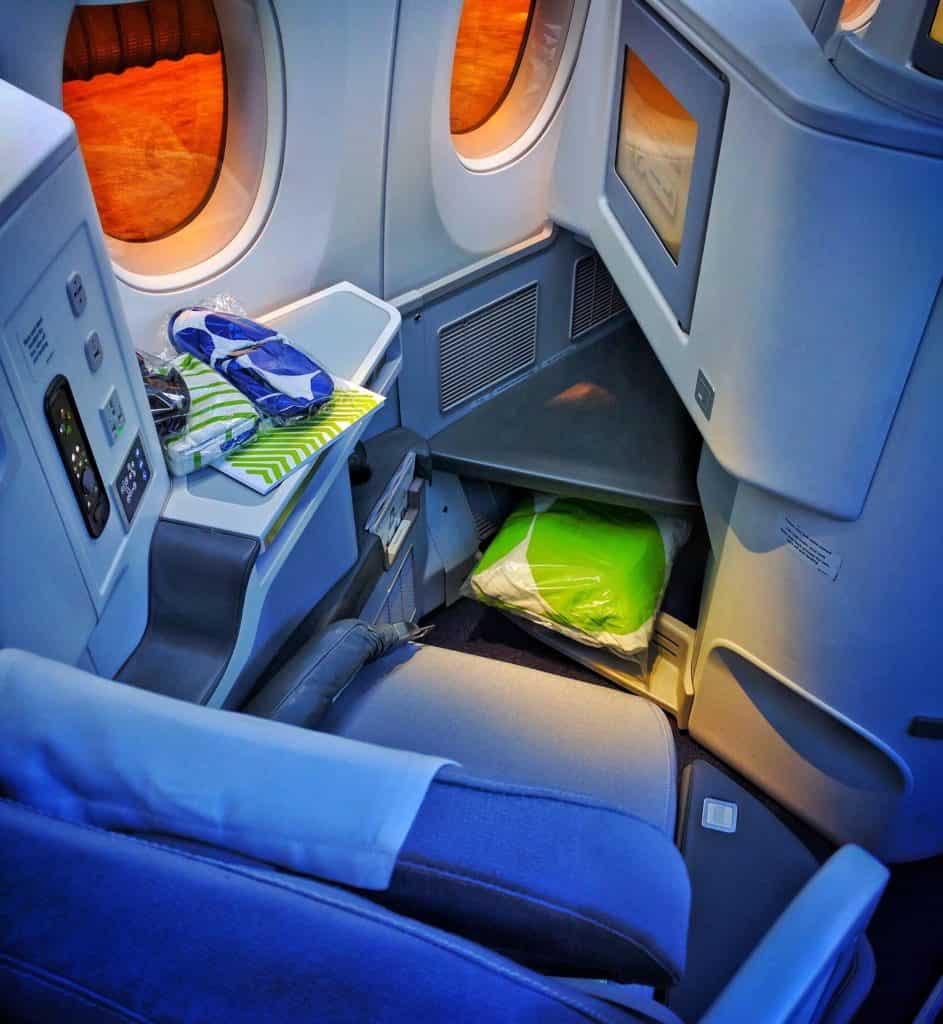 When I sat on my seat, I found it rather comfortable. There was enough room for a tall person (I'm 189 cm or 6'2") – but the foot section of the seat was rather narrow, which is typical for this seat type. While it was possible to lay there comfortably on the sleep mode, there was not that much extra room to wiggle my feet. The Finnair A330-300 "throne seat," for example, has much more foot space.
Satisfied with the seat, I soon received a welcome beverage from the Finnair flight attendants. As usual, I opted for Nicolas Feuillatte Brut Champagne (the only champagne option Finnair has) – which was served in elegant Iittala Ultima Thule glasses. As seen from the photo above, different charging options and a seat control panel were available on the right side of the seat. There was one USB port, a plug socket, seat controls, and the remote control for the in-flight entertainment system.
The storage options were really limited on this Finnair A350 business class seat. There was only one small compartment available, which was not even big enough for my iPad.
Usually, I don't sleep well on planes, but this flight was a pleasant exception. I don't know if the reason was the comfortable seat, the lower air pressure of A350, or the quietness of the cabin, but I managed to sleep almost 6 hours, which is my personal record.
In-flight Entertainment
The core of Finnair's in-flight entertainment system on the A350 is a big 16″ touchscreen TV paired with a pair of excellent Bose QuietComfort headphones. The Bose headphones are not only comfortable, but their noise-canceling feature is outstanding, filtering out most unwanted sounds. These headphones are a huge improvement to the Phitek ones, found on other Finnair planes (like A330-300). The quality of the TV screen is also excellent, so it was a pleasure to watch latest movies on that.
Speaking of the movie selection, I found it larger than on Finnair A330-300 but not as good as on my recent flight on Iberia A330 (read the full review). Extra credit goes to detailed flight information shown on the screen (see photo below). I found the info shown really useful and would definitely like to see more airlines utilizing the same kind of design on their information screens.
There was also in-flight Internet available, and as a business class passenger, I was given a code for free Internet access. I spent most of the flight sleeping, so I didn't have much use for the WiFi.
Food, Drinks, and Service
Finnair promoted the menu with this slogan: "Enjoy a carefully selected menu inspired by fresh Nordic flavor." Indeed, on the first glimpse, the menu looked pretty good. I was especially interested about the menu because it was designed by a Finnish chef Jaakko Sorsa, owner of a Scandinavian restaurant FINDS in Hong Kong.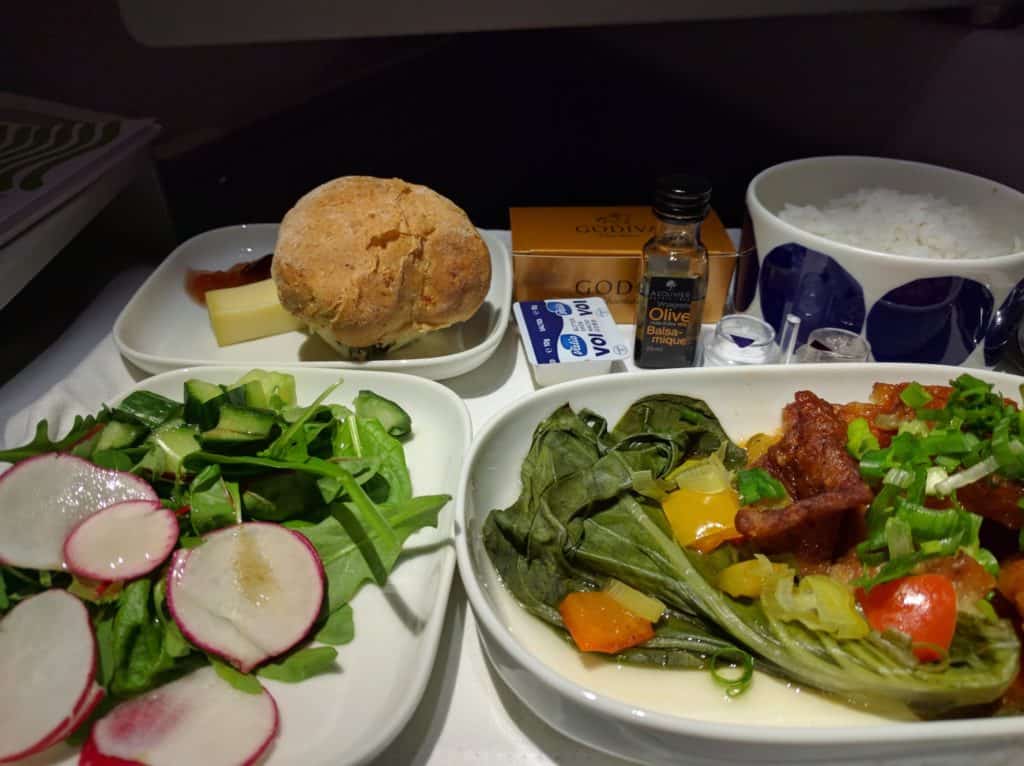 After careful thinking, I chose sweet and sour pork as my main course, which was served alongside some bok choy and a portion of rice. I would call this meal an average business class dinner; it tasted ok but was nothing special. A couple more glasses of Nicolas Feuillatte Champagne were needed to wash away the average taste of the food.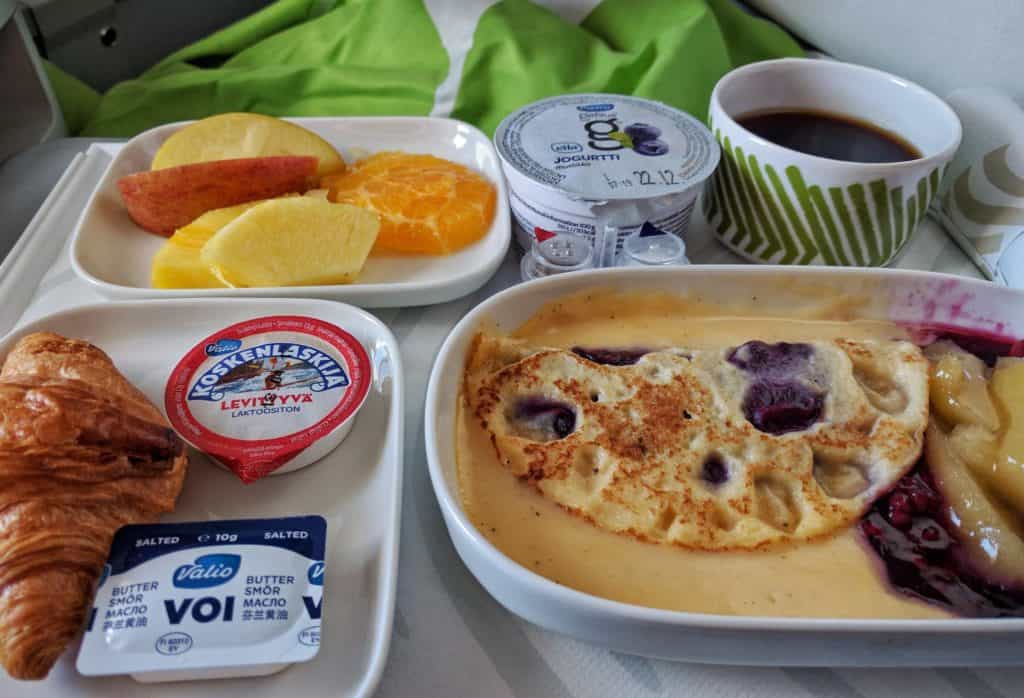 Before landing in Hong Kong, we were served breakfast, which was either an American version or a sweet one. I chose the sweet option: blueberry crepes and vanilla sauce. It looked really delicious and actually tasted even better. The breakfast came with assorted fruits, yogurt, and a croissant. There were also options to let staff know that you didn't wish to be woken up or to choose a light version of the breakfast to be served about 60 minutes before landing.
Conclusion
Airbus 350 is an awesome plane; low air pressure and quiet cabin makes the travel more comfortable
Relatively good seat, but a bit narrow foot space
Excellent Bose QuietComfort headphones and the free in-flight Internet for business class travelers
Limited storage options
Mediocre food and service; in line with my other Finnair experiences
---
How does Finnair A350 compare against other Finnair planes? Check out our other Finnair business class reviews: