Does Waldorf Astoria Bangkok, a flagship brand of Hilton's, beat the other luxury hotel options in a massively competitive Bangkok market?
Booking
This time I made the booking through American Express Fine Hotels and Resorts, which offers additional benefits compared to direct booking. You can find all of them listed below, but the most significant advantages are 4 pm guaranteed late check-out, free breakfast for two and a unique amenity – which in the case of Waldorf Astoria Bangkok was 100 USD "property credit" voucher.
If you book your room through American Express (requires Platinum or Centurion Amex) the following benefits are being offered for 2019:
Daily breakfast for two
Room upgrade at check-in, when available
Noon check-in, when available
4:00 p.m. check-out guaranteed
Complimentary Wi-Fi
Unique Amenity – A complimentary dinner, for two people per room, excluding alcoholic beverages, taxes, and gratuities, once during your stay
If you don't want to use Amex FHR program, another option is to use Hilton Impresario program.
What is Hilton Impresario Program?
Impresario is Hilton's preferred Partner Program for their premium bands – Conrad, LXR, and Waldorf Astoria. The program allows you to receive extra perks – but the booking must be done through specific travel agents. The Hilton Impresario perks are as follows (August 2022):
– Daily complimentary full breakfast for up to two people per room
– A complimentary room upgrade, subject to availability at check-in
– A $100 property credit once per stay
– Early check-in and late check-out, subject to availability
– Double Hilton Honors points
Interested in Impresario bookings? I can recommend two travel agencies: Propeller Travel and TravelZork. I have used both in the past to make Impresario bookings.
Location
Waldorf Astoria resides inside Magnolias Ratchadamri Boulevard building which has a total of 60 floors. The floors 6-15 contain 171 luxurious hotel rooms, and the rest are filled with residential units.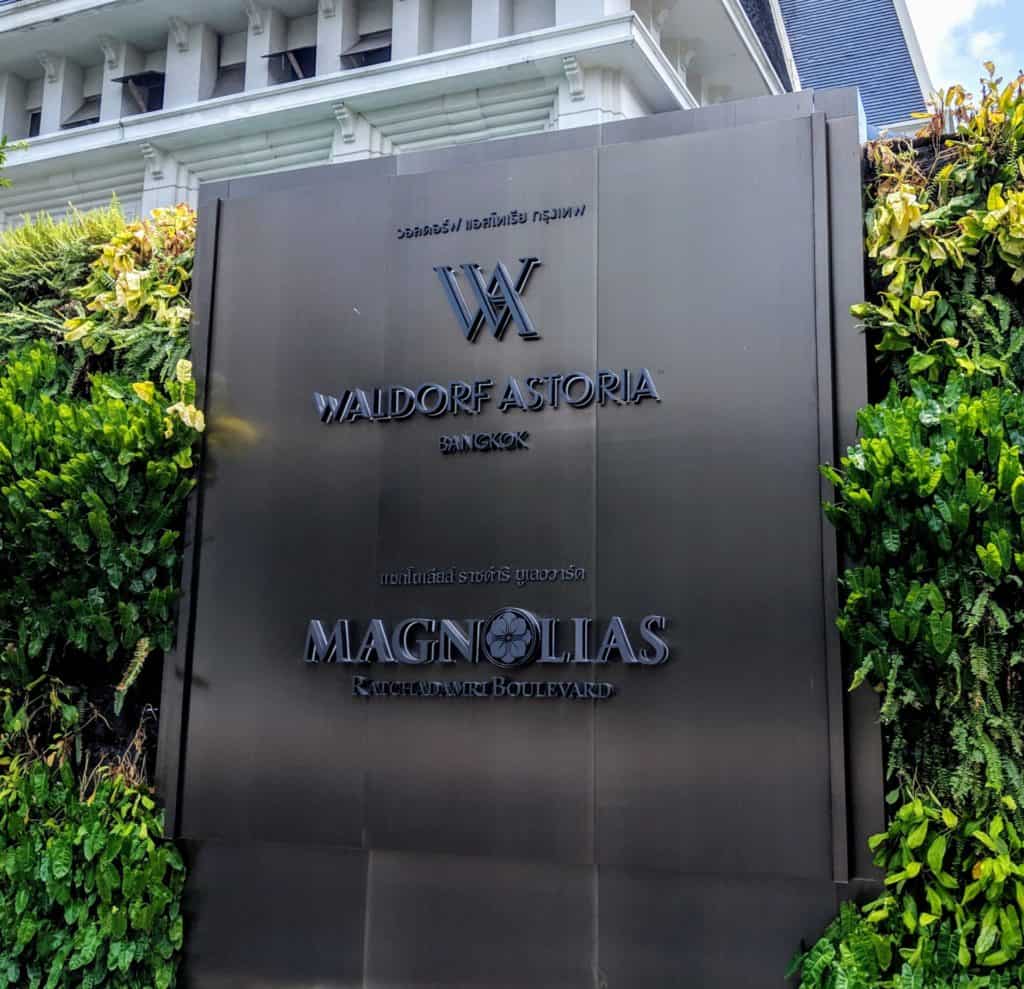 The hotel is centrally located, just a few steps away from Erawan Square and the big shopping centers. It's also a bustling area, so if you are traveling by car, remember to reserve enough time for transportation. If you fancy public transportation, the closest BTS stations are Chitlom and Ratchadamri.
Other 5-star hotel options (which we have visited and reviewed) in the same area are InterContinental Bangkok or St. Regis Bangkok.
Check-in
I arrived at the hotel around 2 PM, and I was directed to the lower lobby for check-in. The front desk personnel was very welcoming, and I was given a towel and a welcome drink while my reservation was processed. My Hilton Diamond status didn't get me many benefits here, only a small room upgrade (a bit better view). Usually, a free breakfast would have been quite a nice benefit, but it was already included in my American Express FHR booking.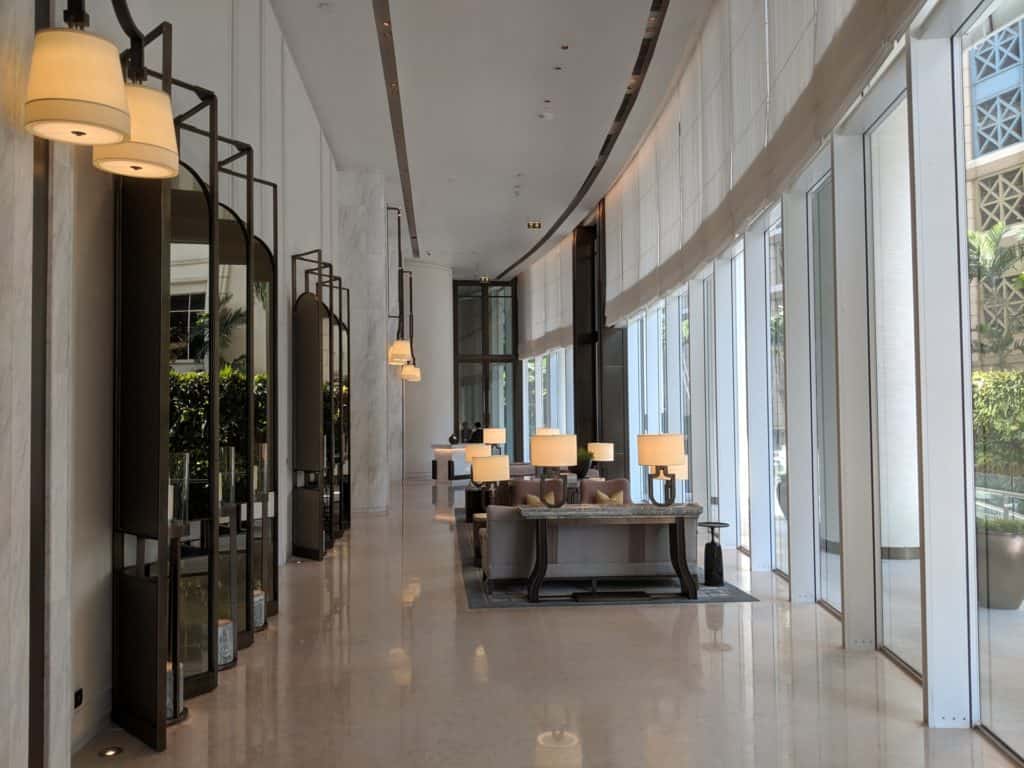 After just a few minutes, the check-in was complete, and I was guided to my King Deluxe Park View Room room.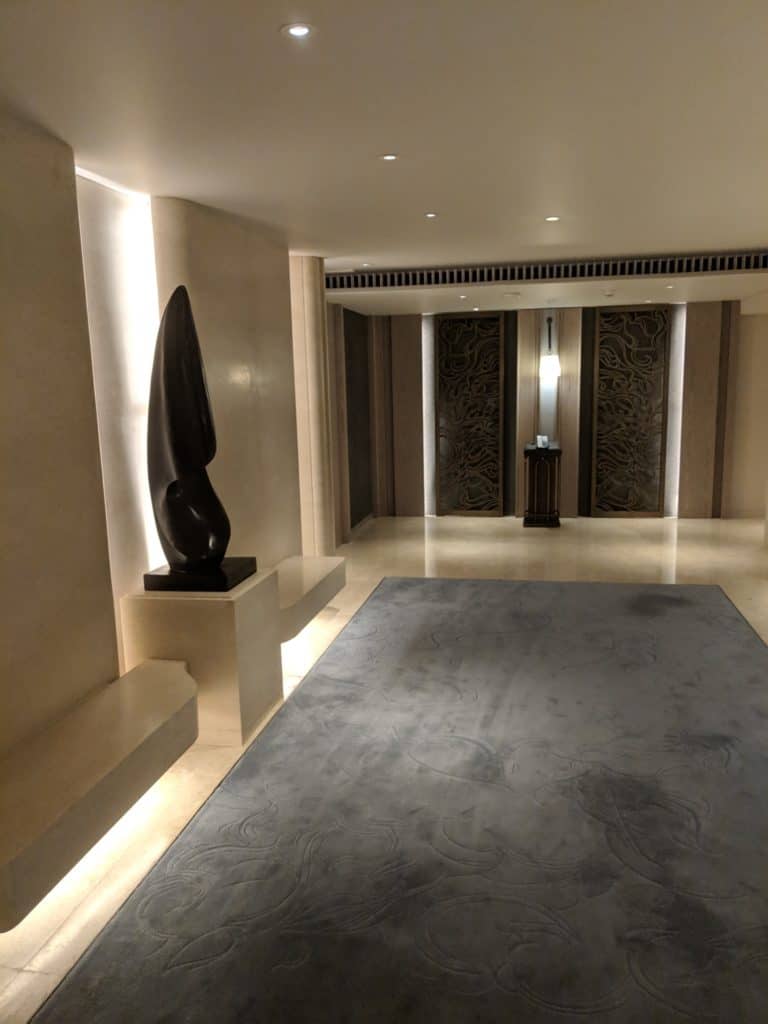 The Room
The first thing I noticed after entering the room was a bit weird smell. It wasn't too strong, but definitely not a pleasant one. It faded away during my visit, and didn't really affect my stay or sleep – but something to keep in mind if you are thinking of visiting here.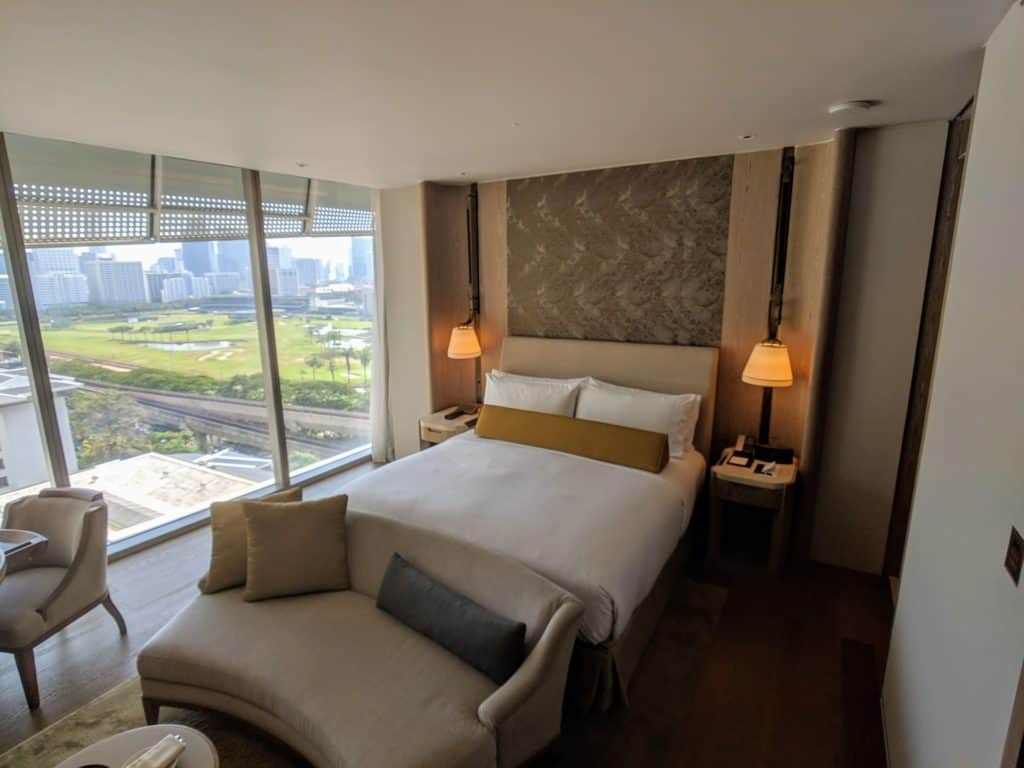 The control hub of the room is a touchscreen tablet, which you can use to adjust temperature, lighting, and curtains. Charging options were close to perfect, even for multiple devices at the same time. There were conveniently located USB ports and an electric plug on both sides of the bed.
If you wish to watch your own media on the big screen, there was an HDMI input available. The TV also had a separate soundbar, which is an excellent addition if you are going to watch movies or listen to some music during the stay. There was also a second TV in the bathroom, so it's possible to combine bath and entertainment if you feel like it.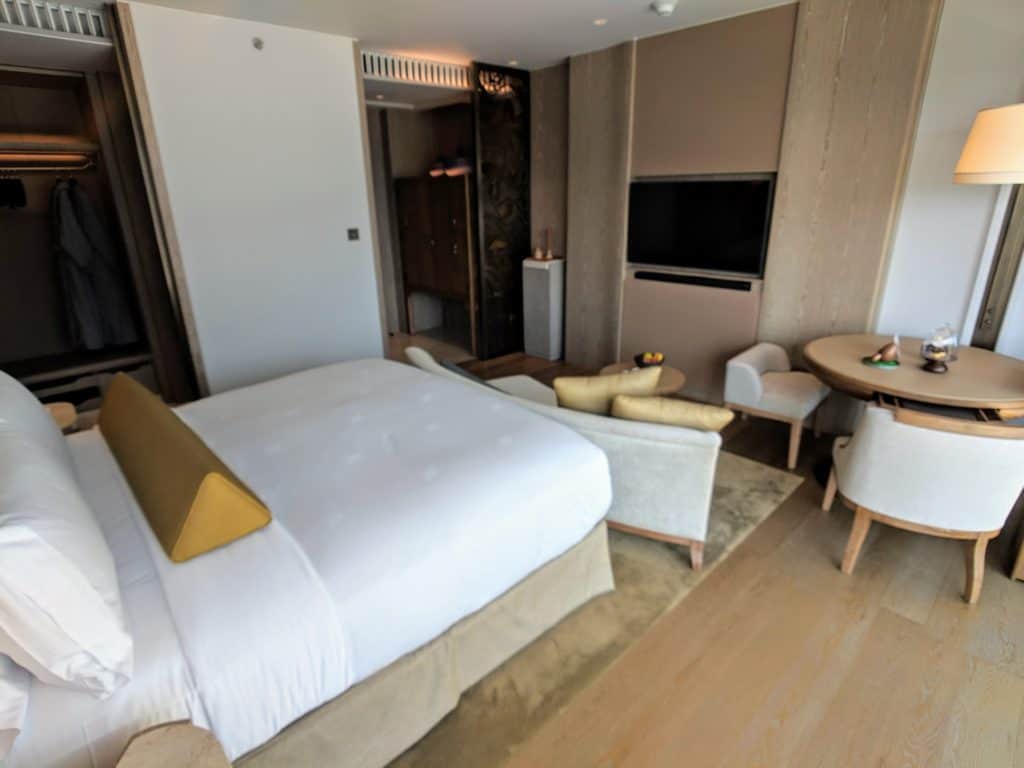 The king-sized bed was extremely comfortable, perfect for my liking. Light sleepers (like myself) might also appreciate the quietness of the room. There were absolutely no traffic sounds or disturbance from the other rooms.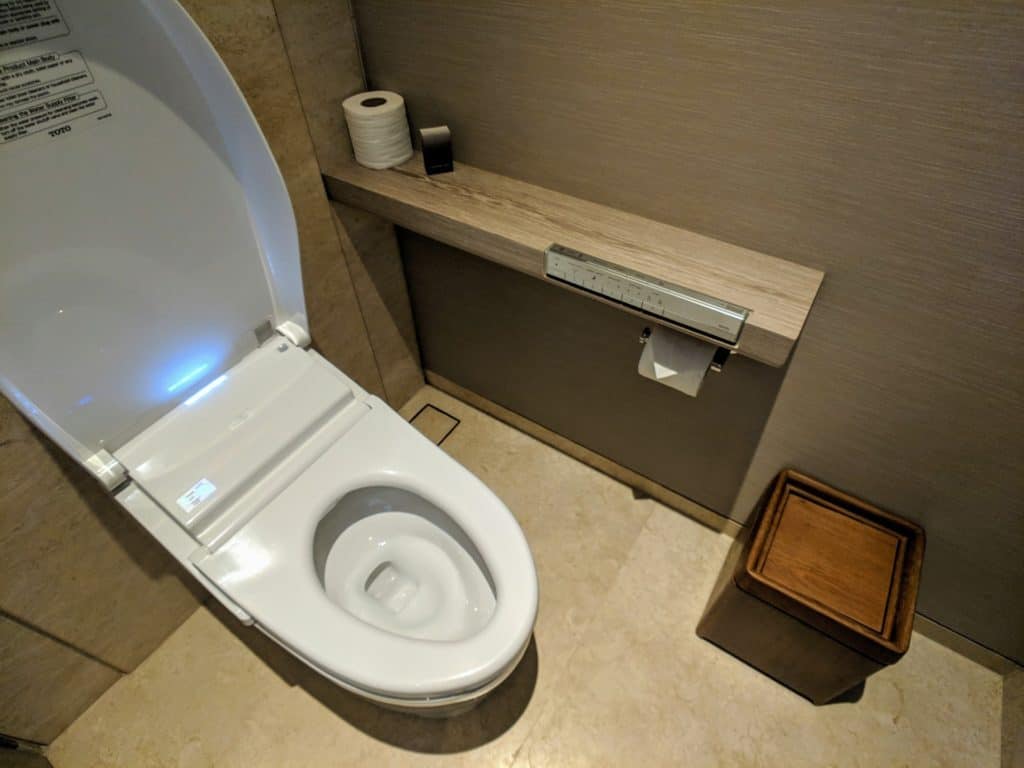 The separate toilet was equipped with a Japanese toilet seat, which some might find a bit odd. But personally, I'm a huge fan of such toilet seats. So a big plus for Waldorf Astoria. Another special bonus goes to the bathrobe, it was really comfortable – would definitely be nice to have similar at home.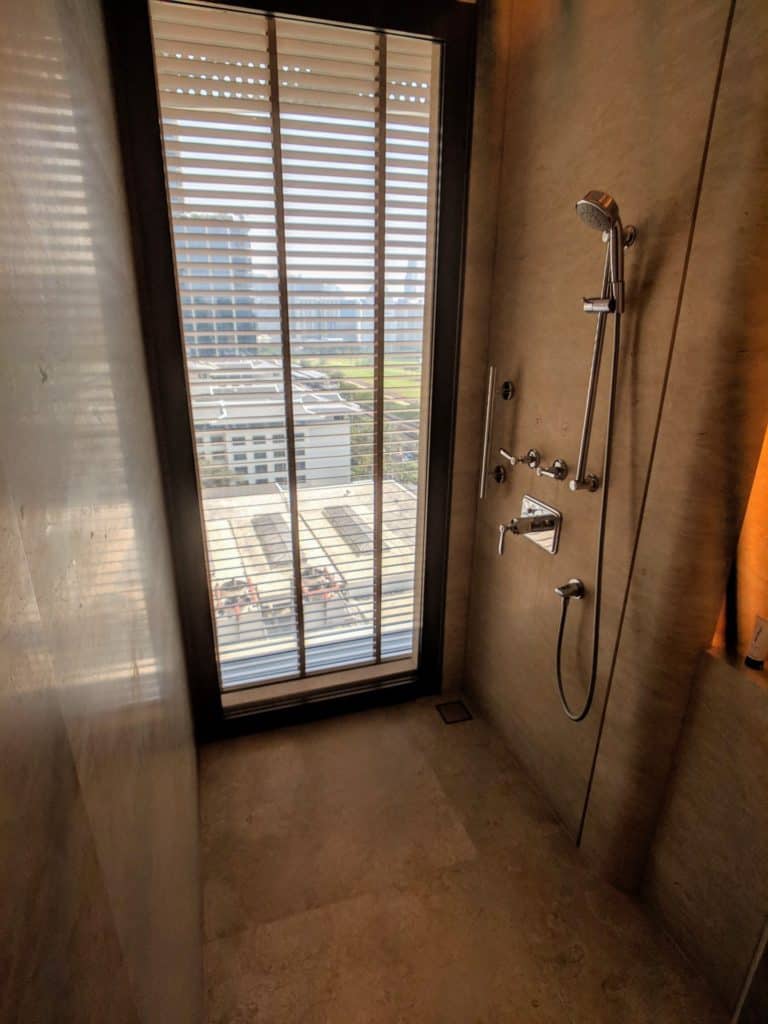 Dining options
As in many other Waldorf Astoria properties, there is no executive lounge at Waldorf Astoria Bangkok. But there are still plenty of restaurants and bars for culinary adventures. And if in-house restaurants are not for your liking, there are hundreds of other restaurants nearby – many of them even within walking distance.
The breakfast, which is complimentary for Hilton Diamond members and American Express FHR bookings, was served at The Brasserie restaurant, located next to the upper lobby on the 14th floor.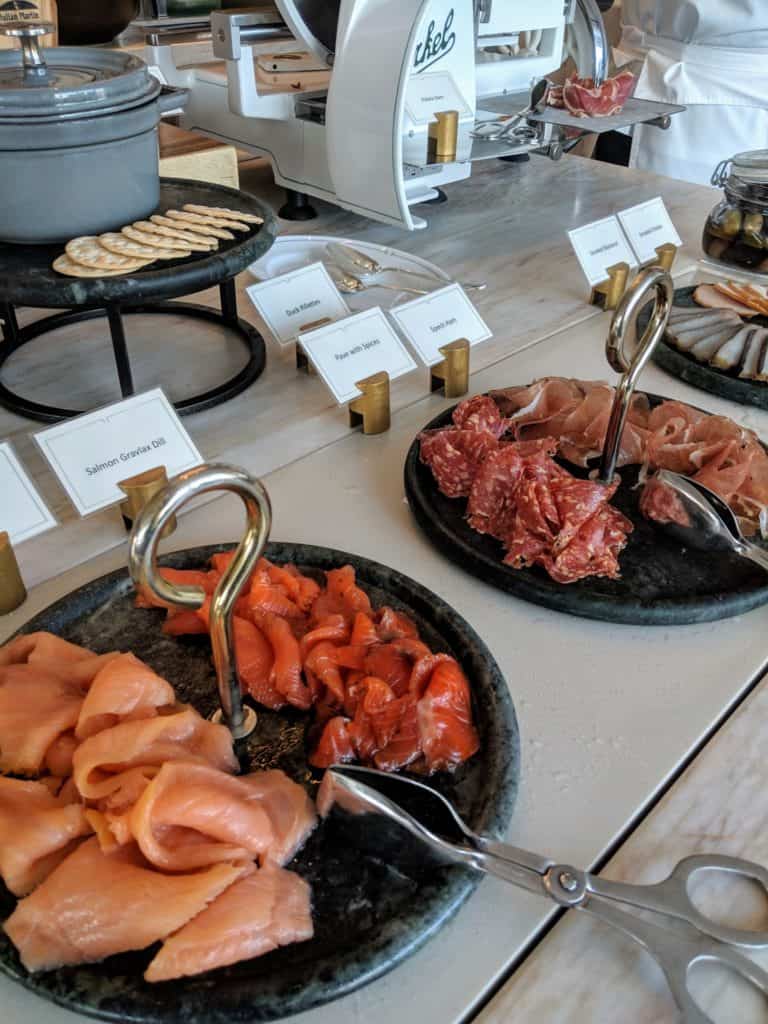 The breakfast was absolutely fantastic, with plentiful buffet items and a short made-to-order menu. The selection of different food items wasn't as big as for example, the one in Conrad Bangkok, but the quality of the food was excellent.
The highlight of the breakfast (from my point of view) was the honey glazed ham from the carving station. It was extremely delicious, probably the best I have ever tasted. Also, their salmon was fresh and very good.
Since American Express Fine Hotels and Resorts booking included 100 USD "property credit," I decided to use it at Bear and Bull, the restaurant on the 55th floor.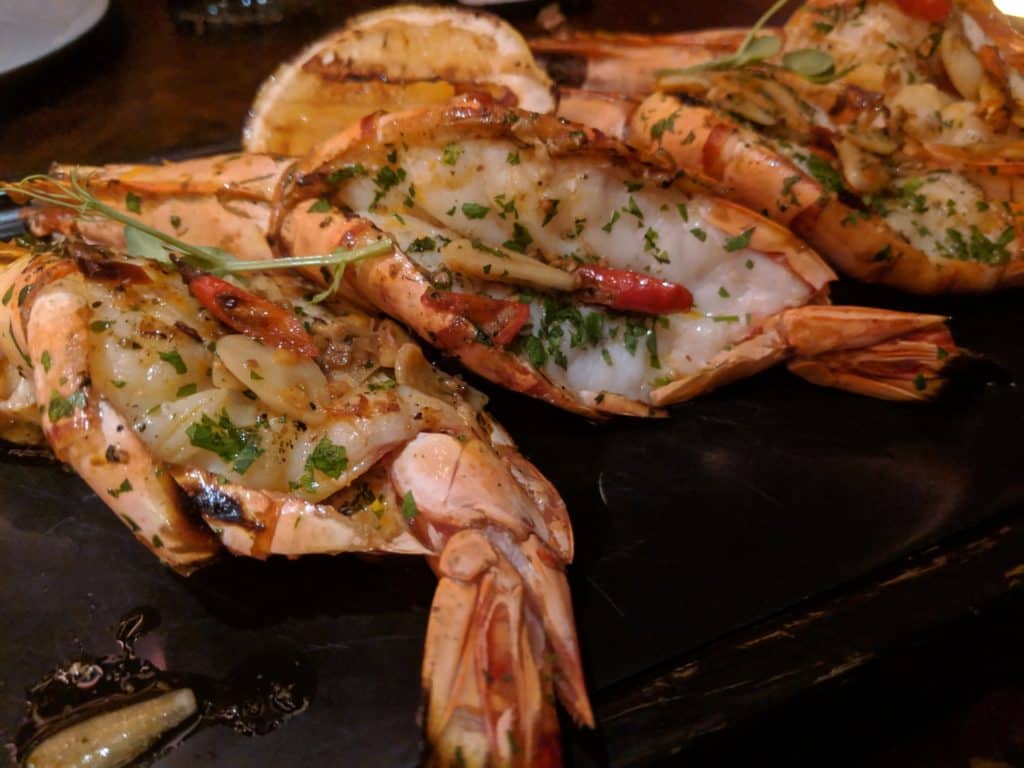 I had a crab cake for a starter, which tasted really good. The main, Char Grilled Tiger Prawn, was just ok – but at least the views were spectacular. And the Old Fashioned was pretty decent too.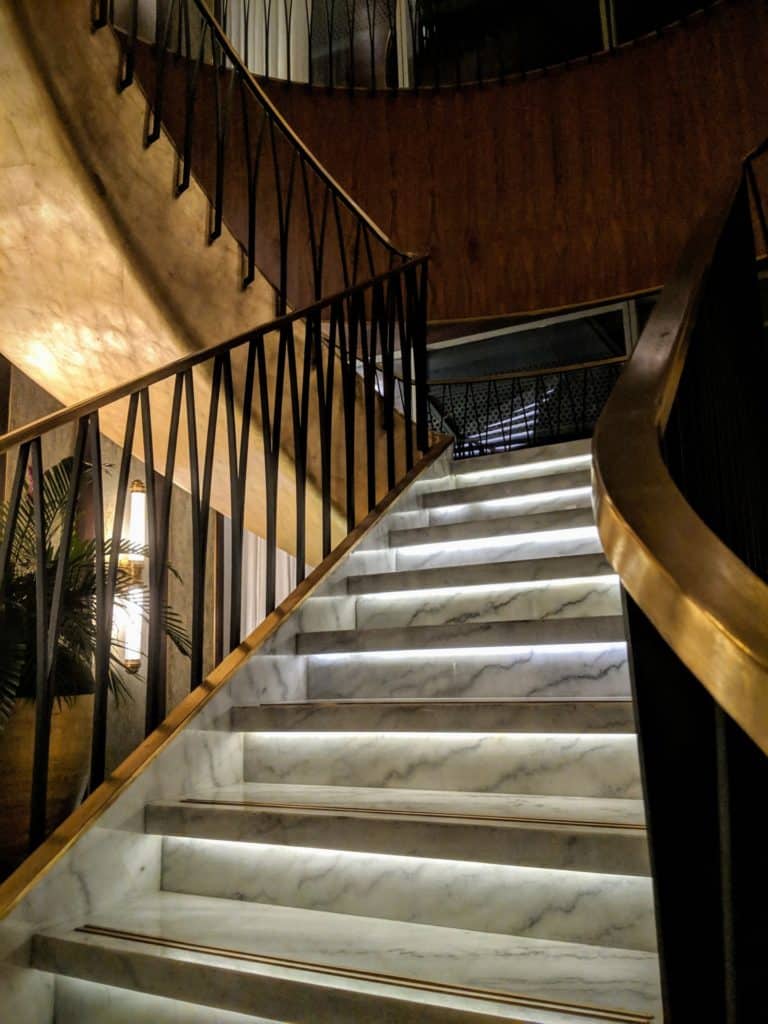 Last but definitely not the least, on the top of the building you can find Champagne Bar. It's a perfect place to watch the sunset and enjoy a glass or two of bubbly beverages.
Pool and Gym
The pool and gym are both located on the 17th floor. The fitness studio is accessible 24 hours a day, but unfortunately, it's relatively small. I visited the gym a few times during my stay, and on both occasions, it was almost empty.
The gym equipment is (quite obviously) new, and in excellent shape, so you need to find other excuses for not going to the gym.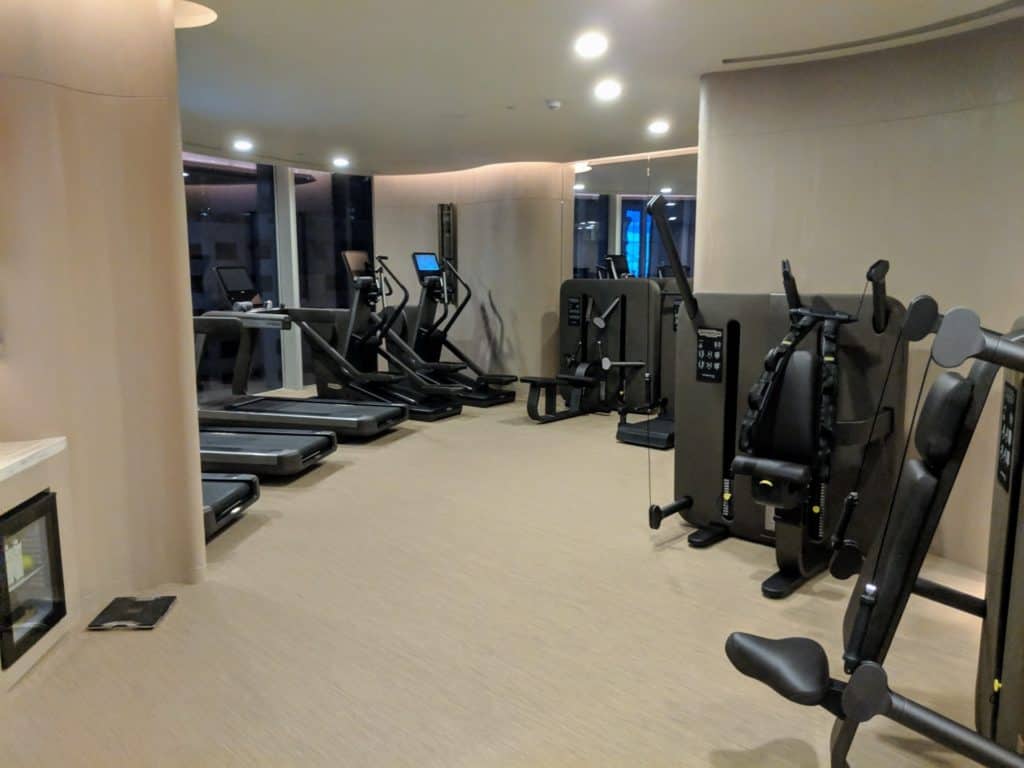 The pool area is also very nice. There are not that many pool loungers, but at least during my visit, there was always free chairs available (as you can see from the photos below). Once you sit down, the pool attendant will bring you a glass of cold water and a fruit skewer. It's also possible to order food and drinks from the poolside menu.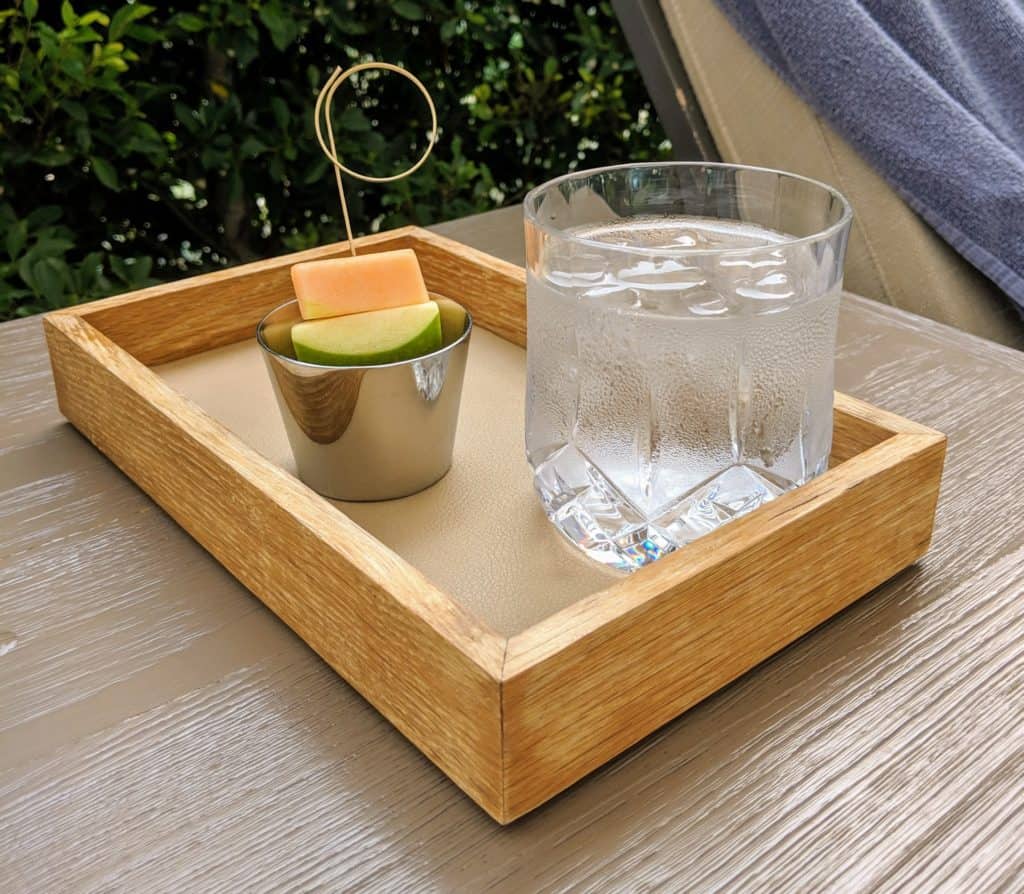 Waldorf Astoria Bangkok pool is not the best place for improving your tan – as it's mostly in shadow. On the other hand, it makes the pool a perfect place for chilling as it rarely gets too hot (high floor also means windy weather).
Conclusion
New, modern hotel in the center of Bangkok
Top-notch service
Nice pool for lounging, not so much for sunbathing
Great breakfast, plenty of dining options
Although Waldorf Astoria Bangkok is a fantastic hotel, it's also quite expensive (compared to similar hotels in Bangkok). And there are a LOT of excellent hotels in Bangkok, even in the same district. For example:
So if the value for money is the primary thing for you, remember to compare other luxury hotels before booking the room.
---
Check also our other hotel reviews: