If you want to fly directly from North America to Scandinavia, Finnair offers one option with a direct flight from Chicago, IL to Helsinki, Finland.
The flight between the O'Hare International Airport (ORD) and the Helsinki Airport (HEL) last approximately 11 hours. Finnair operates the route with an Airbus A330-300 plane, which has 178 economy seats, 40 Economy Comfort seats, and 45 lie-flat business class seats.
Chicago Airport and Lounge Options
On my way from San Antonio, Texas to Helsinki, I had to transfer between the terminals at the O'Hare International Airport (ORD) in Chicago — which was easier said than done. Finnair takes off from Terminal 5, and I needed to get there from Terminal 3. Since there is no airside connection between these terminals (except for passengers traveling on British Airways), I had to exit Terminal 3 and pass through the check-in and the security procedure again to enter Terminal 5. Transfer between the terminals at O'Hare can take a long time, so make sure you have enough time for changing flights if you are traveling through this airport.
Getting through the check-in and the security wasn't the only inconvenience I faced there. Essential information regarding terminals, check-in desks and train options was not presented clearly and was confusing at times. Also, Finnair opens its check-in desks only a couple hours before the flight departure — so you have to wait in the departure area (which is not very comfortable) if your flight is scheduled for later.
If you need more time, the 24-hour internet access is available for around $7 – however, that doesn't fix the terrible connection speed.
Once you pass the security check, as a Finnair business class traveler, you have access to the KLM Lounge. The lounge was very crowded during my visit, but the seats are actually very comfortable if you manage to get one. If you are hungry, there are different kinds of tasty sandwiches available. Aside from sandwiches, candies, and cookies, there is little else. The KLM Lounge has free Wi-Fi, but it doesn't work much better than the regular Wi-Fi at O'Hare. Even simple tasks, like loading emails, were difficult due to the slow Internet.
Also, the KLM Lounge doesn't have a separate bathroom so you will need to make use of the standard facilities in the terminal building. While I was there, visiting the bathroom was not a pleasant experience: they were dirty, and many taps didn't work at all.
In my opinion, the Chicago O'Hare Airport is one of the worst US airports I have been to, and I will try to avoid it as much as possible in the future. It is also notorious when it comes to flight delays, especially during the winter.
How you can shorten waiting time?
If you don't carry much luggage, you can shorten your waiting time with an excursion to Chicago. Downtown is around 33 kilometers (20 miles) away, and you can reach it by the efficient public transport. The CTA (Chicago Transit Authority) Blue Train can get you to the Loop (where most tourist attractions are) in 45 minutes for $5 (single journey).
If you prefer to remain at the airport, however, you can spend some time shopping. You will find many stores offering popular brands at O'Hare, including Barbara's Bookstore, Harley Davidson, Emporio Armani, Michael Kors, Sunglass Hut and Erwin Pearl. If you get hungry or need refreshment, there are some eateries and bars available. Check out Starbucks, McDonald's, Chicago Style Hot Dog, Grunts Burgers or Manchu Wok.
Finnair A330-300 Business Class Details
Route
Chicago (ORD) – Helsinki (HEL)
Date
April 2017
Plane
Airbus A330-300
Cabin
Business Class
Seat
8A
Configuration
1/2-2-1
Bed length
about 195 cm (77 inches)
Seat width
53 cm (21 inches)
Capacity
45 passengers
Personal TV
12,1 inches
In-seat power
YES
USB port
YES
Touch screen remote
NO
Boarding
The boarding procedure went relatively well, although there were some minor computer-related problems at the beginning. Business passengers had priority boarding, and onboard the plane Finnair's flight attendants escorted me to my seat, 8A. While I got comfortable in my seat, the staff offered me some pre-flight refreshment. I chose champagne, served in an elegant Iittala Ultima Thule glass.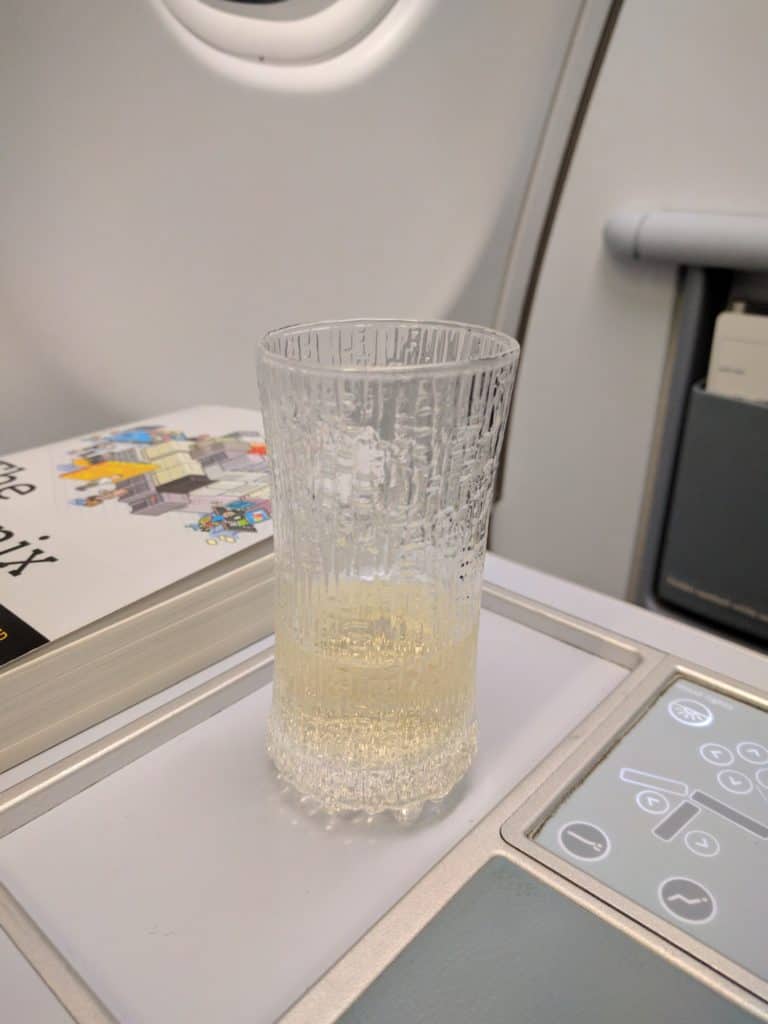 Right away, I noticed the absence of headphones and amenity kits. I suppose that they were held back since there was a lack of business class passengers. However, the flight personnel delivered them somewhat later.
Once provided, I found out that the amenity kit (by the Finnish company Marimekko) included the usual stuff: a toothbrush, earplugs and an eye mask. A lip balm and a hydrating cream by Clarins were also in the pouch.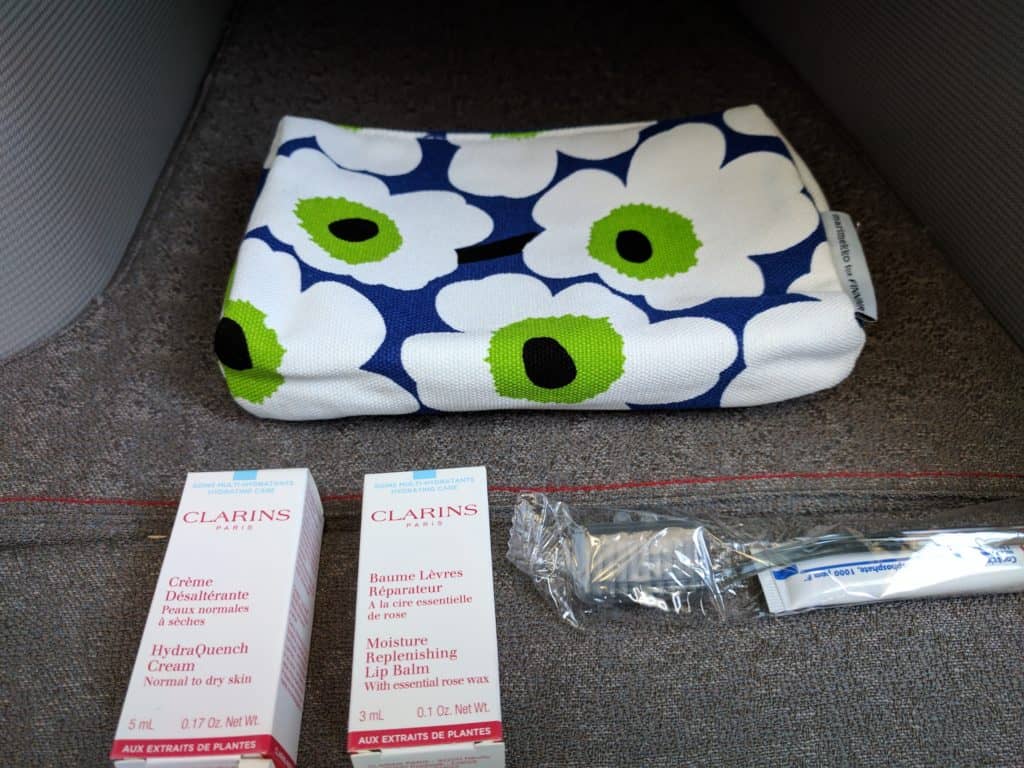 The Cabin
The Finnair A330-300 business class cabin is divided into 2 parts: the front section has 7 rows of seats while the back part — the so-called "mini-cabin" — has 3 rows. The seat configuration on this plane is quite unusual (1-2-1 / 2-2-1), which means that you need to be careful when choosing your seat.
I had managed to book a seat in the mini-cabin and had plenty of privacy there since I shared the cabin with only one passenger.
On Finnair A330-300, the best seats that combine both features in the business class are single "throne" seats: 2A, 4A, 6A, and 8A.
2L, 4L, 6L, and 9L are the next best options, located on the other side of the A330-300. Although these seats aren't as comfortable as "throne" seats, they are relatively isolated from the aisle.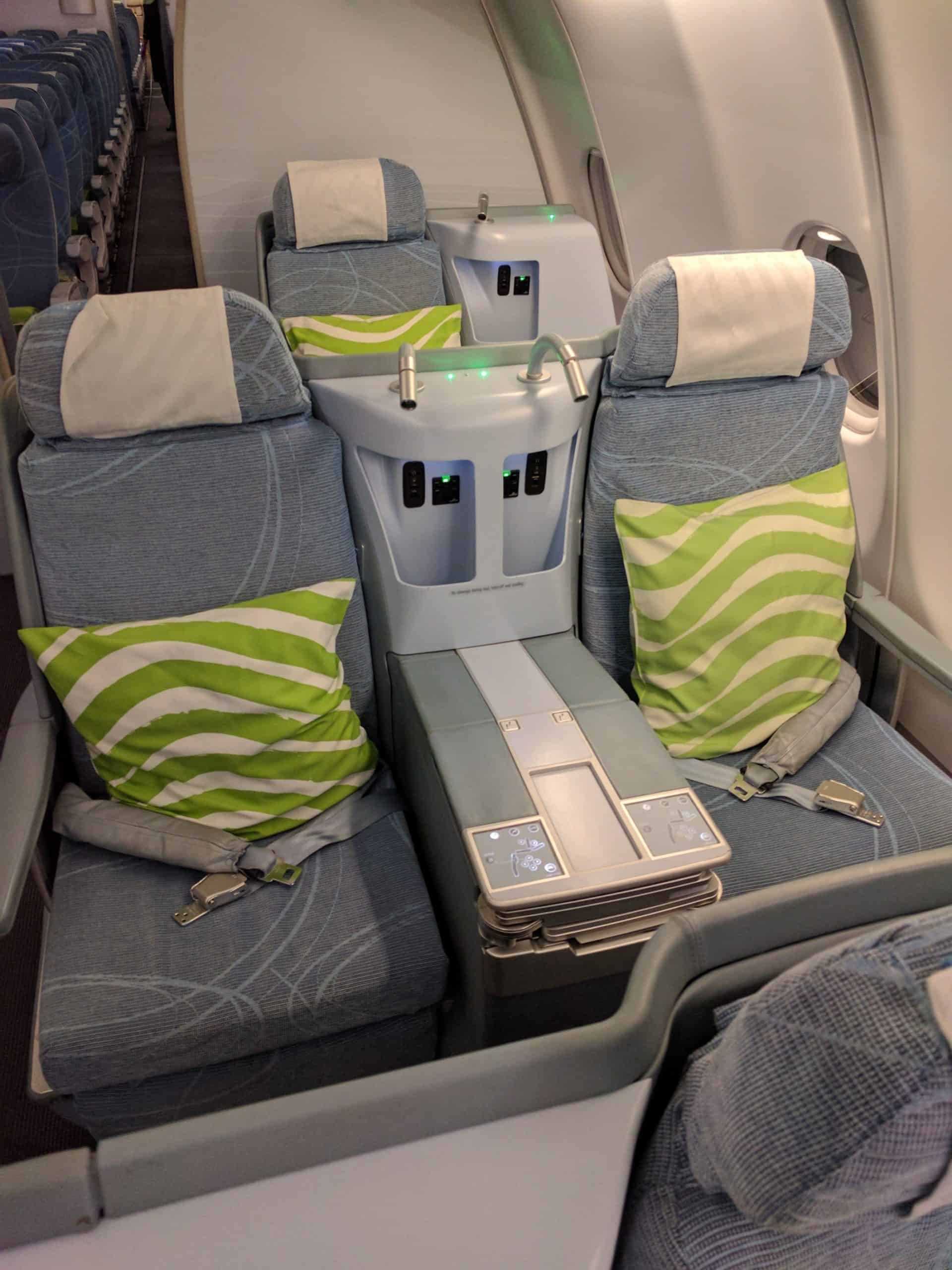 Though Finnair A330-300 business class seat isn't the newest model, I found it (surprisingly) comfortable. I'm 189 centimeters tall, and even in the full lie-flat sleeping position, there was plenty of room to move my legs around comfortably. That's not always the case; for example, Iberia A330-300 and Finnair A350-900 XWB business class seats have relatively narrow foot space. Thanks to the "throne" design, there was also a lot of space for my items and even a separate compartment for shoes.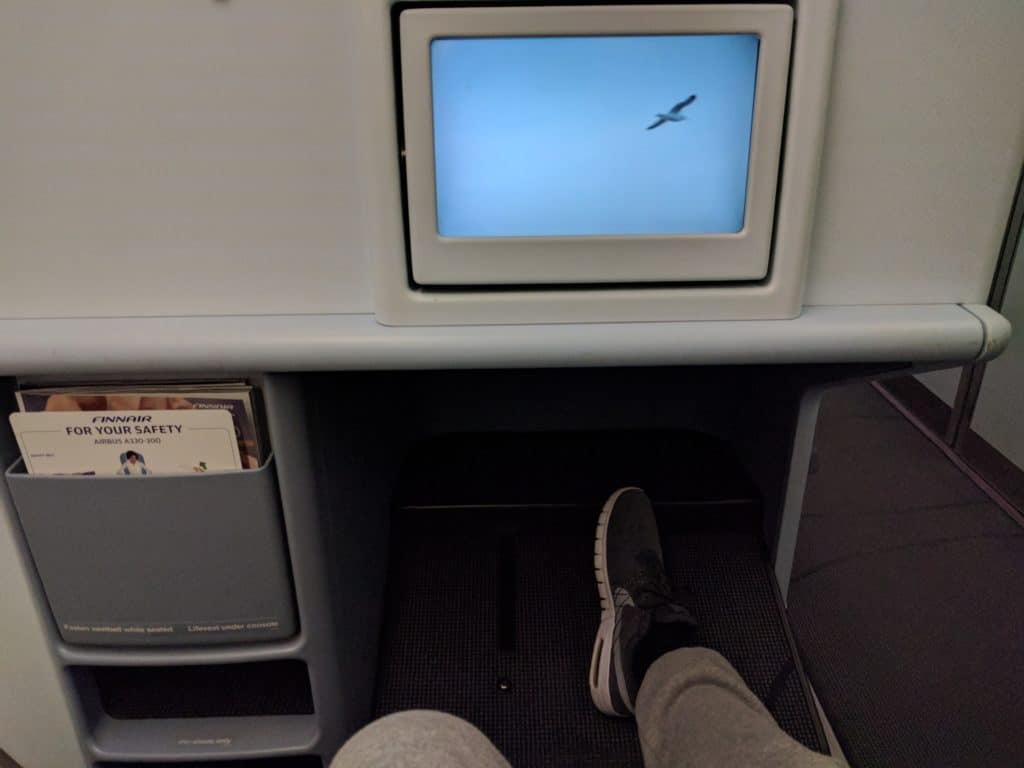 The mini-cabin is next to the galley and lavatory. Although it remained quiet most of the time, the attendants spoke loudly occasionally, which was quite inconvenient during this overnight flight. This time the cabin was also really warm, which made sleeping a bit difficult. I really didn't need the blanket the flight attendants offered me.
Food and Drinks
There were several types of beverages available during the flight. The only Champagne option was Nicolas Feuillatte Brut, which combines Chardonnay, Pinot Noir and Pinot Meunier grape varieties with 3-year aging. Chateau de Rochemorin is a white wine, completely made from Sauvignon blanc. Chateau de Come, a red wine, combines Merlot and Cabernet Sauvignon in equal measure. If you prefer something different, you can try Blue Sky, Finnair's signature drink. Among other alcoholic beverages, you can choose from Bin Marlborough Riesling, Finlandia Vodka, Camus XO Elegance Cognac and a few whiskeys.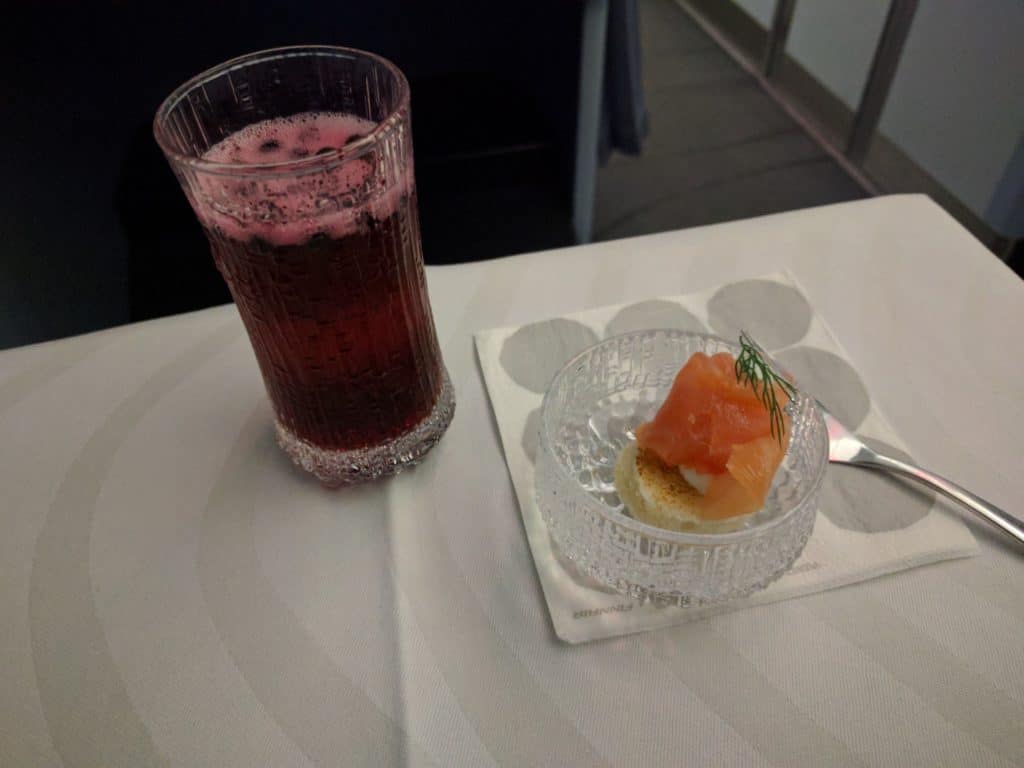 As an amuse-bouche, I got smoked salmon canapé, which turned out to work amazingly well with my Nicolas Feuillatte Champagne. My starter selection was grilled prawns with cabbage – again, very tasty. For my main dish, I chose grilled salmon with bok choy (a sort of Chinese cabbage), wasabi mousseline and miso sauce, which proved to be an excellent dinner combination. The dinner was finalized with my favorite ice cream, Häagen-Dazs.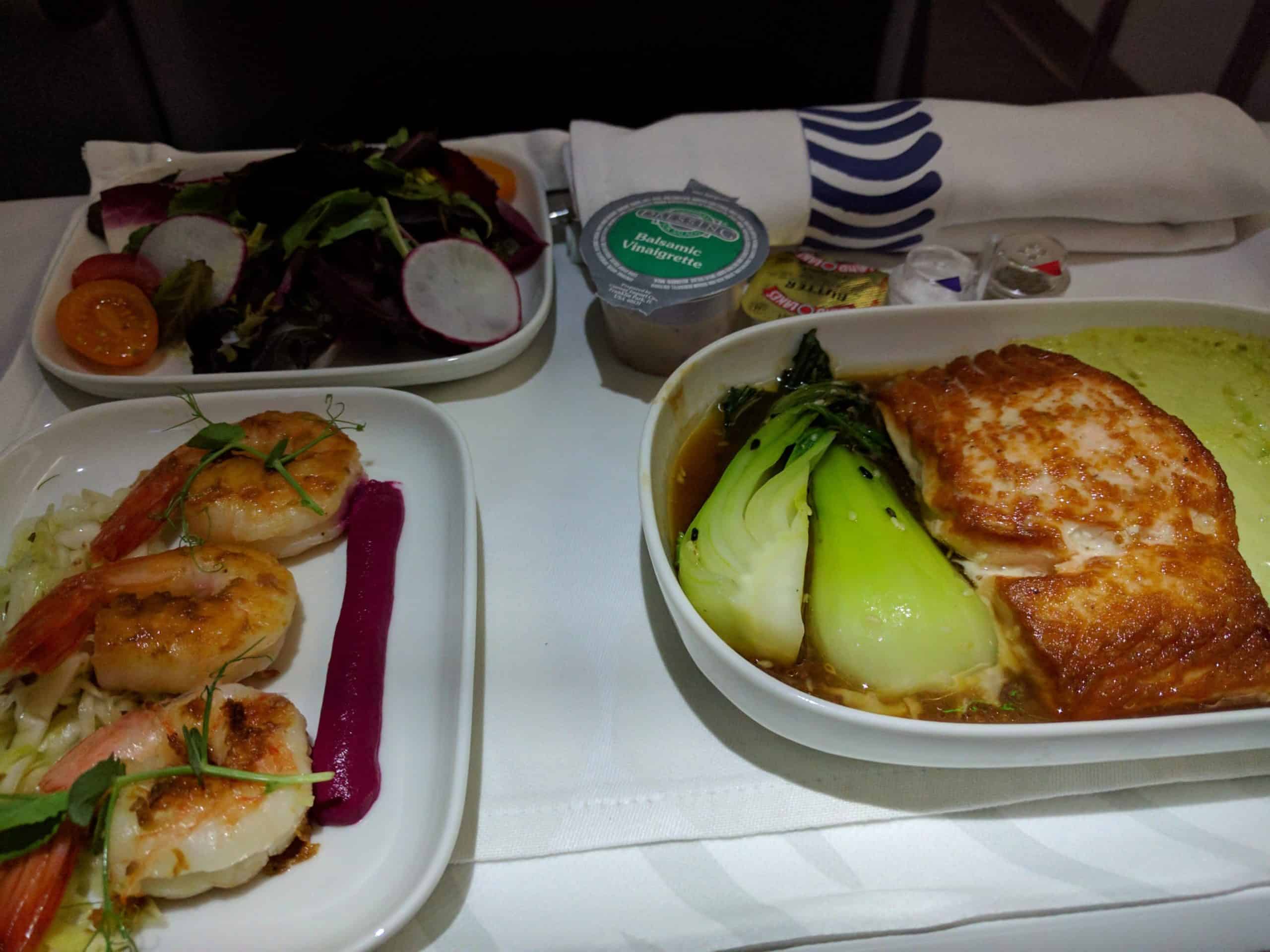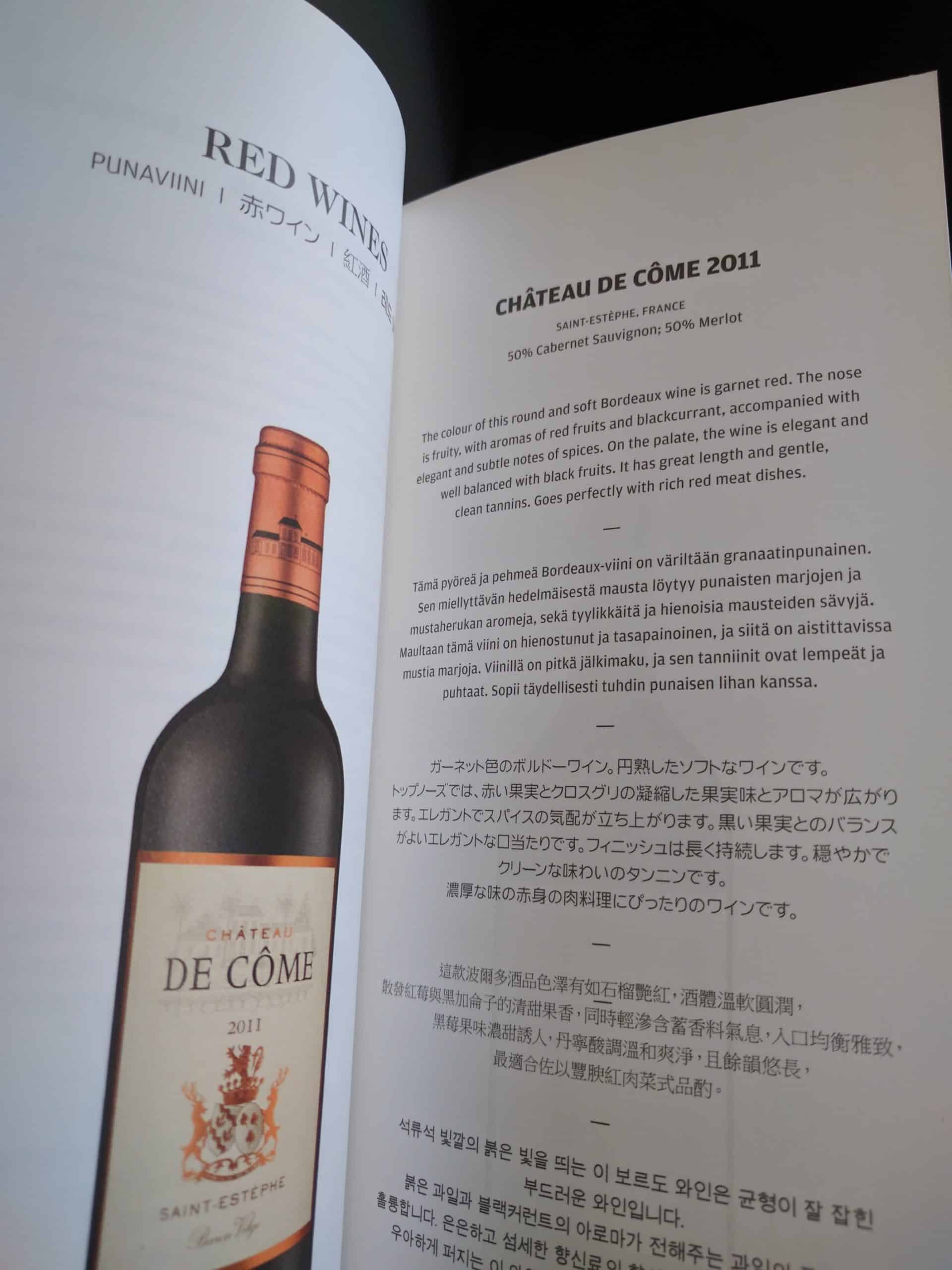 Media & Entertainment
We had an opportunity to have breakfast some 1.5 hours before landing in Helsinki. An omelet with tomato and mozzarella was pretty good, but it would have been even better without the mushrooms, which Finnair seems to love for some weird reason. Fresh fruits, yogurt, and a croissant completed the breakfast offering.
The in-flight entertainment TV screen was rather small compared to Finnair A350-900 XWB or Iberia A330-300. Also, there were fewer TV series available, and none of them were complete seasons. Due to this, I opted to use my iPad for entertainment during this flight.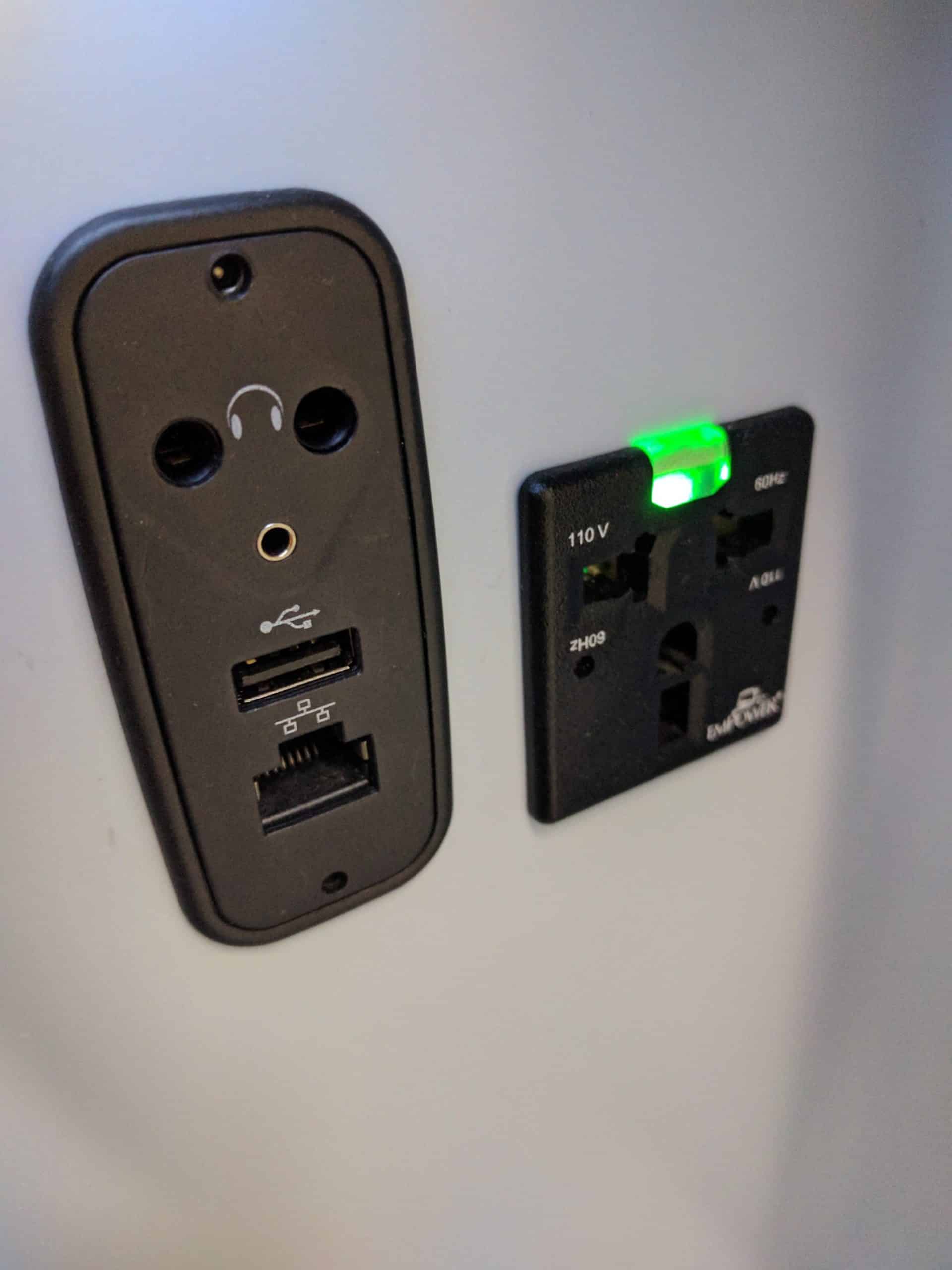 Finnair uses Phitek noise-canceling headphones on their A330-300 planes. Although they are definitely better than average headphones used on most planes, they were not particularly comfortable, and the noise-canceling features were sub-par. I had an opportunity to test Bose QuietComfort headphones on Finnair A350-900, and those were among the finest I have ever used.
For charging personal devices, there was a USB port and an easily accessible electric plug on the left side of the seat.
Service
I can't say that I have ever received better than mediocre service on Finnair's flights, including this one. It seems that such a level of service is their standard – although, during this particular flight, it was a bit better than usual. Perhaps the small number of passengers was the reason for that. I still think that the flight attendants could have been much more attentive (for example offering additional refreshments on a regular basis), which would have brought the service closer to the experience I recently had on Qatar Airways.
Bottom Line
8A is probably the best seat on Finnair A330-300 plane. There was a lot of storage capacity, and the seat had a lot of leg room
The cabin was decently quiet but warmer than necessary
Typical mediocre Finnish service: bare minimum, nothing more
In-flight entertainment was exactly the same: bare minimum
The food was excellent
Travel through Chicago O'Hare (ORD) airport only as the last resort
---
How does Finnair A330 compare against other Finnair planes? Check out our other Finnair business class reviews. And if you are interested how business class travel should look like, read our Qatar Airways' flight reviews, for example the fantastic Airbus A380.