Proper business class experience on a transcontinental flight across the United States? Currently, within Oneworld Alliance, there's only one option with flat-bed seats: American Airlines A321 Transcon.
During my December 2017 trip to west coast US, I flew from New York (JFK) to Los Angeles (LAX) and back, both ways on American Airlines A321T business class.
Check-in, JFK
American Airlines operates out of Terminal 8 at JFK airport, sharing the terminal for example with Finnair. As I arrived at the terminal late afternoon, there were lots of check-in kiosks available, but all the human-operated booths were quite crowded. Sadly, there was only one shared line for all Oneworld priority customers which is bad news if you can't complete the check-in using the kiosk.
There is also a separate first class check-in, located on the right side of the American Airlines check-in desks. Unfortunately, I didn't know that back then.
In any case, check-in and priority security went rather smoothly; the whole process took maybe 15 minutes total.
American Flagship Lounge, JFK
A newly opened lounge offers plenty of room but definitely not enough to handle the peak hours. During my visit, there were only a couple of empty seats left. Due to being overcrowded and lots of kids running around, the lounge didn't feel like the first class lounge. I assume the Admirals Club situation is even worse.
There were plenty of food items available as well as drinks – including Bollinger Champagne. American Airlines' First Class passengers have their own a la carte dining area – which is unfortunately not accessible for Oneworld Emeralds. If you want to refreshen between the flights, there were showers available.
American Flagship Lounge at JFK feels like a more crowded version of British Airways LHR T5 Galleries First Lounge
Check-in and Lounge, LAX
I had an early morning flight out of Los Angeles, so I arrived at the LAX airport around 5 am and used the curbside entrance to the American Airlines Flagship Check-in. The check-in process went smoothly; there was only one passenger before me. Once I got my boarding pass, I was escorted upstairs to the regular priority security line. Despite being early there were quite many people in the queue, it took maybe 15-20 minutes to get through the security.
Since I had a couple of hours before the flight, I decided to visit the American Airlines Flagship Lounge. Entering the Flagship Lounge requires an invitation, which all Oneworld Emeralds get when checking in there.
The lounge was relatively empty at that time, only a couple of other passengers were eating breakfast there. The serving was excellent, lots of different dishes – for example, scrambled eggs, sausages, salmon, breakfast potatoes, fruits, yogurt, bacon, and bread pudding.
Later in the morning, more people started to flow in, and it's quite easy to see the lounge being crowded during the peak times.
American Airlines A321T Business Class Details
Route
New York (JFK) – Los Angeles (LAX)
Date
December 2017
Plane
Airbus A321 Transcon
Cabin
Business Class
Seat
9C / 7F
Configuration
2-2
Bed length
about 191-198 cm (76-78 inches)
Seat width
48 cm (19 inches)
Capacity
20 passengers
Personal TV
15,4 inches
In-seat power
YES
USB port
YES
Touch screen remote
YES
Cabin and seat
During my JFK-LAX flight, the first disappointment was during the check-in when I realized that AA had changed my seat from window to aisle. I specifically wanted the window seat on my westward flight because I was planning to sleep through the most of the 6,5-hour flight. Luckily my seatmate stayed put for the whole time, giving me a chance to rest uninterrupted.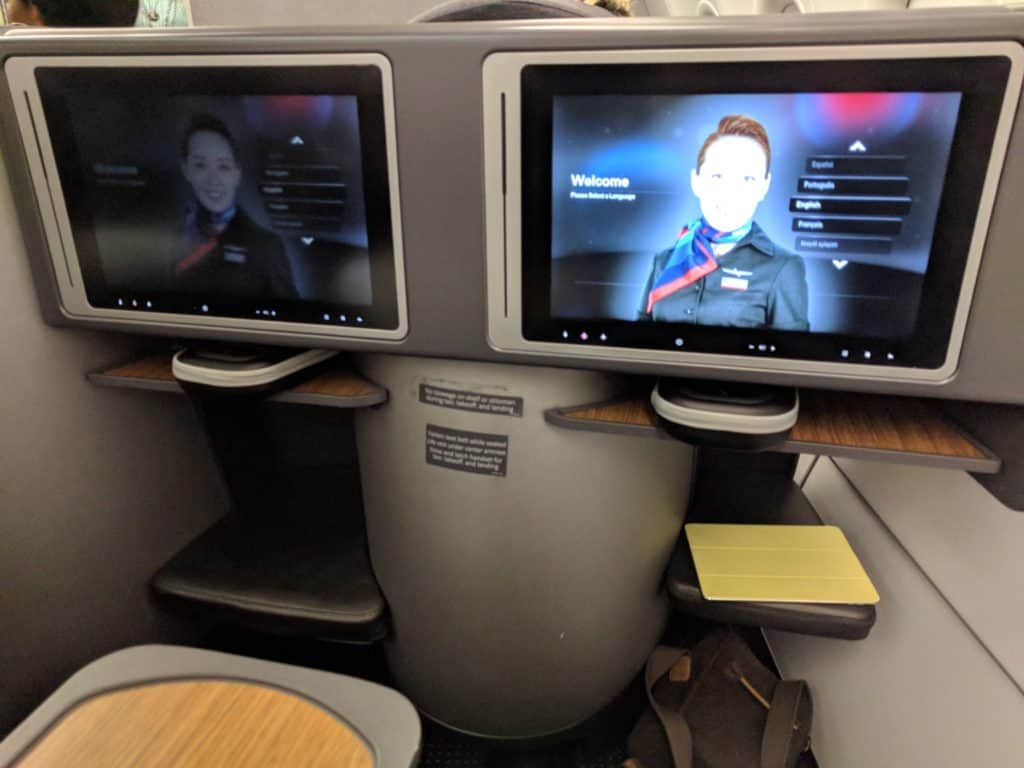 During the flight back from LAX, I had the window seat I requested – which proved to be a much better option as aisle seat is quite exposed.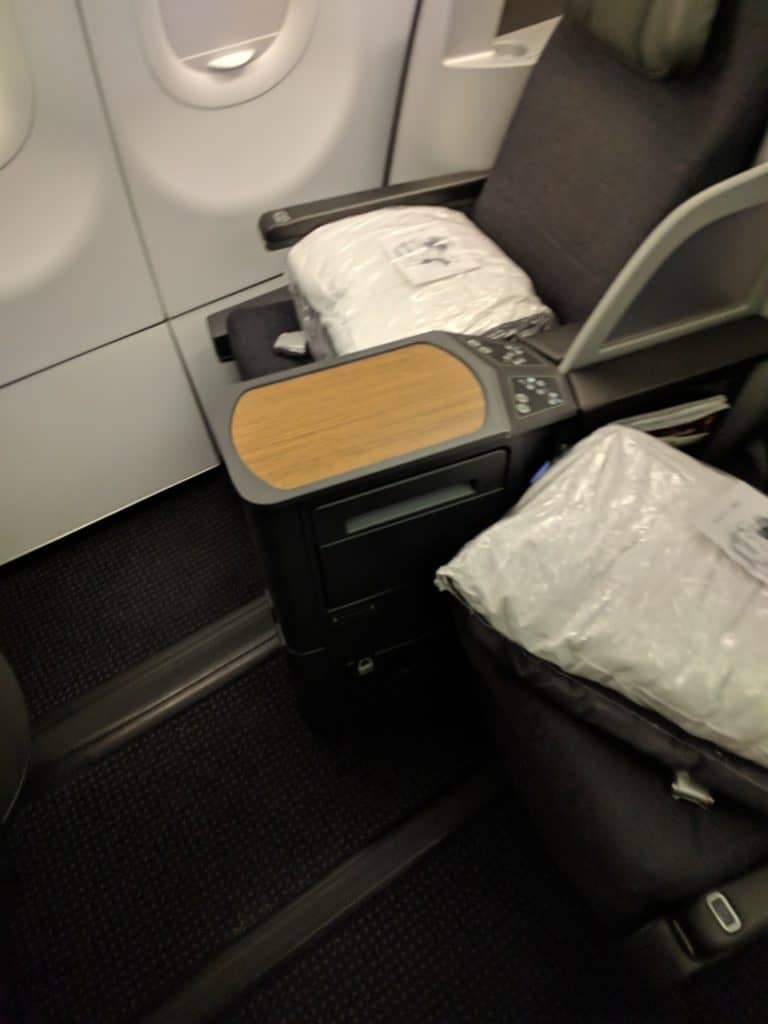 The seat, manufactured by B/E Diamond, was super comfortable with excellent neck support, maybe the best I have tried on that aspect. There was a decent amount of table space, like on Qatar Airways A320, but not nearly as much as on Finnair A330 throne seat.
The seat was really comfortable to sit, even in upright position
The twin-seat setup suits very well ones traveling with a partner or friend, since the privacy between the seats is limited. It is, however, much better than on for example Finnair A330 planes.
The cabin is not as quiet as the modern Airbus A350 or Boeing 787 "Dreamliner" planes, but having excellent noise-canceling headphones help with this issue.
Best Seats
All window seats are pretty similar, although the first row is close to lavatories and galley.
IFE and amenities
Puffy Casper pillow and a blanket were waiting for me on my seat. The whole package was so big that the only option was to store it in the overhead storage department.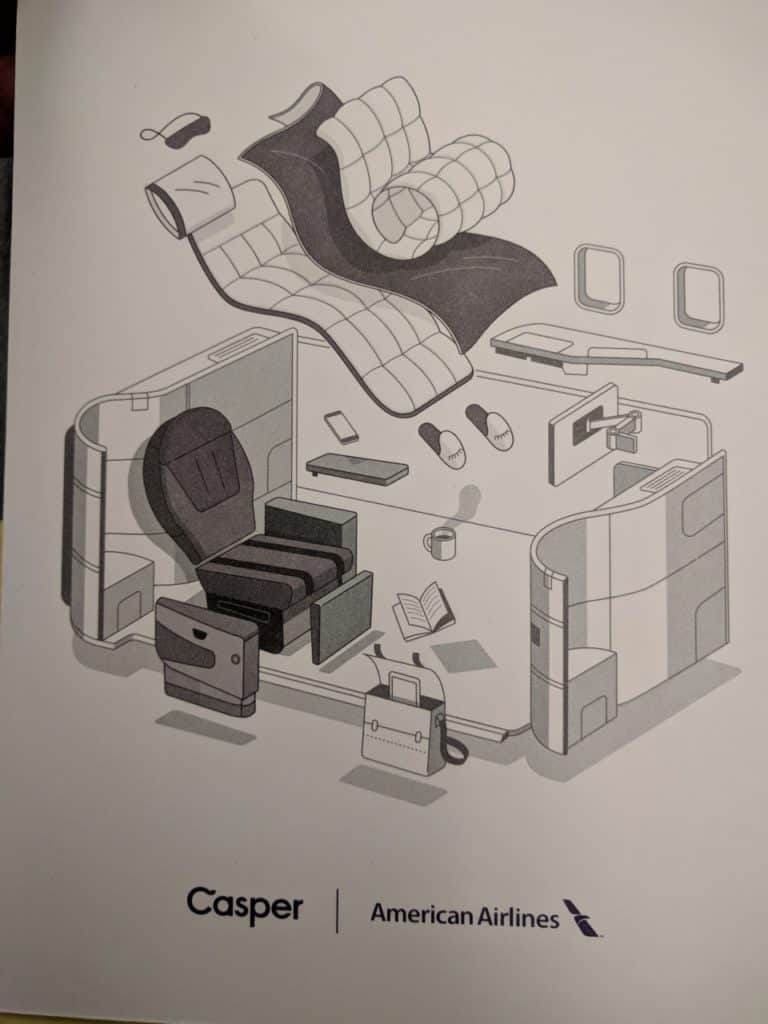 The fixed 15,4″ In-Flight-Entertainment display was one of the best I have seen on business class flights. The screen was sharp and bright enough to watch movies even during the daytime.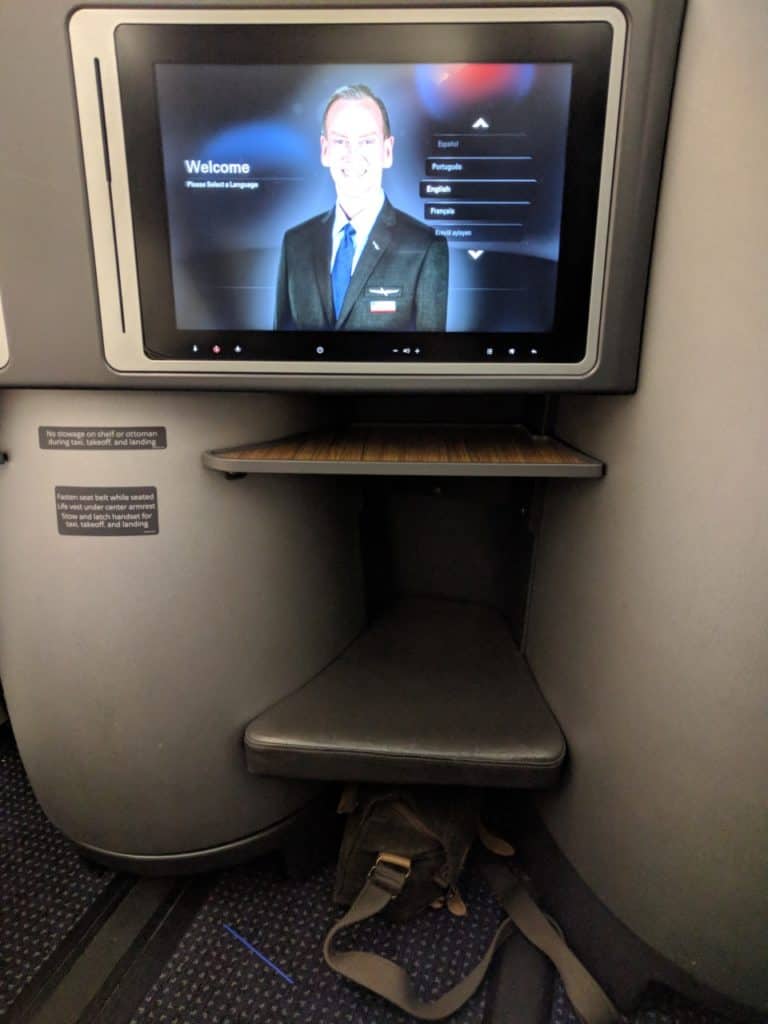 The charging options were the usual, a power plug and one USB port.
The movie selection was pretty ok, there were about 40 recent releases, including Atomic Blonde, Annabelle Creation, Logan Lucky, and Valerian. TV series situation was not as good. There were lots of different series available, but only a couple of episodes each – for example Game of Thrones was available, but just four episodes (out of 67).
Internet was (kind of) available, but I couldn't connect to it during the first two hours. After that, there was a warning about "heavy traffic."
Fantastic Bose QuietComfort 15 acoustic noise-canceling headphones were available for use, but they were collected away about an hour before the landing – which is a bit too early in my opinion.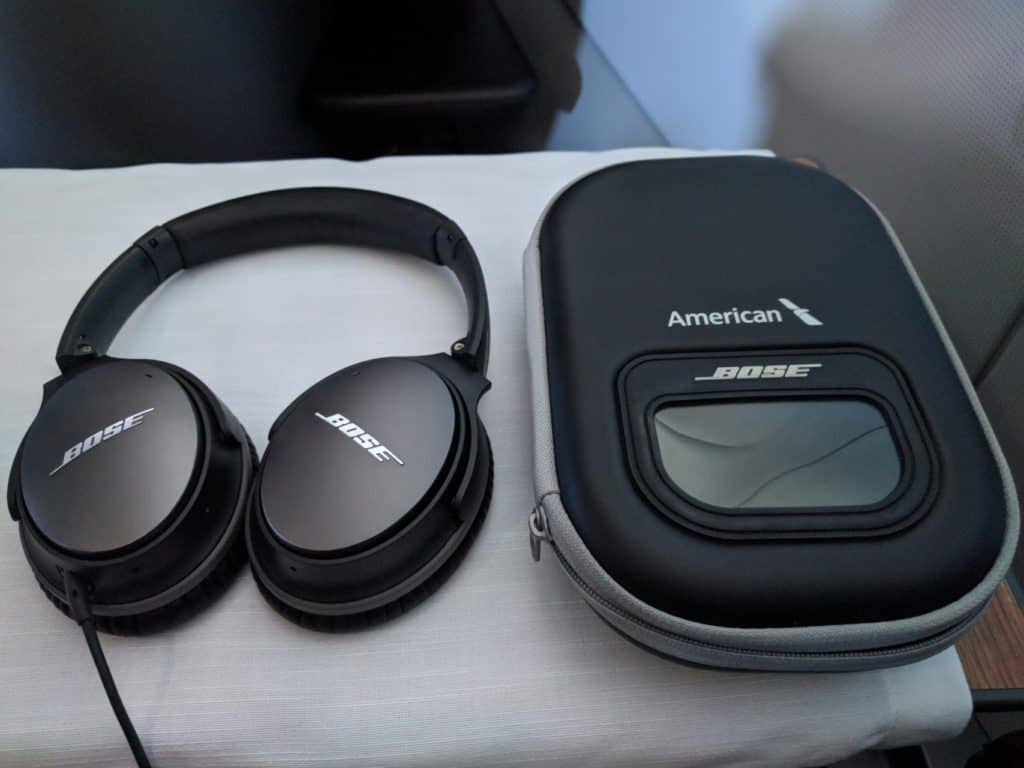 A small Cole Haan amenity kit was delivered during the late night flight but was completely missing during the daytime flight.
Food, drinks and service
In both flights, the basic refreshments were offered before the take-off. Interestingly, flight attendants were talking about "Champagne" when it actually was Prosecco.
During the late night flight from JFK to LAX I decided to skip the whole dinner service, but during the morning flight, on my way back to JFK, I had a chance to taste the breakfast menu.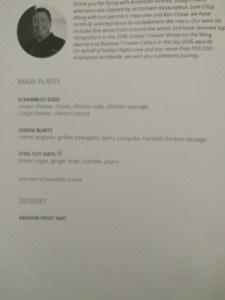 The breakfast wasn't very delicious. I chose the oatmeal, which was ok with lots of brown sugar. Since I had an excellent breakfast at the Flagship Lounge, it didn't really matter.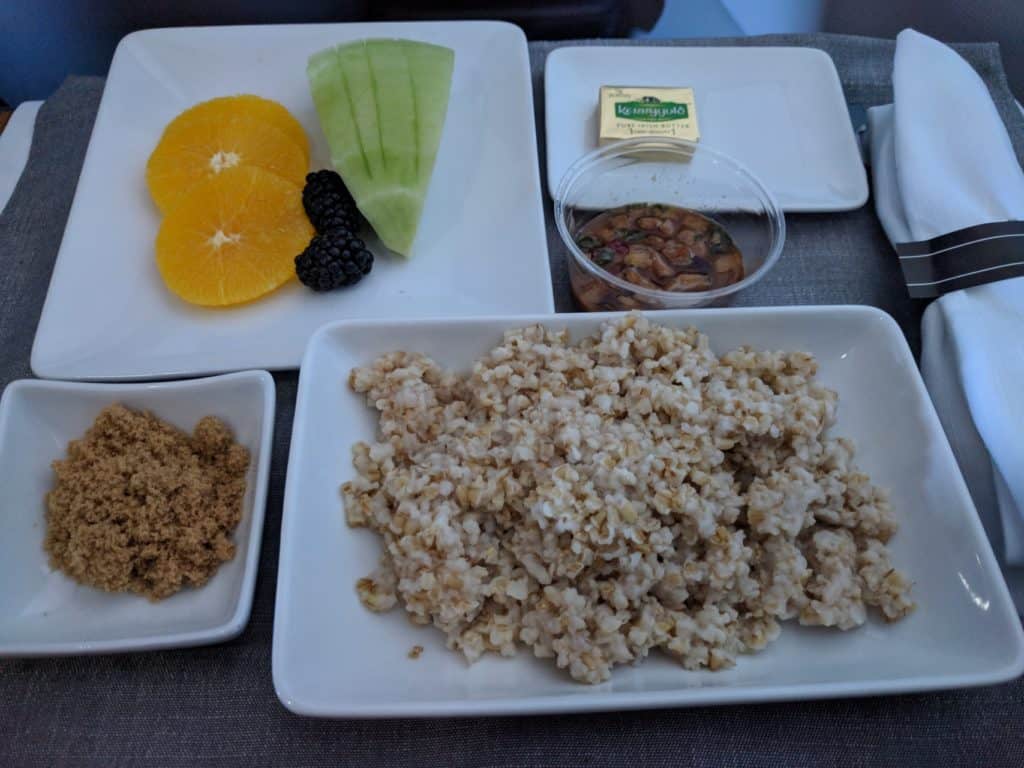 The service during both flights was ok-ish but not nearly as good as on Qatar Airways.
A warm chocolate chip was offered about an hour before the landing. I could have used a proper lunch, although the chip tasted really good.
Conclusion
Comfortable seat and an excellent TV screen
Mediocre food options
Prosecco is not exactly Champagne
Aisle seats are not very private
Oneworld Emeralds were not recognized in any way
How's the situation with American Airlines international business class? More reviews below: