Bangkok is full of luxury hotels, does centrally located St. Regis have what it takes to beat the competition? Read more to find out my opinion.
Booking
St.Regis is part of the Marriott chain, so if you are a Marriott Bonvoy member, you are entitled to the elite benefits based on your tier level. But even if you are a member of the Marriott loyalty program, it makes sense to investigate a bit further, since there are ways to get some additional benefits. In the case of St.Regis Bangkok, there are two excellent options, Virtuoso and American Express Fine Hotels and Resorts.
If you book your room through American Express (requires Platinum or Centurion Amex) the following benefits are being offered for 2019:
Daily breakfast for two
Room upgrade at check-in, when available
Noon check-in, when available
4:00 p.m. check-out guaranteed
Complimentary Wi-Fi
Unique Amenity – A complimentary dinner, for two people per room, excluding alcoholic beverages, taxes, and gratuities, once during your stay
And if booked through Virtuoso, the benefits for 2019 are:
Upgrade on arrival, subject to availability
Buffet breakfast for up to two in-room guests
100 USD equivalent Food & Beverage credit to be utilized during stay (not combinable, no cash value if not redeemed in full, excludes Zuma Restaurant)
Early check-in/late check-out, subject to availability
Complimentary Wi-Fi
The benefits of these two options are similar, the difference being guaranteed checkout and Dinner/F&B credit. This time I decided to go with the American Express option and booked the room through their phone service.
I arrived late at the hotel and left early, so I can't comment about check-in/out, but the rest of the benefits were as promised (read more for details).
Location
St.Regis Bangkok is located in the center of Bangkok, on Ratchadamri Road, in the Lumphini area. The roadside is filled with luxury hotels, for example, Anantara Siam, Waldorf Astoria Bangkok, and Grand Hyatt Erwan can be found in the neighborhood.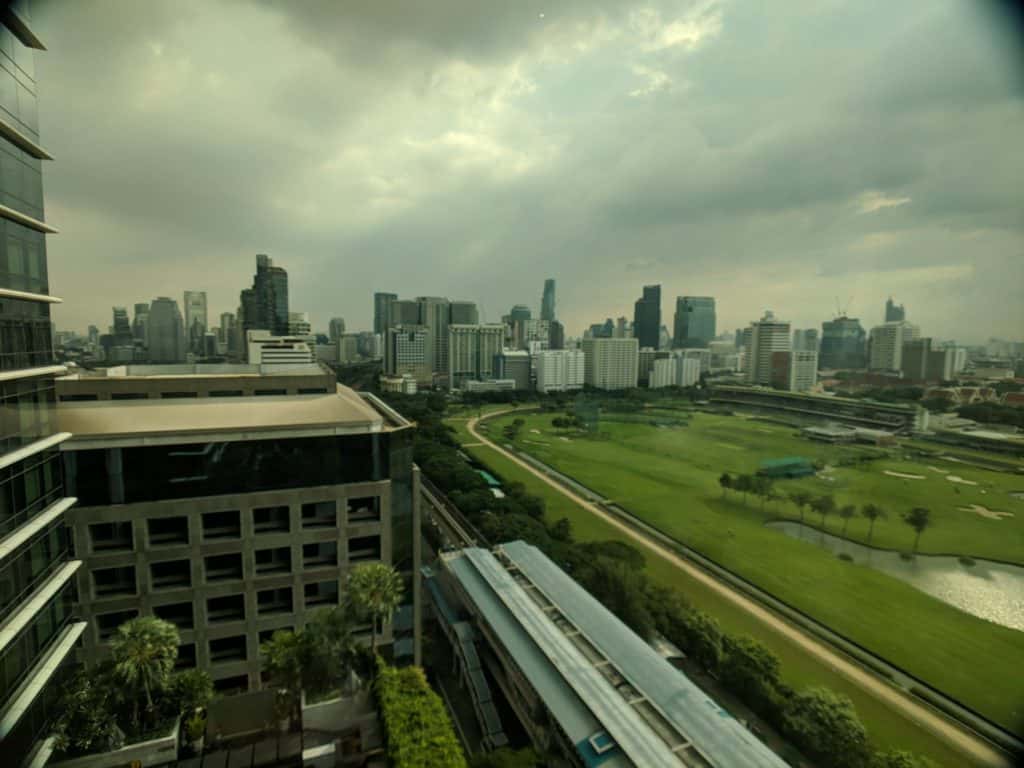 Traffic in Bangkok is horrible, and Ratchadamri Road is no exception of that. It can get really crowded, so remember to reserve a LOT of time if you are planning on driving somewhere during the busy hours. On the other hand, there is a Ratchadamri BTS Station (Silom Line) connected to the hotel – which makes it really easy to move around the city, if you are ok with public transportation.
Check-in
From the spacious lobby area, you have to take an elevator to the reception floor.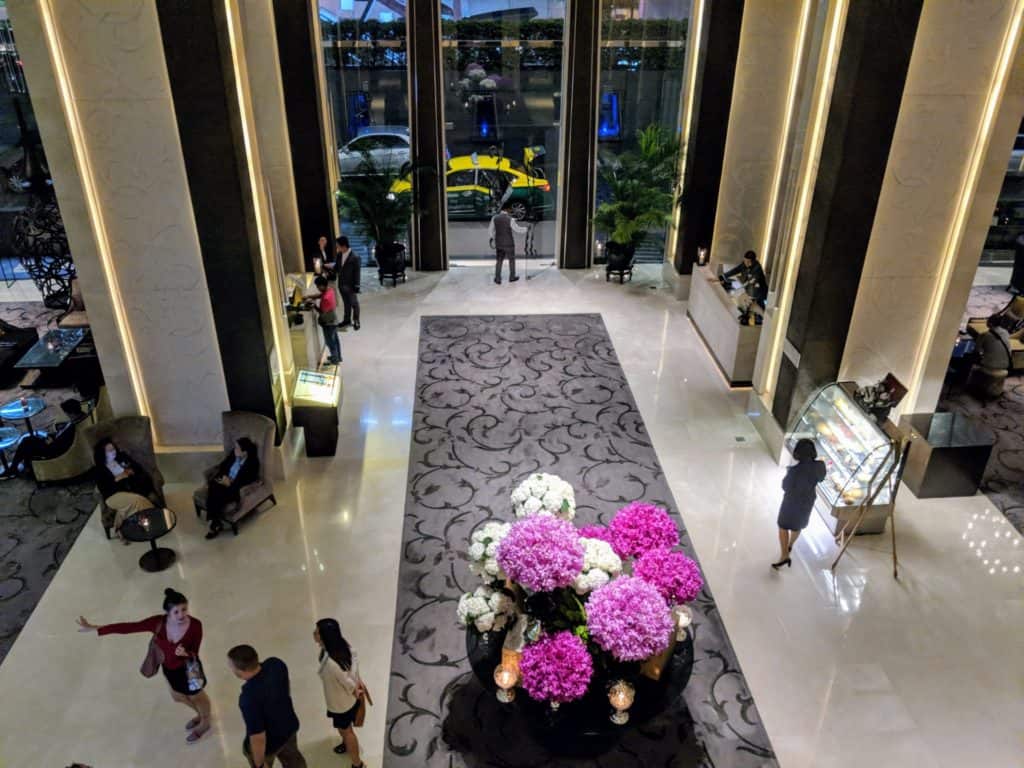 There were no queues during my arrival, so the friendly receptionist started to process my check-in immediately. He was very friendly and carefully explained the hotel restaurants and other amenities. He also told me about the 24-hour butler service and as an example ordered some welcome coffee to my room.
Once the paperwork was done, he guided me to the other elevator and showed me around the room.
The Room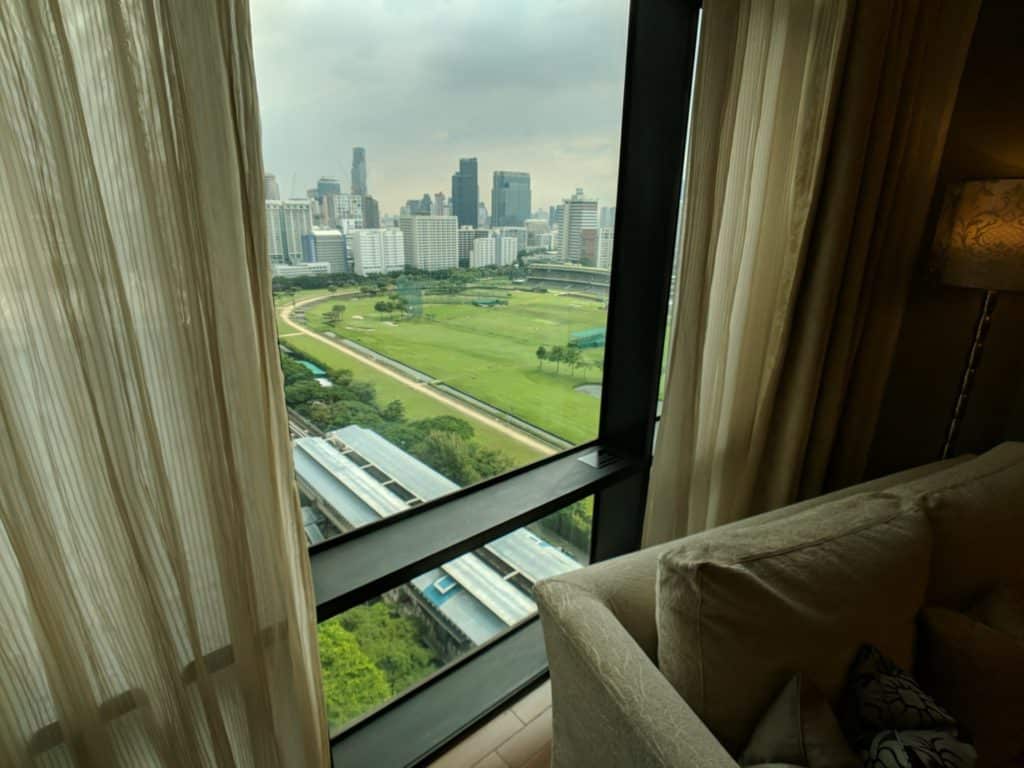 The upgraded Grand Deluxe room was facing towards the pool and the racetrack of the Royal Bangkok Sports Club. The room has a very luxurious feel, with dark hardwood floors and marble-coated bathroom.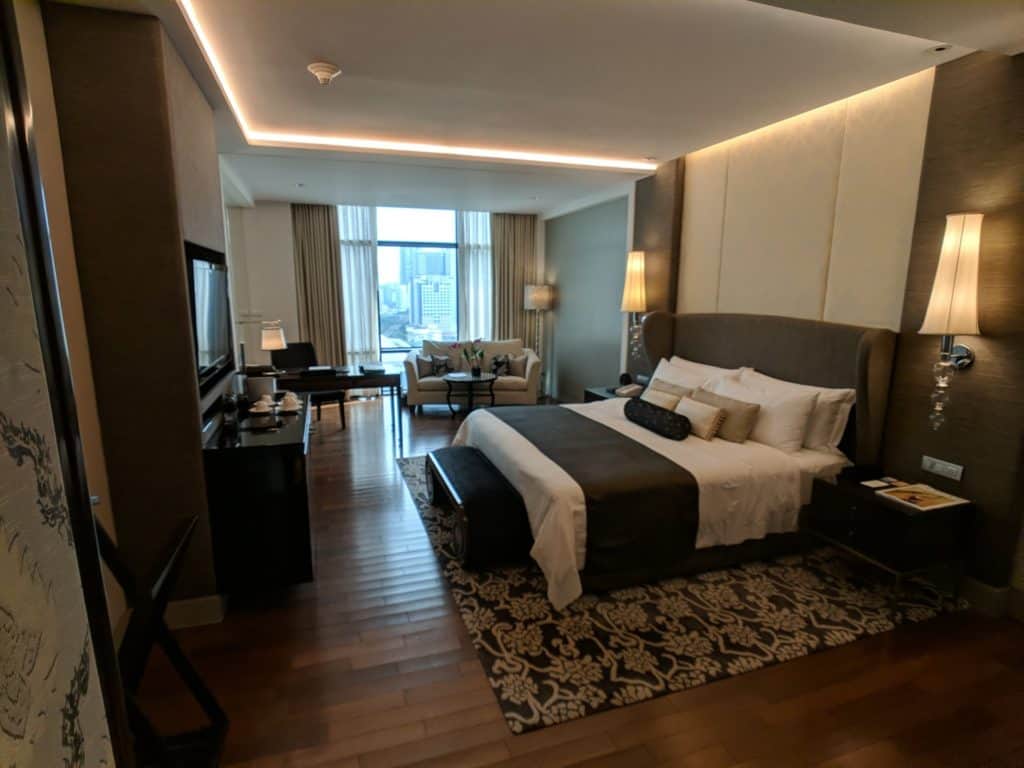 King-sized bed was very comfortable, not too soft for my taste.
There were plenty of electric plugs, for example on both sides of the bed.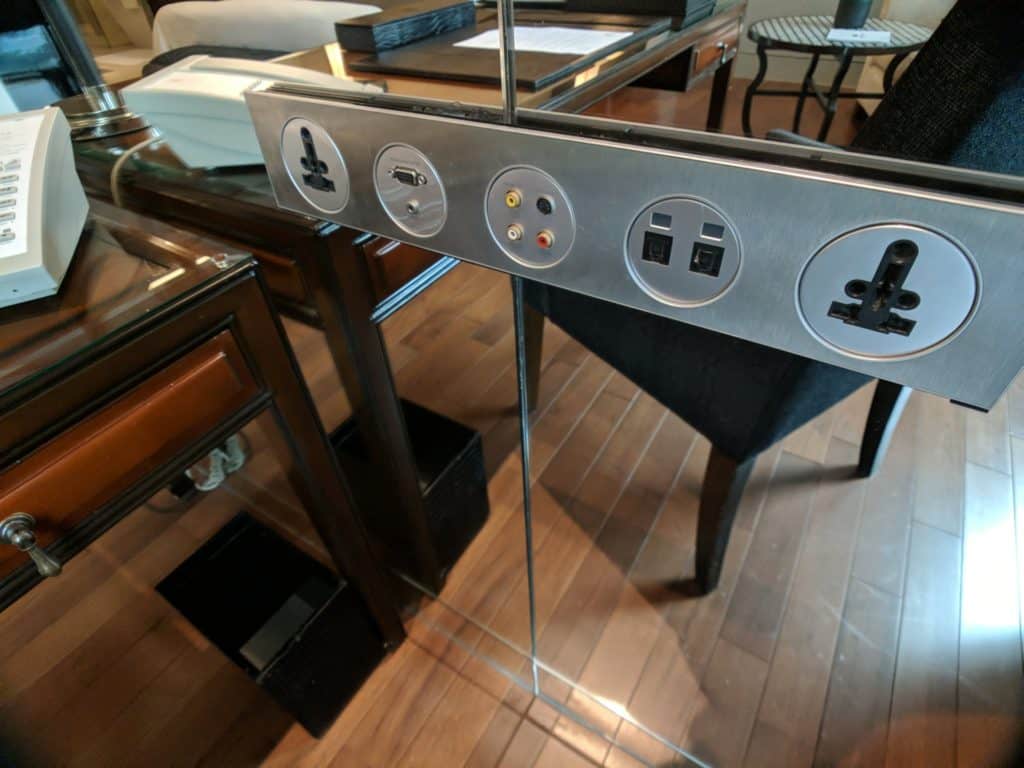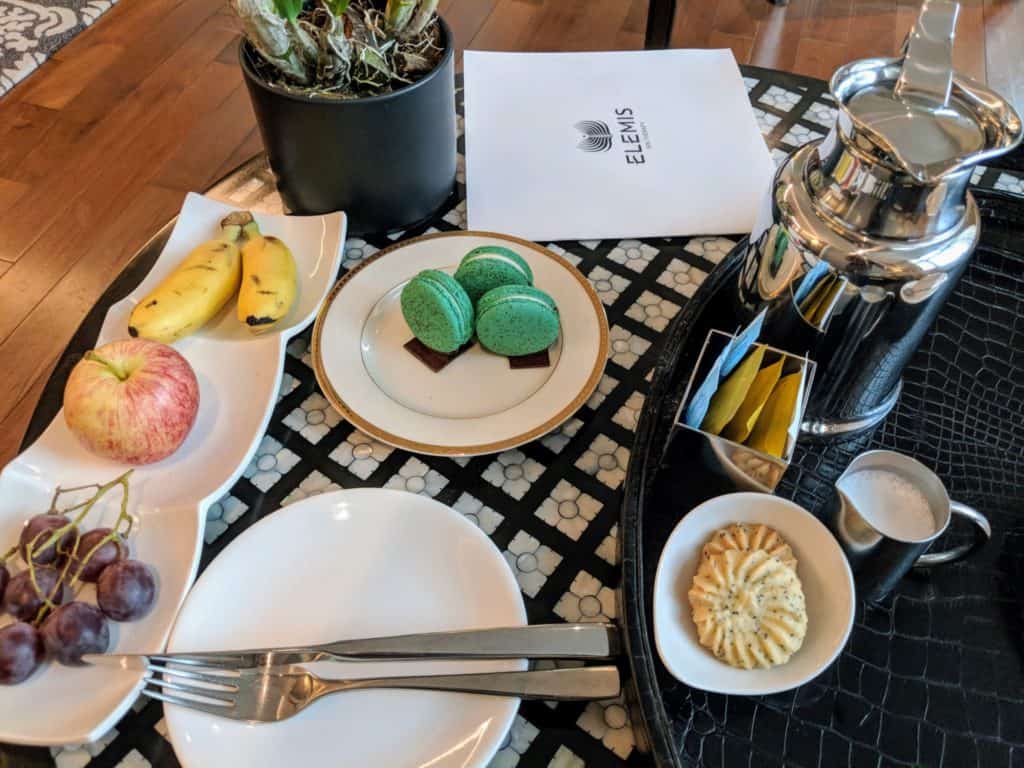 Bathroom amenities were from luxury spa brand Elemis.
Extra credit goes to bathroom shower water pressure, which was excellent.
Dining options
American Express Fine Hotels and Resorts package included a buffet breakfast for two, which I had on each day. There were plenty of items to choose from, lots of different stations.
But if I compare the breakfast options to nearby Conrad Bangkok, I found Conrad's offering much better.
Dinner voucher, which was included in the AMEX FHR package, was a set three-course menu, with two options for appetizer, main course, and dessert. Also, all drinks were excluded, and cost around 400-500 Thai Baht each.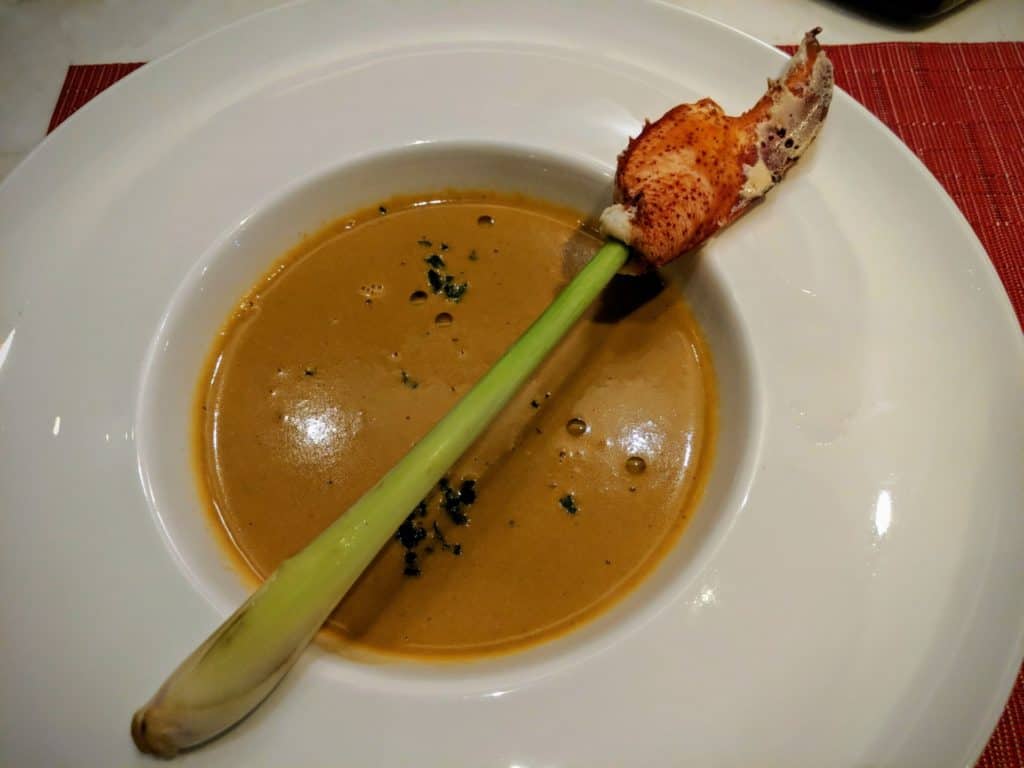 The food was really delicious, but for a solo traveler, the Virtuoso $100 Food and Beverage package would have been a better option, money-wise at least.
Pool, Spa, and Gym
The gym, which is located on the pool floor, is well-equipped and on top of the usual stuff, there is a possibility to have sports courses, for example in Muay Thai.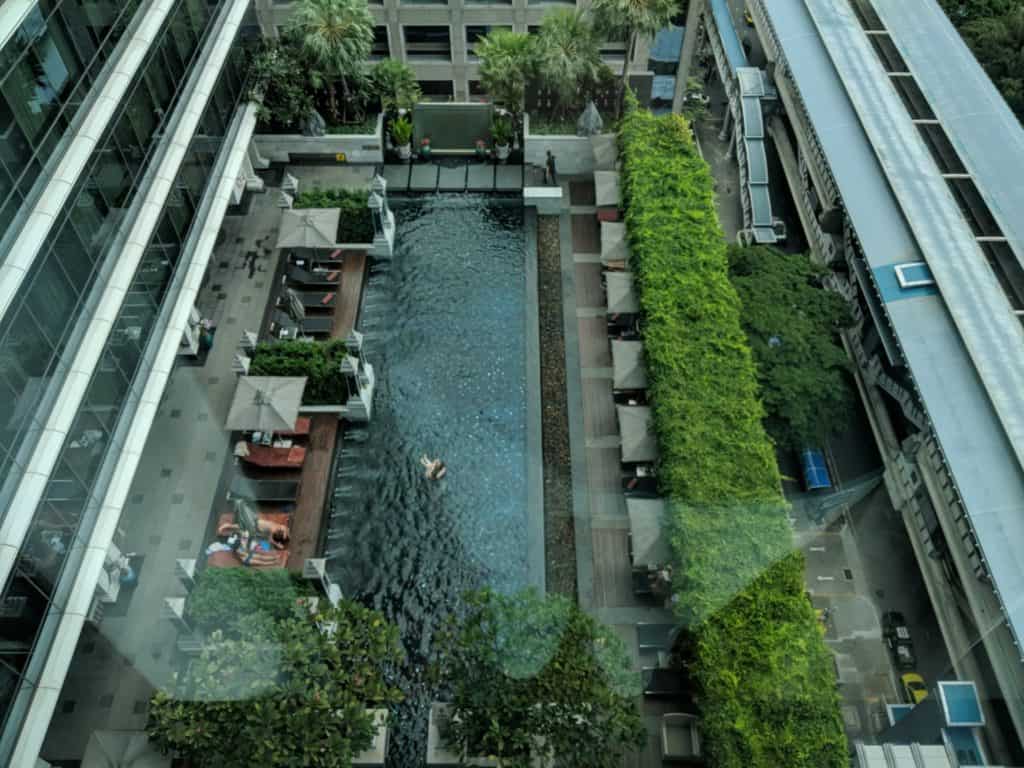 The pool next door was rather small but looked comfortable enough. The weather during my visit was quite rainy, so I didn't have the chance to test those lounge chairs. If hanging out by the pool is the primary goal of your vacation, there are many better options in Bangkok. For example, Millennium Hilton (read our review) has an excellent pool area.
Conclusion
Friendly and efficient service
Great location, if you are ok with public transportation
Well-equipped gym
Butler service – a big bonus for tea and coffee lovers
I don't have anything negative to say about my visit to St.Regis Bangkok. The only question is (since Bangkok is full of luxury hotel options), did I get the best value for my money at St.Regis? In my opinion, unfortunately, no. For example, nearby Conrad Bangkok offers the same quality with a much cheaper price (although the location is much worse).
Check also our other hotel reviews: