My July 2018 flight from London Heathrow (LHR) to Los Angeles (LAX) was the second American Airlines 777-200 flight in one year, so it's time to look back and see if something has changed?
On this review, I'm going to concentrate on differences between this flight and the one I took in December 2017 (read the full review).
Transfer at LHR
My trip started from Stockholm (ARN), from there I flew on British Airways to London Heathrow (LHR)Terminal 5. Upon arriving at LHR, the airport was not very crowded, so the transfer went pretty smoothly. However, if you are continuing your journey on American Airlines, you need to reserve some extra time for an additional security check. And since American Airlines departs from Terminal 3, there is a need to switch terminals (about 15-minute bus ride) which also takes some time.
Terminal 5 was busy as usual, and even the "Fast Track" premium security took quite a while – with only one line open. These premium security delays (at T5, T3 is usually quite ok) have now happened almost every time during the recent months, so be prepared if you are going to travel through London Heathrow Terminal 5.
Boarding
British Airways has improved their boarding process on many airports, maybe because of that American Airlines' boarding looked extremely chaotic. Group numbers were in use, but they were not communicated clearly, so there were a lot of people trying to board at a wrong time. On top of that, there were no separate lanes for priority customers.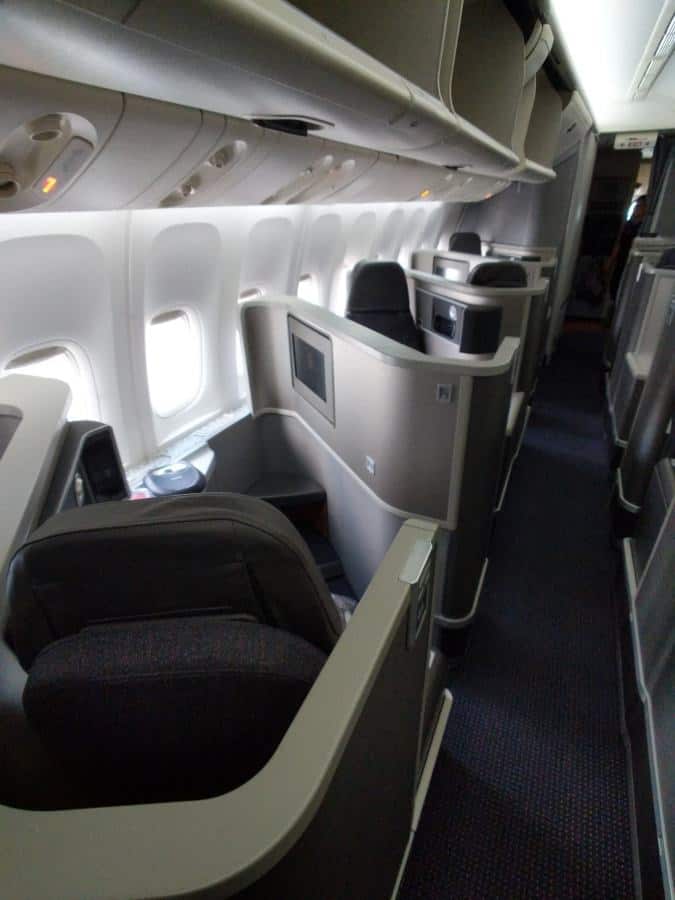 Upon entering the plane, flight attendants greeted me briefly and showed the direction of my seat. The first round of drinks was offered about 10-15 minutes after I had sat down on my seat. Additional refreshments or re-fills were not provided, even though the departure was at least 45 minutes late.
American Airlines Boeing 777-200 Business Class Details
Route
London Heathrow (LHR) – Los Angeles (LAX)
Date
July 2018
Plane
Boeing 777-200
Cabin
Business Class
Seat
5A
Configuration
1-2-1
Bed length
about 195 cm (77 inches)
Seat width
53 cm (21 inches)
Capacity
45 passengers
Personal TV
15 inches
In-seat power
YES
USB port
YES
Touch screen remote
YES
Cabin and Seat
The seat was the same as in my previous review, so just a short recap regarding it. It's relatively comfortable, offers good privacy (depending on which seat you choose) and is a bit short for sleeping if you are over 190 centimeters tall.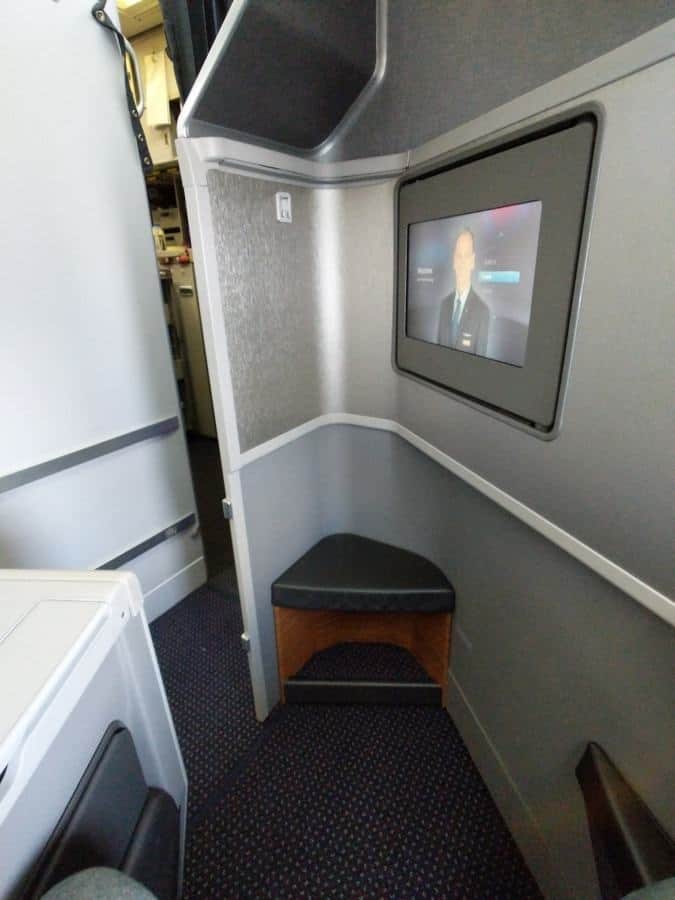 This time I had selected backward facing seat 5A, which offers excellent privacy but is located next to the galley. During this daytime flight, I didn't find have any issues with the noise.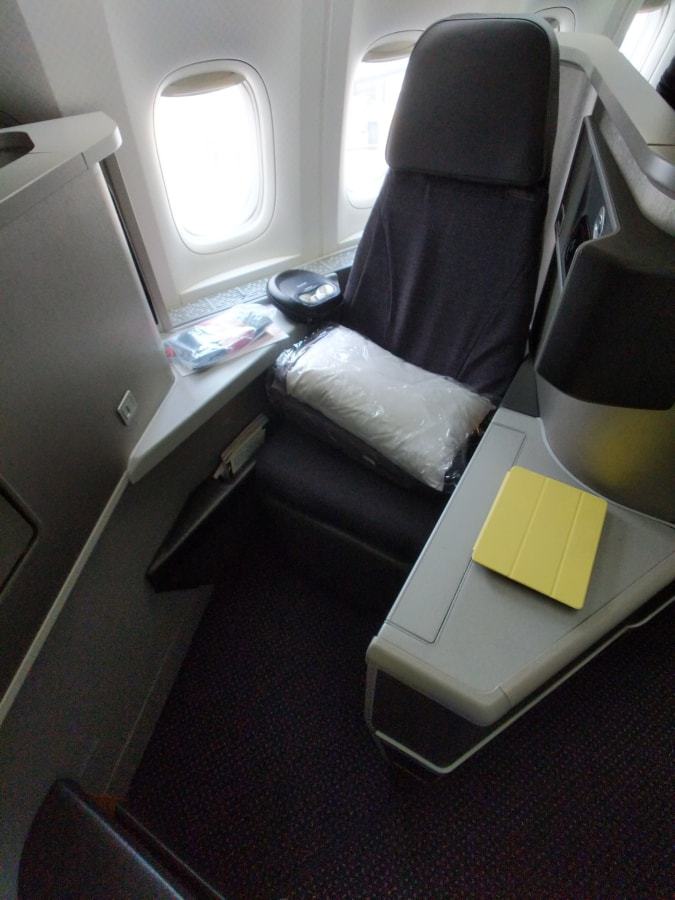 The storage space is very limited (a small slot on the left side of the seat), but at least there is a decent amount of table space compared to for example British Airways business class. But Finnair A330 "throne seat" is a clear winner when it comes to table space (read our review of Finnair A330 business class).
The tray table is huge, similar size than British Airways has on their First Class (read our review of BA 747 First Class).
IFE and Amenities
As mentioned in the previous review, I found the In-Flight Entertainment system on American Airlines 777-200 excellent. The screen is sharp, decent sized and there were plenty of recent movies (about 50 Hollywood blockbusters) available.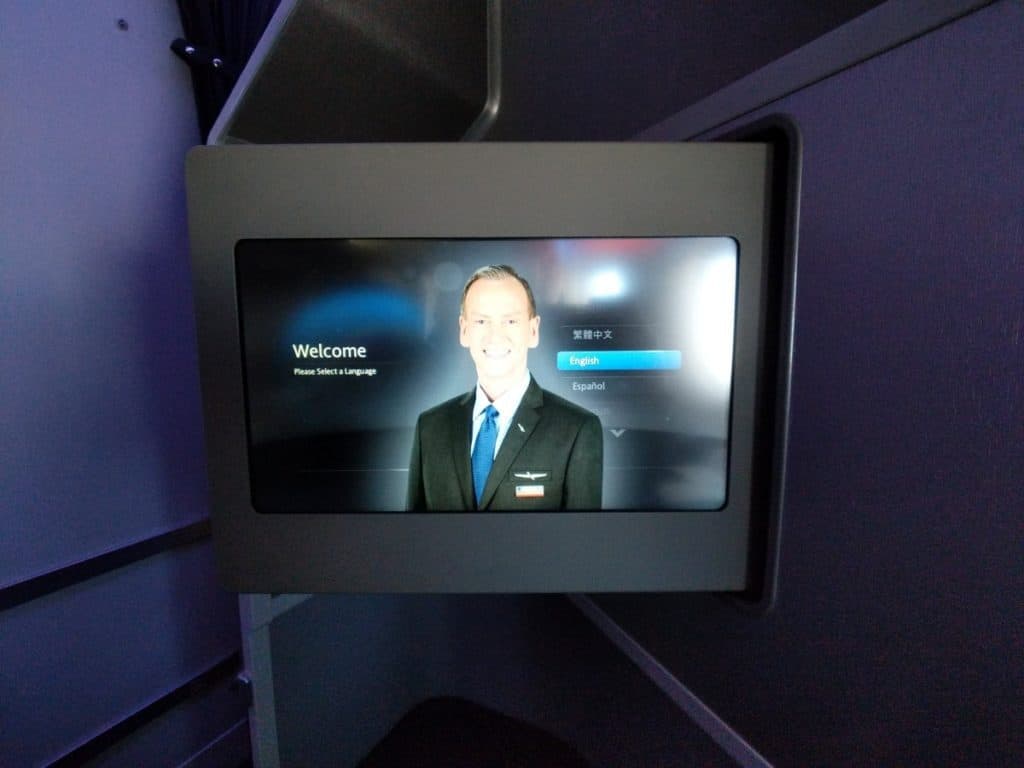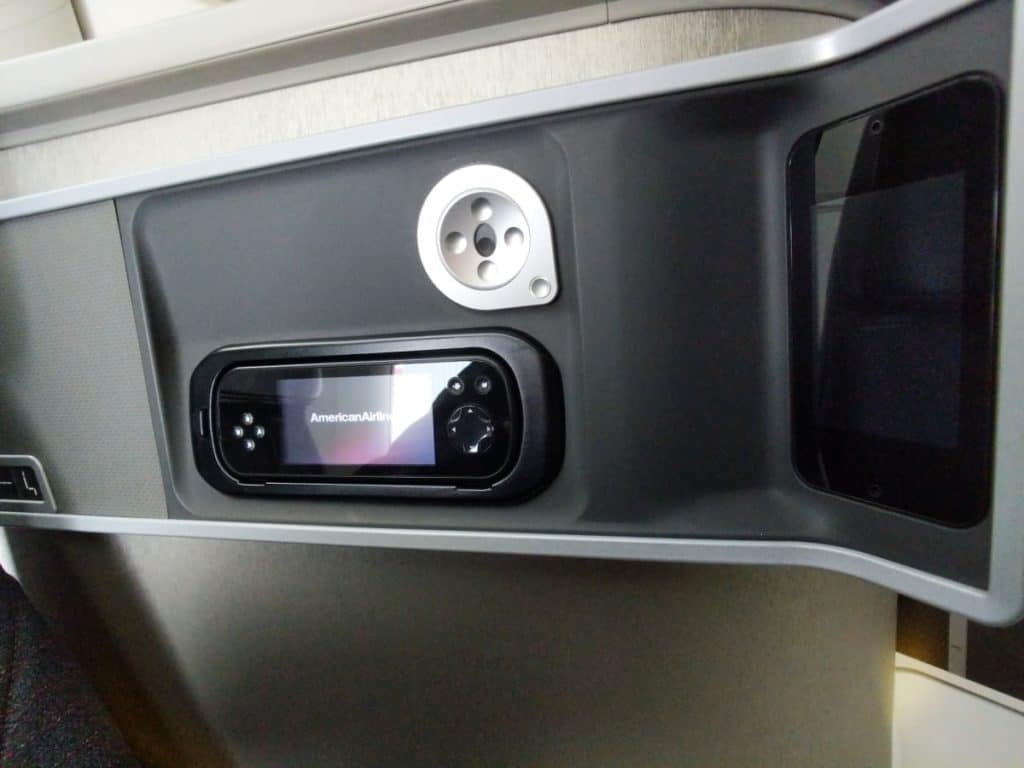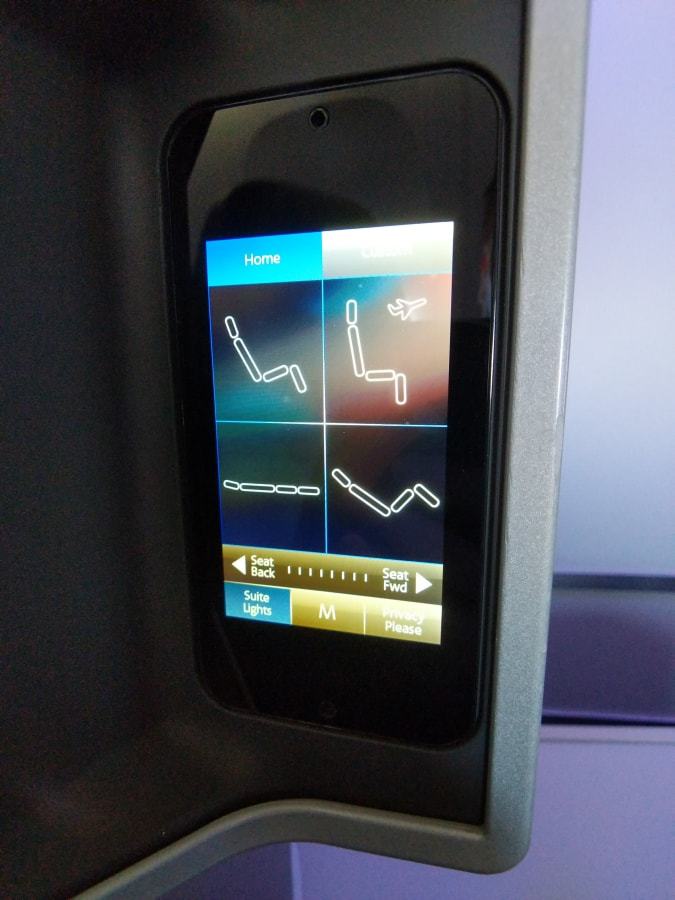 On the minus side, there are no full TV seasons (box sets) available, like on British Airways. There were maximum 4-5 episodes available per season.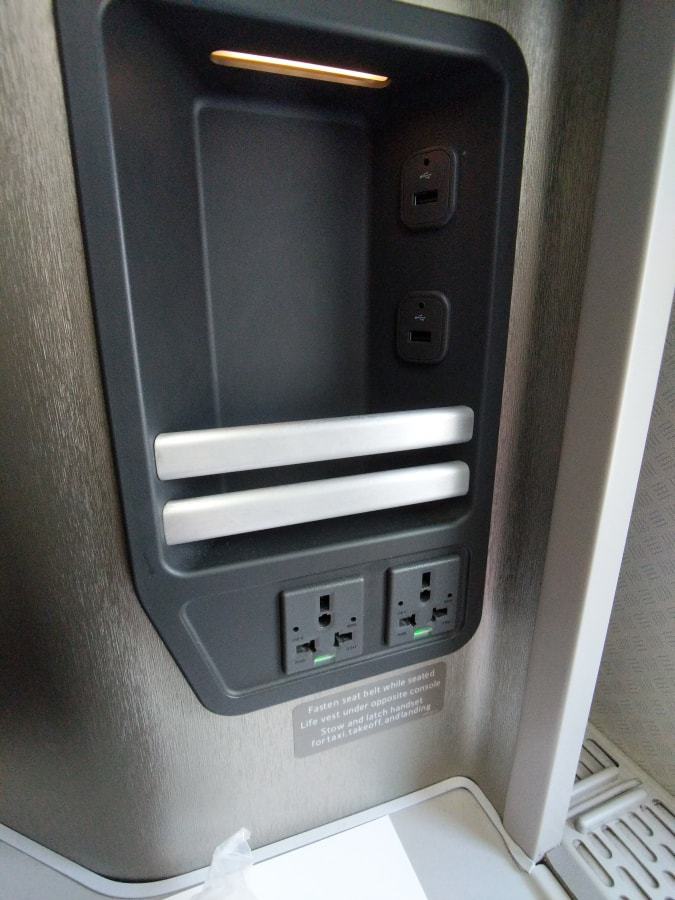 Charging ports are plentiful and placed right next to the seat – two USBs, and two power plugs.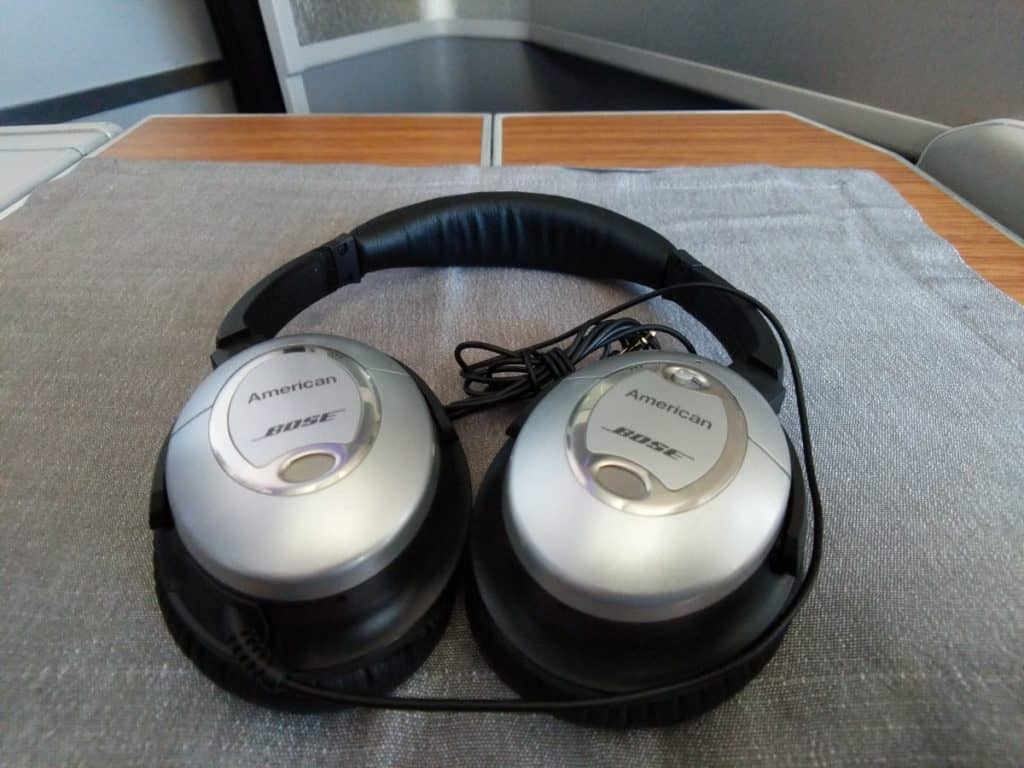 American Airlines has changed their amenity kit since my previous flight. On this flight, it was a big water-resistant Cole Haan bag – a bit similar to the old British Airways pouch, but sturdier and waterproof.
It doesn't look that fancy on photos, but might be useful in my future travels. The pouch contained CO Bigelow lip balm, body lotion, and mouthwash. There was also a dental kit, socks, eye shades, ear plugs and a pen inside the pouch.
Food, Drinks, and Service
As usual, some warm nuts were offered before the actual dinner service.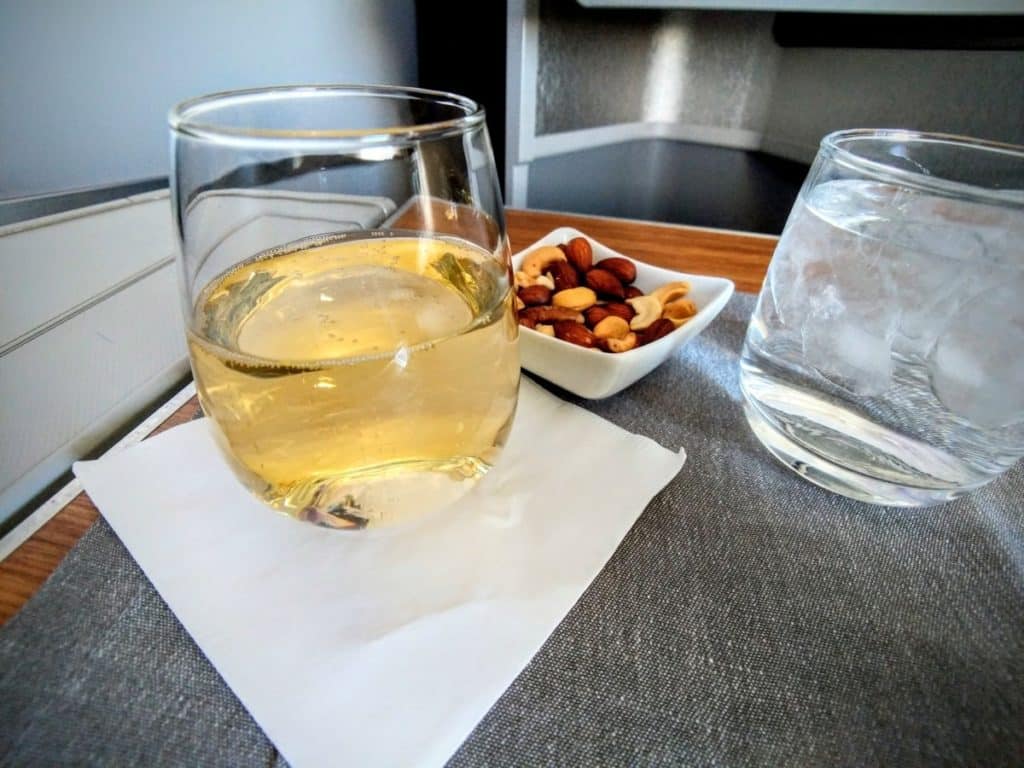 Unfortunately, there was only one champagne (Champagne De Venoge Cordon Bleu Brut) available, so no difficulties in choosing. It was ok, but I would have hoped more bubbly options, and at least one rose champagne.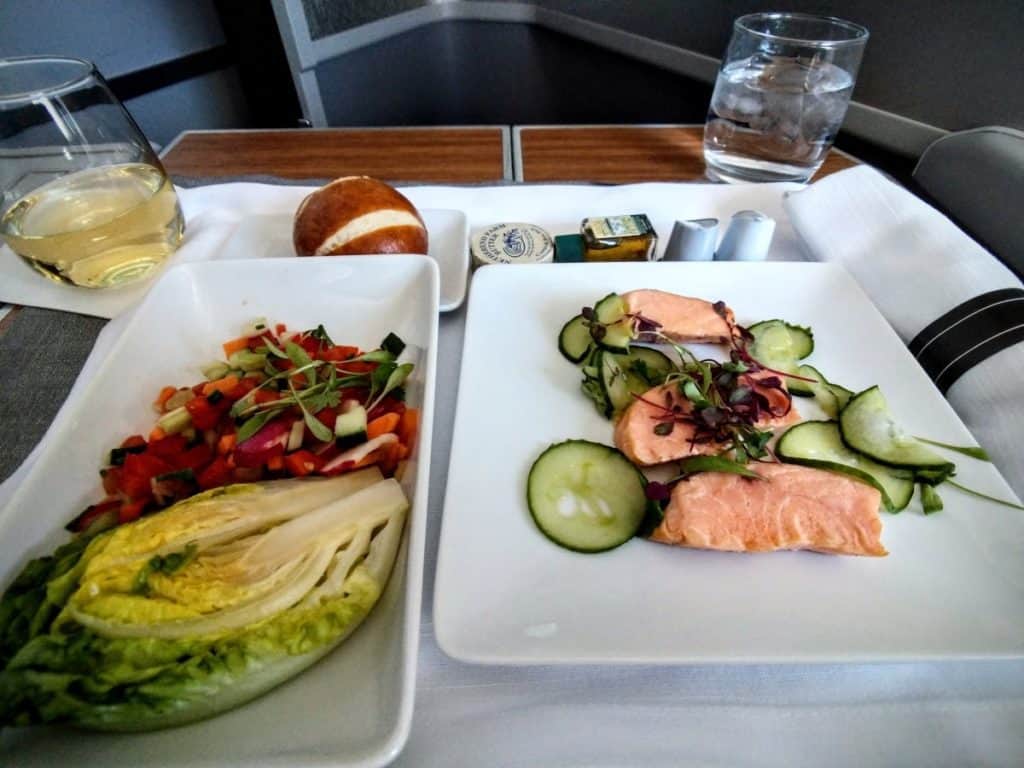 An appetizer, "small plate" as American Airlines calls it, was lemon pepper salmon with pickled cucumbers. It was actually really fresh and tasty. The salad looked bit weird but also tasted quite good.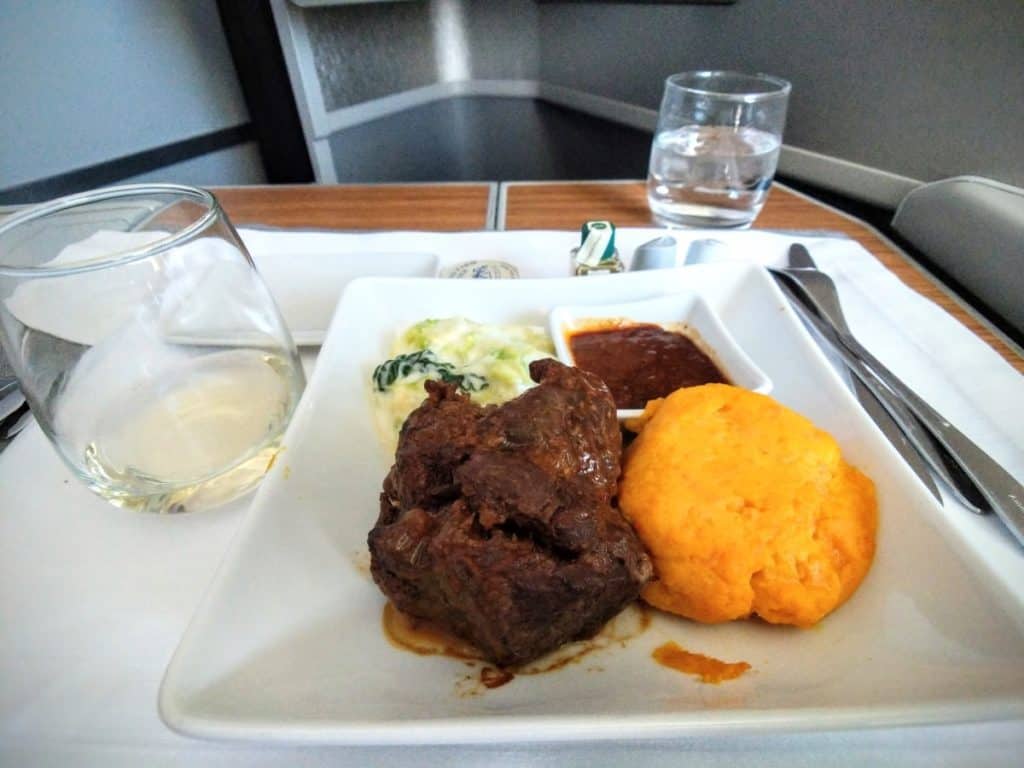 As a main dish, I chose braised beef with horseradish sauce and sweet potato mash. As mentioned many times, beef is a problematic dish on a plane. Also this time it was not perfect, but the sauce and mashed potatoes were tasty – so the overall experience was above average (but just a bit).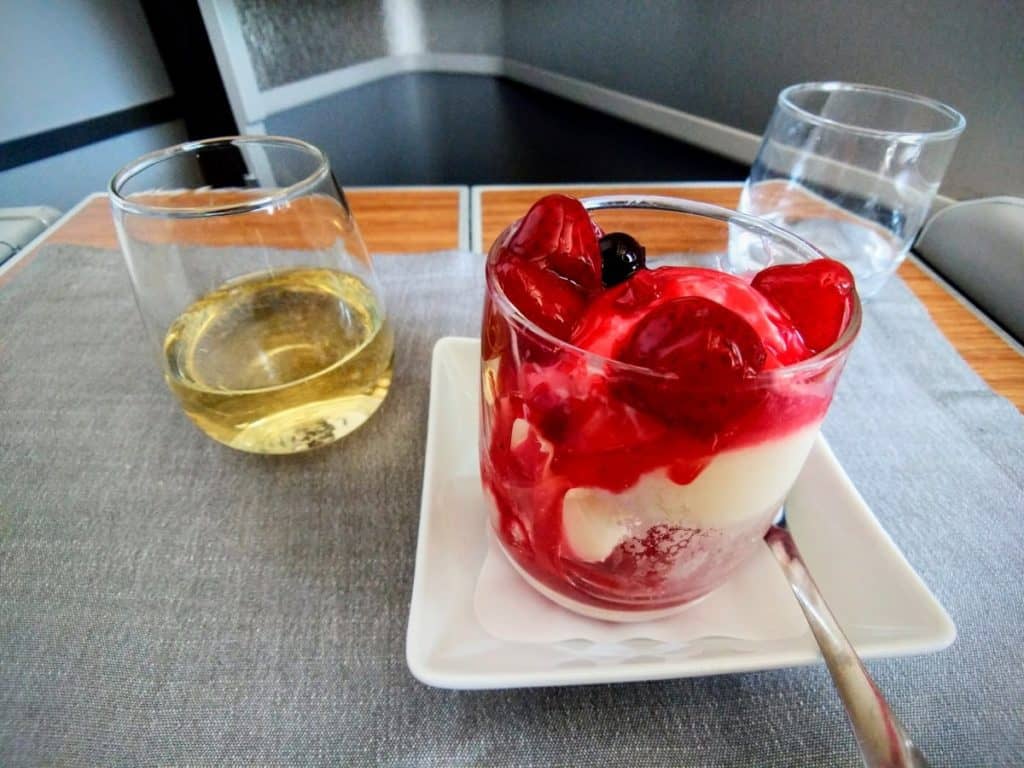 The highlight of the meal was (once again) the traditional ice cream sundae with berries; it was really delicious. Even though the ice cream was Ben & Jerry's instead of my favourite Häagen-Dazs, the whole combo tasted fantastic.
In the end, quite a decent meal – especially the beginning and the end.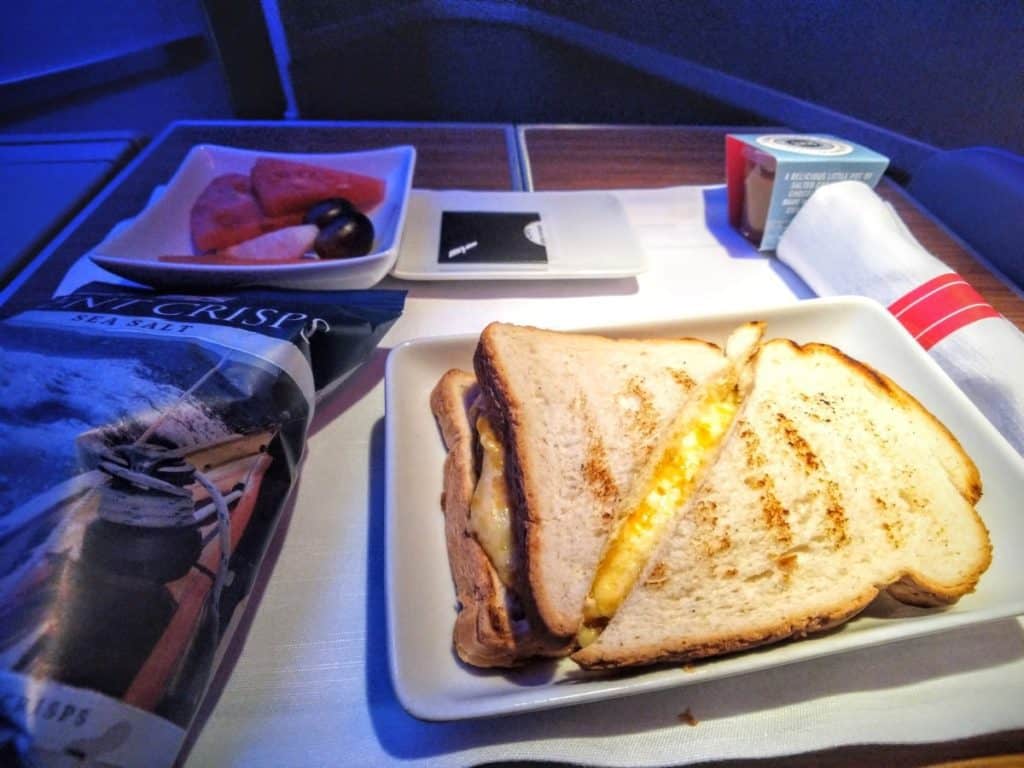 Before landing in Los Angeles (LAX), a light meal was served. Out of two options, I chose Barbeque Beef Cheese Toastie, which was ok for a quick snack.
Service
Service on this American Airlines 777-200 flight was unfortunately not very good. Only the bare minimum was done. No drink rounds between the meals, no water offered, nothing. It felt like us customers are just a nuisance to them, taking away their precious chatting time. It's a shame since otherwise, the flight was enjoyable.
Conclusion
Compared to the December 2017 flight, this flight was quite similar; the service is the area which needs the most improvement.
Great seat with fantastic Casper beddings
Excellent IFE, headphones, and movie selection
Mediocre drink selection with just one champagne
Decent food options, delicious ice cream sundae
Bland service
Read more American Airlines business class reviews