The Cosmopolitan is one of our favorite luxury hotels in Las Vegas; read more to find out why!
2022 Update: MGM Resorts International has bought The Cosmopolitan and will integrate it as a part of their hotel portfolio. Read more about the latest updates regarding the situation.

This Center Strip hotel is an Autograph Collection property, so Marriott Rewards members (like us) can earn points there. The Cosmopolitan has also an own rewards program called "Identity" and it's possible to transfer Marriott Rewards into Identity Points, or the other way around. However, most of the other Marriott Rewards benefits, like lounge access, don't apply at The Cosmopolitan.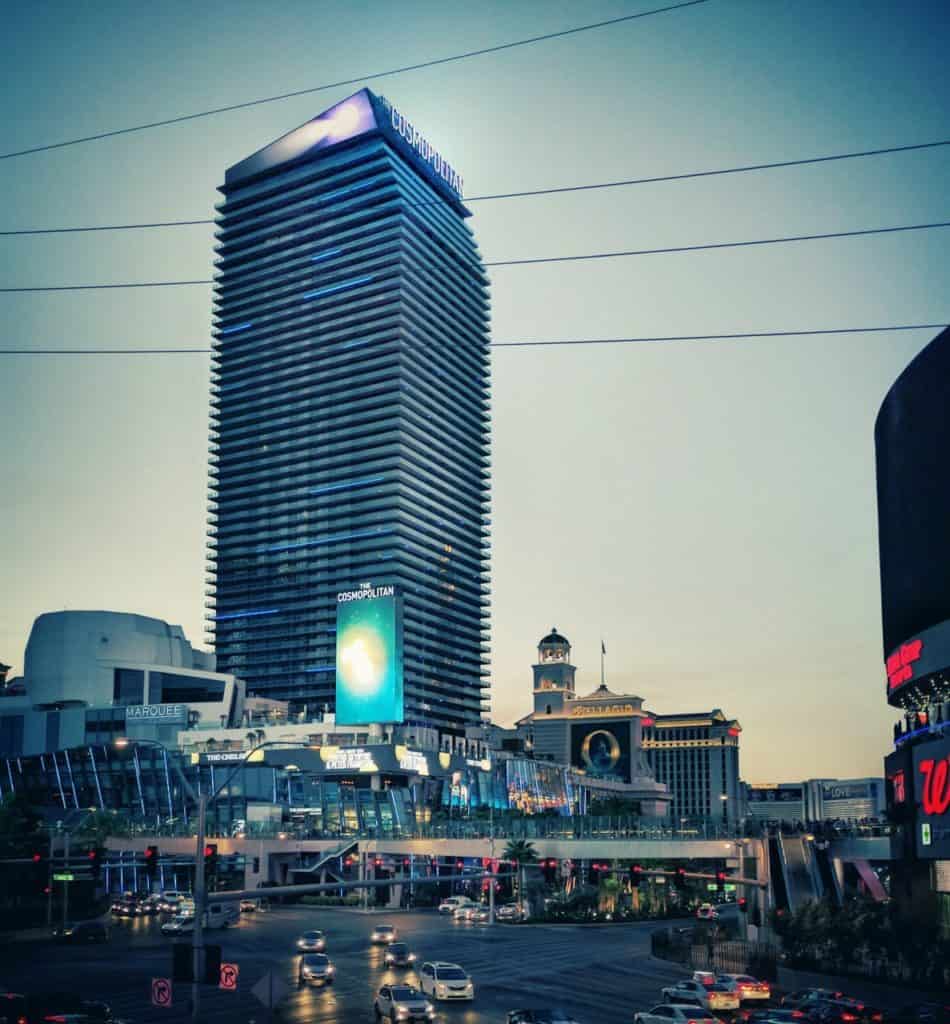 Check-in
The taxi dropped us off at the valet entrance, which is next to The Cosmopolitan lobby. The lobby, located near the valet area, provides your first glimpse inside the casino and the Chelsea Tower. The Boulevard Tower is a bit further away, but closer to restaurants and Las Vegas Boulevard.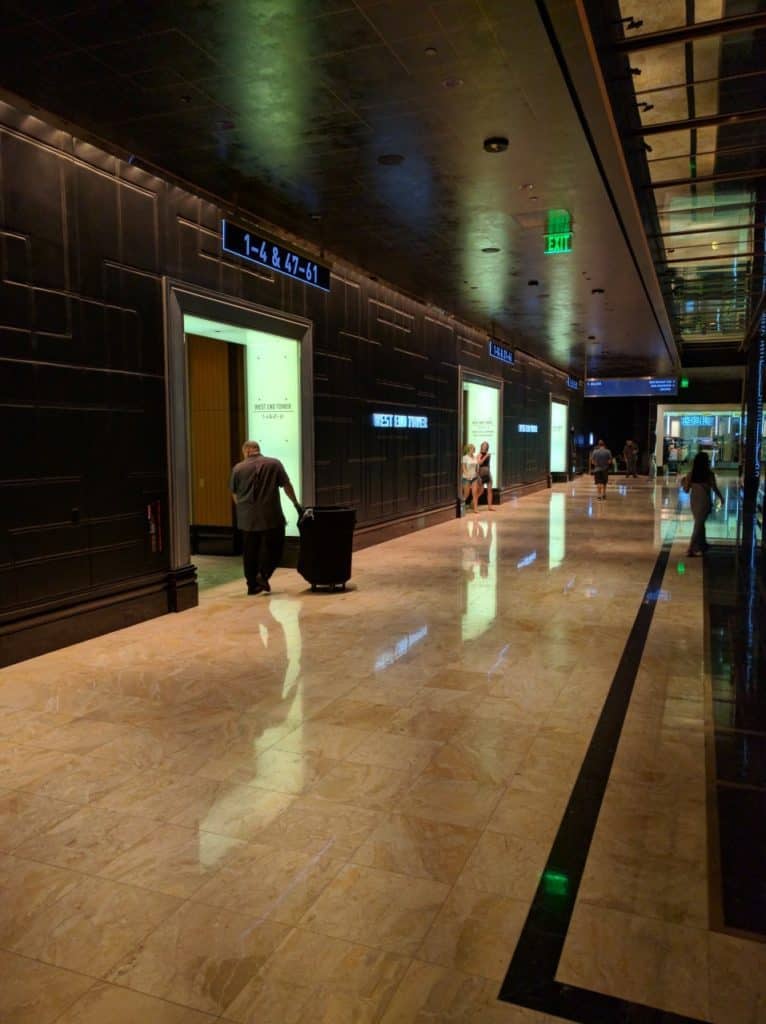 The Cosmopolitan Lobby Area
Entering the lobby, we noticed long check-in queues, which are unfortunately common in Vegas. Luckily for us, with Marriott Gold status, we could use the Autograph Lounge and managed to skip queuing in the crowded lobby. In addition, the friendly receptionist upgraded us to a better room –a sweet start to a vacation!
Terrace Studio Fountain View Room
During this visit, our room was in Chelsea Tower, easily accessible using elevators behind the check-in area.
Our 58-square meter (620 sqft) Terrace Studio Fountain View room was on the 32nd floor, overlooking the famous Bellagio fountains. The room had a king bed, a separate living room area, a kitchenette, a bathroom, and a balcony.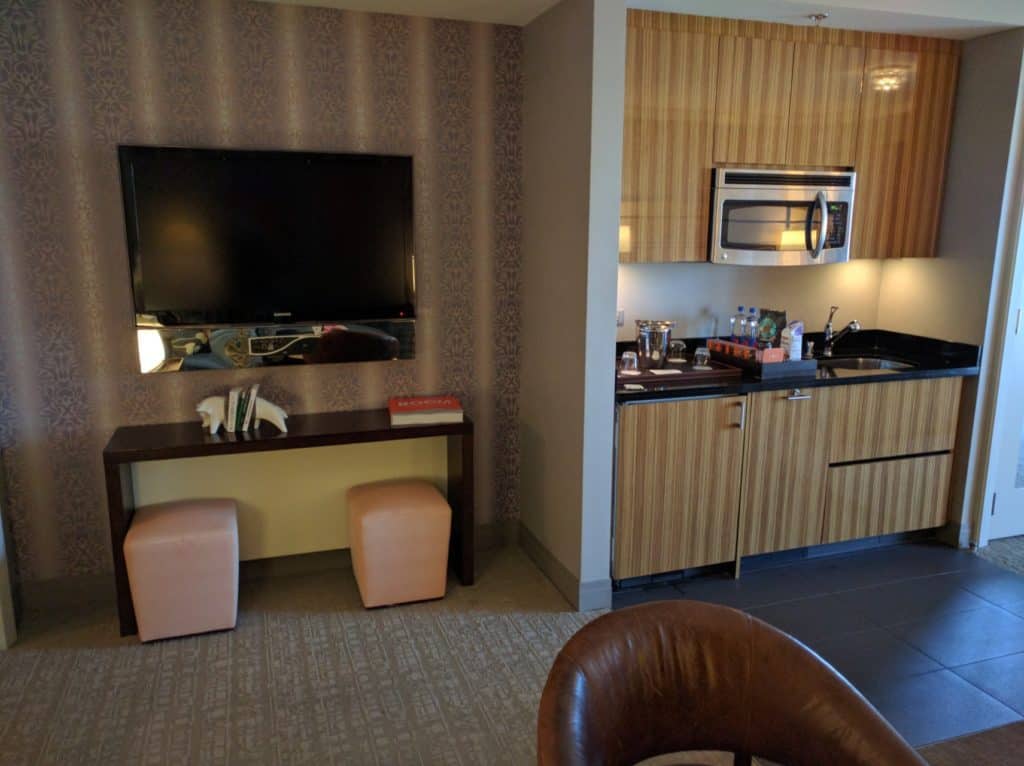 Charging your devices in the room is easy; there are plenty of power sockets available around the room. There are also USB charging options as well as a possibility to connect your device to the television, using HDMI, VGA, or S-Video connector.
The spacious bathroom has a bathtub and a separate shower. There is a direct view from the bathroom to the living room, but you can draw down a light curtain for more privacy. Plentiful bathroom amenities were made by C.O. Bigelow.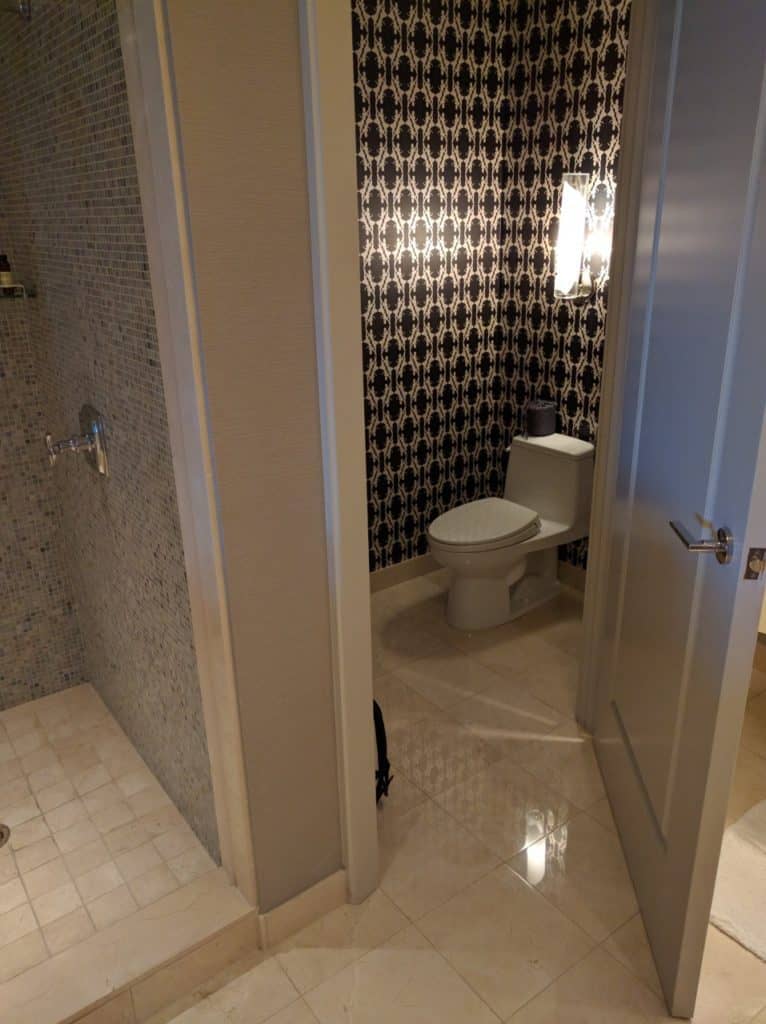 The Cosmopolitan Amenities
There is a gym and a pool in both towers. The Chelsea Tower gym was decently sized and not crowded at all during our visit. There were plenty of treadmills and cross-trainers, weight machines, and a small free weights area.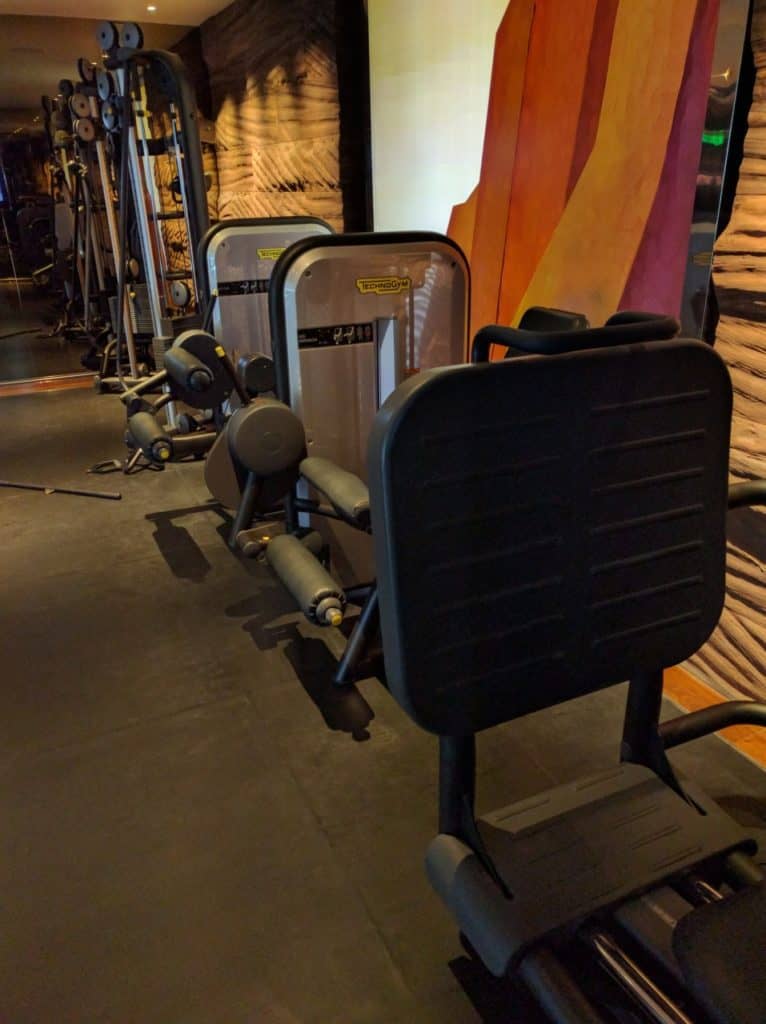 Both pool areas (Chelsea & Boulevard) were respectable, though a bit on the smaller side, compared to other Vegas hotels. If you want to get a pool chair, prepare to arrive early – during our stay, both pool areas were quite crowded with no empty chairs during the afternoon hours. The poolside service was fantastic, and there was always staff nearby to take our drink orders – something you can appreciate in + 40 C / 104 F degree Vegas heat.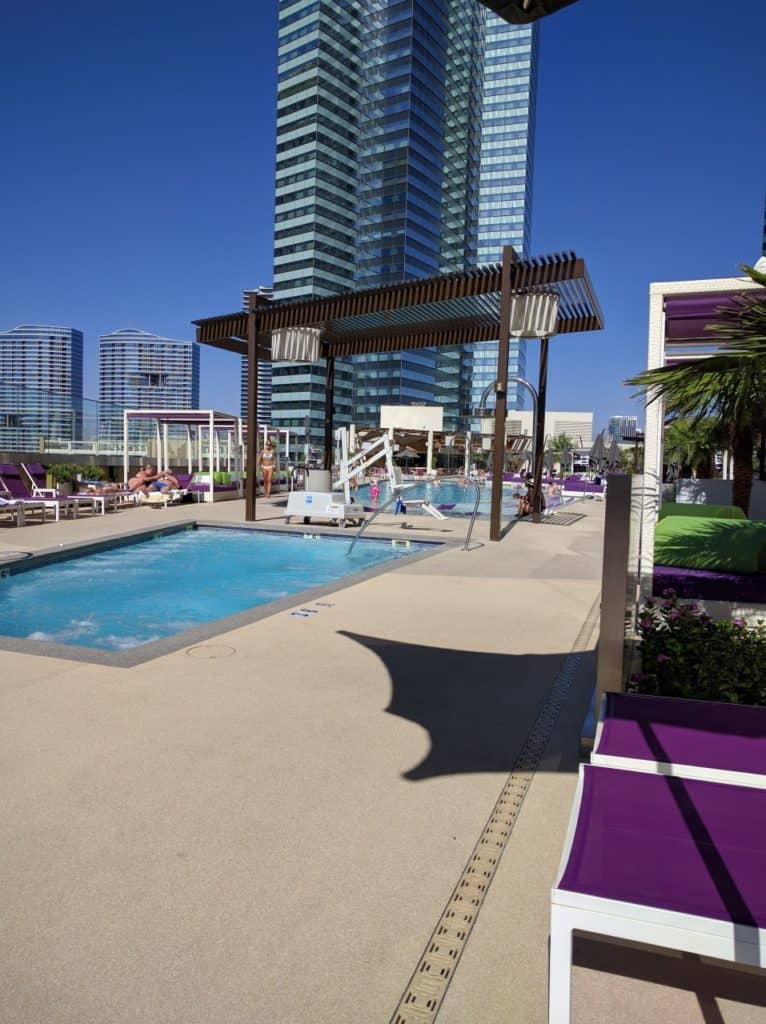 The Cosmopolitan Chelsea pool (see above photo).
Restaurants
There are about 20 different restaurants, bars, and cafes inside The Cosmopolitan.
The buffet is called Wicked Spoon and is one of the best in Vegas. It's open daily for brunch ($28-$36) and dinner ($42-$49).
Other restaurants we want to highlight are STK Steakhouse, an expensive but fabulous option for fine dining – in our opinion it's one of the best steakhouses on the Strip. Just note that it might be quite loud inside; there's usually a DJ keeping the atmosphere high.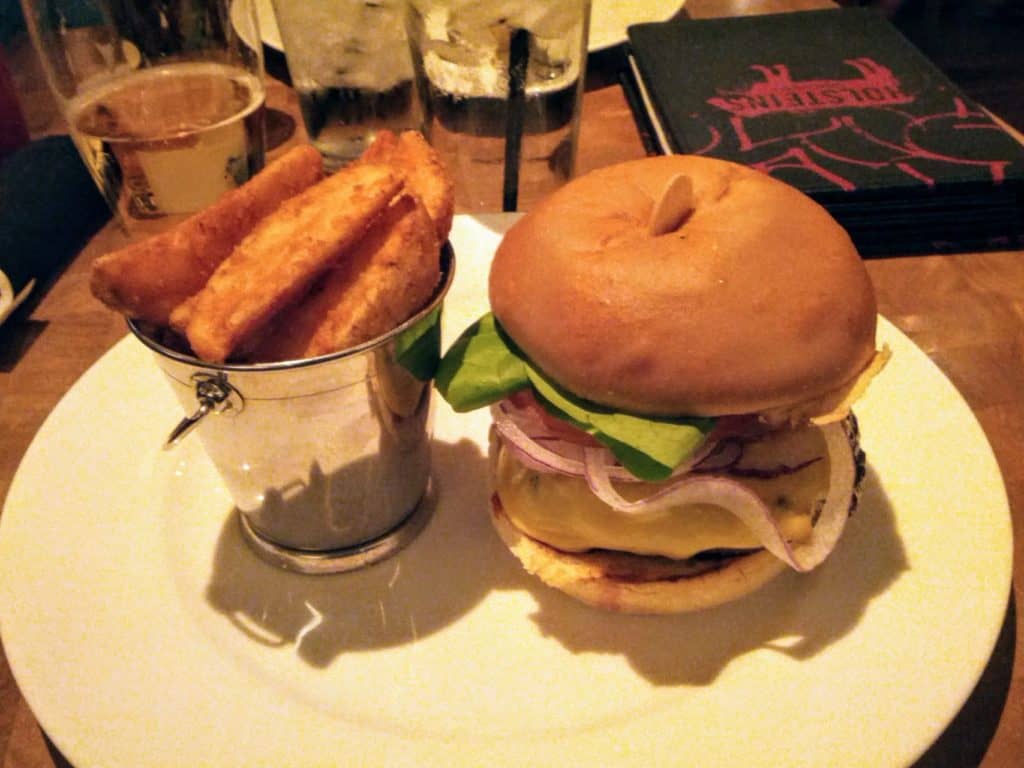 Hungry yet? Burger by Holsteins Shakes and Buns (Copyright Always Fly Business – All Rights Reserved)
If you prefer something more casual, Holsteins Shakes and Buns might be the one for you. There, you can find an extensive selection of burgers, shakes, and traditional American snacks – and, of course, a wide selection of beers.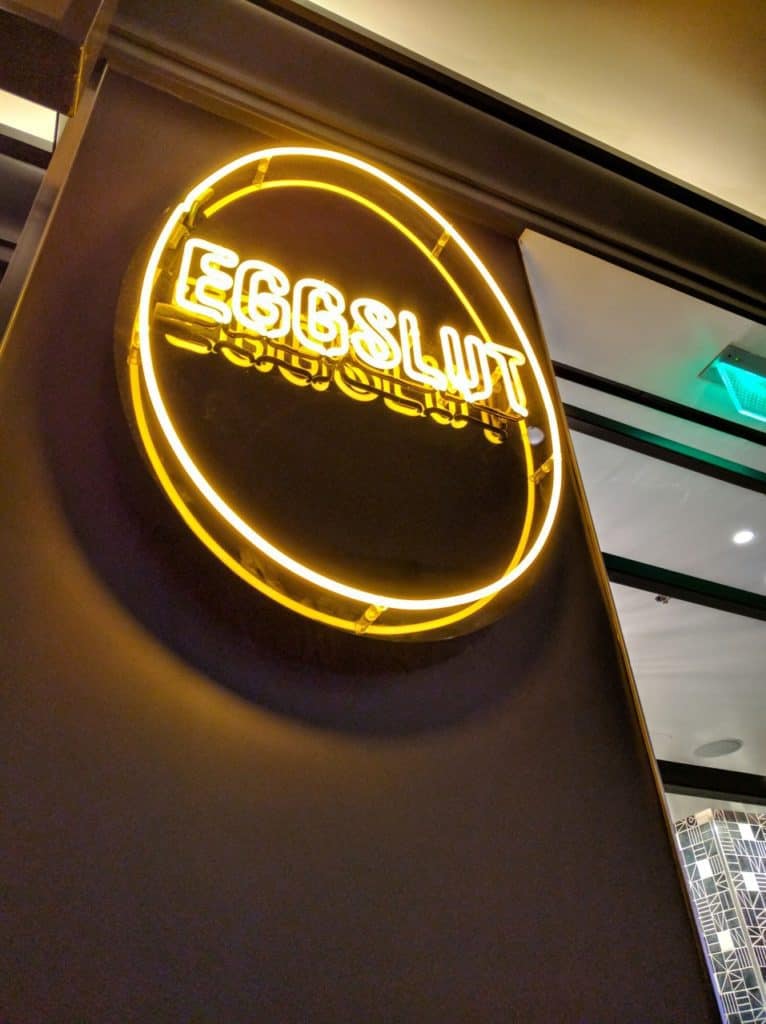 If a quick bite is what you want, try Eggslut, an egg-centric fast food restaurant. It's usually our choice for breakfast, but it is open all day, until 7 PM.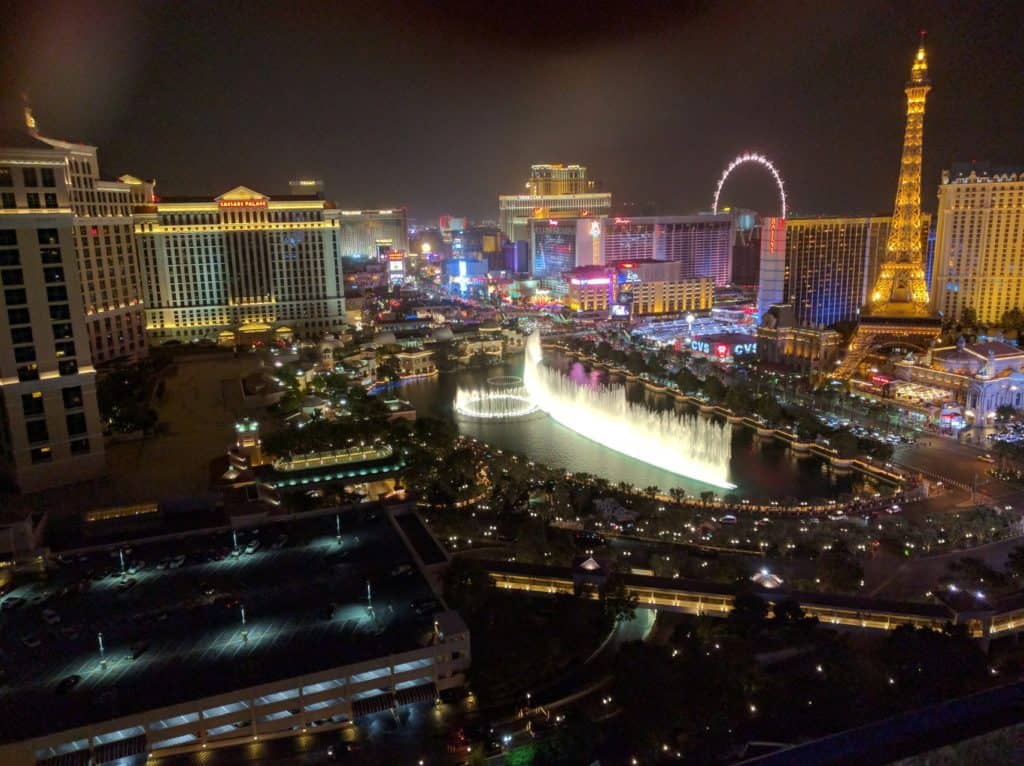 The Cosmopolitan Las Vegas Casino
The casino of The Cosmopolitan is not as huge as some others in Las Vegas, but there are definitely enough different games to play. My favorite game, blackjack, can be played traditionally on the tables or using an electronic version (see photo below).
One note to poker addicts, there is no poker room inside The Cosmopolitan, so you need to head to nearby casinos, for example, Bellagio, Aria, or Monte Carlo.
Conclusion
Trendy, modern hotel with a Center Strip location
Personally decorated room with great details
Fountain view is one of the best in Vegas
Excellent bathroom facilities
Sometimes crowded pool areas, but there are two of them
Plenty of restaurants
---
More Las Vegas hotel reviews:
How to get to Las Vegas? Read our business class flight reviews: