The year 2019 is starting to look quite busy when it comes to excellent business class deals. This week there has been plenty of Oneworld offers to the Caribbean and Hawaii, below you can find the best – and currently still active deals. These offers tend to disappear quickly so in case you are interested, act fast.
Business Class from Dublin to the Caribbean from 1337 EUR (British Airways)
Beat the winter by flying to the Caribbean on British Airways business class. The best prices can be found from Dublin, Ireland to Barbados from 1337 EUR.
Check the latest prices and book the flights through momondo.de.
There are also other similar priced flights to other islands, see the list and starting prices below:
Dublin to Aruba from 1620 EUR
Dublin to Providenciales (Provo), Turks and Caicos from 1395 EUR
Dublin to Punta Cana, the Dominican Republic from 1410 EUR
Dublin to Kingston, Jamaica from 1450 EUR
Booking conditions
RESERVATIONS MUST BE MADE ON/BEFORE 31JAN 19. PERMITTED 08JAN 19 THROUGH 12DEC 19 ON THE FIRST INTERNATIONAL SECTOR.
Business Class from Munich to Barbados from 1401 (British Airways)
The Caribbean can be reached easily also from Munich, Germany. Prices for this business class flight from Munich to Barbados start from 1401 EUR and the dates are May 8th to May 15th, 2019.
Check the other cities and business class deals from momondo.de and book your flights through the portal.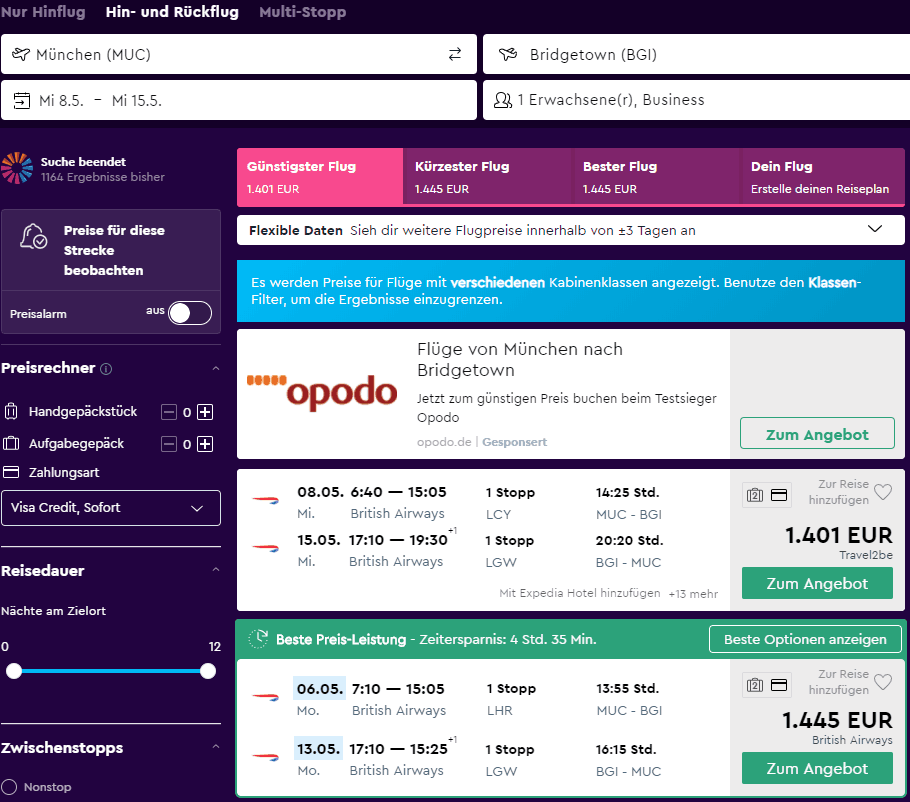 Business Class from Vienna to Barbados from 1374 EUR (British Airways)
Austria is not forgotten, there are plenty of great Oneworld business class deals available from Vienna. For example, from Vienna to Barbados in May starting from 1374 EUR.
This business class deal can be booked through momondo.de.
Business Class from Amsterdam to Honolulu from 1558 EUR (Finnair)
Another tropical island option, on Finnair from The Netherlands to Hawaii, USA. This routing flies you through Helsinki, Finland, and Los Angeles,USA which means you can enjoy Finnair's flagship Airbus A350 during the long leg – but it also means that you don't have a lie-flat seat on the flight from Los Angeles to Honolulu.
Check the latest price and book flights through momondo.de.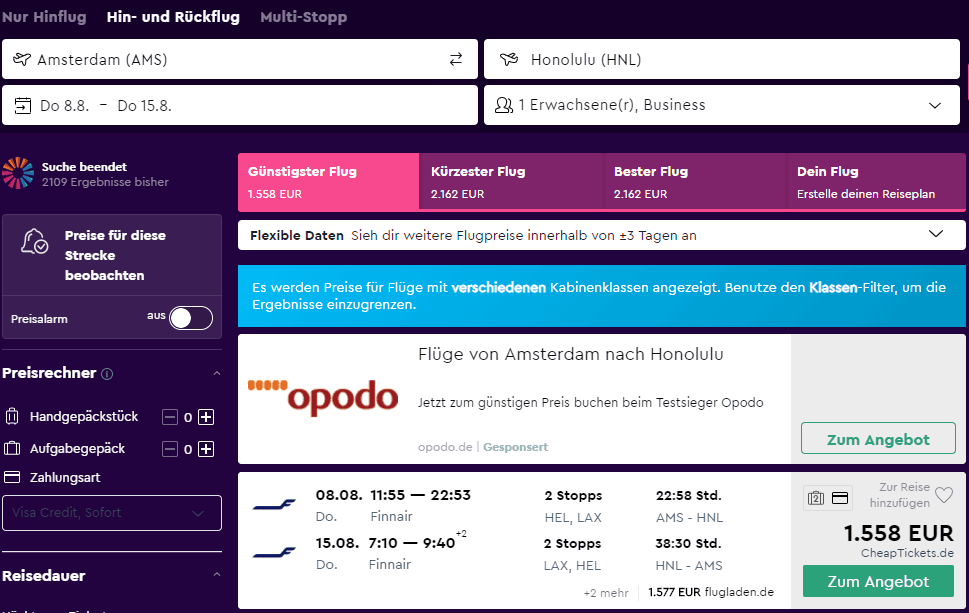 About British Airways and Finnair
Above business class deals are operated by British Airways and Finnair, which we have plenty of experience of. Before booking your trip, remember to check our business class flight reviews to know what to expect during your flight.
British Airways Executive Club Tier Points
Hawaii is usually one of the best destinations for ex-EU point runners. In many cases, you can route your flights through New York and Los Angeles to maximize collected points. However, if you want to enjoy lie-flat business class seat all the way, you have to be more creative since there are no such Oneworld flights from Los Angeles to Hawaii.
If you book the flight from Amsterdam to Honolulu (mentioned above), the journey will earn you 640 Tier Points if credited to British Airways Executive Club, so you pay about 2.5 EUR per Tier Point, which is quite good value for money – but could be much better if the flight was routed through New York.
BAEC Silver Tier limit is 600 tier points, which gets you for example lounge access, business class check-in, and priority security among other benefits. You can verify the tier point calculations with the tier point calculator found from British Airways website.
Don't miss any business class flight deals from Europe

As mentioned before, good business class deals are rare and they vanish fast, so make sure you follow us on Twitter (@alwaysflybiz) and Facebook to avoid missing any fantastic offers. All our past business class deals can be found from business class flight deals page.

Also, note that all flight offers on Always Fly Business are accurate at the time of publication. Prices and availability change every day, and the deal might exist only for a short period.