InterContinental Hua Hin is a real gem in a beach town of Hua Hin which is located about 200 km southwest of Bangkok.
InterContinental Hua Hin is a luxury resort with top-notch service and has been ranked fourth out of 135 Hua Hin hotels in Tripadvisor.
The InterContinental Hua Hin resort has a beachfront location right next to the brand new Bluport Huahin shopping mall. After a couple of days in a hectic Bangkok, it was refreshing to arrive at Intercontinental Hua Hin Resort.
Pro tip: Instead of a car drive you could also have InterContinental Hua Hin private jet fly you there from Bangkok.
The hotel is located about 2 km south of the town center and the famous Night Market. There are also local restaurants, shops and local services around the hotel. Bluport Huahin Mall offers numerous restaurants and coffee shops right next to the hotel and an excellent selection of shopping opportunities. The hotel consists of two accommodation wings on both sides of Phet Kasem Road. Both wings have their own reception, breakfast restaurant, and a swimming pool. If you are staying on the wing at the Bluport Mall side, you can easily access the mall right from the inside of the hotel. The beach wing on the beach side of the road has most of the hotel amenities including the main pool area, eight restaurants and bars, gym, spa, Club InterContinental and of course the beach.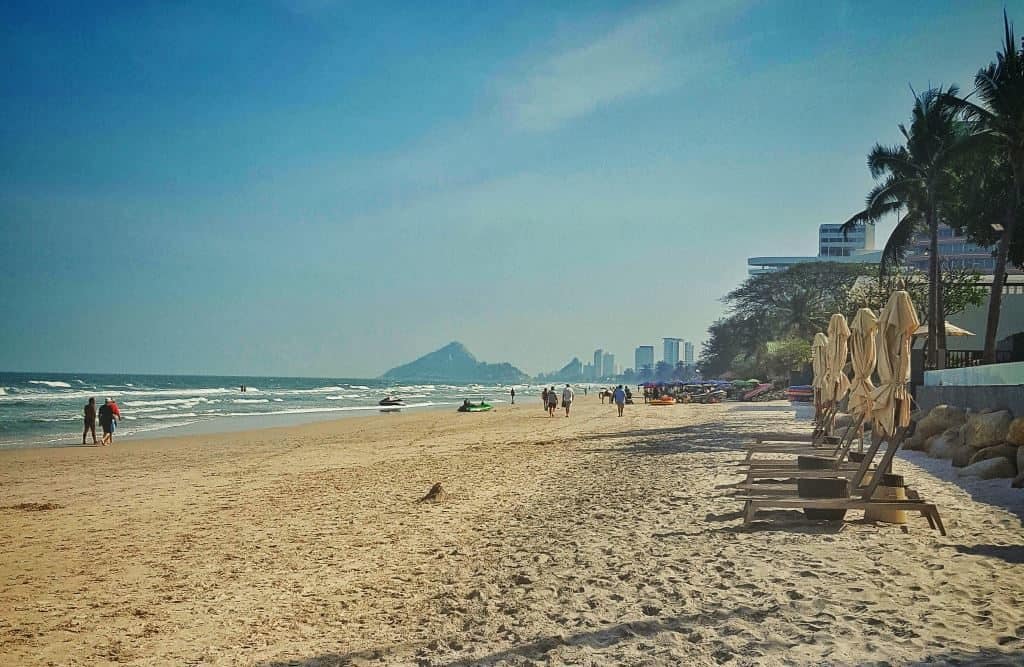 The hotel wings are connected by a walking bridge. You can also just simply cross the Phet Kasem road because there were traffic controllers throughout the day making sure you can cross safely and easily. We did not find hotel being divided into two separate wings be a downside at all but it could be a bit challenging for a person with some physical disabilities.
Club Intercontinental is located right next to the beach and the main pool area. At Club Intercontinental you can have more privacy and enjoy the Beachfront Club Lounge among other services.
Check-in
Check in was easy and fast with no waiting lines. After a welcome drink, we were escorted to our room which was on the Bluport Mall side of the road which suited us, big shoppers, very well. We were given a welcome tour of our room and introduced all the room amenities. Our luggage was brought to our room very shortly after we arrived.
The Room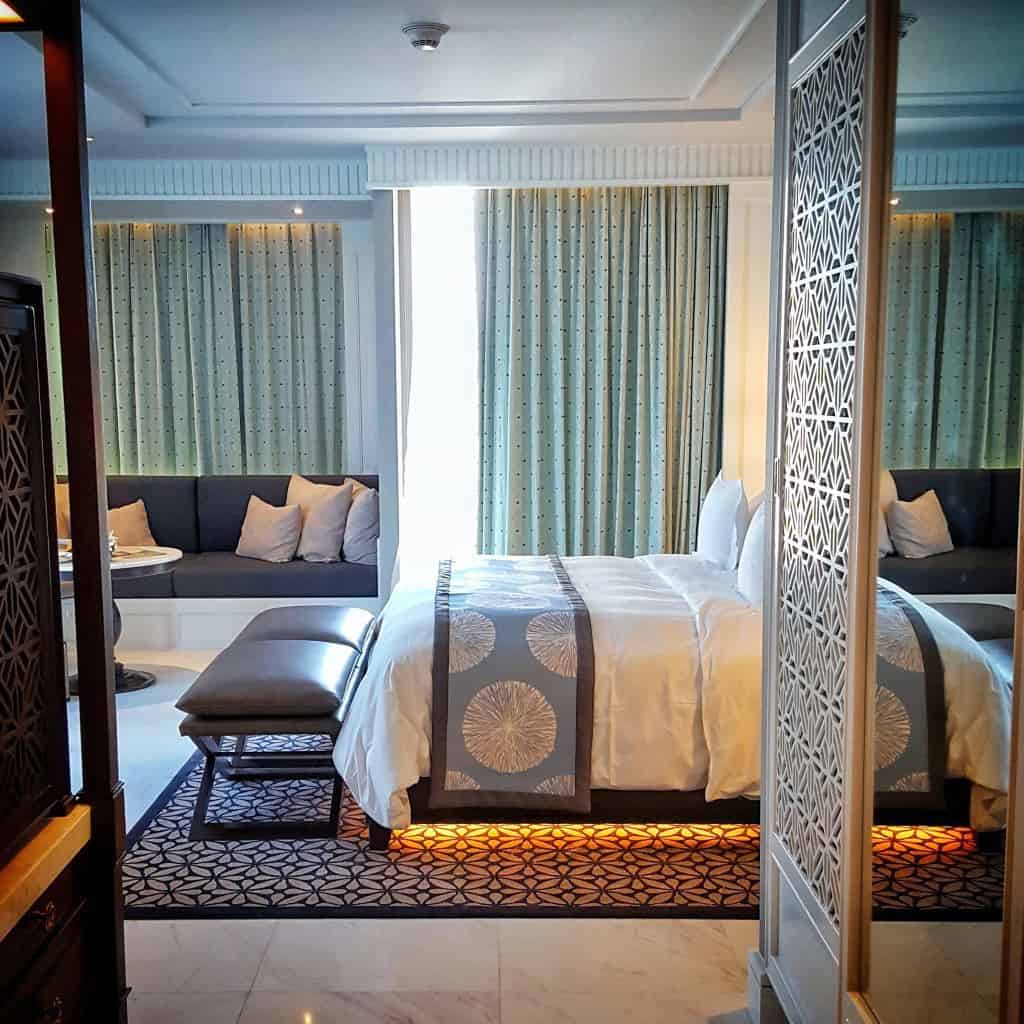 Our room was beautiful and spacious. Everything in the room was fresh, clean and luxurious. We had a lovely little balcony overlooking the mall entrance area with water fountains. The king bed was one of the best I have ever slept in with good quality bed sheets and lots of pillows. The bathroom was perfect in size with lots of big soft towels, bathrobes and L'occitane toiletries. The rainforest shower was excellent with a gentle water pressure.
There was a quiet air conditioning in the room and a detailed lighting system. It was quiet in the room despite the fact that we were right next to the busy Phet Kasem Road. Housekeeping twice a day was outstanding. They also offered us complimentary water bottles with no daily limitations. There was a 24-hour room service which was appreciated because most of the restaurants nearby were closed by 11 pm. We were brought a newspaper every morning and the next day's daily schedule every evening (including information on the complimentary sports classes and other activities like Thai massage classes offered by the resort).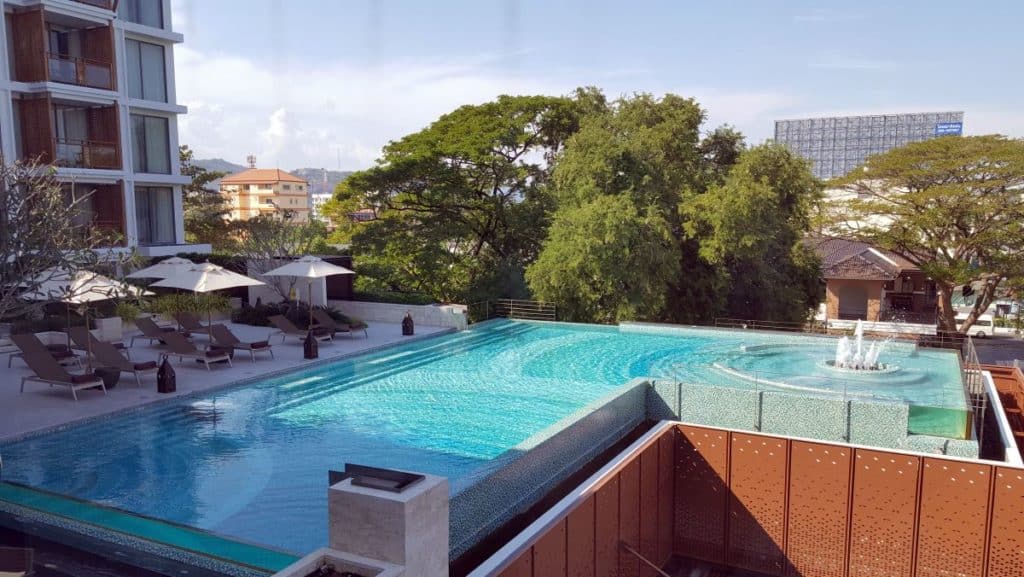 Pool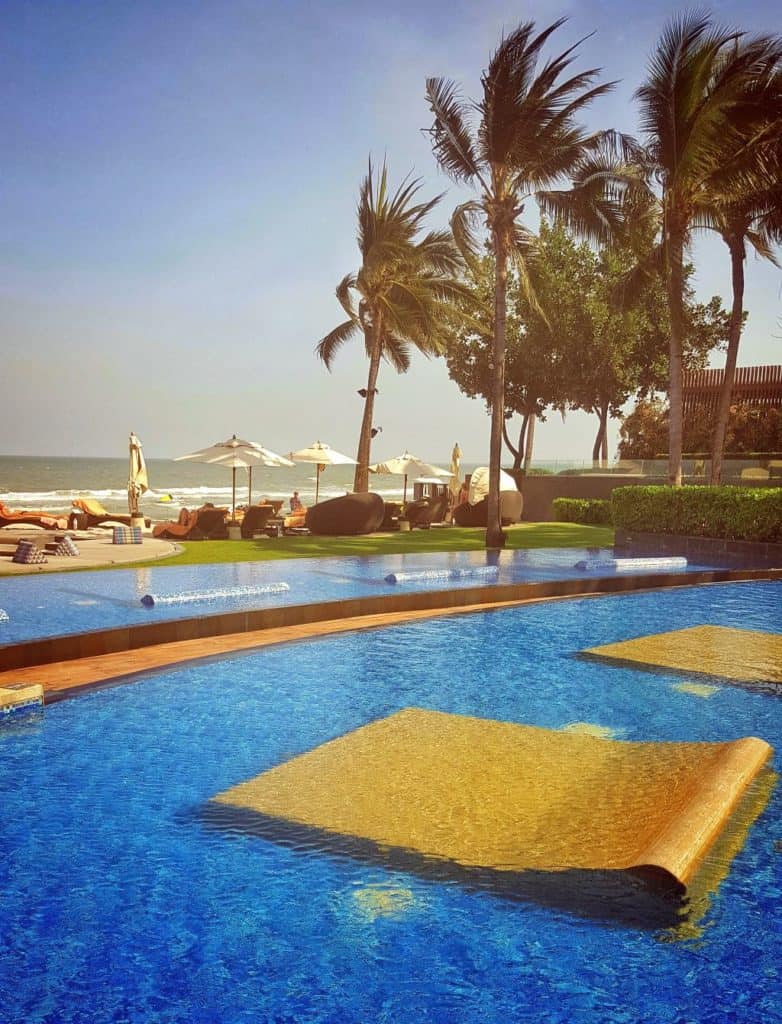 The main pool area by the beach was large with comfortable sunbeds all around the pools and jacuzzi and in the middle of pool itself as well. The main pool area had a good sized swimming pool. I imagine you might even do your swimming exercise there. From the pool area, it was easy to step on the beach and take a little walk there. The hotel also had some sunbeds right on the beach if you prefer to be on a white sandy beach close to the ocean.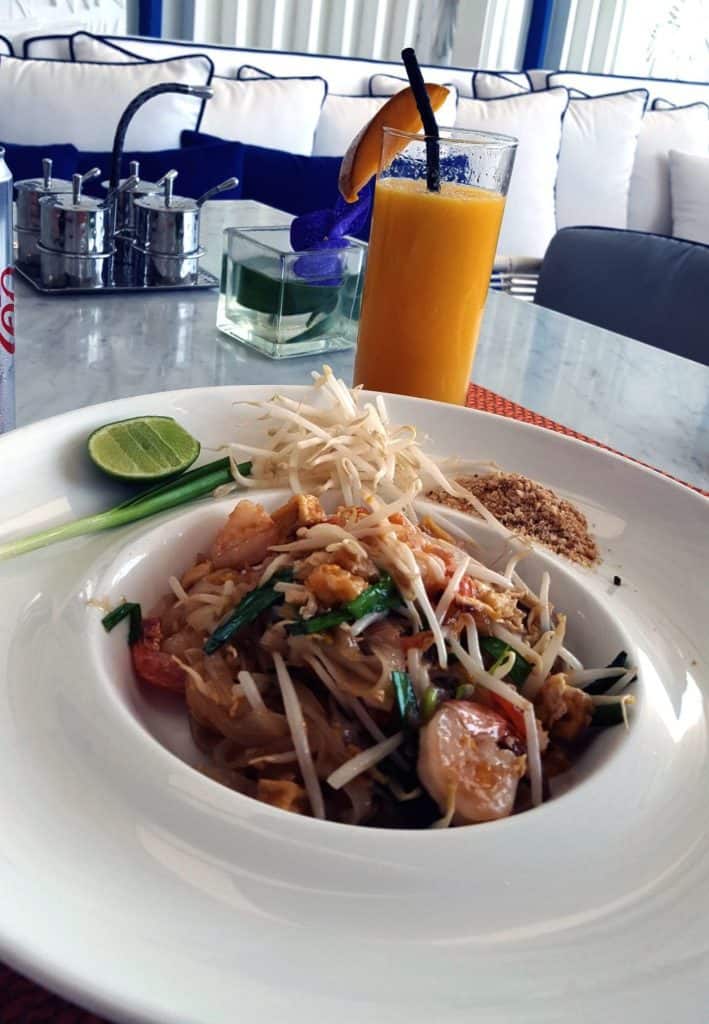 The Bluport Mall side wing of the hotel also had their own swimming pool and sun deck with a few sun beds. There was always room in all of the pool areas, and they were never crowded. The pool towels were always ready on the vacant sunbeds, and complimentary water bottles were available. At the pool we enjoyed fresh juices and smoothies every day, Coconut Swirling smoothie being one of our favorites. Drinks and cocktails were a bit pricey (6-7 euros for non-alcoholic beverages, 10-12 euros for alcoholic drinks) compared to the average prices in Thailand but courteous service and quality is never free, right?
Restaurants
We enjoyed breakfasts, lunches, and dinners numerous times at the hotel restaurants. The breakfast buffet was fresh and offered western style breakfast like eggs, omelets, hash browns, bacon, and sausages but also Asian breakfast dishes like Khai Jiao which is a Thai-style omelet and of course traditional Pad Thai. Coffee was made to order and tasted delicious. Four or five kinds of fresh juices were served every morning. There was also an excellent selection of bread, sweet pastries, and fresh fruit.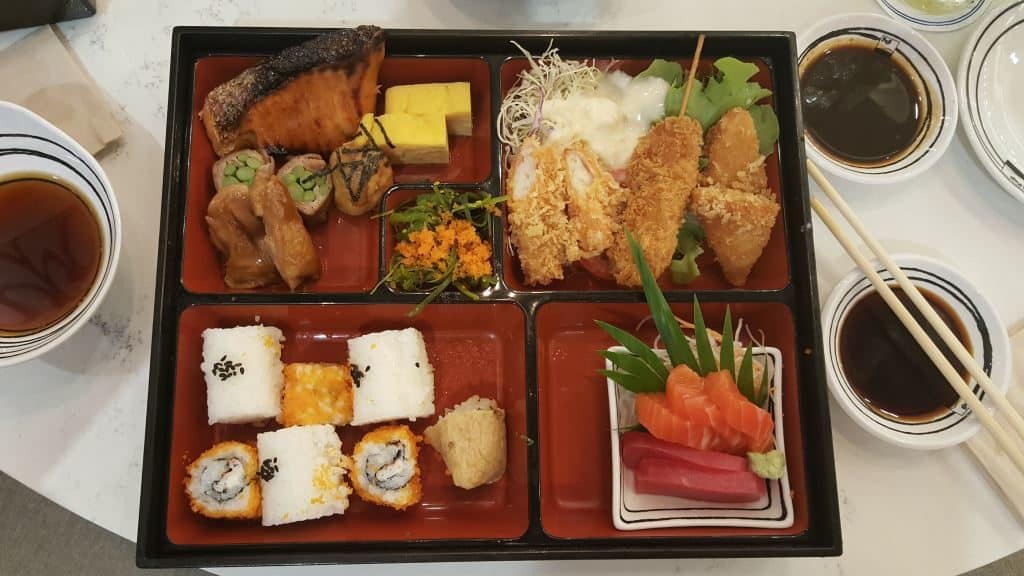 For lunch and dinner restaurant Pirom in the main building served us tasty Thai food. During our 9-day stay, we mostly had Asian dishes which were always beautiful and delicious with good quality ingredients. We also enjoyed lunch numerous times at Restaurant Azure which is next to the main pool area and has a beach view. We also had dinner there once. The steak was as we expected (excellent quality), service was pleasant, and the atmosphere was relaxing with the sounds of waves. The wine list was quite extensive in all of the restaurants. We also ordered from the room service once late at night. Our meals were served very nicely in our room, and we were charged very little extra for serving the food in the room. So if you are looking for a place to eat late at night and all the restaurants around seem closed, we can highly recommend the room service.
Gym
The hotel has a gym with some basic equipment. For cardio training they have a couple of treadmills, bikes and cross trainers. The gym offers very basic weight training machines and free weights. The gym was never crowded and kept clean.
A nice thing for the "gym rats" is that the hotel also offers complimentary access to True Arena HuaHin fitness center that is located about 5 minutes drive away from the Intercontinental Hua Hin. We participated in Les Mills classes in this modern and well-equipped fitness center. There also seemed to be a good sized gym, tennis courts, soccer fields and a swimming pool among other things. The hotel always arranged us a reliable transportation to and from the fitness center for a reasonable price (120 bahts for two persons/one way).
Summary
The hotel grounds were very well maintained and clean. The atmosphere was sophisticated, peaceful and relaxing. The staff was always smiling and ready to serve us. The service was kind and fast. Intercontinental Hua Hin is an excellent choice if you are looking for a luxurious and relaxing escape right on the beach in Hua Hin. We will return there for sure when we need a break again in the middle of a dark and cold winter.
Website: http://huahin.intercontinental.com/
---
If you are interested in reading more about IHG hotels, remember to check our other InterContinental Hotel Group reviews.