Five-star JW Marriott Bangkok in the Sukhumvit area was my first stop during the May 2017 Bangkok trip. After flying to Bangkok on the fantastic Qatar Airways A380, my expectations were high for the rest of the trip – and I wasn't disappointed with JW Marriott Bangkok.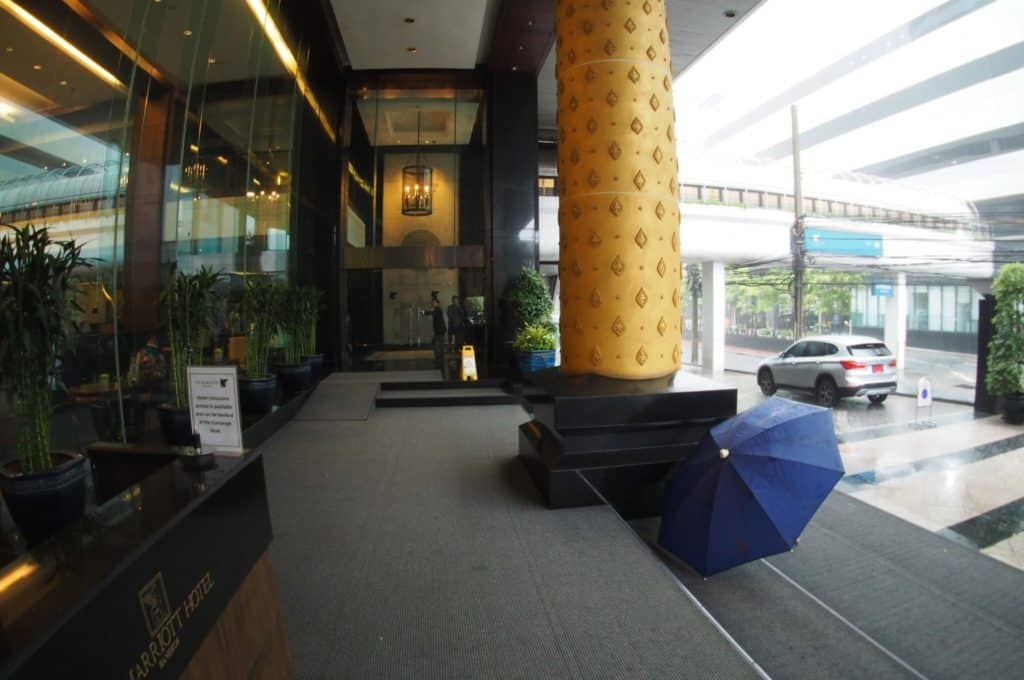 Check-in
After arriving to the hotel, kind staff offered me some tea while checking me in. As a Marriott Gold member, I got an upgrade to an Executive City View Room, which also has access to the Executive Lounge.
Shiny but dark lobby of JW Marriott Bangkok.
Executive City View Room
After I had checked into the hotel, one of the staff members guided me to my room and showed me around. The room was located on the 16th floor, the same floor as the executive lounge.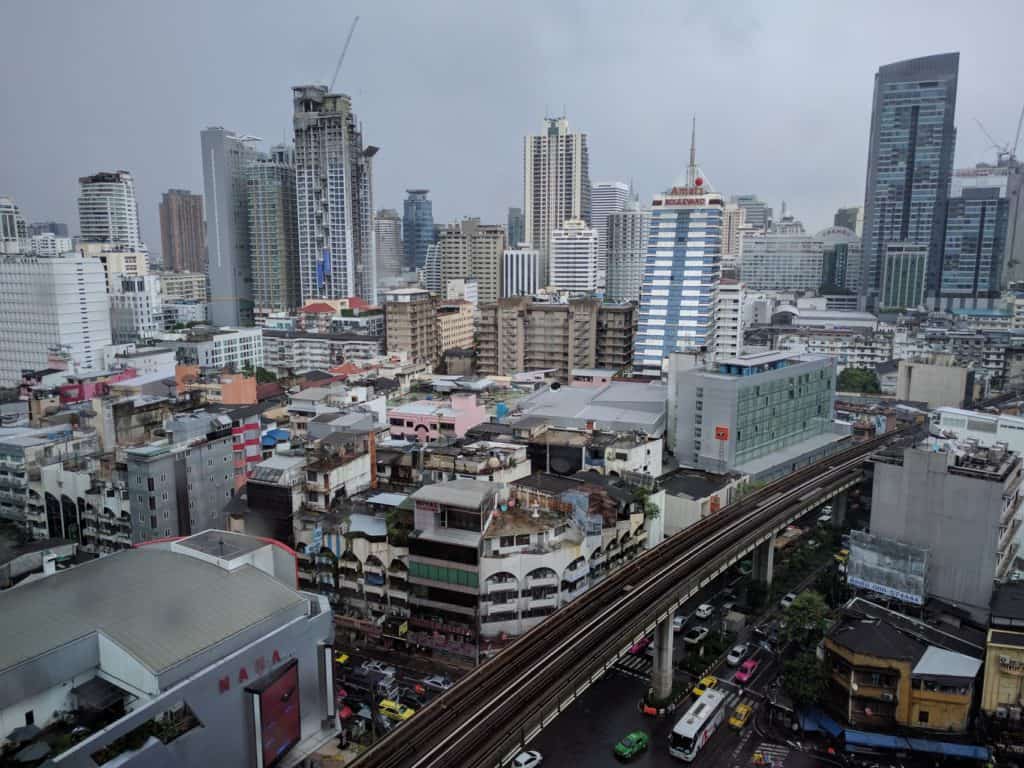 There were an assortment of weird-looking fruits and 2 water bottles waiting for me in the room.
There were plenty of electric sockets on both sides of the bed plus near the desk – but no option for USB charging. Technology enthusiasts might appreciate a panel (see the photo above) used to control alarms, air conditioning, lighting, and "do not disturb" information – a similar but more sophisticated system can be found from, for example, Aria Las Vegas.
Bathroom was normal, decent sized, but not nearly as impressive as in Bangkok Marriott Sukhumvit. Some people appreciate the separate shower and bathtub. One note regarding the shower (at least during my visit), it took a significant time before the water temperature was stable; this might be a temporary thing or not. On the product side, there were Aromatherapy Associates' bathroom amenities available.
If the room is facing east toward Nana Plaza (see photo below), there will be some bar noise during the night; keep that in mind if you are a light sleeper like me. Or you can join the party, if that's what you are looking for. Otherwise, the king bed was perfect for my taste: not too soft with plenty of extra pillows.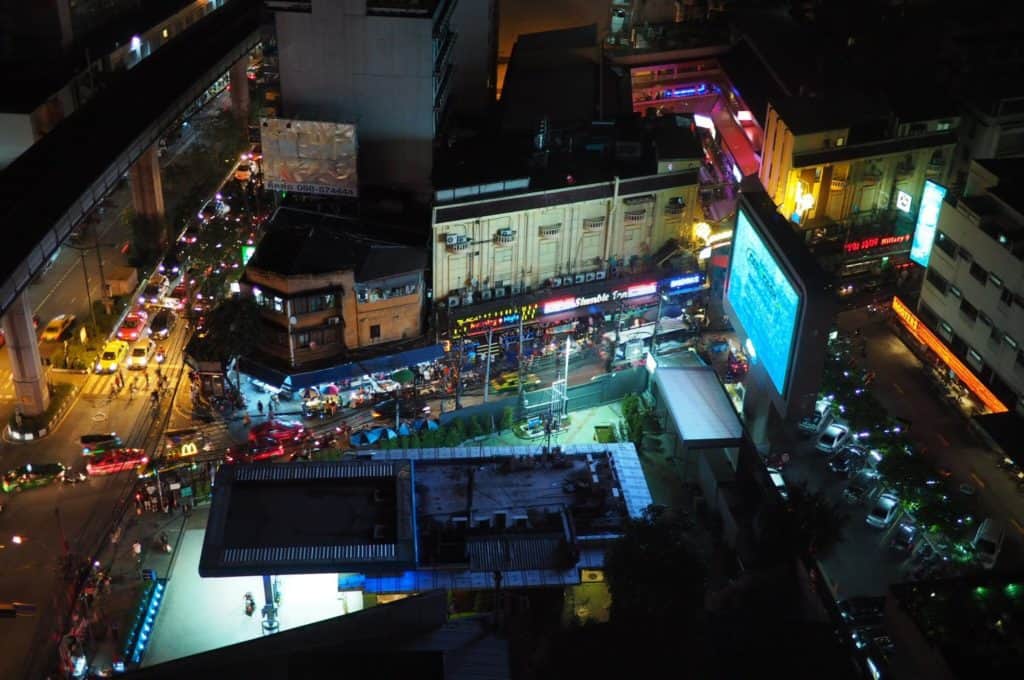 The Executive Lounge
As a Marriott Gold member, I had access to the Executive Lounge on the 16th floor. In my opinion, that's a very valuable benefit; it's one of the reasons I quite often choose Marriott hotels over some other options.
JW Marriott Bangkok lounge

JW Marriott Bangkok lounge
During this Bangkok trip, I had deluxe breakfast every morning at the lounge. The selection of breakfast items was good; there were, for example, made-to-order eggs or an omelet, bacon, hash browns, dumplings, fresh fruits, fresh croissants, yoghurt, and juices, among other things.
During the evening, there was open bar from 4:30 PM to 8:30 PM. In addition to beverages, there was a selection of light snacks available. Very useful if you don't want to leave the hotel.
Restaurants
There are 9 different restaurants, bars, and cafes inside the hotel and plenty more within walking distance.
During the first day, I had a craving for sushi and decided to try Tsu Japanese Restaurant for some fresh seafood. The food there was excellent and service top notch – but also, prices were quite high. Still, for that kind of high-quality seafood, I'll pay my bill gladly. You can check also their reviews on Tripadvisor.
The second restaurant I tried during my trip was New York Steakhouse. The high price range was similar to Tsu restaurant, but so was the high-quality food. This time, I had prime beef with Caesar salad on the side. The beef was cooked perfectly to my specifications and was absolutely delicious. See more visitor reviews on Tripadvisor.
Pool and Gym
The pool area is relatively small and in the shadow of the building. The sun didn't shine during our visit, so I can't really comment on tan perfection possibilities – otherwise, the area seemed relaxing and was nicely decorated.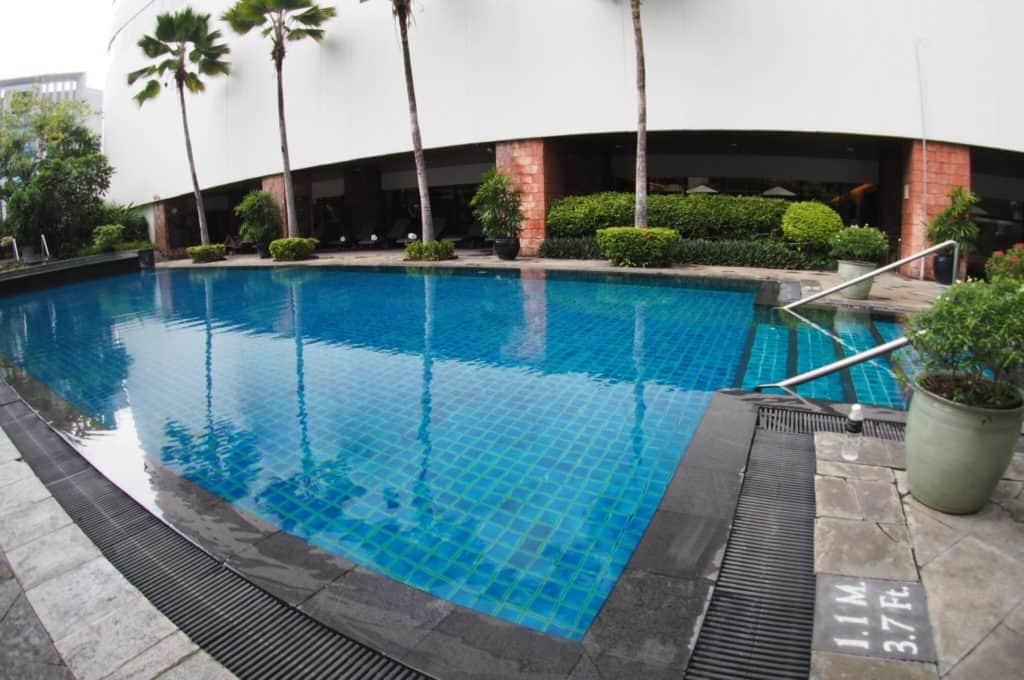 JW Marriott Bangkok pool on a cloudy day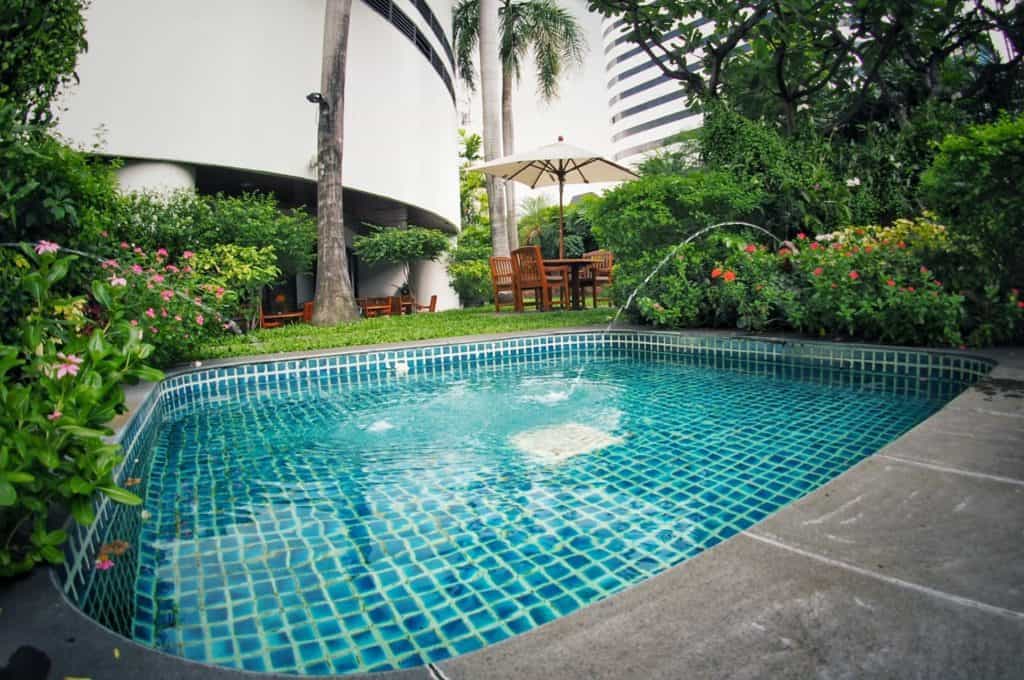 The gym was well air-conditioned, and there were water bottles and towels waiting for the gym rats. The equipment was quite traditional: some weight machines and treadmills in a spacious area. Not as good as in The Cosmopolitan Las Vegas, but still decent.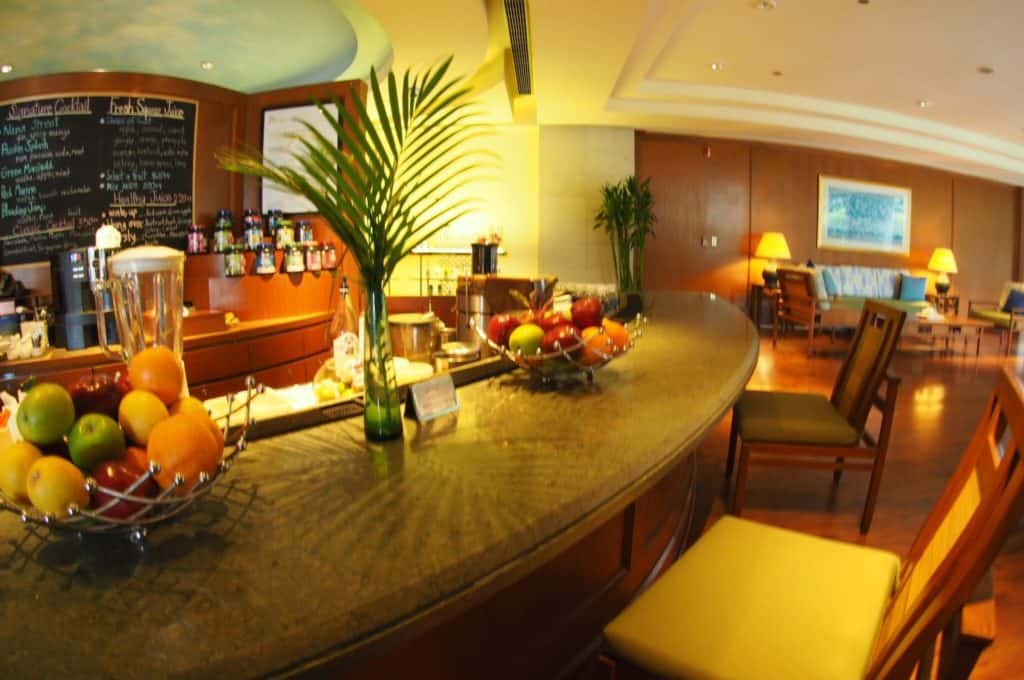 There was an excellent cafe in the gym/spa lobby area. They made tasty smoothies from fresh fruits starting from 165 BHT. Also, alcoholic cocktails were available from 350 BHT as well as light food options, like Khao Pad fried rice for 240 BHT.
For those who are interested in exercising more, JW Marriott Bangkok offers a weekly aerobic and activities program – so you can take instructed Yoga, Pilates, Zumba, or Aerobics lessons. According to the schedule, there were 4-5 different daily sessions, starting at 05:30 AM.
Conclusion
Excellent five-star hotel in Sukhumvit area
Plenty of dining options inside the hotel
Great executive lounge
Small pool with a great lobby café
Weekly activities program for active travellers